Jump to recipe
With the Holiday season in full gear, cozy up with some homemade tomato basil soup & a grilled cheese on the side!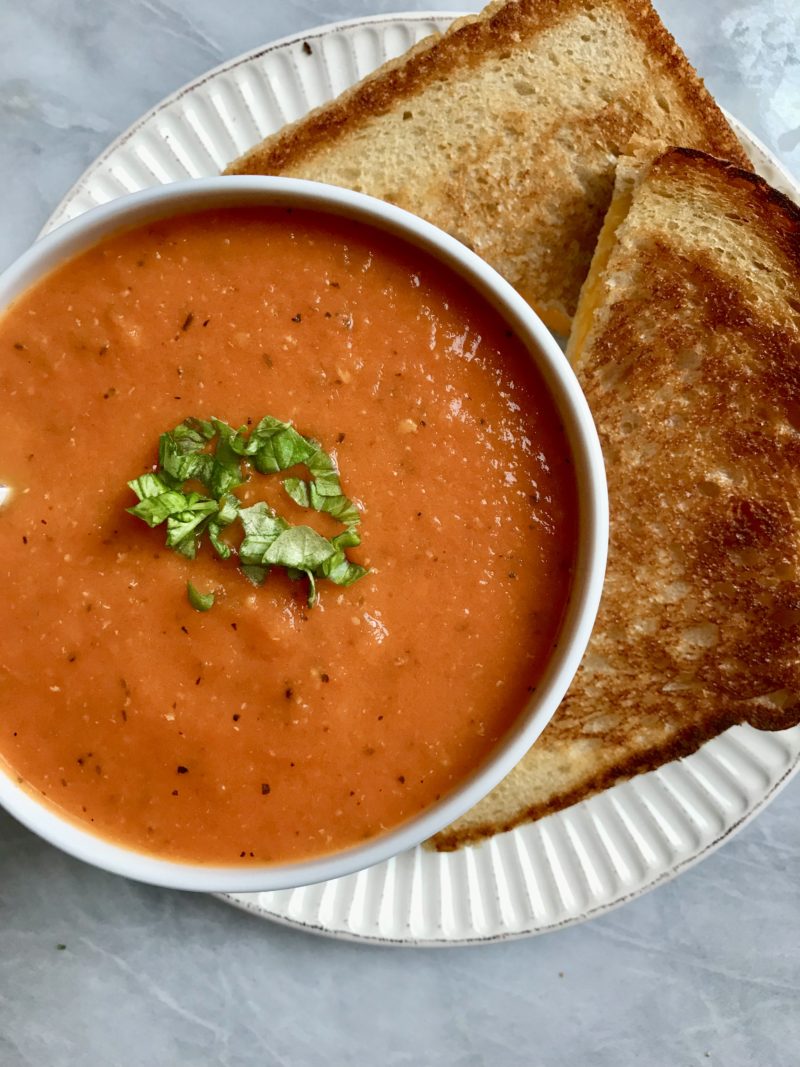 One of my favorite soups of all time has to be tomato basil! It is creamy, delicious, and the perfect component to grilled cheese.
Now that it's getting colder out I have been absolutely craving tomato soup! It is super cozy and luxurious. I thought, why not just make my own recipe? I AM SO GLAD I DID!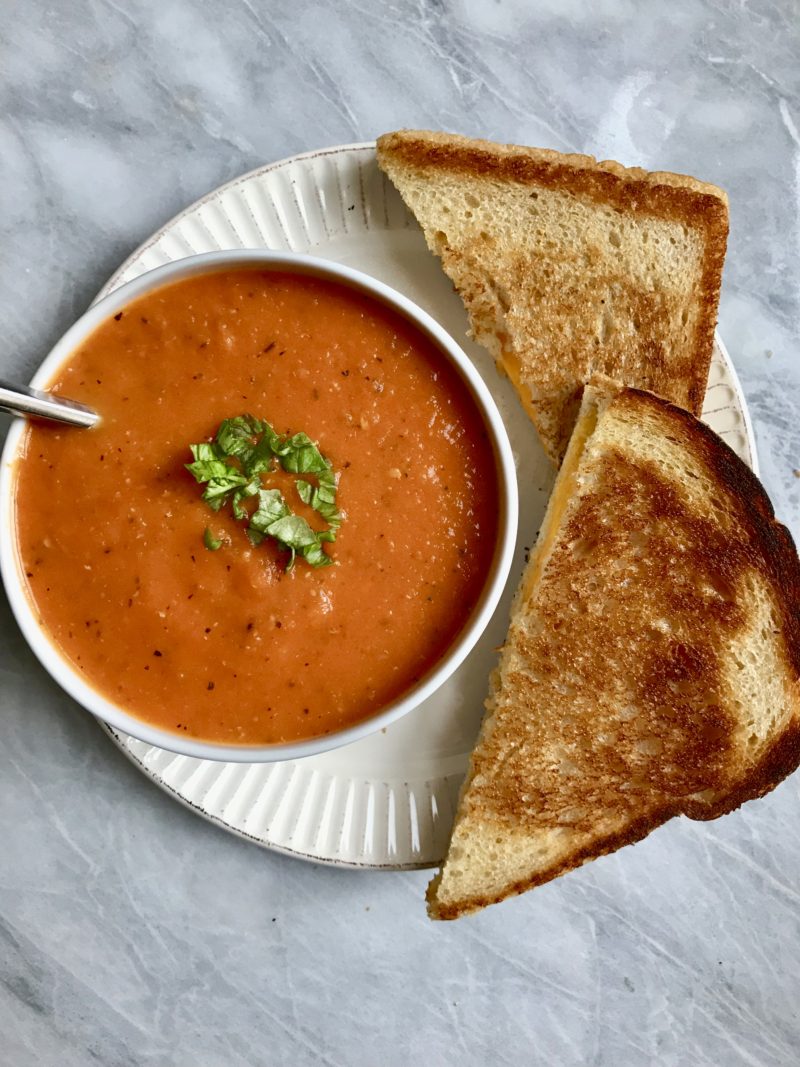 It's been a long time since I've been able to have a creamer tomato soup…for obvious reasons. I decided it was time to take matters into my own hands and make a delicious, vegan & nut free tomato soup recipe! This also takes no time to make.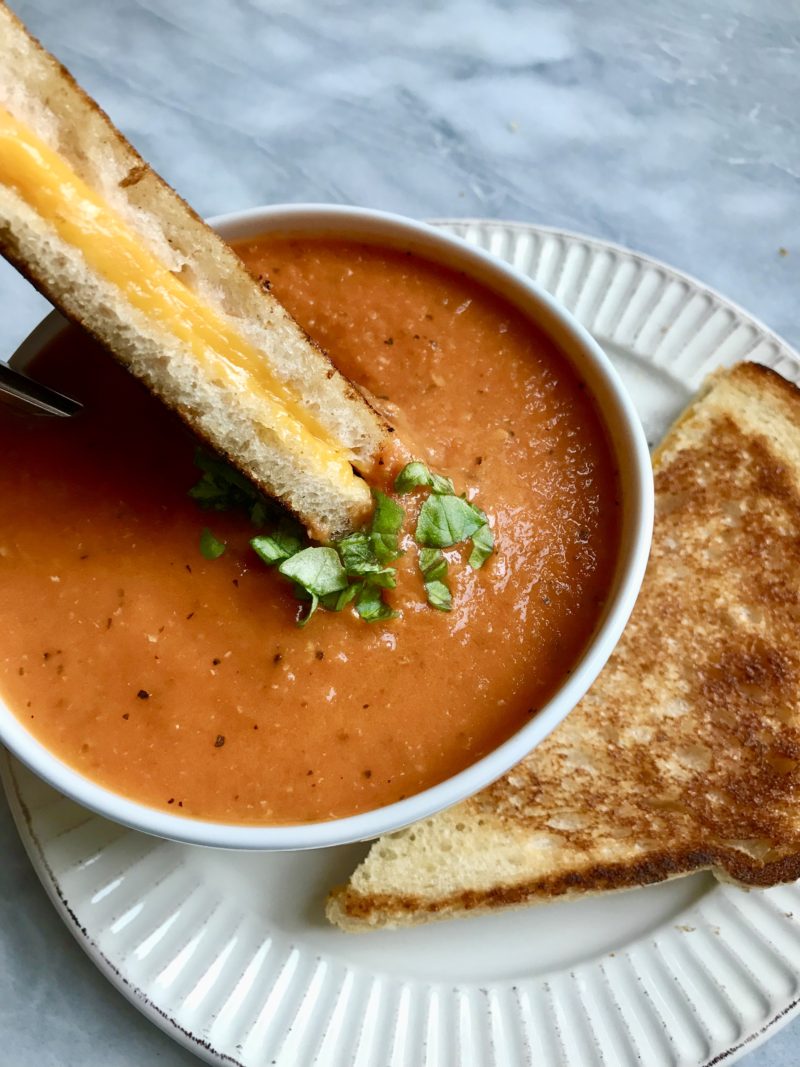 THAT DIP THO!
I hope that you guys enjoy this delicious & easy tomato soup recipe!
If you try any of my recipes, don't forget to tag me on Instagram so I can see!
Creamy Tomato Basil Soup

Ingredients
1 tablespoon olive oil
1 small white onion
2 cloves crushed garlic
1 28oz can diced tomatoes
1 cup water
1 tsp dried basil
1 tsp dried parsley
1 tsp dried oregano
1/2 tsp pepper
salt to taste
2 tablespoons nutritional yeast
1/3 cup light coconut milk
Optional for topping:
Chopped basil
Instructions
Begin by chopping your onion and crushing your garlic.
Heat your olive oil in a large pot and add in your onion. Cook on medium heat for 5-6 minutes or until onions become translucent. Add in your crushed garlic and let cook for 30 seconds.
Add in your whole can of diced tomatoes as well as your 1 cup of water. Add in your dried basil, parsley, oregano, salt & pepper. Allow to come to a boil and then simmer, uncovered, for 10 minutes.
After 10 minutes. Turn off your heat and let soup stand for 10 minutes to cool down.
Add your soup to a blender and blend until smooth.
Transfer your soup back to your pot and add in your nutritional yeast & coconut milk. Mix to combine and serve!