Jump to recipe
With Summer coming up, these delicious frozen yogurt bark treats are the best way to cool down. Topped with some Cacao O's & fresh strawberries, they add the perfect flavor and extra sweetness! Made in partnership with One Degree Organics.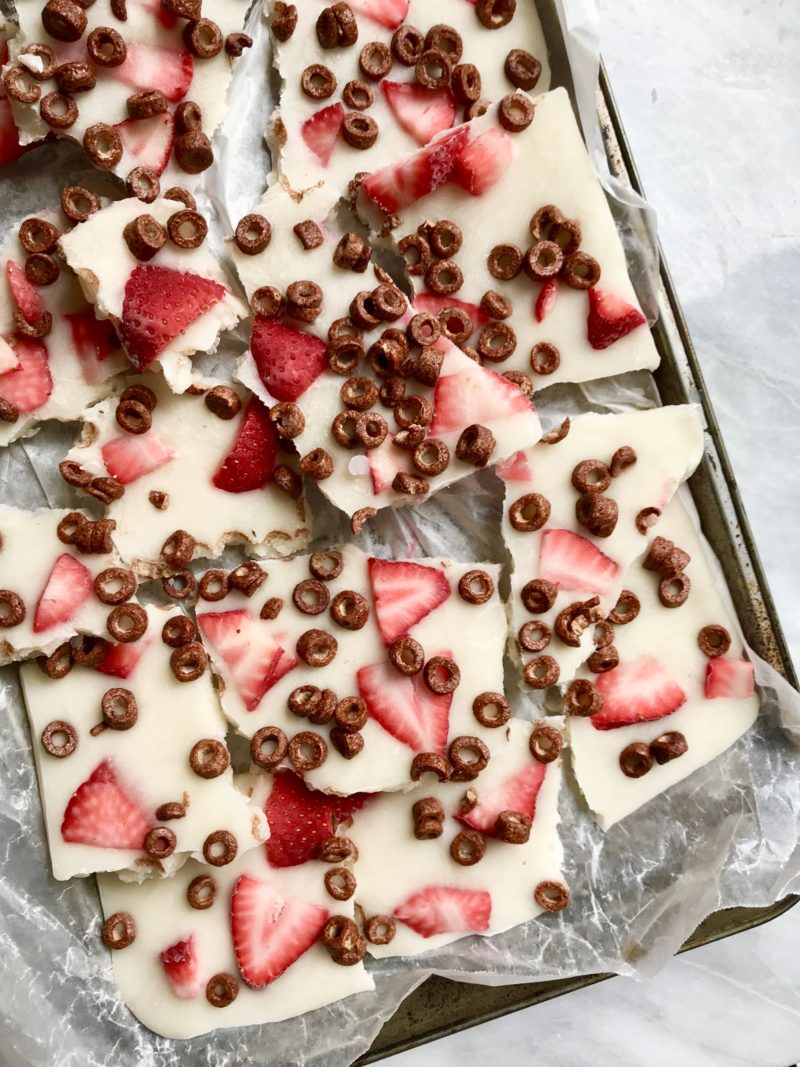 It has been so hot in the city lately, so I knew that I wanted to make a recipe to help me cool down from this intense heat. If you know NYC Summers, you know they are actually the worst.
I've also had so much drama going on in my home this past week. We had a major flood due to one of our air conditioners (on a week of it being super hot in the city) and I have been afraid to use my other AC's. In the midst of cleaning out the entire apartment, throwing out a lot of my belongings, I spent less than 20 minutes preparing this yogurt bark to snack on while I clean my apartment.
I've also been loving the One Degree Organics Cacao O's cereal lately, so I thought by adding it to this recipe it would be a great twist and give a chocolatey taste to the recipe.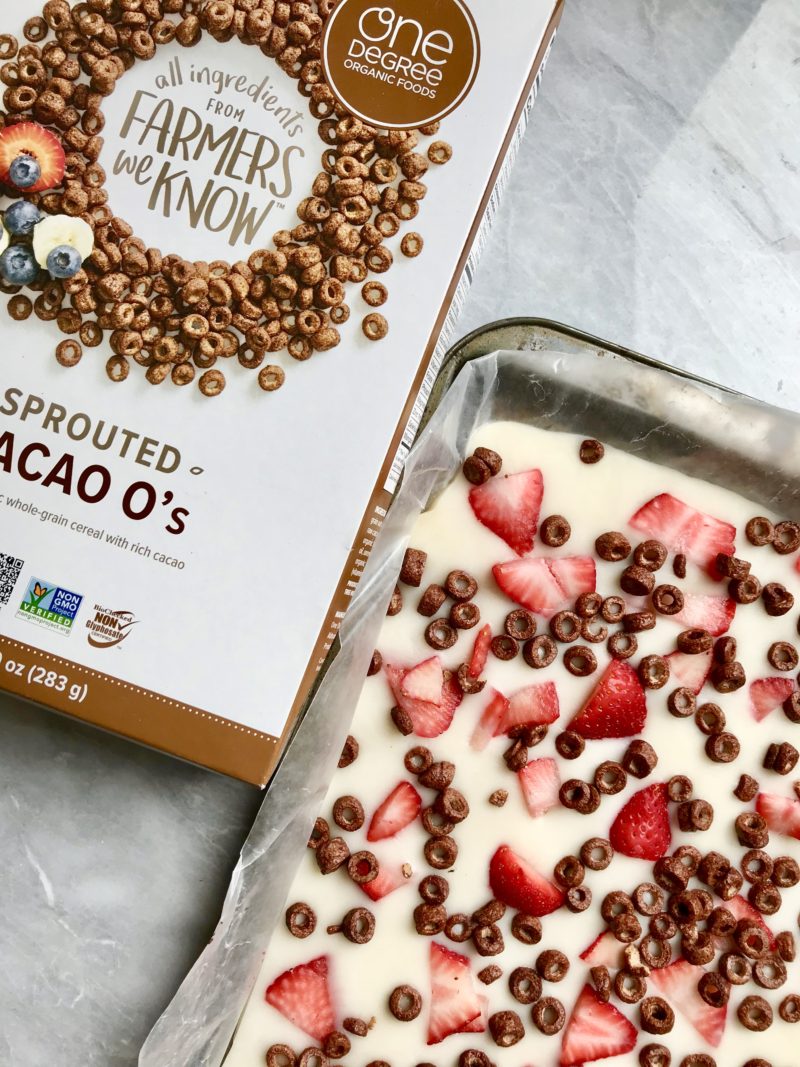 One Degree Organics is one of my favorite brands of all times. I love their cereals, oats, flours, and granola (their granola is nut free…wooh!). They are a small family business committed to bringing food straight from the farm to your table. They have built tight knit relationships with their farmers and even have a traceable code on all of their products that gives you the chance to see exactly where the ingredients in your food has come from.
Their products are from organic famers using only plant based farming methods and even have a farmers tab to learn about the farmers themselves and where they are located. That is probably my favorite part about the brand. Learn about their farmers here.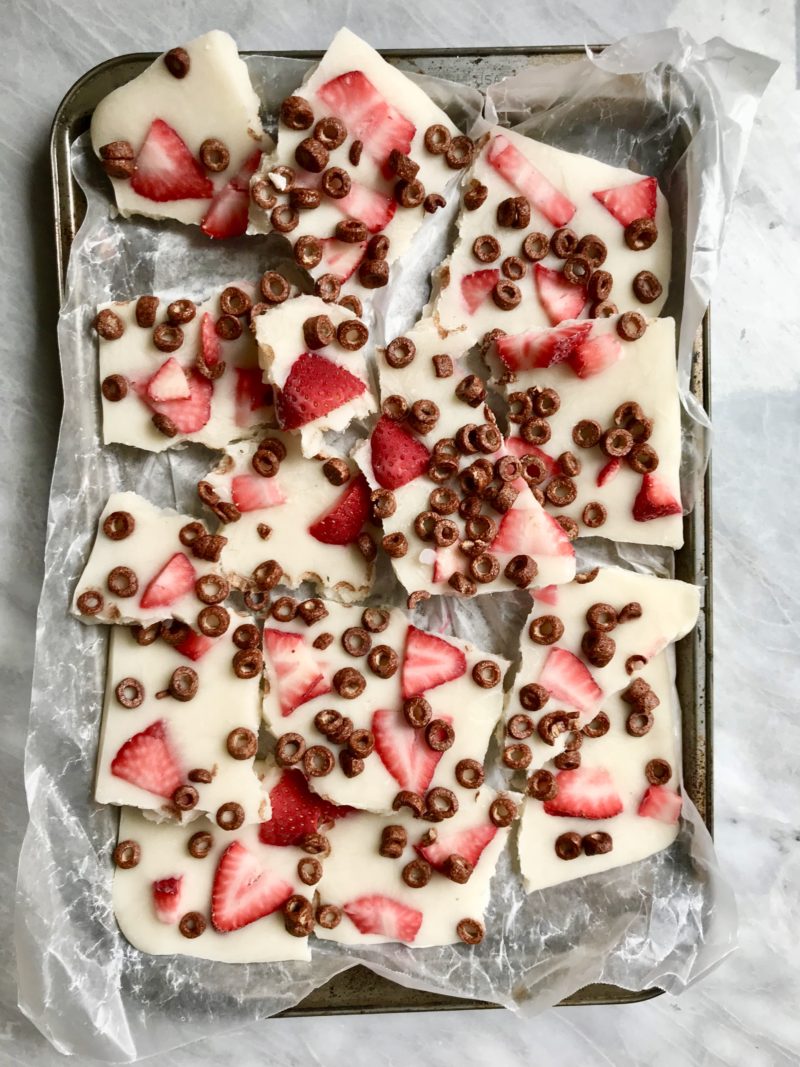 This recipe is so easy to make. You just combine your ingredients, add it to a waxed line baking sheet and freeze! Meaning you can snack on it any time and know what you're eating is healthy. I am so obsessed with this recipe and I know you guys will be too.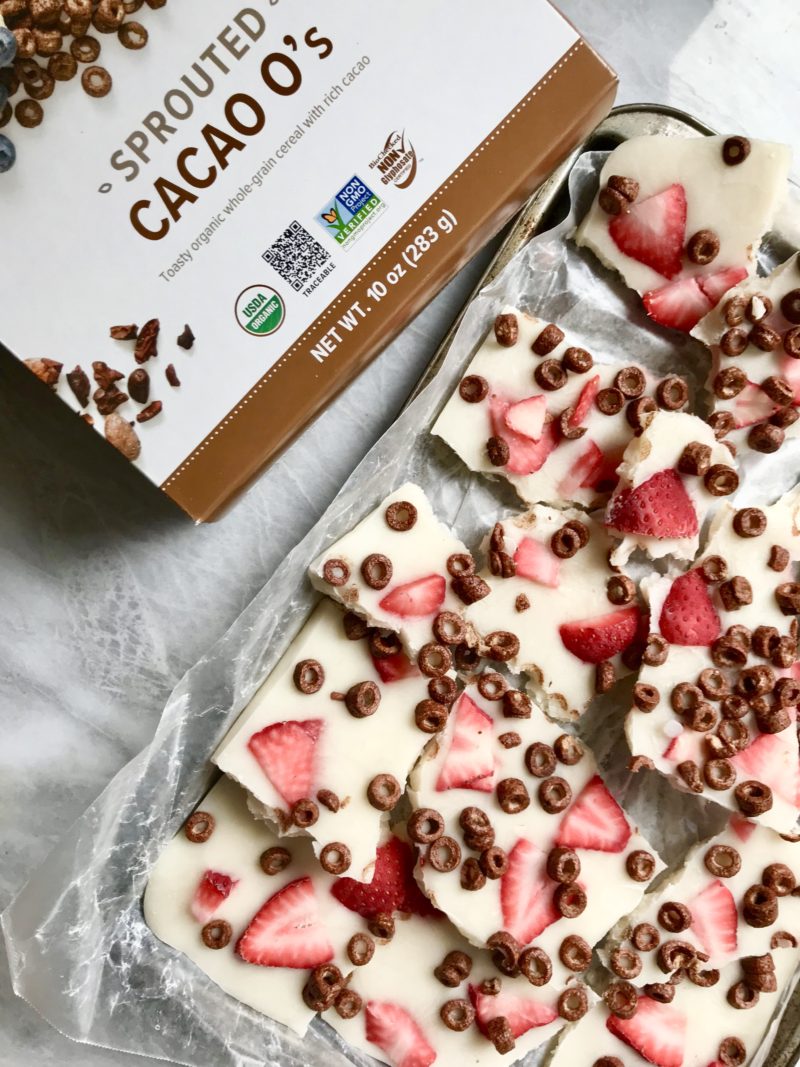 I hope that you enjoy this recipe!
If you make any of my recipes, don't forget to tag me on Instagram @plantbasedjane.
Ingredients
2 cups vegan unsweetened yogurt (mine is coconut based)
1/3 cup maple syrup
1 tsp lemon juice
1 tsp vanilla extract
1/4 tsp salt
1/2 cup One Degree Organics Cacao O's
1/2 cup sliced strawberries
Instructions
Combine your yogurt, maple syrup, lemon juice, vanilla & salt into a bowl. Mix to combine.
Add your yogurt mixture onto a baking sheet lined with wax paper and spread the yogurt evenly onto the baking sheet.
Top with your Cacao O's and sliced strawberries.
Freeze for up to 5 hours or overnight. Cut into pieces and keep in the freezer.
Enjoy!