These roasted Cauliflower steaks with an arugula pearled couscous salad drizzled in a tahini dressing will be the perfect Summer BBQ meal. Made in partnership with Bob's Red Mill.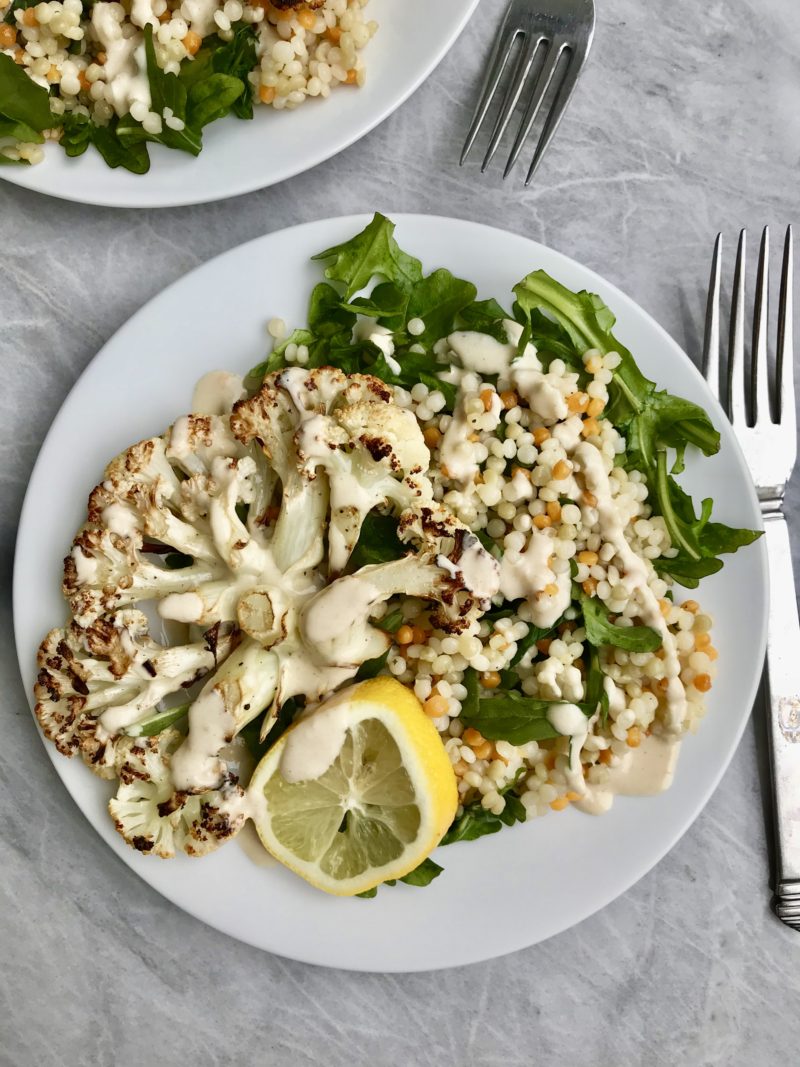 When deciding what I wanted my next recipe to be, I knew I had to include some pearled couscous. My obsession has been REAL lately and knew that I waned to feature it in a recipe.
Let me tell you, I made this recipe and it was gone in a day! Everyone ate it, loved it, raved about it. I knew that it had to come to the blog ASAP!
I decided to use Bob's Red Mill Tri-Color Pearled Couscous for this recipe because it is the perfect addition to this recipe. It can be served either hot or room temperature making it great for hot summer nights.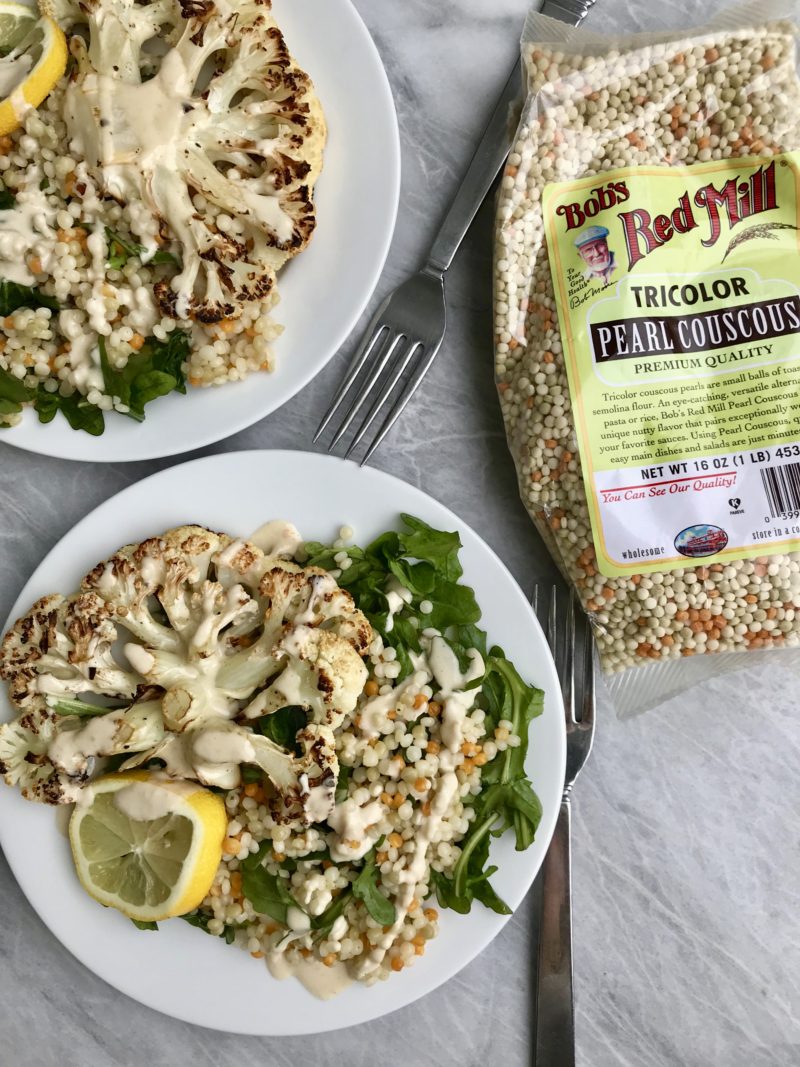 Bob's Red Mill Tri Color Pearled Couscous is so cute because of its multiple colors. The red and green couscous is made from real spinach and tomato bringing it a vibrant color. If you've never had Pearled Couscous (also named Israeli Couscous) it has a great chewier texture and has a nutty flavor to it. You can add it to salads, pilafs, soups, or accompanied to these cauliflower steaks.
With the Summer coming out it is officially BBQ season! While these aren't cooked on a BBQ or grill pan, they still become super crispy in the oven but softened on the inside. The seasonings are simple but flavorful and healthy. We don't need any meat to enjoy a Summer "Steak."
For the pearled couscous I paired it with some arugula. Arugula has such a great peppery flavor and it's a combo I've done a million times. It adds freshness & green to the dish and help bring everything together.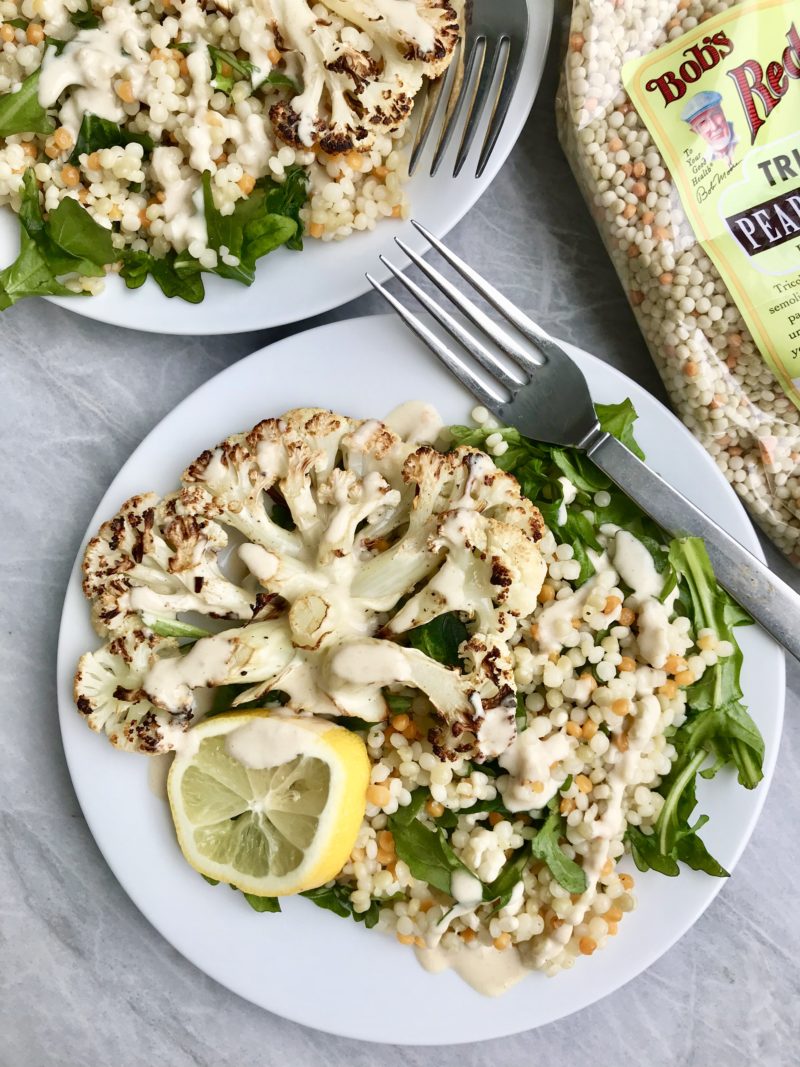 To top of this delicious dish we have the most delicious tahini drizzle sauce. Tahini can be super strong on it's on so by pairing it with some delicious ingredients like lemon juice it tones downs the bitter flavor of the tahini. It's perfect over the steak and the Bob's Red Mill pearled couscous salad.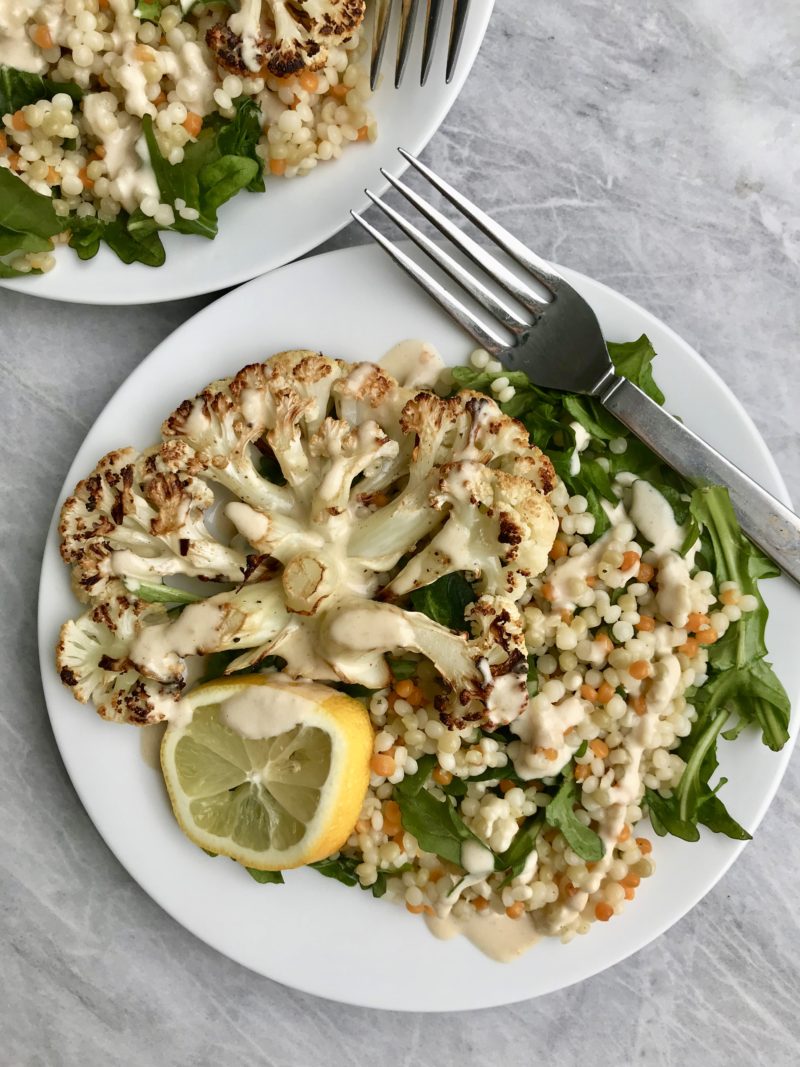 I hope that you enjoy this recipe!
If you make any of my recipes, don't forget to tag me on Instagram @plantbasedjane
Cauliflower Steaks with Pearled Couscous Salad & Tahini Dressing.

Ingredients
For the cauliflower steaks

1 medium head of cauliflower
2 tablespoons Olive Oil
1 lemon, juiced
1/2 tsp salt
1/2 tsp pepper
1/2 tsp garlic powder
1 tsp red pepper flakes

For the pearled couscous salad

1 cup Bob's Red Mill Tri-Color Pearled Couscous
2 cups arugula
1 Tablespoon Olive Oil
2 Tsp Lemon Juice
1/4 Tsp Salt
1/4 Tsp Pepper

For tahini dressing

1/4 cup tahini
1/4 cup water
1 tablespoon lemon juice
1/4 tsp salt
1/4 tsp pepper
Instructions
Pre-heat your oven to 400 degrees Fahrenheit. Remove stems from the bottom of your cauliflower leaving the core in tact. Using a large knife, cut the cauliflower into 4 steaks around 1 /2 inch thick. Cut from the center of the cauliflower. Place on a baking sheet lined with parchment paper. In a small bowl, combine your olive oil, lemon juice, salt, pepper, garlic powder & red pepper flakes and brush on each side of your cauliflower steak. Place in the oven for 15 minutes, flip and cook for an additional 20 minutes.
While your cauliflower steaks are in the oven, prepare your pearled couscous. Place 1 1/2 cups water & 1/4 tsp salt into a pot and bring to a boil. Add in your couscous and lower the heat to a simmer. Cover, and let cook for 10 minutes. After 10 minutes, remove from heat and let stand for 2-3 minutes. After 2-3, fluff with a fork. Set aside.
While your couscous is cooling, make your tahini sauce. Add all your ingredients together and mix to combine. If you sauce seems too thick, gradually add more water.
After 5-10 minutes, add your couscous to a bowl and arugula. Mix in olive oil, lemon juice, salt & pepper.
Once your steaks are done, plate. Drizzle the tahini sauce on each dish and serve!
Thanks so much to Bob's Red Mill for sponsoring this post. It means a lot to me to work with brands I love and support my blog.