Jump to recipe
These chard "enchiladas" are super light, fresh and apart of Sunbasket's new Vegan meal plan! Check out how I made them & how you can join Sunbasket.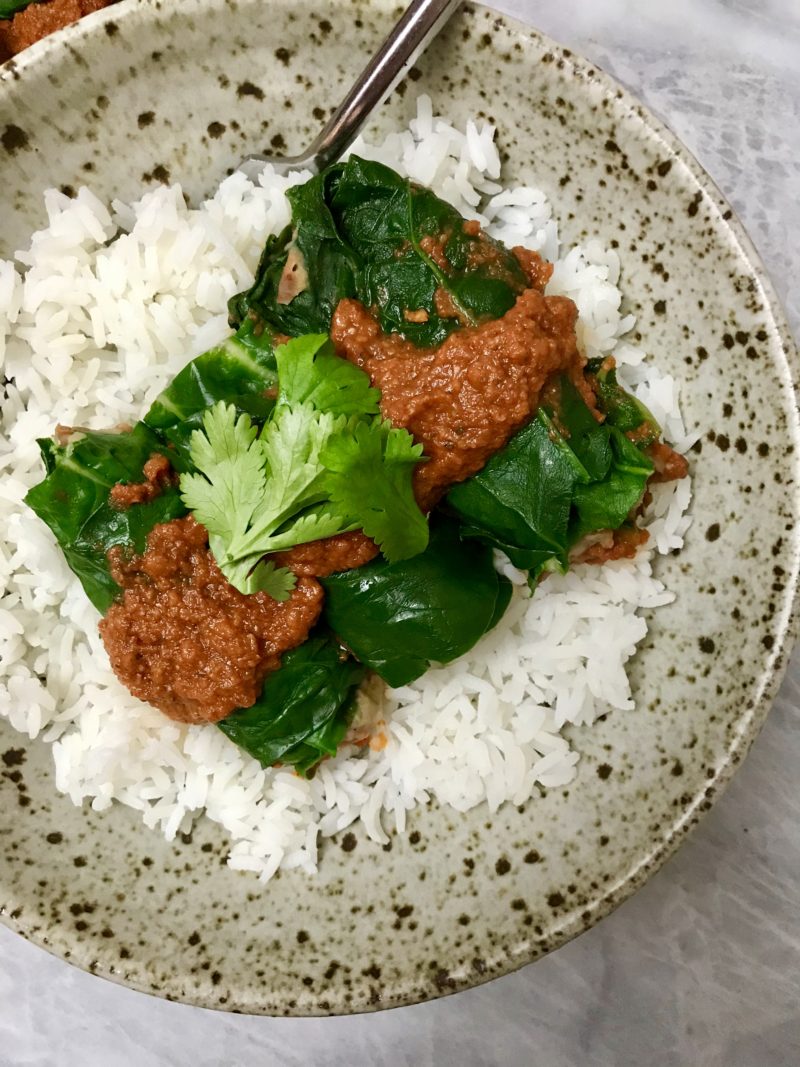 You know when you crave things you've never had? How disappointed would you be in me if I told you I've never had enchiladas? I know, it's shocking.
So when I was going through the menu weeks ahead for Sunbasket and I saw there were these chard "enchiladas" I jumped at the chance. I craved the idea of using chard in place of a tortilla to lighten up the recipe as well as to add more veggies. When I got my box this week, I knew it was the first thing that I had to make.
If you aren't familiar with Sunbasket, it's a organic and sustainably grown produce meal delivery service. All of the recipes are nutritionist approved and the entire box is 100% compostable and recyclable.
They recently added a Vegan meal plan which is loaded with creative recipes that are delivered straight to your door for you to easily whip up!
Whether you're looking to whip up easy and healthy meals on work nights, or new to Veganism and unsure of where to start, Sunbasket the perfect service for you. Each week the recipes are different so it doesn't start to feel repetitive and boring.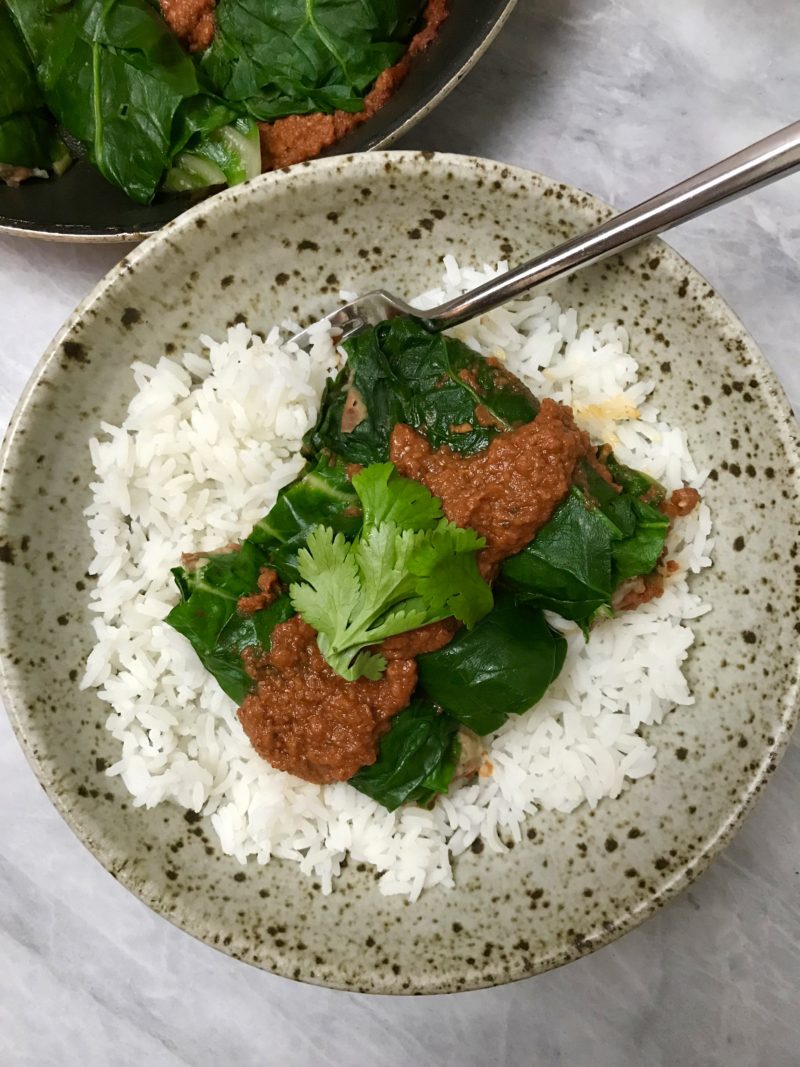 For instance in my box this week I got (besides the chard enchiladas):
Mediterranean Mushroom-Eggplant Flatbreads with Cucumber Salad
Udon Noodle Salad with Gingered Tofu and Pickled Vegetables
Did I mention that all of Sunbasket's produce is ORGANIC and seasonally picked from the best farms?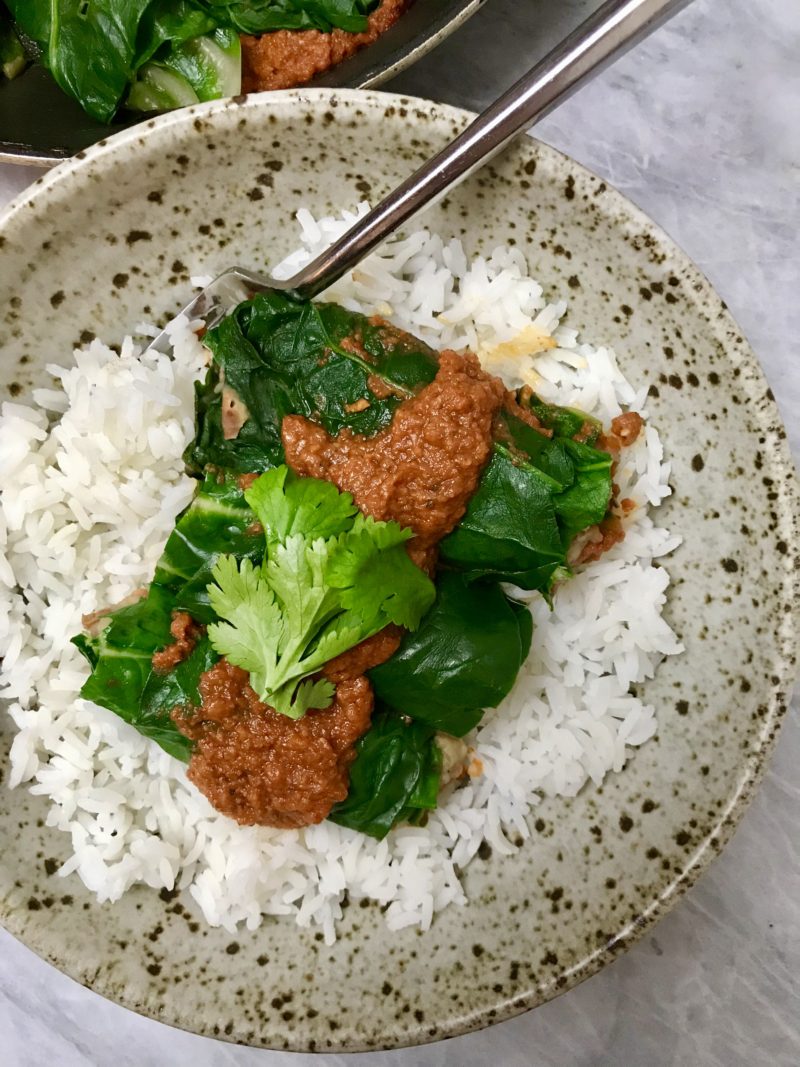 If you didn't see last months recipe that I shared from one of my Sunbasket's meals, check it out here. It was a Tempeh Bolognese & Roasted Broccolini. It was so good and I've made it a few times since!
I hope that you enjoy this recipe! If you make it, don't forget to tag me on Instagram @plantbasedjane
To receive $35 off your first Sunbasket delivery, use this link: http://bit.ly/sunbasket-plantbasedjane
Chard "Enchiladas" with Pinto Beans and Mexican Simmer Sauce

Ingredients
1/2 cup long-grain white rice
3 chard leaves
1 small onion
1 15oz can pinto beans
1 green or red fresh chili (such as poblano - this is optional)
1 can diced green chilis
Sun Basket Mexican simmer sauce base (1 small can pureed tomatoes, onion powder, fresh garlic, chili powder, sweet paprika, coriander, cumin, dried Mexican oregano)
Fresh cilantro
From your pantry:
Kosher Salt, freshly ground pepper, olive oil
Instructions
Begin by cooking your rice. Combine 1/2 cup rice and 1 cup water and cook according to package instructions.
Now, blanch your chard leaves. Bring a medium pot water lightly salted to a boil. Working with one chard leaf at a time, use tongs to hold the stem and dip the leaf into boiling water for 15 seconds. After 15 seconds, run each chard leaf under cold water. Carefully squeeze the excess water out of the chard leaves and transfer to a cutting board. Cut each leaf in half lengthwise and remove the stem. Remove the stems and reserve for the filling. You will have around 6 larger leaves for the stuffing.
Finely chop up your stem leaves to measure around 1/2 cup. Peel and chop up our onion enough to measure to 3/4 cup. Rinse your pinto beans and if you decide to use fresh chili, remove the stems, ribs and seeds. Finely chop chili. Remember to wash your hands after cutting it up!
In a medium frying pan, add 2 tablespoons of olive oil. Add in your chard stems, onion and as much fresh chili as your desire. Season with salt and pepper and cook for 5-7 minutes. After, stir in your beans and green chiles. Cook until warmed through (1-2 minutes). Transfer your mix to a large bowl and using either a fork or potato masher, mash up your mix. Season with salt and pepper and set aside.
In the same pan, add all your ingredients to create your Mexican simmer sauce. Let cook until it has reduced.
While your sauce is cooking, assemble your enchiladas. Place 2-3 tablespoons of the filling at the base of each large chard leaf. Roll up the leaves to form your enchiladas. Once all your enchiladas are formed, and your sauce has reduced, carefully place your enchiladas seam side down into the sauce. Cook over medium-high heat until the enchiladas are warmed through. Remove from heat.
Coarsely chop up your cilantro and add half of it to the rice. Reserve the other half for a garnish.
Transfer the rice to individual lates and add your stuffed chard on top. Garnish with remaining cilantro and serve.
Thank you to Sunbasket for sponsoring this post. It means a lot to work with brands I love and support my blog.