Jump to recipe
A healthier take on "eggplant parm," this eggplant boats will sure be a crowd pleaser!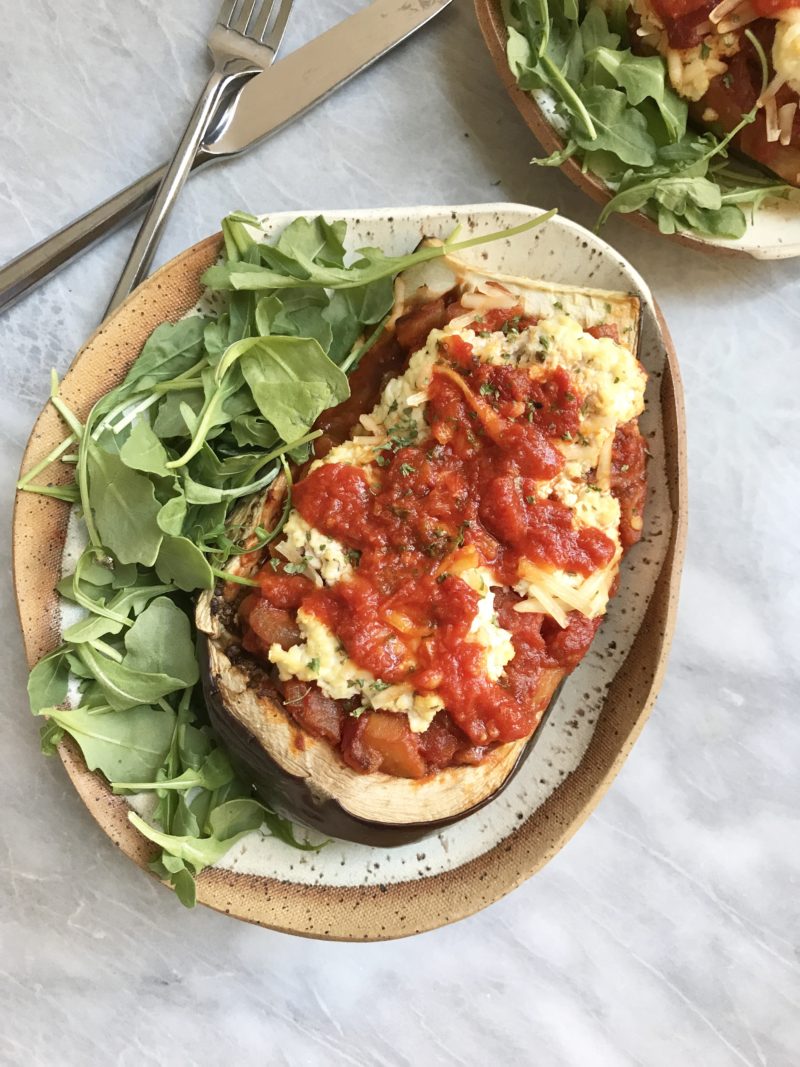 In a personal effort to eat much vegetable based meals this Fall/Winter season, I decided that I would start also doing recipes to help inspire this goal of mine!
People often say they don't like vegetables (adults), and I simply think it's because they haven't found interesting ways to cook them yet. Yes at times salads may seem boring, but it's about using these plants and finding fun ways to incorporate them into our diet. I also strive to make easy and approachable recipes. So if I can combine those two ideas with different ways to cook vegetables for you guys, then I'm a happy girl.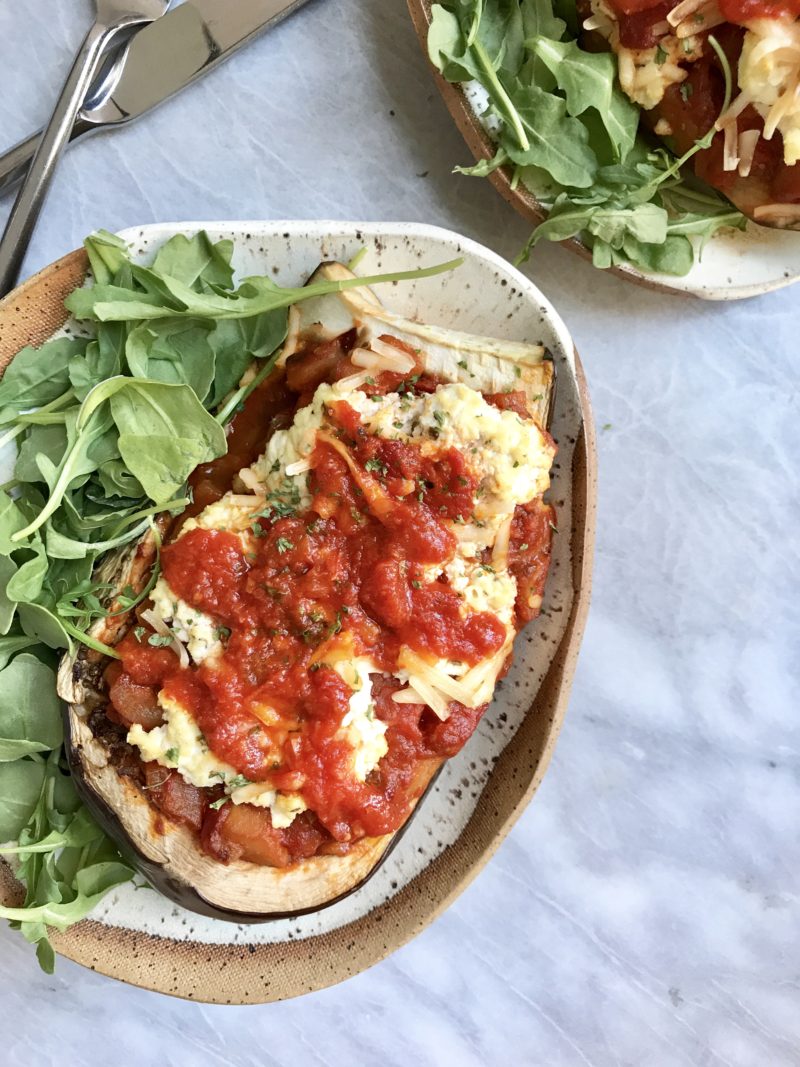 To make this recipe even more delicious, I added some of my tofu ricotta. I even added a little vegan cheese, but you can completely omit that step.
These remind me a lot of eggplant parm, but 10x healthier. Eggplant is an underrated vegetable to me, when in reality it has a lot to offer. Specifically, I love it in Italian dishes, so this to me was a no brainer!
I hope that you guys enjoy this recipe!
If you ever make any of my recipes, don't forget to tag me on Instagram @plantbasedjane so I can see!
Stuffed Eggplant Boats

Serving Size
1 Boat Per Person
Ingredients
1 Medium Eggplant
1 Small Onion
1 Tomato
1 1/2 Cups Jarred Tomato Sauce
2 Garlic Cloves
1/2 Tsp Oregano
1/2 Tsp Pepper
1/4 Tsp Salt
For Tofu Ricotta:
1/2 Cup Firm Tofu
1 Tablespoon Vegan Cream Cheese
1/2 Tablespoon Nutritional Yeast
1/4 Tsp Dried Basil
1/4 Tsp Dried Oregano
1/4 Tsp Salt
1/4 Tsp Pepper
Instructions
Pre-heat your oven to 350 degrees Fahrenheit. Spread around 1/2 a cup of sauce in the bottom of a baking dish.
Cut your eggplants in half lengthwise, and with a spoon carefully hallow out the eggplant leaving a 1/2 inch border around the skin to create a boat. Chop up the eggplant you've scooped out. At this time, chop your onion, tomato & garlic too.
Heat a large sauté pan on medium heat, and add some olive oil. Add in your chopped onion and cook for 5 minutes, or until lightly browned and fragrant. Add in your chopped eggplant as well as your spices. Cook for for another three minutes. Then, add in your garlic and cook for another 1-2 minutes.
Turn down your heat and add in your chopped tomato. Cook for 1-2 minutes. Then, add in 1 cup of your jar tomato sauce. Let cook for 1-2 minutes then turn down the heat.
To make your tofu ricotta combine your tofu, vegan cream cheese & spices. Mash with a fork until all combined and creates the texture of ricotta. Set aside.
With a spoon, evenly distribute your eggplant/onion/tomato mixture into your eggplants. Top with your tofu ricotta and bake in the oven for 45 minutes, or until the eggplants are tender.
Serve!