In August I was lucky to take a 3 day vacation with my boyfriend to Boston, MA. It's a place that we have both been dying to go to together, and we decided going around the time of our 5 year anniversary would be perfect!
For our trip, we stayed at the Revere Hotel, located in Back Bay/South End. The Revere Hotel recently finished a major renovation, so it was absolutely beautiful!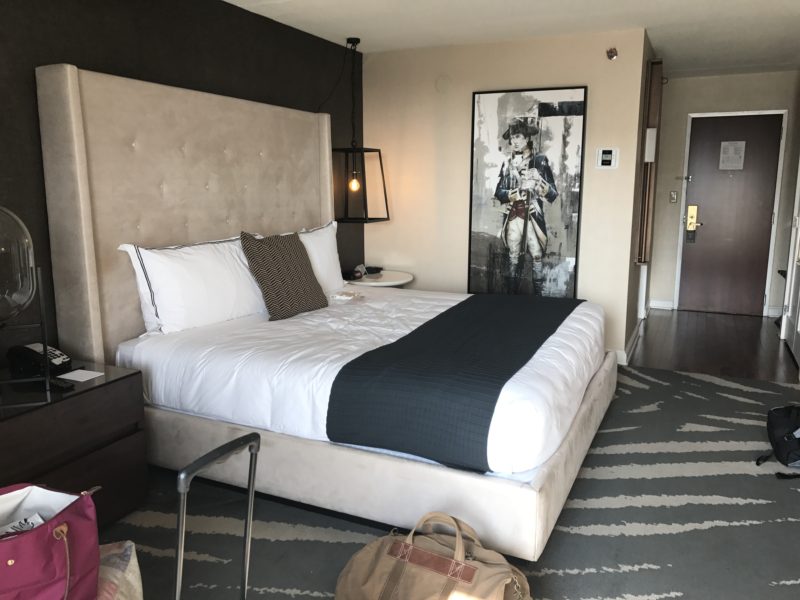 The king sized bed was so so comfortable! I genuinely haven't slept that well in a long time.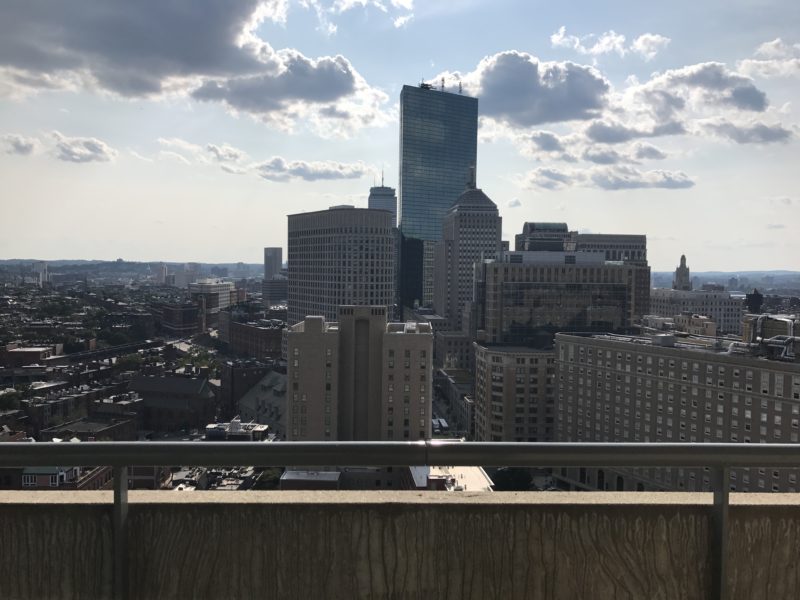 Our view from the room! We were on the top floor, so we got the most beautiful view of the skyline.
I was especially impressed that when we got to the hotel all the shampoo/conditioner and toiletries were cruelty free. I brought my own to be safe, but ended up using the ones provided! I've never seen a hotel have face wash before? So, that was pretty awesome. Next time I wouldn't bring anything of my own (except for toothbrush, toothpaste, etc.) to save room!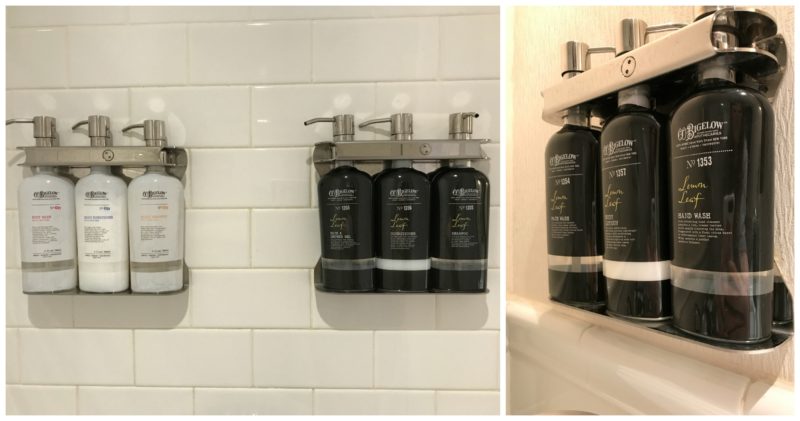 The day we arrived:
We arrived a little bit past four and took an uber from the bus terminal to our hotel. We noticed that everything is relatively near by and we ran into ZERO traffic over our trip. Nothing compared to New York!
We were able to check in immediately and get into our room, and just relaxed for 10-15 minutes. Since it was a beautiful day we decided to go to the rooftop bar at the Revere Hotel and had a cocktail before heading over to the Red Sox game!

We managed to find really cheap seats in THE FOURTH ROW behind home plate! It was honestly amazing!
The Revere Hotel was relatively close to Fenway, so we hoped in an Uber and off we went. I managed to find a pretzel there which was actually REALLY good! The best part, the sox won! It was amazing feeling the energy of the oldest stadium of all time. It was one of the highlights of the trip!
We talked most of the way home and then took an uber for the remaining blocks (we were exhausted).
Day Two
On our second day we woke up and decided that we were too lazy to go get breakfast, so room service it was!
Amazingly enough, Revere Hotel has a lot of Vegan options on their menu! Or, they have items that could easily be made Vegan. I decided to get oatmeal. It came with cinnamon apple relish, cranberry compote & maple syrup. It also came with creme fraiche but I asked for them to not add it! I brought my own sunbutter to add for added protein and it was amazing! The cinnamon apple relish and cranberry compote were out of this world and super fancy, I was really impressed.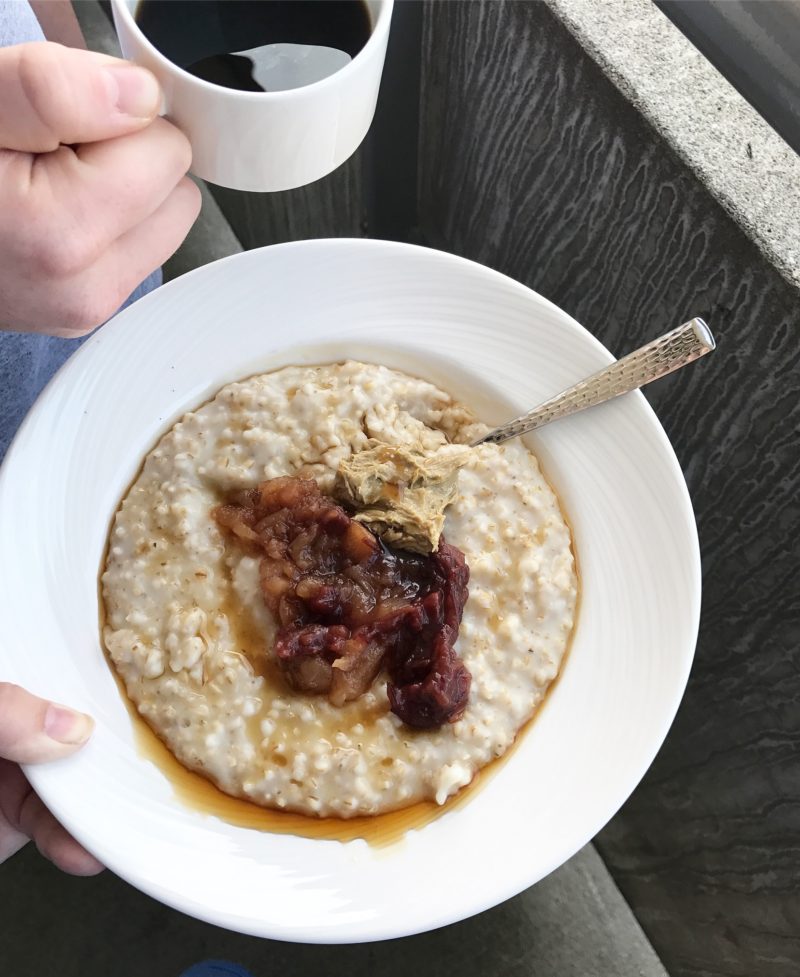 On the side I had some coffee and soy milk. Love how the hotel had soy milk too!
This day we went to Faneuil Hall Marketplace which has a lot of shopping, food, etc. We didn't get anything but we enjoyed walking around and soaking up all the tourist experiences.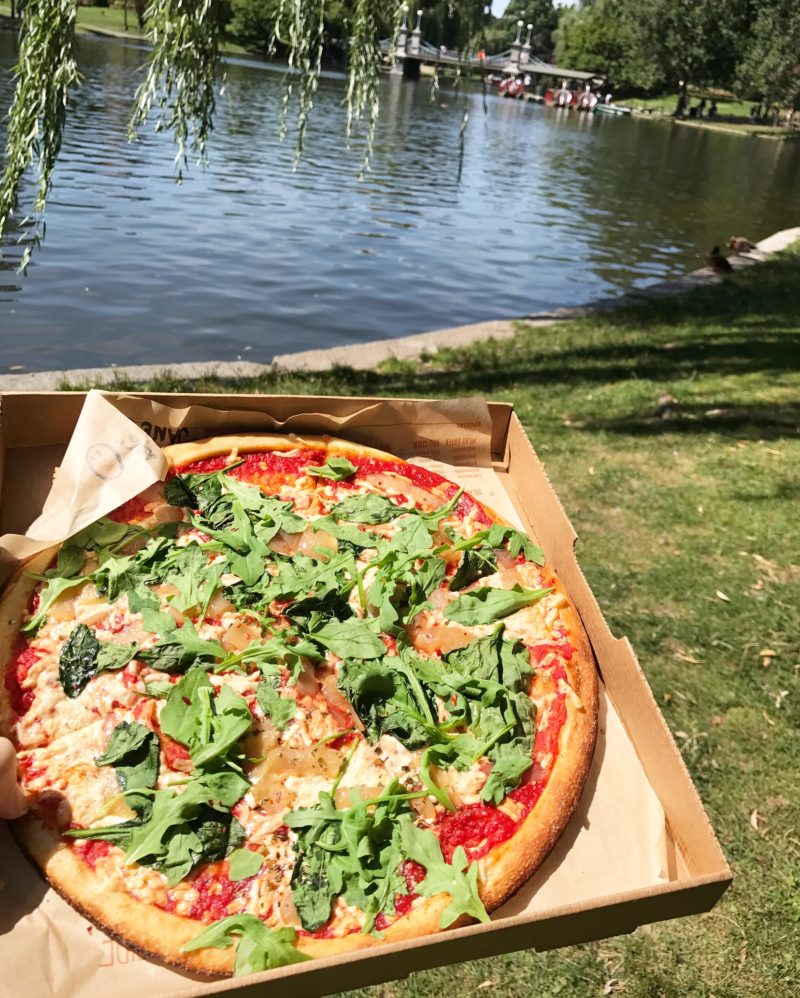 We then decided to get some lunch! Our hotel is just a block away from Blaze pizza, which is basically a Chipotle for Pizza. They have Vegan cheese so it was perfect!
Revere Hotel is also right next to Boston Public Garden. Since it was such a sunny and beautiful day, we took our pizza to the park and sat by the water. It was honestly such a peaceful experience!
As for the rest of the day, we decided to be lazy. Revere Hotel has an option on their T.V to sign into your Netflix account! We decided to start the show Ozark and relaxed. We ended up going for dinner at Yard House and I had the Vegan burger.
Day Three:
Today we decided to venture off to cambridge and check out Harvard & VEGGIE GALAXY! This was the #1 requested place you guys told me about and I am so glad I went! Our hotel is right next to the bridge to get into cambridge so it was such short trip!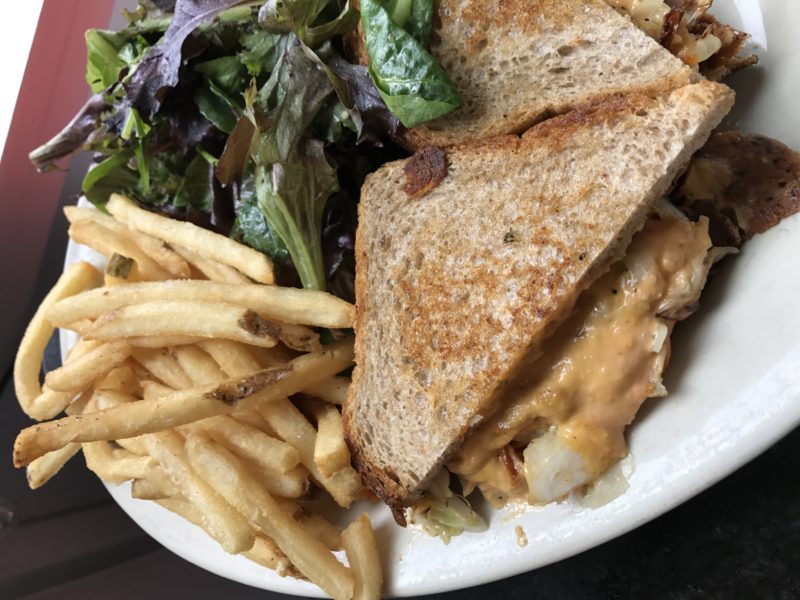 I got "The Rachel," which was grilled shaved corn beef seitan, green cabbage kraut, vegan cheese & thousand island dressing. It was absolutely amazing!
We then went to Harvard and walked around for a bit! It was raining this day so it was extremely humid!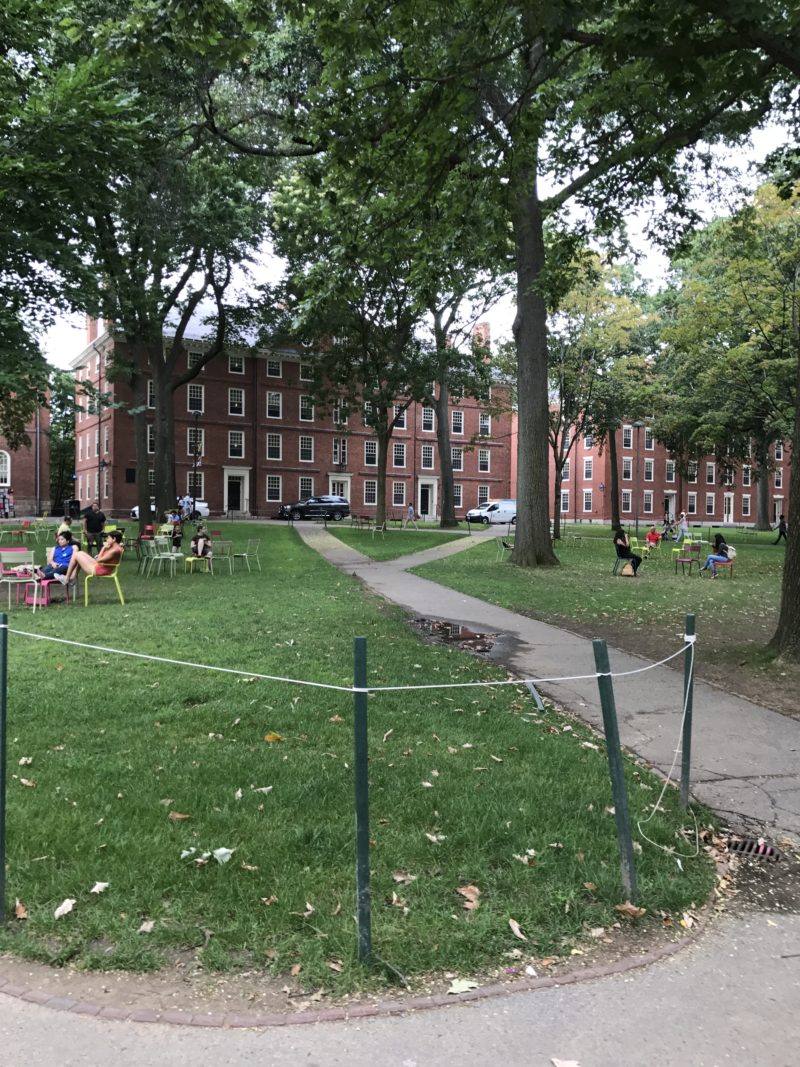 After our walk around the Harvard campus, we took an uber to the Granary Burying Ground.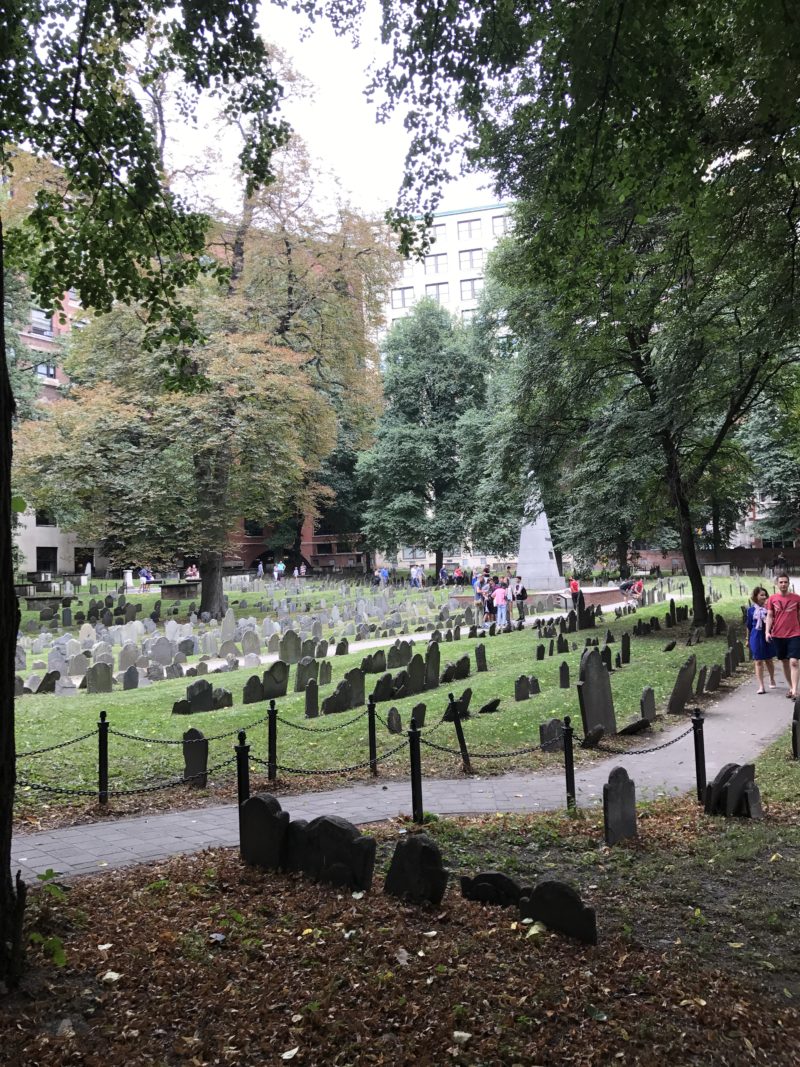 There are so many important people buried here, such as Sam Adams & Paul Revere. It was kind of crazy to be so close to once important people in American history.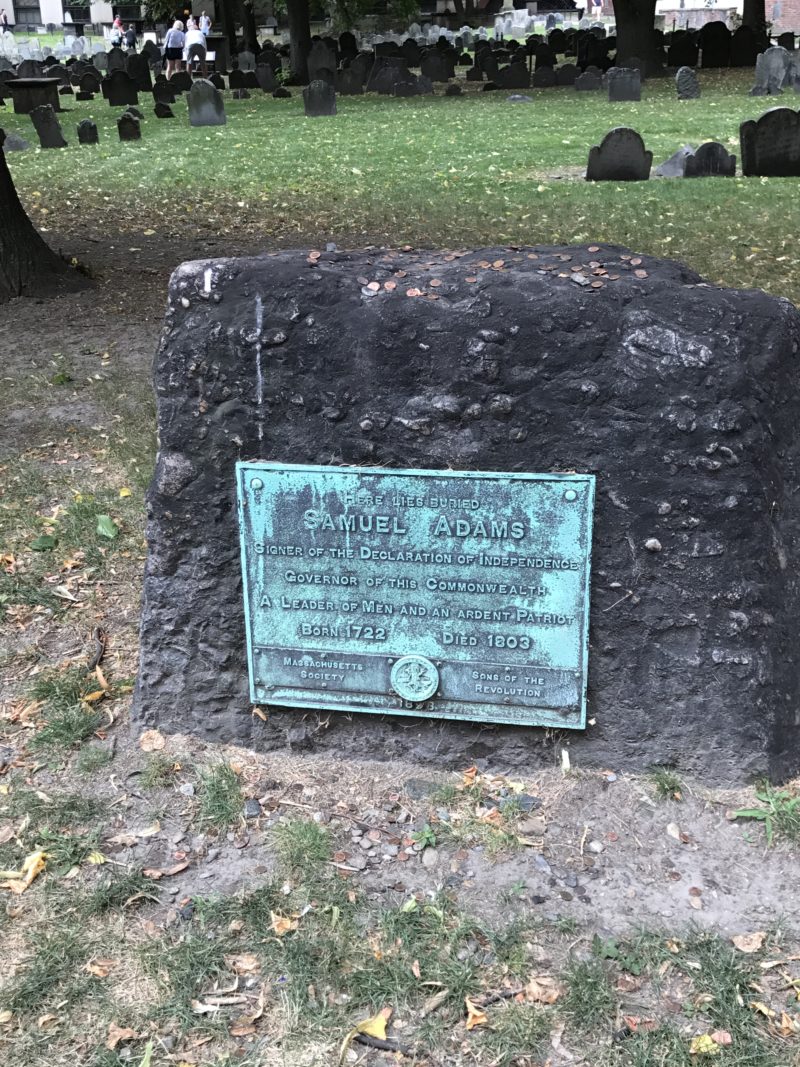 The Granary Burying Ground was only around half a mile from our hotel, so we decided to walk back and through the Boston Commons.
Since it was a rainy day, and we were tired, we decided to go back to Blaze Pizza for dinner and take it back to our room to watch some Netflix. My favorite part about the Revere Hotel was that you could log into your Netflix account through the T.V and watch all your favorite shows/movies. It made our trip!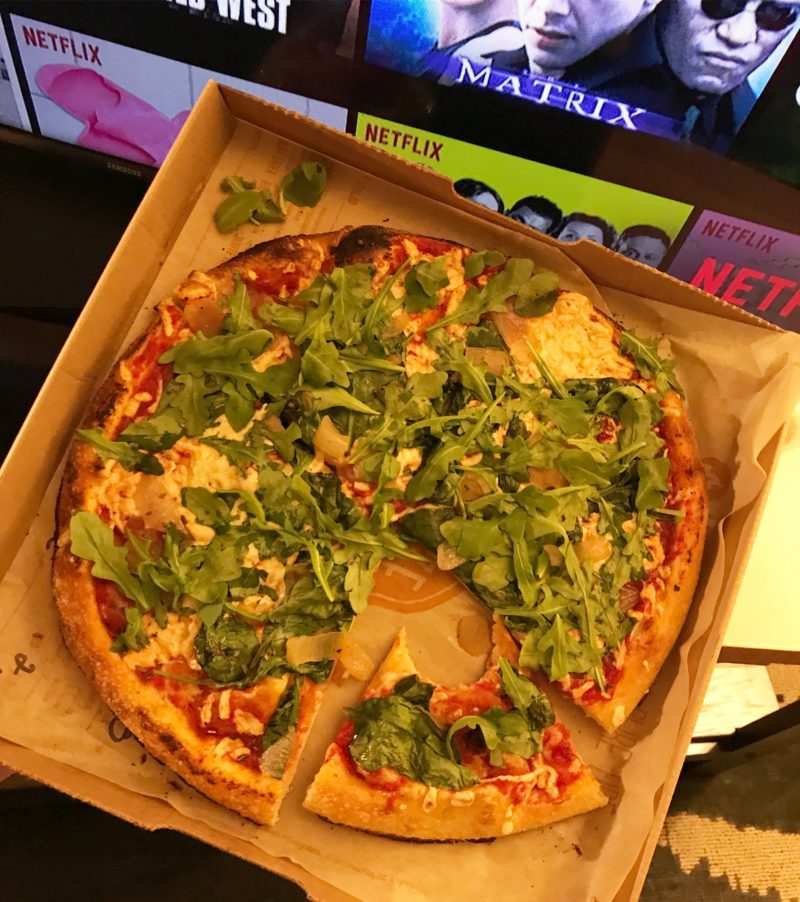 Day Four
Technically, we didn't have a day four as our bus left at 12pm. We woke up, admired our view one more time, and ordered some room service.
I got some bread with fruit & coffee! I had my sunbutter to top the bread with and add extra protein!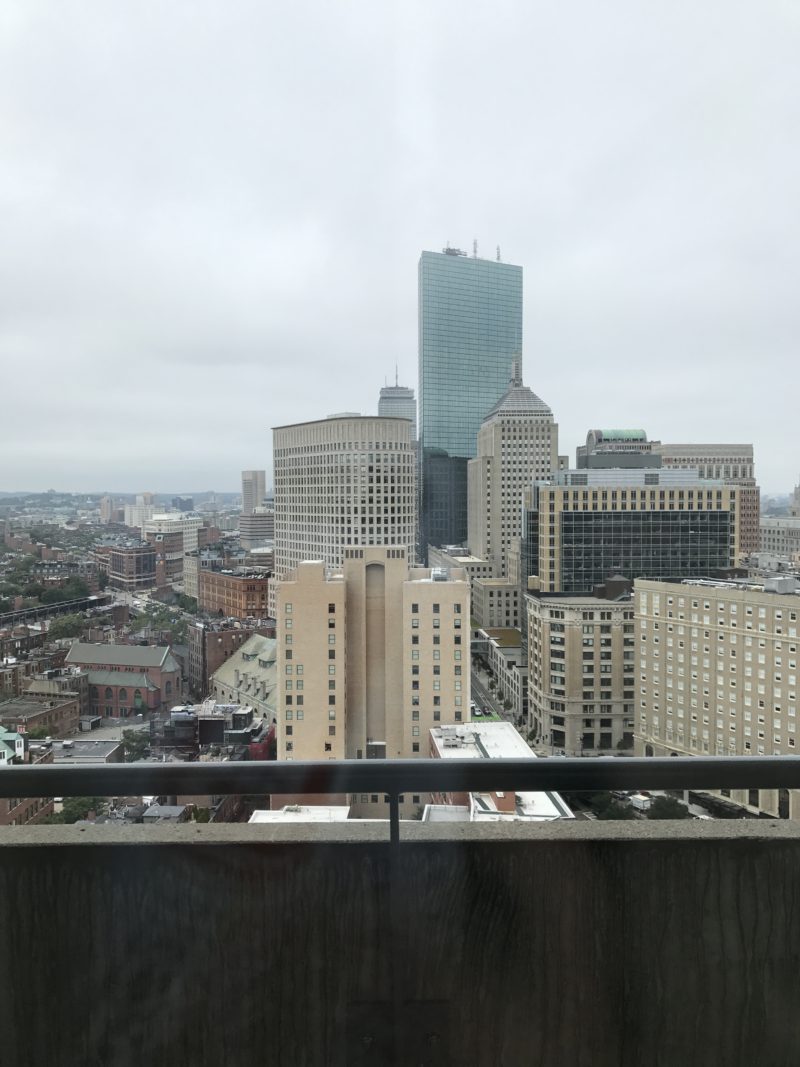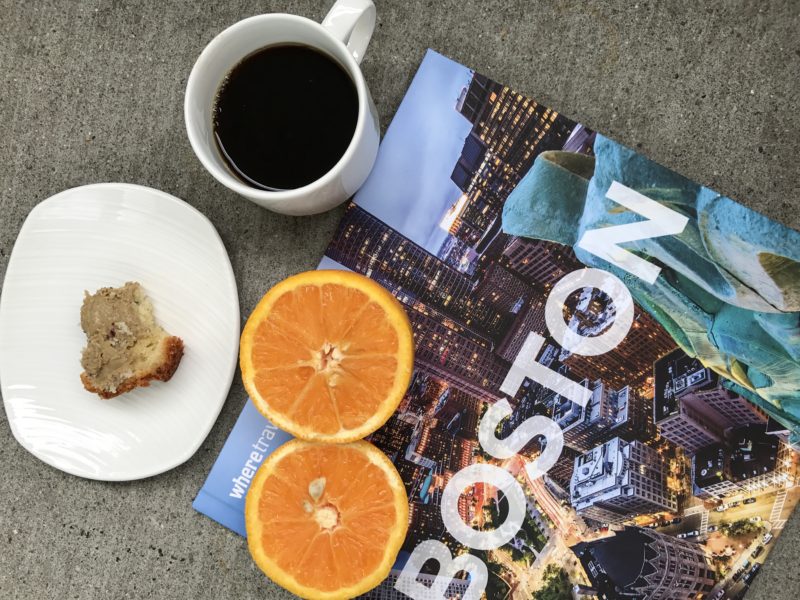 The Revere Hotel was very close to the bus terminal, so we took an Uber over and hopped on our bus to journey home!
My boyfriend and I had the most incredible time. The Revere Hotel truly made us feel at home! We hope to go back in the future!