Jump to recipe
Change up your breakfast taco game with these tofu scramble breakfast tacos with sweet potato hash browns and a special sauce!
With the weekend around the corner, why not add a new and fun concept to your breakfast routine? The weekend is about sleeping in, and having some time to yourself. Why not treat yourself even more by making these amazing breakfast tacos with sweet potato hash browns and a special sauce?
I've been using Dr. Praeger's products ever since I was a kid! I post about their products frequently on my IG because I can use them on any occasion! Some of their vegan items include veggie burgers, hash browns & veggie puffs (which are basically a healthier version of a tater tot!).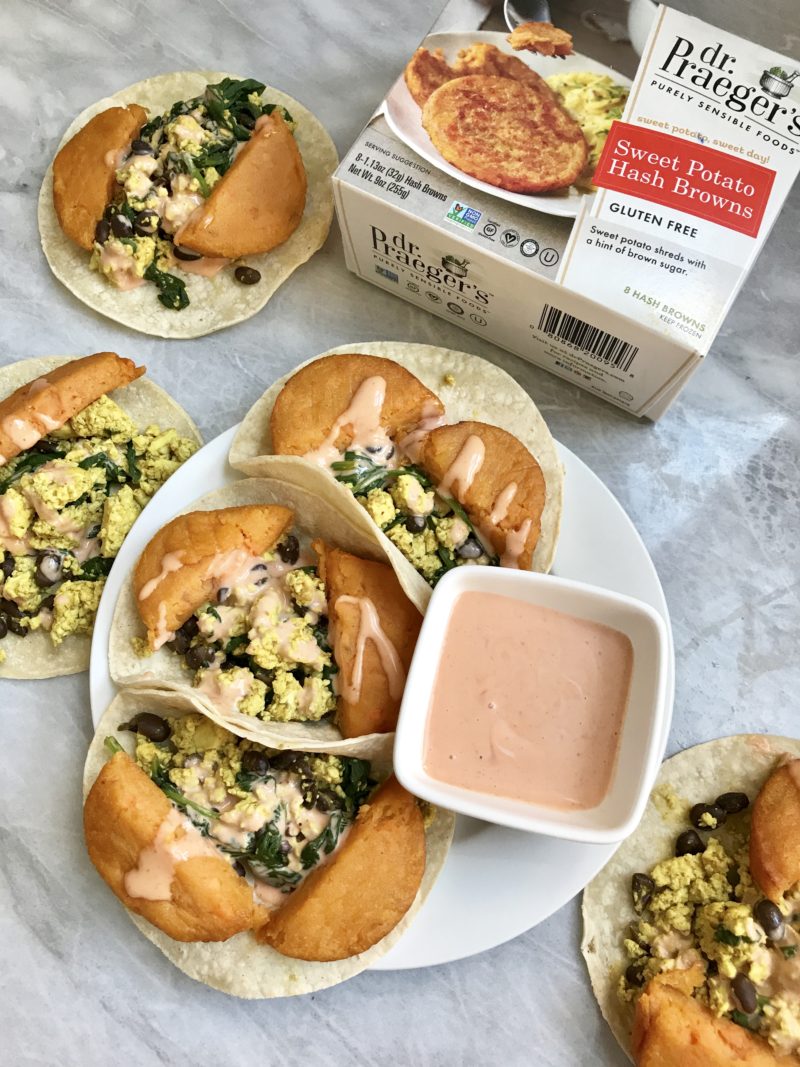 Dr. Praeger's products are so easy to prepare, and these hash browns you can cook in the EXACT time it takes to make the tofu scramble…so it all works out!
The hash browns are slightly sweet, which goes perfectly with this special sauce I made! It only takes about 1-2 minutes to whip up and is the perfect sauce to help elevate these tacos even more!
I definitely do recommend all of the Dr. Praeger's products, and especially recommend adding them to tacos! It is such a game changer. Also, who doesn't love potatoes?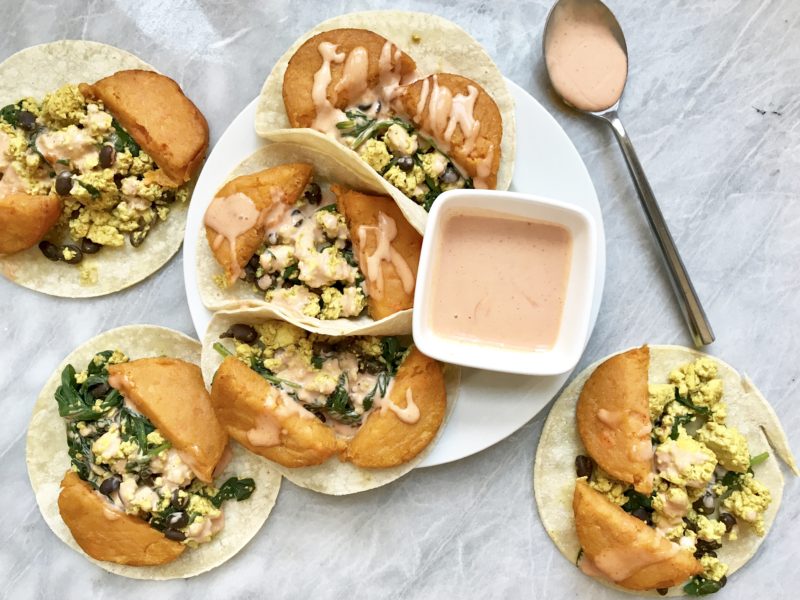 I hope that you enjoy this recipe!
If you ever make any of my recipes, remember to tag me on Instagram so I can see!
Sweet Potato Hash Brown Breakfast Tacos

Ingredients
1 Package Dr. Praeger's Sweet Potato Hashbrown's
1 Package Firm Tofu
1/2 Tsp Turmeric
1/2 Tsp Chili Powder
1/2 Tsp Onion Powder
1/4 Tsp Oregano
1/4 Tsp Salt
1/4 Tsp Pepper
4 Cups Spinach
1 Cup Black Beans
1/4 Cup Vegan Mayonnaise
1 Tablespoon Sriracha
1 Tablespoon Ketchup
1/4 Tsp Garlic Powder
8 Corn Tortillas
Instructions
Pre-heat your oven to 450 degrees Fahrenheit. Place your hash browns on a baking sheet lined wth parchment paper. Put in the oven for 5 minutes, flip, and let cook for an additional 4 minutes.
While your hash browns are cooking, directly crumble your tofu into a sautee pan on medium heat for 3-4 minutes. Add all of your spices (except for the garlic powder). Add in your black beans & spinach. Cook until the spinach is wilted. Take off heat.
Make your sauce! In a small bowl combine your vegan mayo, ketchup, sriracha and garlic powder.
Heat your tortillas. Then, evenly distribute your tofu scramble and hash browns among to tortillas. Drizzle on your sauce and serve!
Thank you to Dr. Praeger's for sponsoring this post. It means a lot to me to work with brands who I love and support Plant Based Jane.