The name doesn't lie! This recipe is incredibly easy to make but also packs on the veggies!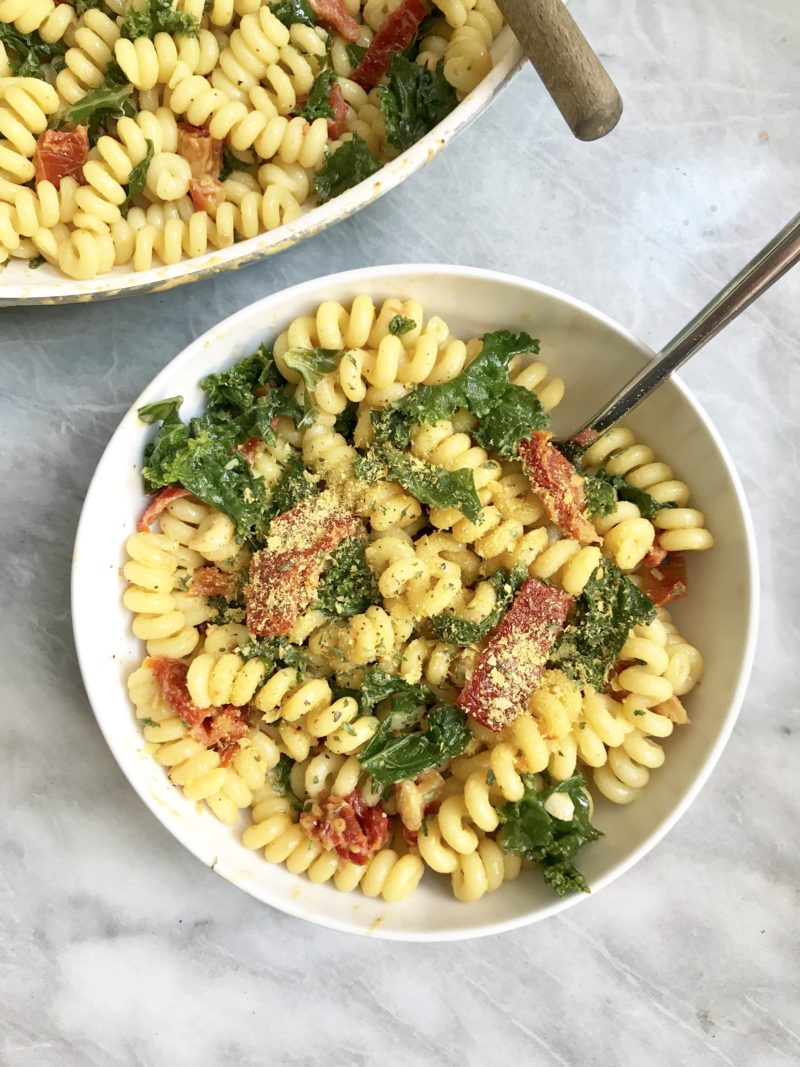 It's been a little bit since I've posted a pasta recipe on the blog, so I decided to dive right back into it with this super easy pasta recipe!
This recipe comes together in 20 minutes but packs all that good flavor!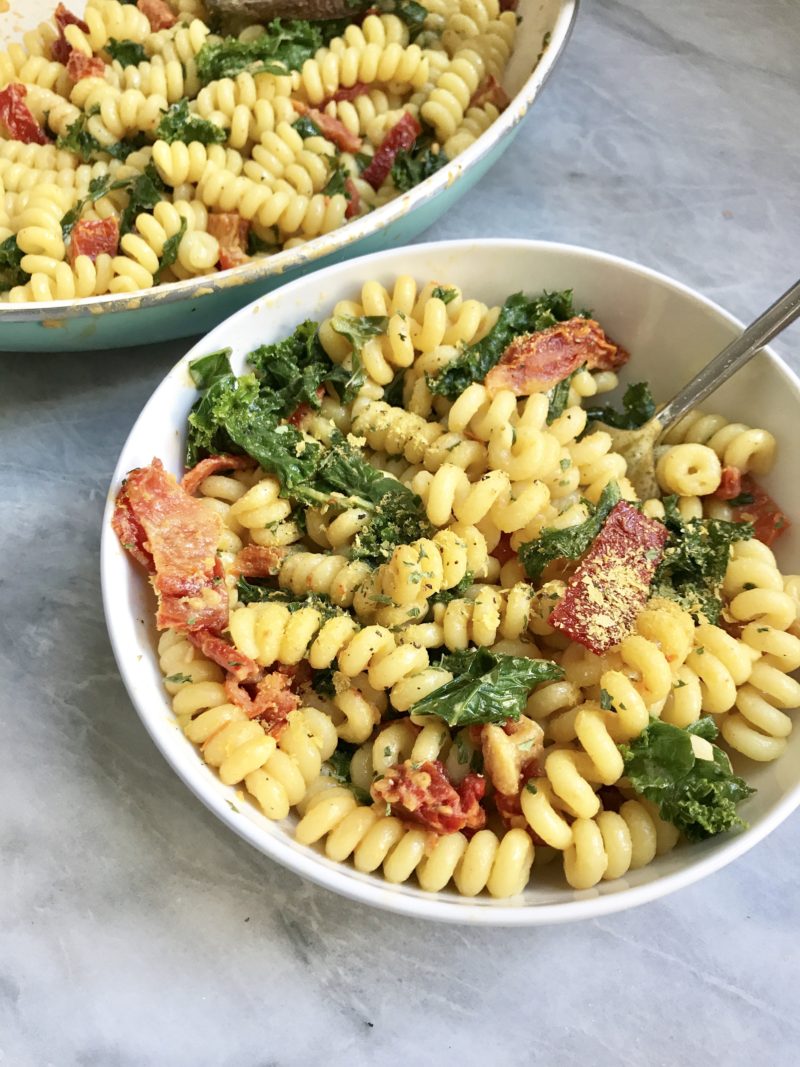 Usually after a long day of work/school…we want to gravitate towards a meal that will be comforting to us. That inspired this easy and delicious pasta recipe.
This recipe calls for an easy clean up, which means more time to relax!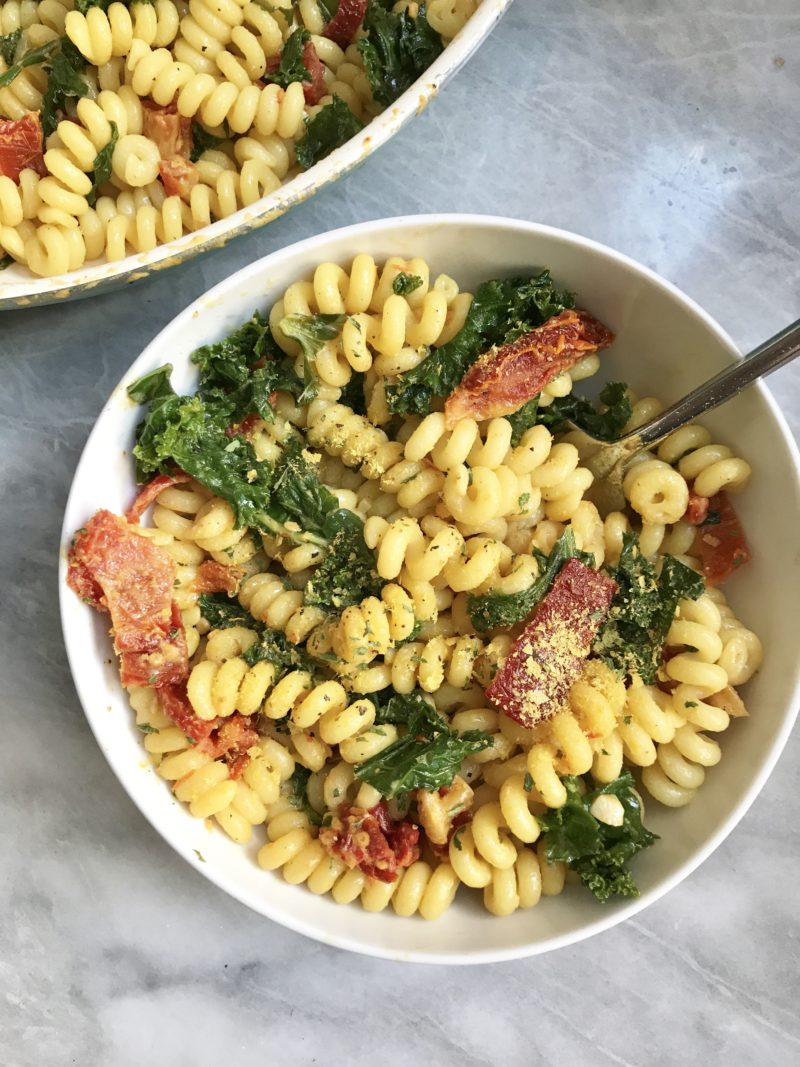 I hope that you enjoy this recipe!
If you make any of my recipes, don't forget to tag me on Instagram @plantbasedjane so I can see!
Easiest Pasta Recipe Ever!

Ingredients
2 Cups Pasta of Choice
2 1/2 Cups Kale
1/2 Cup Sun Dried Tomato
1/2-3/4 Cup Reserved Cooking Water
2 Tablespoons Vegan Butter
2 Tablespoons Nutritional Yeast
2 Garlic Cloves
1 Tsp Olive Oil
1/4 Tsp Salt, Separated
1/2 Tsp Pepper, Separated
Instructions
Bring a pot of water to a boil, and cook your pasta according to package instructions.
As your pasta is cooking, finely chop your kale, sun dried tomatoes and garlic. Bring a large sauté pan to medium heat and add your olive oil and garlic. Cook for 30 seconds, or until fragrant. Add in your kale, salt & pepper and let cook for 2-3 minutes. Turn off the heat and add in your sun dried tomatoes. Mix around and let stand.
Right when your pasta is finished, reserve 3/4 cup pasta water. I usually place a bowl under my colander and when I drain the pasta the bowl will catch the reserved cooking water.
Throw your cooked pasta into the sauté pan. Turn the saute pan on low heat. Add in the remaining ingredients and pour in the pasta water gradually. I like to use the whole 3/4 cup as it really helps make the sauce creamy. Stir well until everything is combined.
Serve & Enjoy!