Jump to recipe
A delicious and easy recipe packed with so many delicious flavors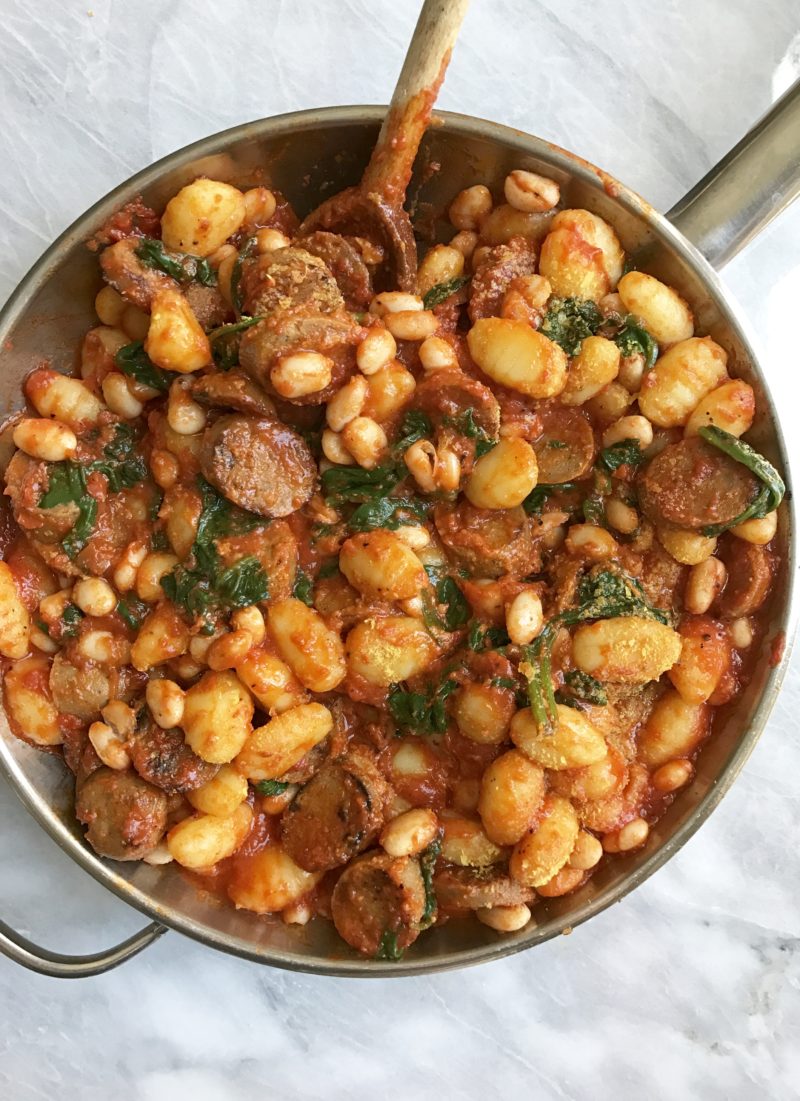 I am a sucker for two things: 1. Pasta dishes 2. EASY dishes. We all want to create these delicious recipes that don't take long but are still edible. You don't need all these crazy ingredients to make delicious and hearty meals, you just need creativity!
When it comes to pasta dishes, fresh sauces can be nice, but are also quite time consuming to make. It's important (in my opinion) to find one store bought sauce that you LOVE and tastes like it came straight from the stove top.
I speak about Jar Goods often on both my social media and blog just because it truly is my favorite sauce and one I've been using for about a year now! I randomly came across it at Stop & Shop and was drawn in by the pretty bottle. When I looked on the back and it was clearly labeled "Vegan," I instantly put it in my cart. Isn't it great when companies label things Vegan so you don't have to go frantically looking through the ingredient list? Me too friends, me too.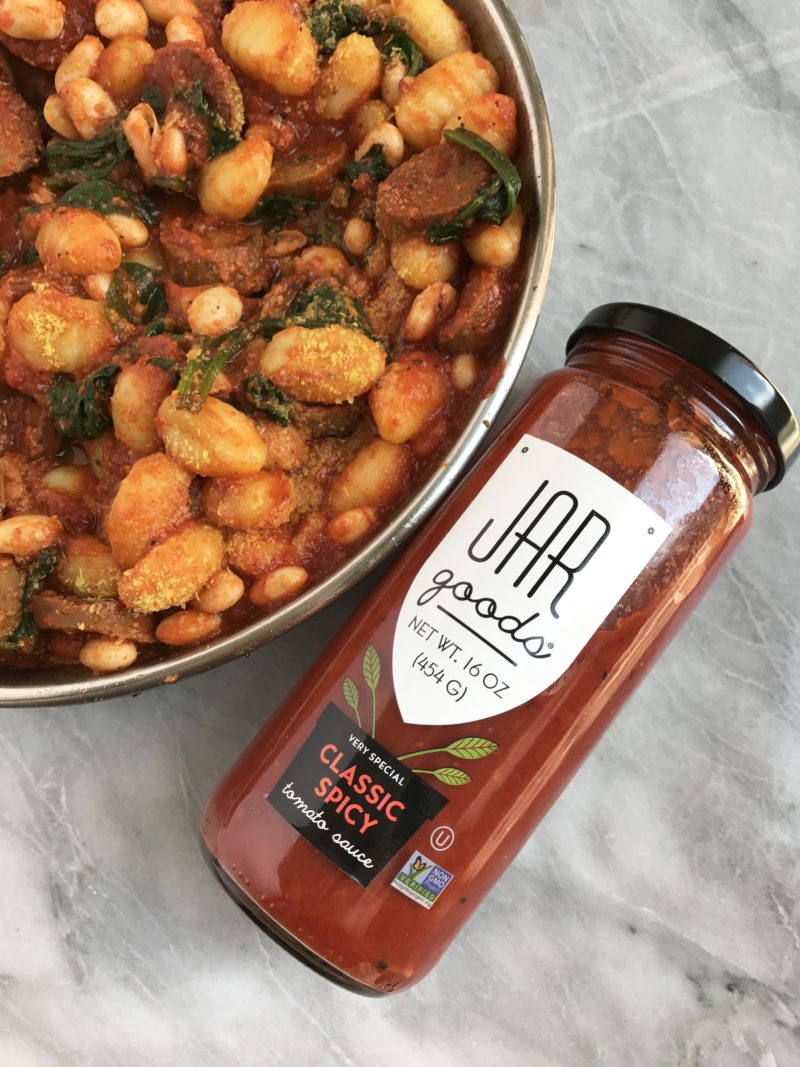 I used the Classic Spicy in this sauce because I love how the spice mends with the over flavors in this dish! They also have Classic (and a VEGAN VODKA SAUCE coming soon!!!).
I never do recipes with Vegan meats often, but I just love Vegan sausage. Which is pretty ironic, considering I never ate sausage until I went Vegan and had it meat free. Now I absolutely love it & think it really compliments the other ingredients in this dish!
I also get a lot of requests to feature beans in my recipes, so having a simple white bean bulks it up and adds protein. White beans in general are fantastic for pasta dishes!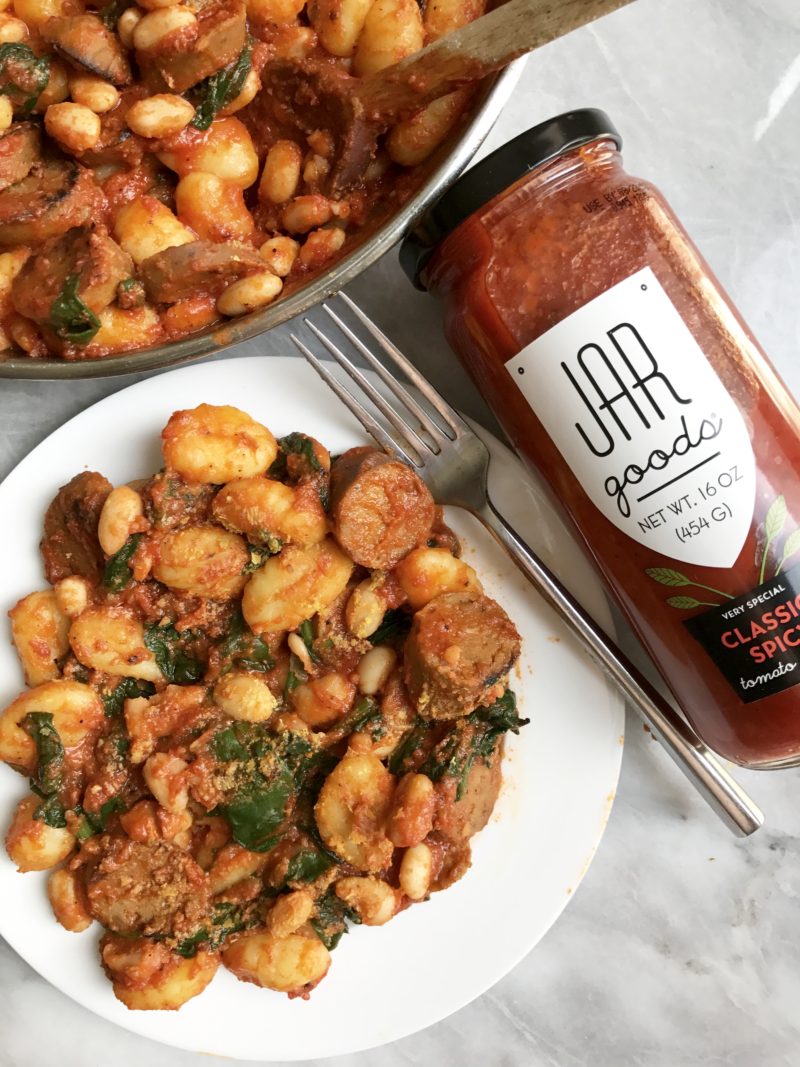 Sprinkle the top when some Vegan parm or nutritional yeast, and you have a delicious dish! This takes 20 minutes to make and is perfect to serve to your non-vegan family and friends! they'll NEVER know!
To purchase Jar Goods online, or search for your nearest retailer, click here.
Spicy Tomato Gnocchi With White Beans, Spinach & Vegan Sausage

Ingredients
1 Jar Jar Goods Classic Spicy Sauce
1 16oz Package Shelf Stable Gnocchi
1 15oz Can White Beans
1 13oz Package Vegan Sausage (I like Field Roast Apple Sage)
1 5oz Package Spinach
1/4 Tsp Salt
1/4 Tsp Pepper
1/4 Tsp Garlic Powder
Instructions
Bring a large pot salted of water to a boil. Meanwhile, cut your sausages into bite sized pieces. Also, rinse and drain your beans. Set aside.
As your water is coming to a boil, begin cooking your sausages. Heat up a large sauté pan on medium heat with a little oil. Cook sausages for 7-10 minutes, or until browned.
After 10 minutes, take your sausages off of the heat and put on a plate lined with some paper towels to remove any excess oil. If your water is boiling, add your gnocchi and cook according to package instructions(mine takes 2 minutes).
While the gnocchi is cooking, add your spinach to the sauté pan. Add in some salt, pepper and garlic powder to taste. When the spinach is wilted, lower heat and add back in the sausage. Drain your gnocchi and add to the sauté pan. Throw in your beans and Jar Goods sauce. Mix to combine and serve!
Enjoy!
Thank you to Jar Goods for sponsoring this post. It means a lot to me to work with brands that I truly love and support my blog, Plant Based Jane.