Want to make a delicious buddha bowl but unsure of where to start? This sweet potato & crispy chickpea bowl is the best start!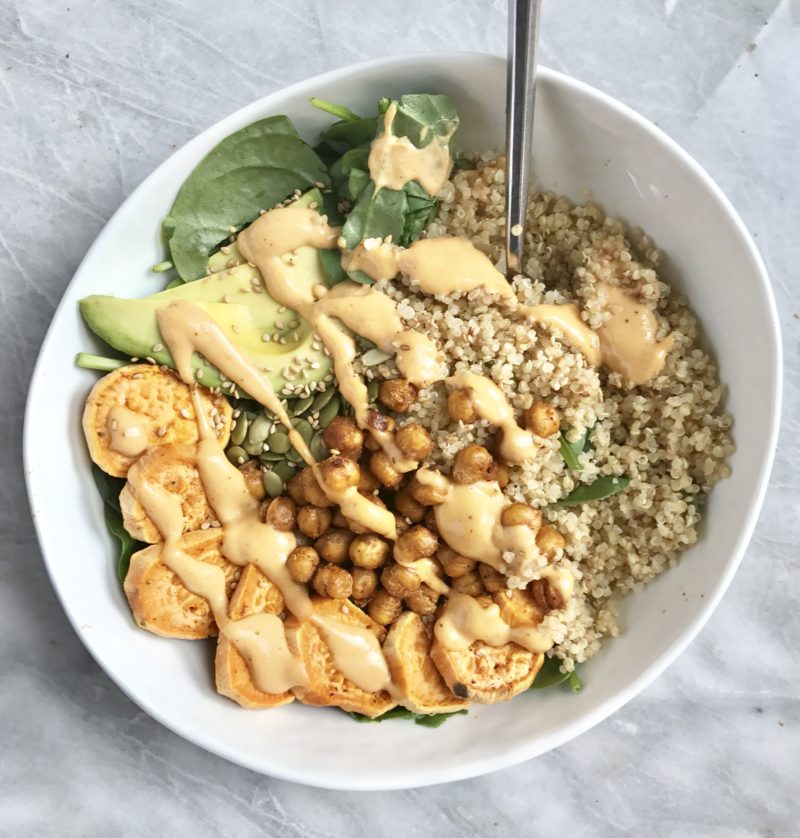 We always see these beautiful "buddha bowls" on our Instagram feeds, explore pages, etc. They all look so delicious and nourishing, but they can also be intimidating.
I make bowls often just because they're a great way to get in all your veggies, grains and proteins. I usually have my veggie go-to's, and I wanted to share how exactly I make it!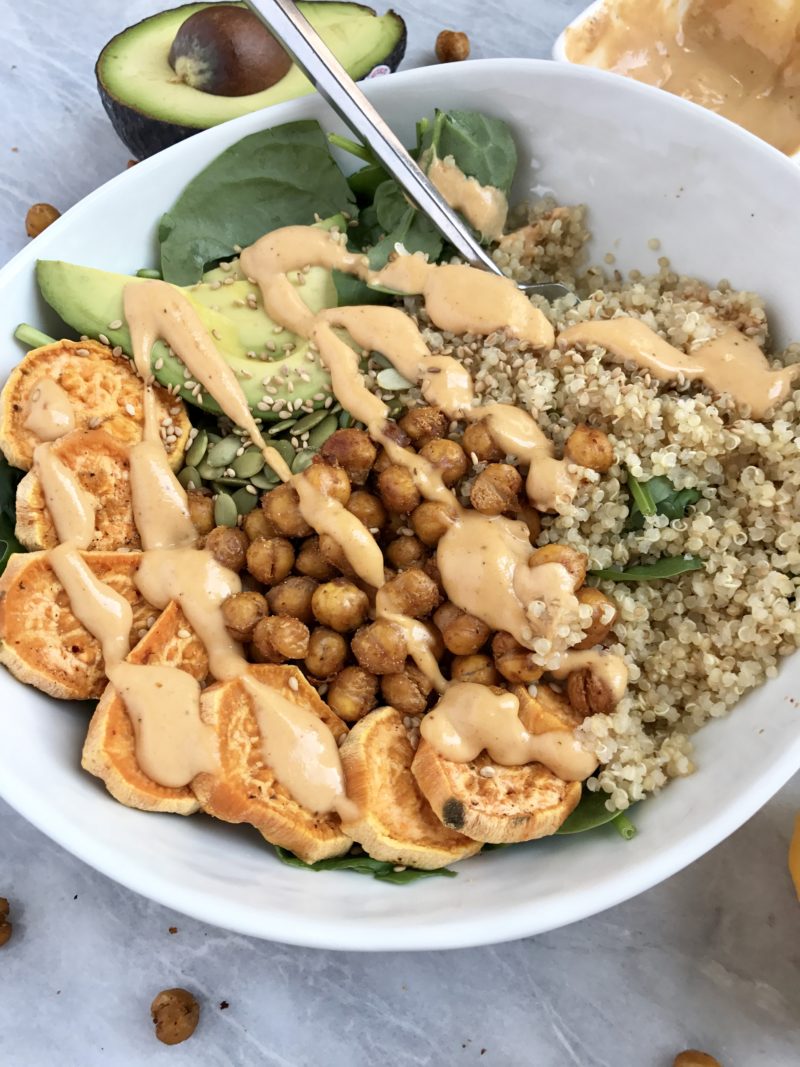 Have you ever baked chickpeas? If not, YOU NEED TO! They become super crispy and crouton like, and add such a great texture to dishes. They're great in buddha bowls because they add a great crunch which compliments the other ingredients.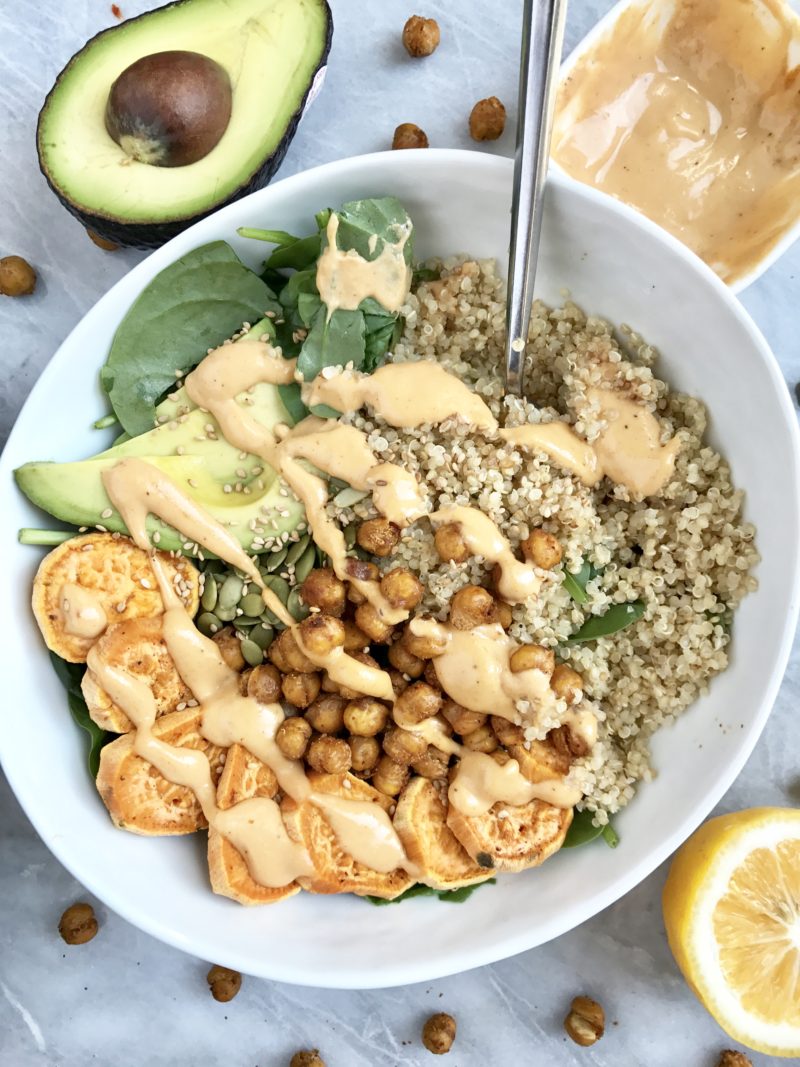 For the sauce, I made a super simple buffalo tahini dressing. I also loaded on the healthy fats, such as avocado & pumpkin seeds!
This is also great to make the night ahead and bring to work/school the next day! It travels well is so filling, so it will help you stay energized throughout the day!
I hope you enjoy! If you ever make any of my recipes, don't forget to tag me @plantbasedjane on Instagram so I can see! Or, use the #plantbasedjane!
Beginner Buddha Bowl: Sweet Potato & Crispy Chickpeas

Ingredients
1/2 Cup Dry Quinoa
2 Small Sweet potatoes
1/2 Avocado
3 Cups Spinach
1/4 Cup Sunflower Seeds
For The Crispy Chickpeas:
1 Tablespoon Olive Oil
1 Tsp Garlic Powder
1 Tsp Onion Powder
1 Tsp Paprika
1/2 Tsp Chili Powder
1/2 Tsp Salt & Pepper
1/4 Tsp Cayenne Pepper
For Tahini Dressing
1/4 Cup Tahini
1-2 Tablespoons Buffalo Sauce
2-3 Tablespoons Hot Water (depending how creamy/light you want it)
1/2 Lemon Juice
1/4 Tsp Salt
1/4 Tsp Pepper
Instructions
Begin by pre-heating your oven to 400 degrees Fahrenheit
Cut your potatoes and season them with salt & pepper.
In a bowl, combine your drained & rinsed chickpeas, olive oil & all the seasonings. Mix to combine.
On a large baking sheet lined with parchment, add your sweet potatoes to one side, and chickpeas to another. Cook for 50 minutes flipping sweet potatoes every 20-20-10 minutes. Every 20-20-10 minutes, mix around your chickpeas.
As your sweet potatoes and chickpeas are cooking, make your quinoa. Combine 1/2 cup quinoa with 1 cup water and cook according to package instructions. I really like the I Heat Keenwah Toasted Quinoa as it adds great flavor.
When quinoa is done, set aside and let the other ingredients finish in the oven.
When your potatoes & chickpeas are done, take them out of the oven and create your sauce! Combine your tahini ingredients, and assemble your bowls!
*This recipe is for two bowls so divide evenly! I even like to make one for now and for work/lunch the next day!
I like to add my spinach to the bottom, and add my hot ingredients on top. I like when the spinach gets slightly wilted! Then I top with my avocado, pumpkin seeds & dressing!
ENJOY!