Jump to recipe
Using Sunflower Butter, you can create a delicious allergy friendly "peanut" tempeh.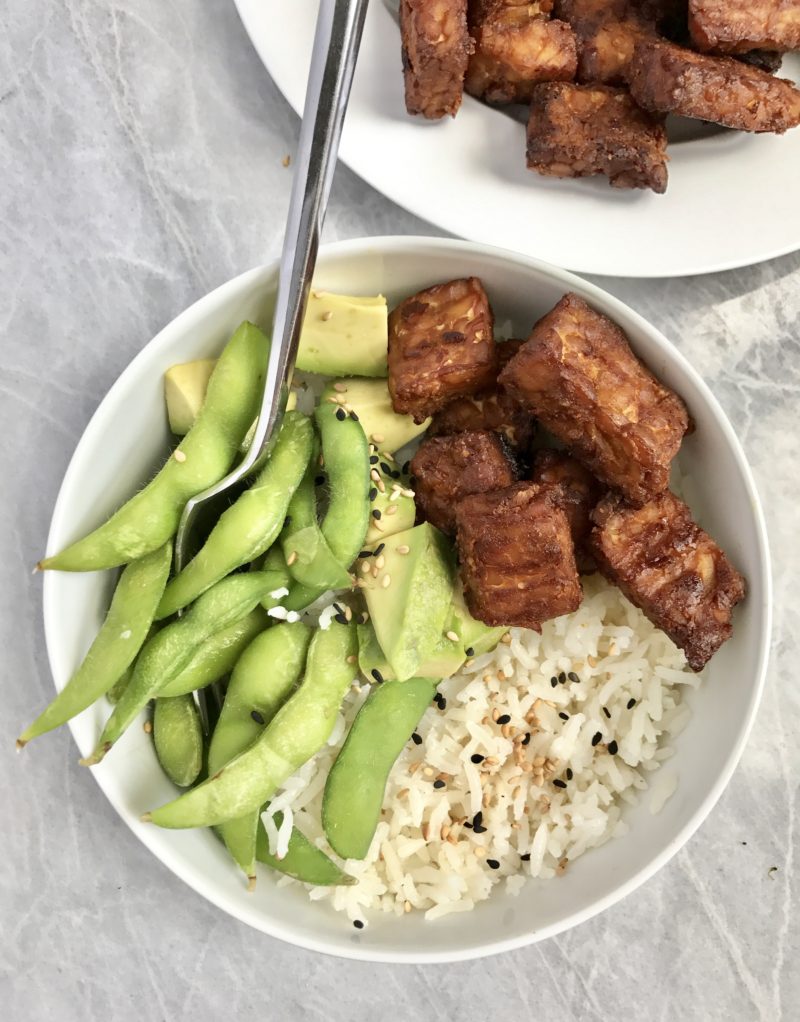 I honestly cannot believe that it's taken me this long to finally try and create a Tempeh recipe on my blog!
As I've said before, I used to be weirded out by tofu. Now that I love tofu (and it shows with the amount of recipes on my blog for it), I decided that I would most likely also enjoy tempeh.
I knew at one point I wanted to make some type of "peanut" dish – free of peanuts. So I felt like it would be a smart idea to try it on tempeh! It's safe to say I am IN LOVE with this recipe. It is delicious and the texture is on point.
My favorite replacement for nut butter is SunButter. The flavor is super similar when you bake it (make sure you use sugar free), and perfect for those who suffer from peanut/tree nut allergies!
You can find Sunbutter here: http://sunbutter.com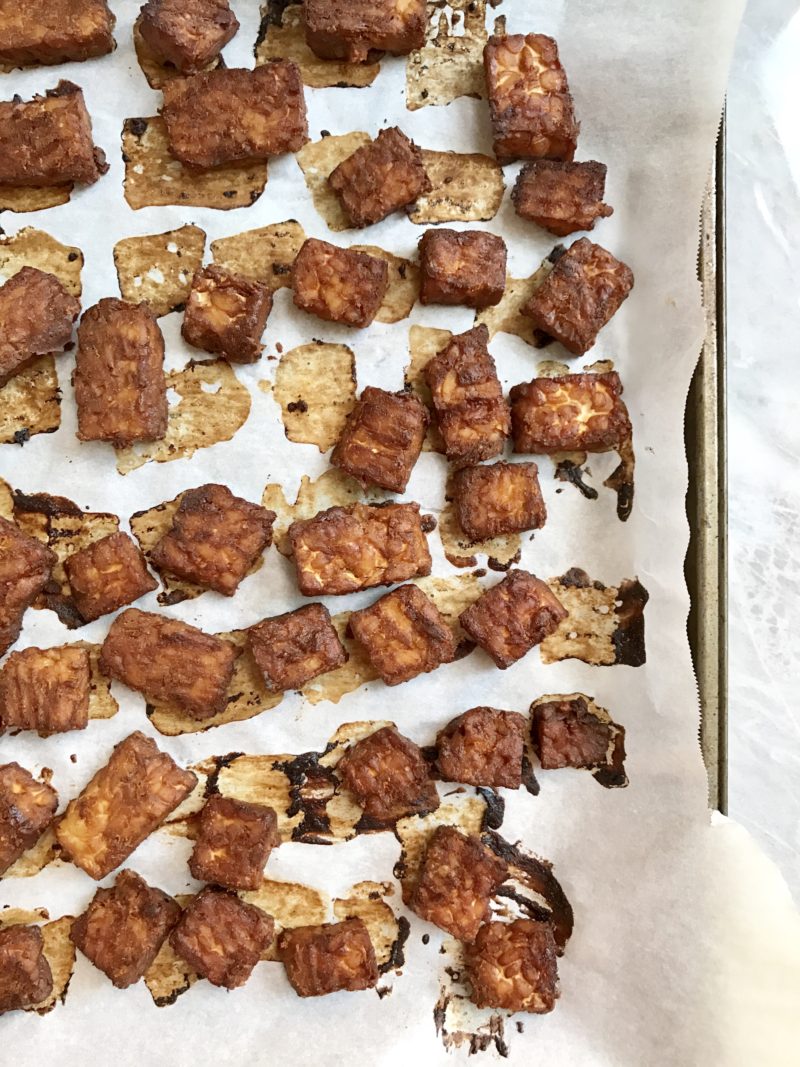 The texture of tempeh is what I believe helped me fall in love. It has pieces of soy bean in it, giving it a much different feel than tofu. It also isn't as squishy and crisps up easier in the oven.
If you haven't baked with parchment paper, then what are you doing! Parchment paper has been a life savor for me in baking. Whether the dishes are oil free or not, there is no sticking! Making for a much easier clean up and allows you go to lighter on oil (if you decide to use it at all).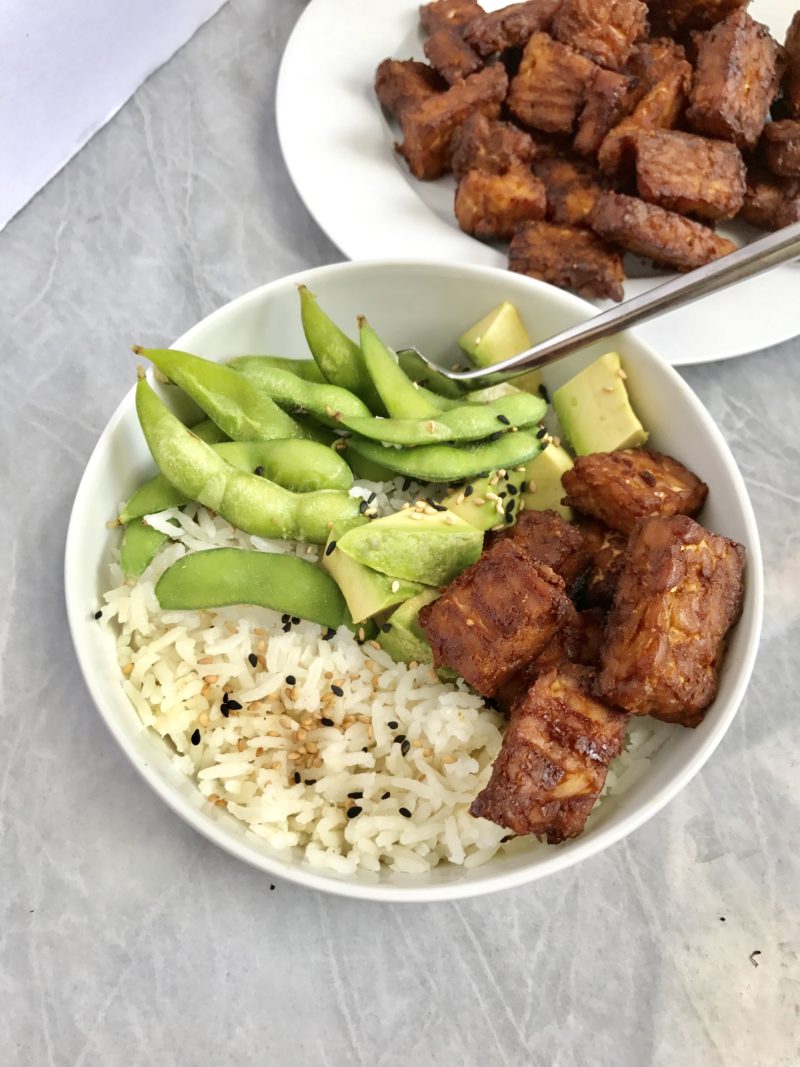 I hope you enjoy this recipe! It is so delicious and fun/easy to make.
If you ever make any of my recipes, don't forget to tag me on Instagram @plantbasedjane so I can see!
Allergy Friendly "Peanut" Tempeh

Ingredients
1 8oz Package of Tempeh
3 Tablespoons Soy Sauce (Tamari If Gluten Free)
2 Tablespoons SunButter (Or Any Nut Butter of Choice)
1 Tablespoon Toasted Sesame Oil
1 Tablespoon Maple Syrup
1 Tablespoon Sriracha
1 Tablespoon Rice Vinegar
Instructions
Cut your tempeh into strips. I like to cut mine down the middle and then cut into smaller cubes.
In a sauté pan with sides, fill with about an inch of water and bring to a boil on medium heat. Steam tempeh for 15 minutes. This allows for some of the bitterness to be drawn out.
While the tempeh is steaming, make your marinade. Add all your ingredients to a bowl and mix to combine. When tempeh is done, add it directly to your marinade. Mix to make sure tempeh is coated, cover and let marinate for 30 minutes.
After 25 minutes, pre-heat oven to 375 degrees Fahrenheit. Place your tempeh on a baking sheet lined with parchment paper and put in oven. Cook for 15 minutes, flip, and cook an additional 15 minutes.
Serve!