With the holidays approaching, it can be hard to be the only Vegan in a family setting. Whether it isn't having many options, or the constant remarks from family, the holidays can be a "tough" time for Vegans alike.
I wanted to come up with a few meals for you guys to either bring for a large group of people, or just for yourself. This Christmas, my family friends asked me to bring a dish or two. Besides bringing dishes for a large group of people, I am also going to bring my own personal meals. It is always easier to be safe rather than sorry, and is always great to be prepared depending on where you're going.
It is normal for larger parties to have cheese platters, cold cut platters, and other items that are off limits for Vegans. For snacks, I recommend:
veggies, crackers & hummus or other dips. I have a delicious edamame hummus recipe!
Fruit platter
vegan cheese & crackers (I recommend the Daiya blocks)
dates filled with nut butter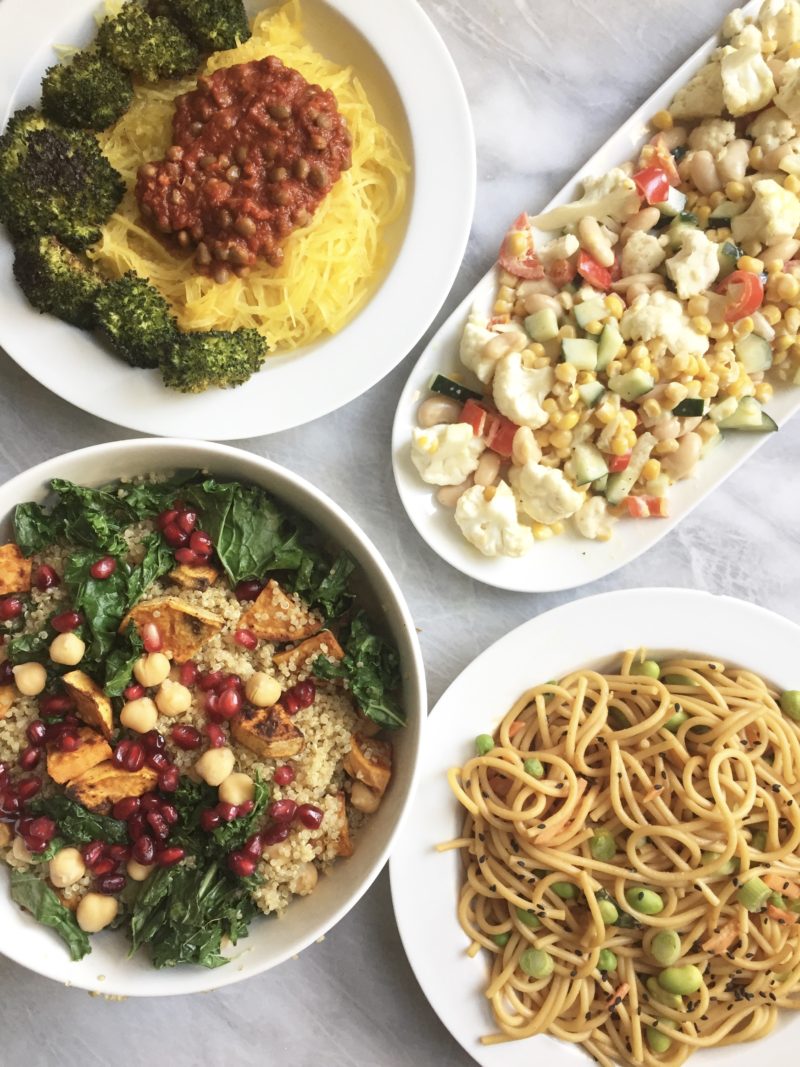 Pictured above is four meals that I came up with for you to bring. Two of them are larger platters and two are individual servings just in case you want to bring something for yourself. You could of course make the individual sized portions into larger servings, and the larger servings into individual portions. I just wanted to make sure that I had this covered for you guys across the board.
We have:
Quinoa Salad
Cauliflower Salad
Spaghetti Squash W/ Roasted Brocoli
Peanut Sesame Noodles
These are meals that could easily be made the day before and aren't time consuming. I also wanted to create meals that could be eaten at room temperature and didn't need to be heated up. For instance, the quinoa salad, peanut sesame noodles and cauliflower salad are meant to serve cold/room temperature because sometimes people do not have microwaves in their homes. Every year I go to my family friends house and she doesn't own a microwave, so I make sure to bring something that didn't have to be eaten warm. If they do have a microwave, the spaghetti squash is a perfect option.
Let's start with the individual meals.
Peanut Sesame Noodles: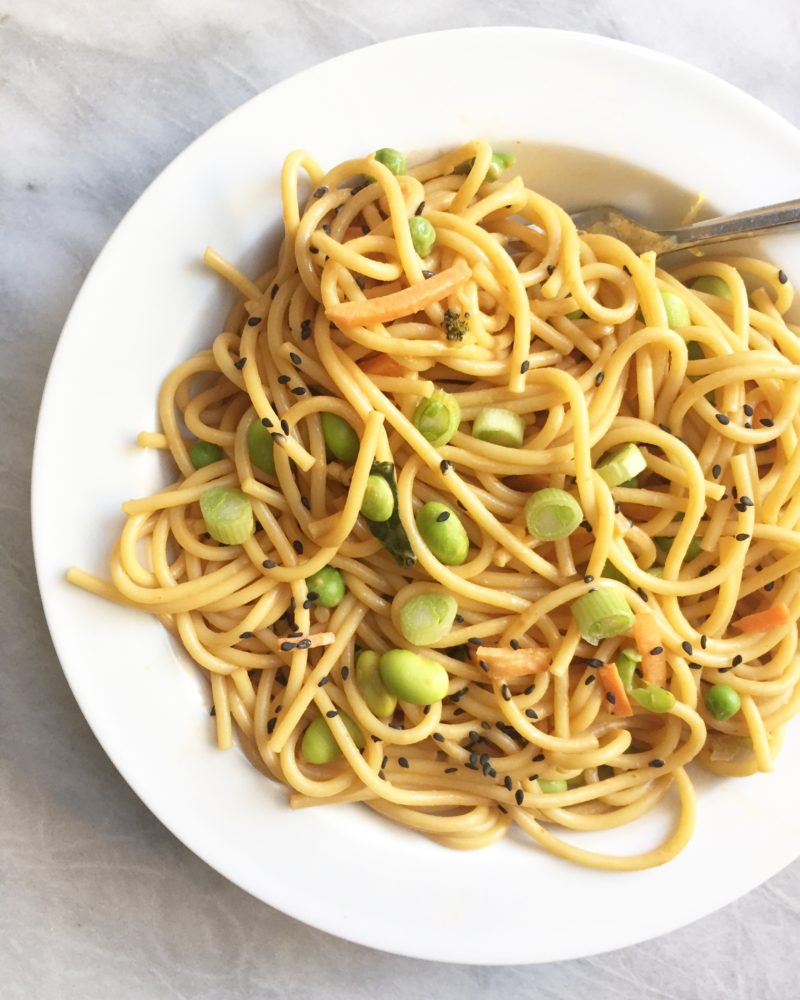 Being allergic to peanuts my whole life, I never ate peanut sesame noodles! When I came across unsweetened soy nut butter, I knew I had to try it. This is so yummy and what is great about this dish is that it can be eaten at room temperature! No heating up is required for this dish. *This will be the individual meal I bring with me to Christmas this year*
Ingredients:
1 Serving of Spaghetti (Or authentic Vegan noodles, Spaghetti is a shortcut!)
*For Sauce*
1 Tablespoon Soy Sauce (or Tamari)
1 Tsp Peanut Butter
1/2 Tsp Sesame Oil
1/2 Tsp Rice Vinegar
1/4 Tsp Sriracha (Optional)
Optional Toppings: Edamame, Corn, Peas, Broccoli, Green onion, etc.
Preparation:
In a bowl, combine sauce ingredients and cook pasta according to package instructions. Top with sesame seeds!
You could totally play up the ingredients on the sauce according to how much you like. I don't like my noodles dripping in sauce so this is enough to get maximum flavor without it being like a soup.
Spaghetti Squash: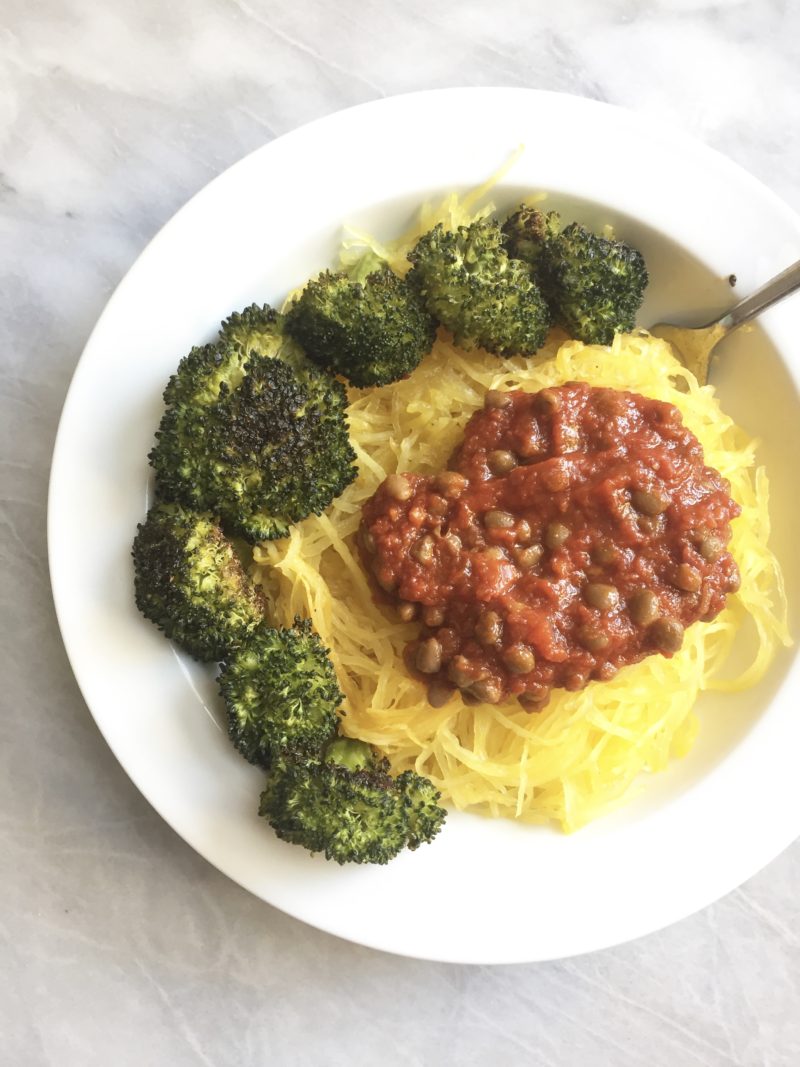 Spaghetti squash is amazing if you're looking for a lighter meal that is still delicious and filling. I paired it with some roasted broccoli and tomato sauce mixed with lentils to make it heartier and to add more protein (because you may be hearing "that" question a lot this holiday season!)
Ingredients:
1 small -medium spaghetti squash
1 1/2 cup broccoli florets
1/2 cup cooked lentils
1/2-3/4 cup tomato sauce on choice (my favorite is Jar Goods)
Preparation:
Pre-heat oven to 400 degrees Fahrenheit
Cut your squash lengthwise and scoop out all of the seeds. Coat lightly with olive oil and salt and place both sides cut side down on a baking sheet. Bake for 40-45 minutes or until you can easily pierce the flesh with a fork. I used a small squash and mine took around 40 minutes.
The great thing about this recipe is you can bake the broccoli at the same time. Cut your florets and season with nutritional yeast, salt, pepper and garlic powder. I like to spray mine with a little cooking spray but you could make them oil free. Bake for 20-25 minutes taking out 1-2 times in-between to mix them around to allow them to cook properly on all sides.
Once your squash is done, flip them over and let cool before touching. Using a fork, gently scrap the flesh which will great strings and essentially make your spaghetti shape!
Transfer to a bowl and add your tomato sauce, lentils and broccoli.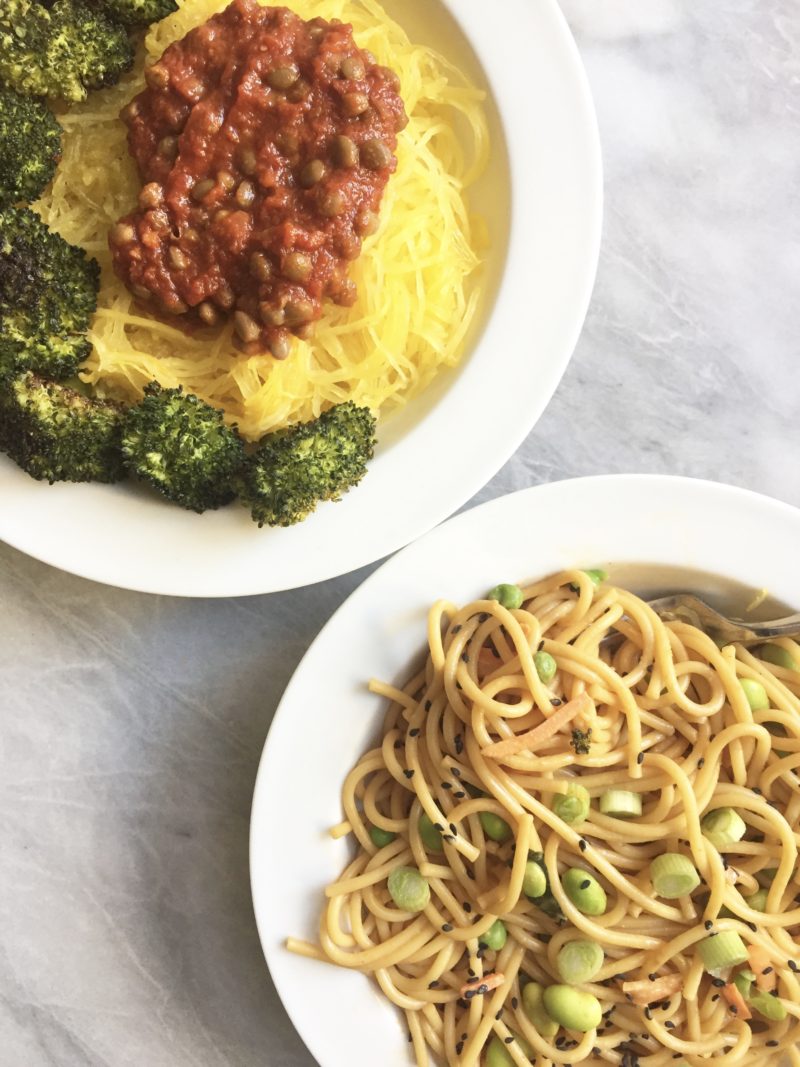 Now onto the bigger meals! I just want to press that these meals are meant as side dishes and if you wanted to make them just for yourself then adjust the portion size to whatever you'd like!
Quinoa Kale Salad: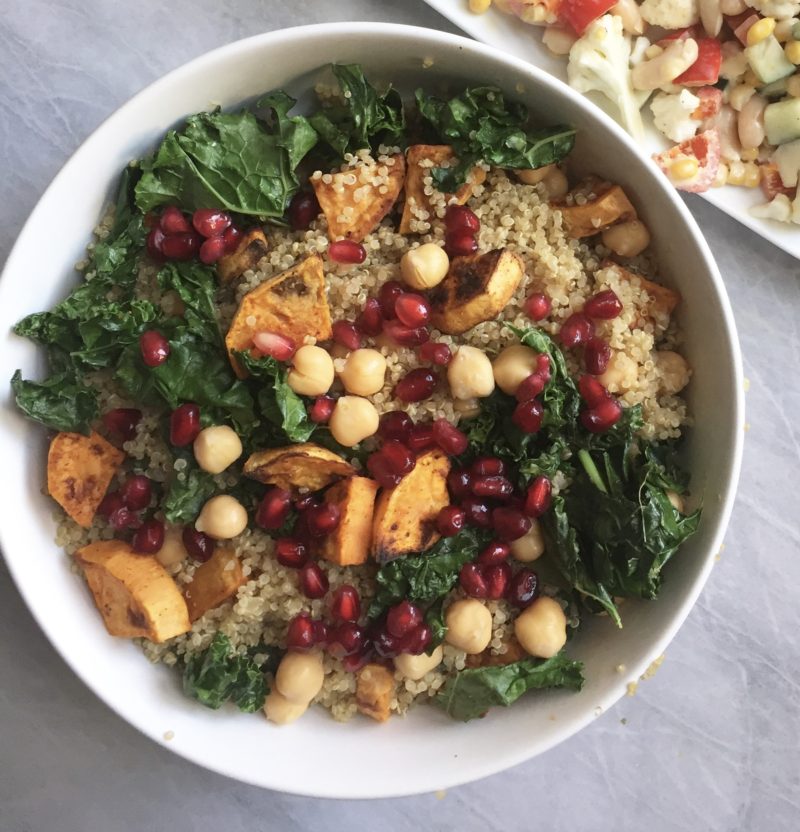 This meal is super healthy but filling and has such great flavor due to the Tahini Dressing. The combination of savory from the kale goes great with the sweetness in the pomegranate and sweet potato. This is truly one of my favorite quinoa salads. *This is a dish I am bringing to Christmas with me this year*
1 1/2 Cups Uncooked Quinoa (1 1/2 Cups Uncooked to 2 Cups Water – My secret is add an additional 1/4 cup water to make it fluffier)
Serves: 4-6 for bigger potions or 6-8 as smaller sides
2 Small Sweet Potatoes
3 Cups Kale
1 1/2 Cup Chickpeas
1/2 Pomegranate Seeds
Tahini Dressing:
3 Tablespoons Tahini
2 Tablespoons Hot Water (More if you like it thinned out)
1/4 Tsp Salt & Pepper
1/4 Tsp Garlic Powder
1 Tablespoon Lemon Juice
Preparation:
Preheat oven to 400 Degrees Fahrenheit
Cook quinoa according to package instructions and set aside.
Cut sweet potatoes into bite sized pieces and season with smoked paprika, garlic powder, salt & pepper. Place on a baking sheet lined with parchment paper and bake for 25-30 minutes flipping halfway or until tender.
Sauté Kale in water or oil seasoned with garlic powder, salt & pepper.
In a large bowl, combine quinoa, sweet potato, kale, chickpeas and pomegranate seeds and set aside.
For dressing:
Combine all ingredients in bowl and mix to combine. Adjust seasonings for preference.
Mix dressing in with quinoa *Before* serving.
Cauliflower Salad: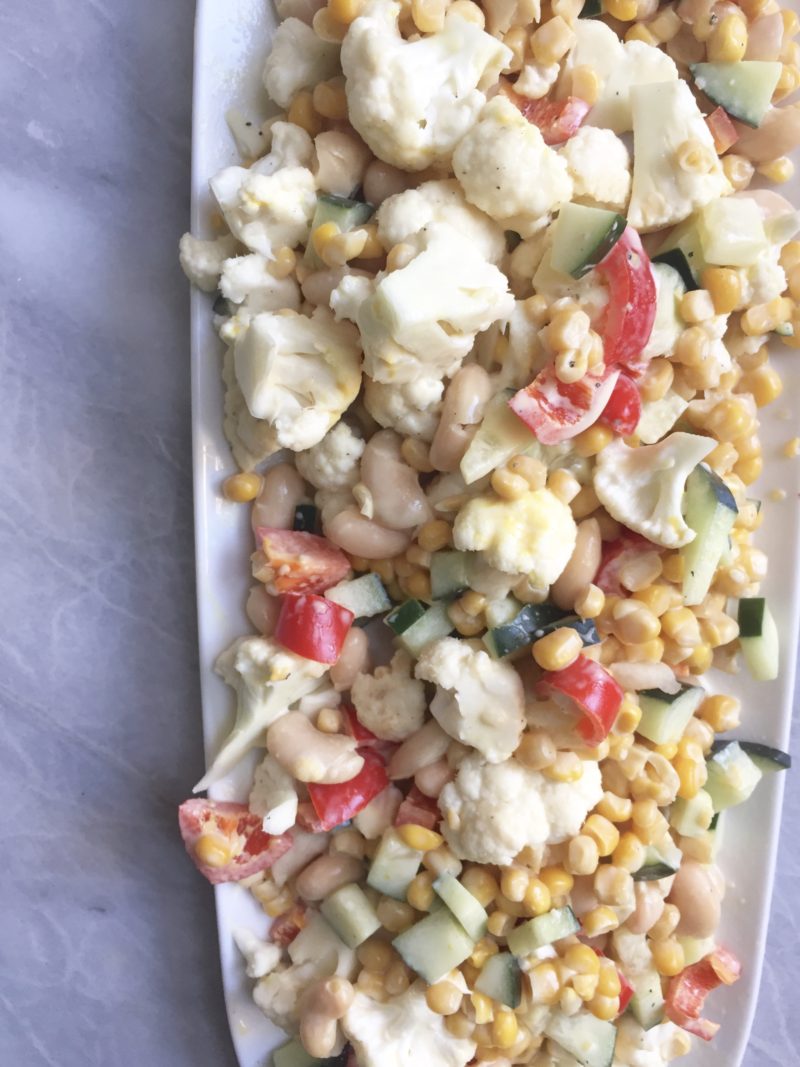 This meal is definitely on the more indulgent side. Even though there is raw cauliflower (raw cauliflower is amazing!) and other veggies, the balance in the vegan mayo makes it addicting and is always a crowd pleaser. *I am taking this meal with me to Christmas this year*
Ingredients:
1 1/2 Cups Cauliflower florets
7oz Can of Corn
1/2 Cup Red Pepper (I used sweet peppers)
1 Cup Chopped Cucumber
2/4 Cup White Beans
For Dressing:
1/4 -1/3 Cup Vegan Mayo (depending on how much dressing you like. I only used 1/4 Cup)
1 Tsp Mustard
1 Tsp Red Wine Vinegar
Salt & Pepper To seasoning
Preparation:
Cut and combine cauliflower, corn red pepper, cucumber and white beans into a bowl.
In a smaller bowl, combine all dressing ingredients and pour into bowl with veggies. Mix to combine!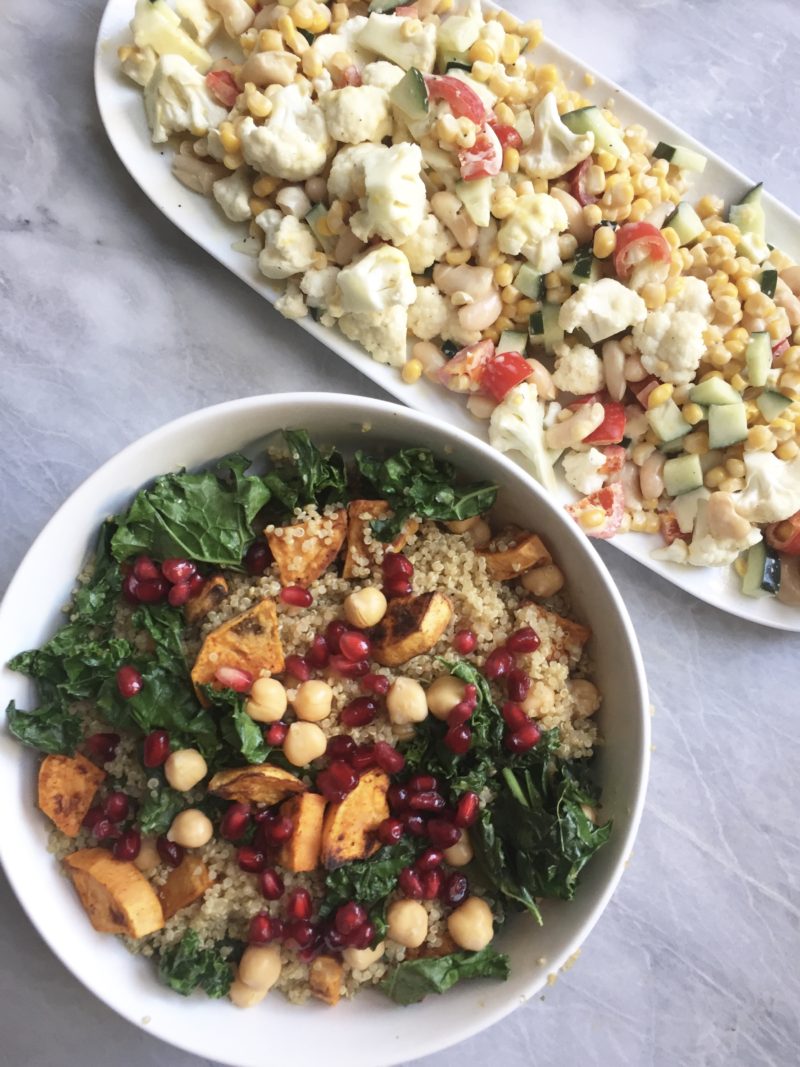 I really hope that this gave you some ideas of what to bring this year for the holidays. No matter what you celebrate, I hope that it is filled with laughter and love. My goal ever since beginning my blog was to provide you guys with easy and delicious Vegan recipes and I am so thankful for you all.
If you are ever having trouble wth transitioning, dealing with family who against Vegansim, or simply want to talk, know you can always message me on Instagram.
Have an amazing day and let's show our family this year how simple but nutritious this lifestyle is!