It's funny to think that all the foods I would refuse to eat prior to Veganism are now the Vegan versions that I love! For example, prior to going vegan, I don't think I ever had a bolognese sauce. Being a picky eater my entire life, that never appealed to me. However, after going Vegan, I now love to make lentil bolognese. Lentils are legumes that are high in protein and are so versatile. They make a great substitute in bolognese and add heartiness and comfort.
If you have been following me for awhile, you know whenever I make pasta I incorporate Jar Goods, which is my favorite pasta sauce. As I have said, I am a picky eater. This means I am incredibly picky about my pasta sauce. I don't like already chunky sauces, and like to add my own veggies. Jar Goods is a smooth and incredibly flavored tomato sauce and has been my go to for the past 6 months or so.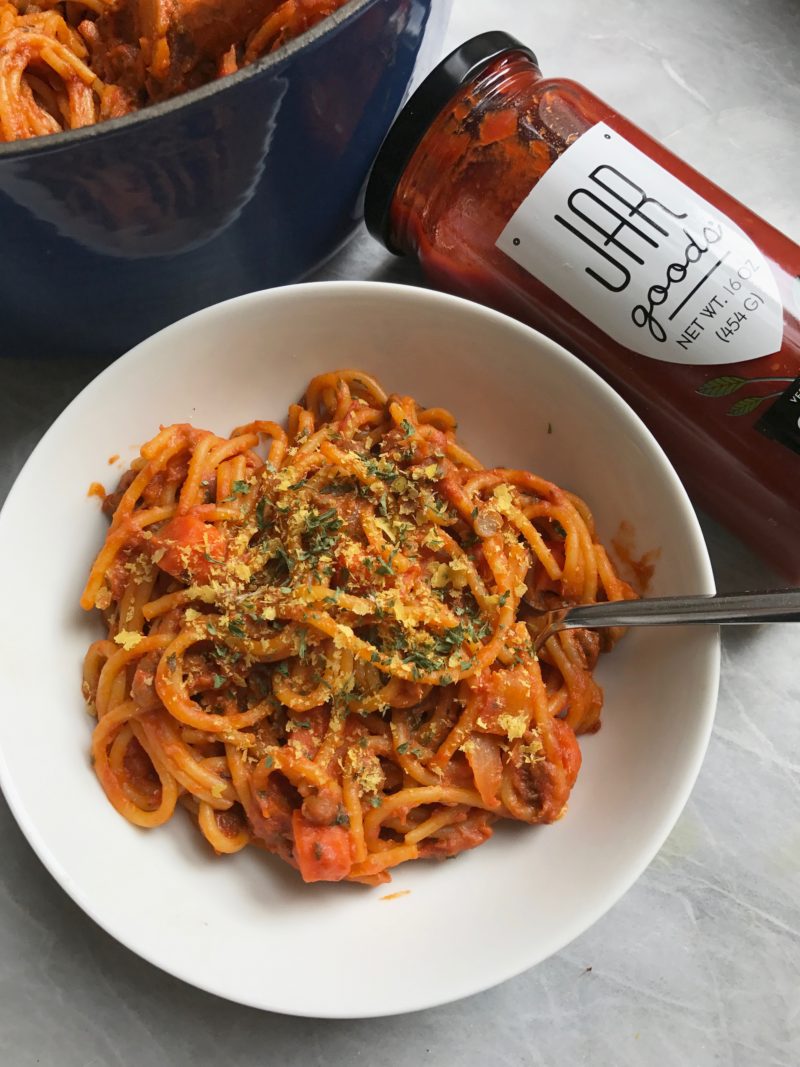 This sauce is the perfect component to a one pot pasta because since bolognese sauces are usually chunky, you can control the amount of veggies going in. I decided to skip on the celery in this recipe because I only eat celery when it soups, but could totally throw in a stalk if you would like celery in your recipe.
Who knew that one pot recipes could be so simple? As you guys know, I only like to create recipes that are easy to follow but pack a lot of flavor. This is something you can whip up in 30 minutes and can serve straight from the pot! This could also be a delicious meal to bring to your holiday party this year to make the non-Vegans go crazy and be in awe over how delicious this lifestyle can be.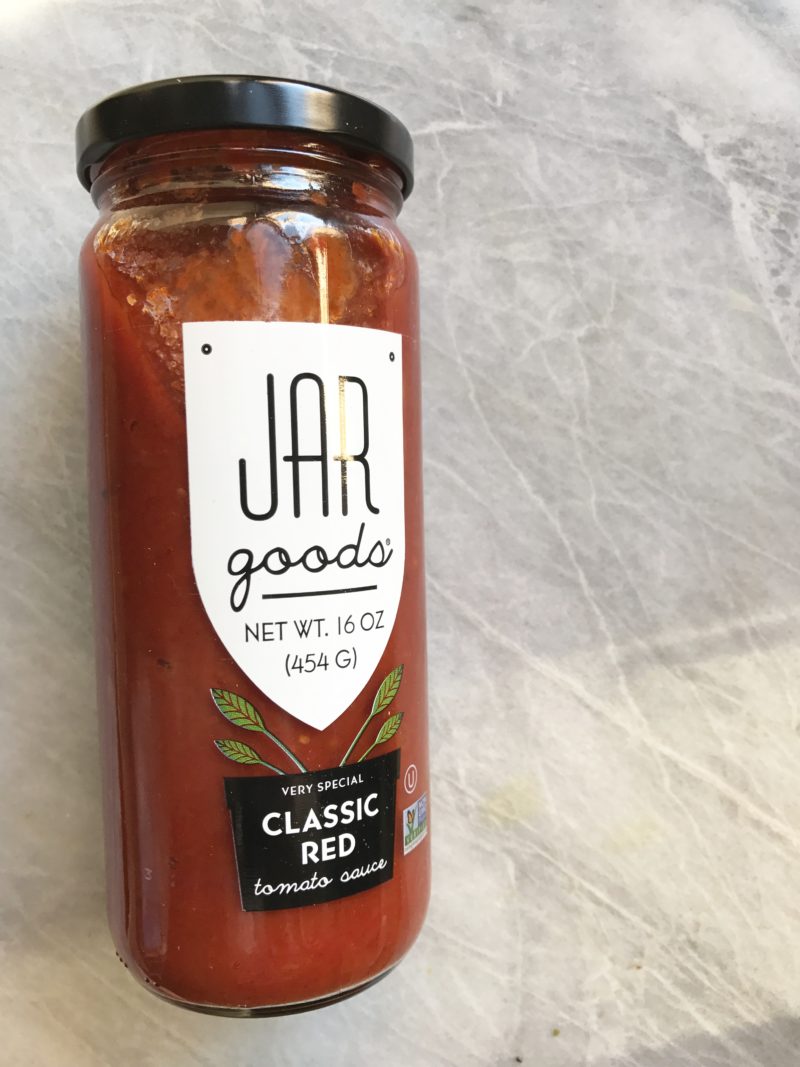 I recommend using a soup pot for this recipe just because you want room for the pasta to breathe. A normal pot that you would cook regular pasta in would not work. I used a dutch oven (this one specifically) and it really helped my pasta cook and suck up the flavors from the sauce and veggies.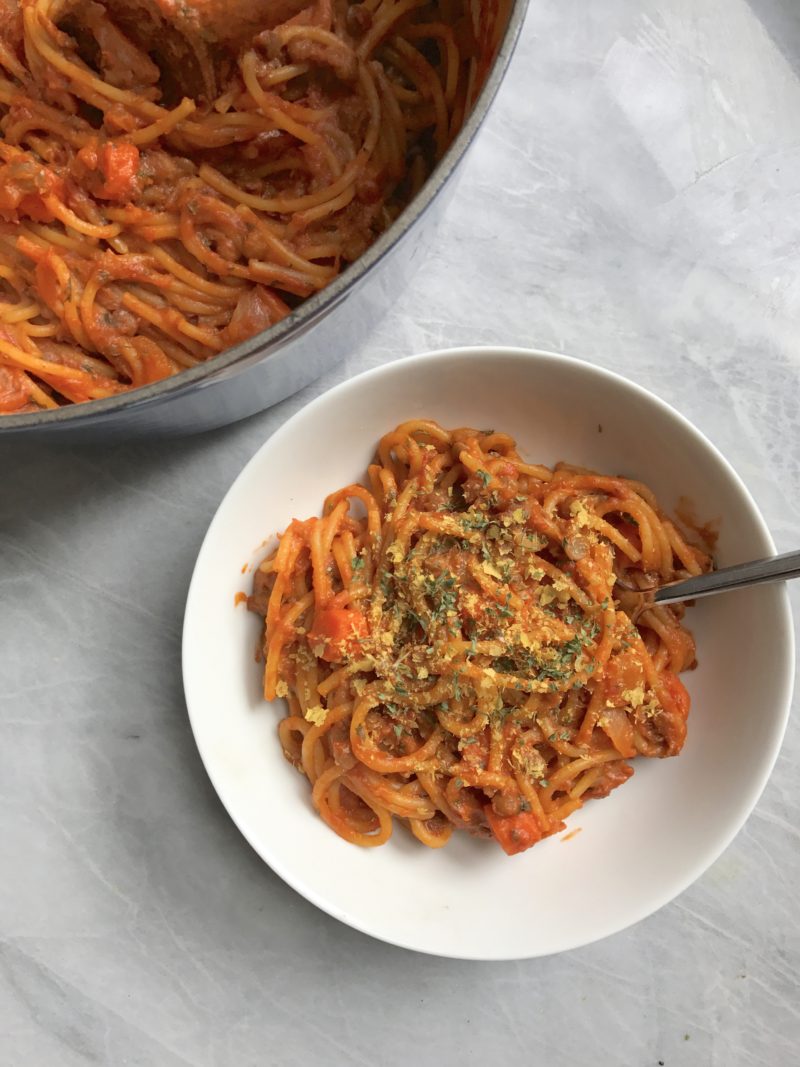 If you are interested in purchasing Jar Goods, you can buy from their online store or search for a retailer that sells it near you here.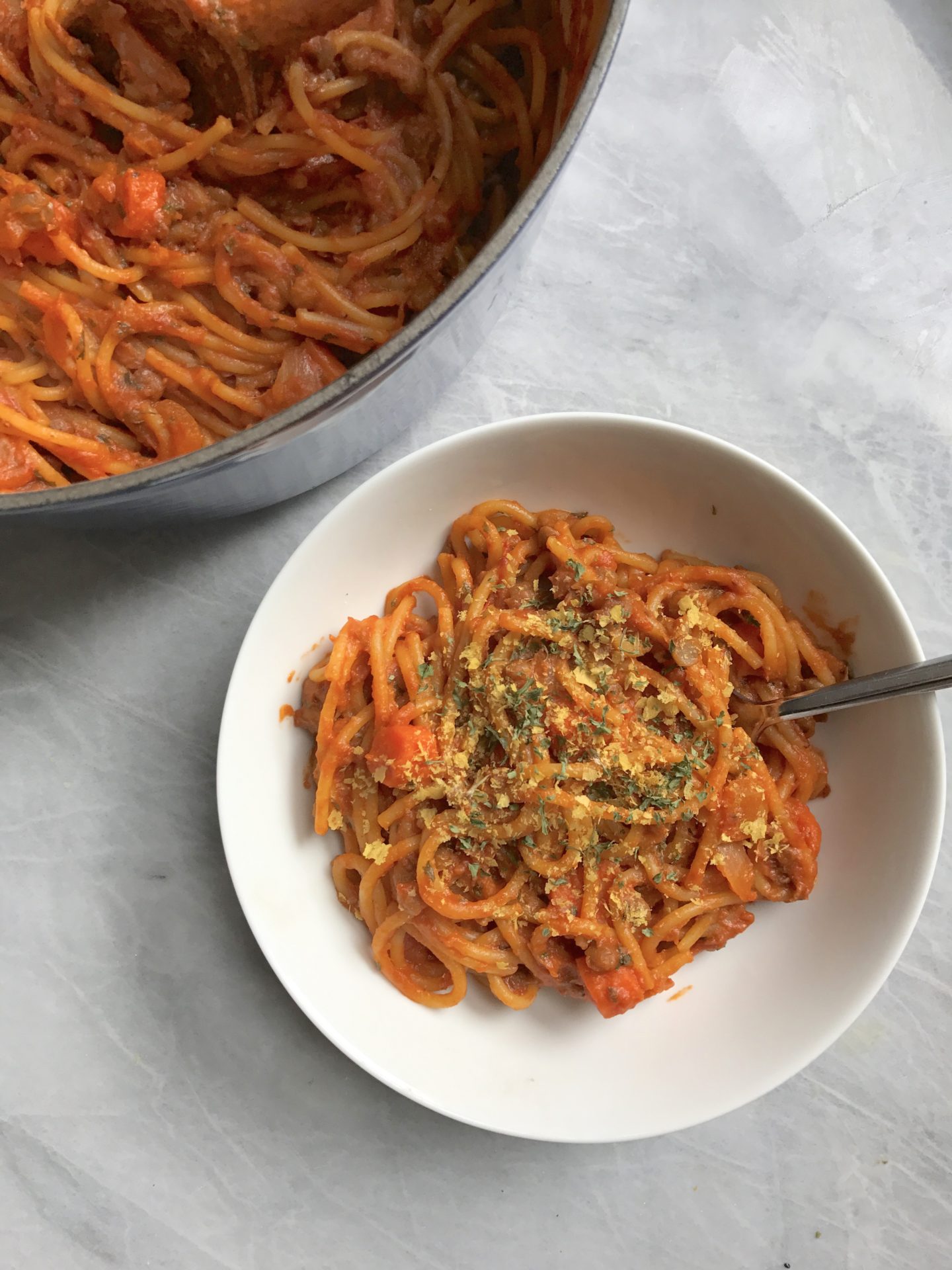 One Pot Lentil Bolognese
2016-12-22 10:35:12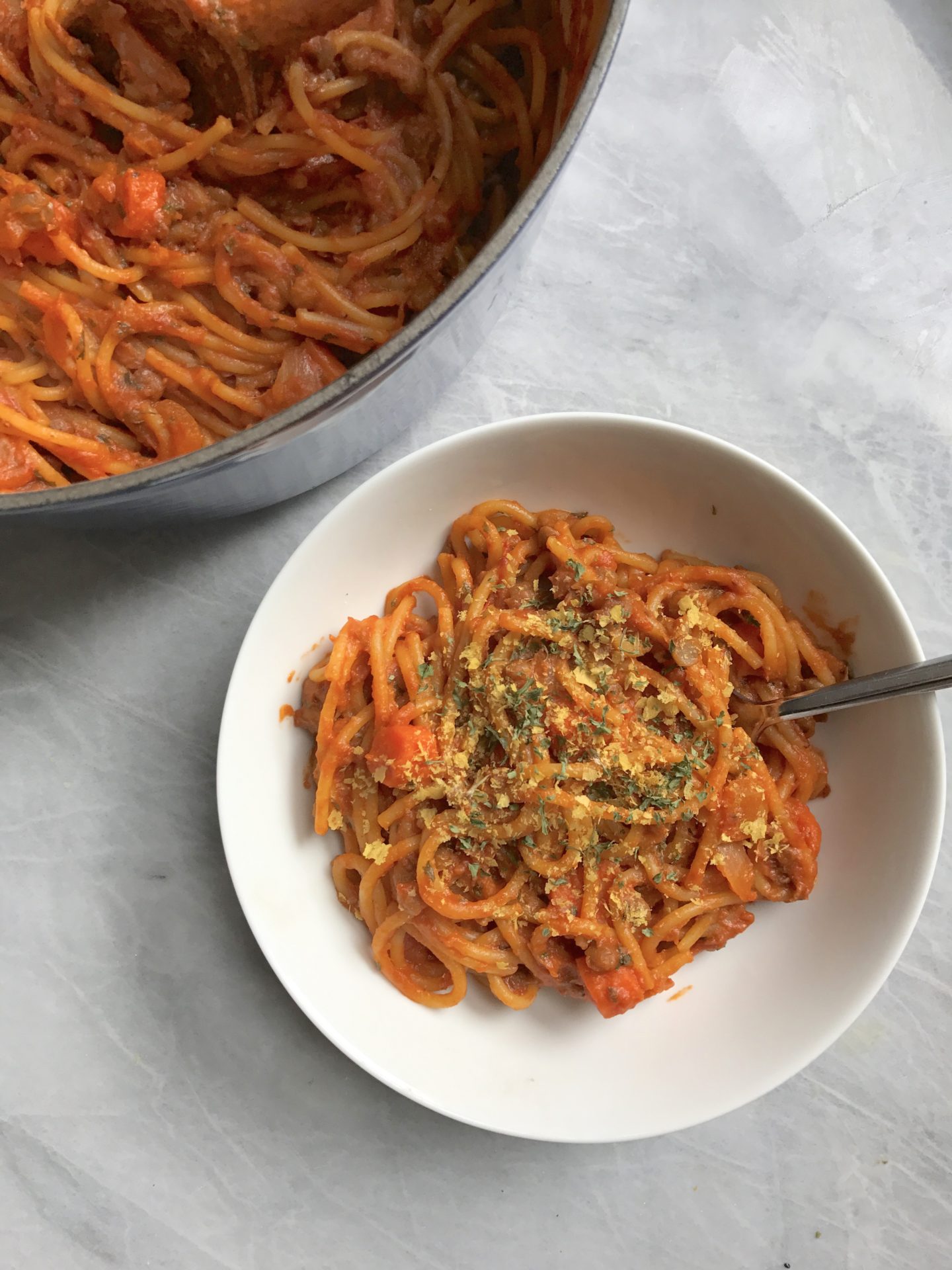 Serves 4
Ingredients
1 16oz Jar of Jar Goods Classic Red Sauce
1/2 lb Spaghetti
1 1/2 Cup Cooked Lentils
1/2 Medium Onion, Chopped
3/4 Cup Carrots, Chopped
2 1/2 Cups Water
1/3 Cup Nutritional Yeast
1 Tbsp Dried Parsley
1/2 Tsp Garlic Powder
1/4 Tsp Red Pepper Flakes
Instructions
Chop up veggies and heat a large dutch oven/stock pot with water or 1 tablespoon olive oil on medium heat. Once heated add in your carrots, onions, garlic powder & red pepper flakes. Let cook 4-5 minutes.
After 4-5 minutes, pour in your water and tomato sauce. Allow for liquid to come to a boil and add in your pasta. Mix so pasta is submerged in the liquid and turn heat down to low. Cover your pot and allow to simmer. Mix every 2-3 minutes so spaghetti doesn't stick to the bottom of pan.
After 10 minutes, add in half of your cooked lentils and nutritional yeast. Let cook for another 10 minutes still stirring every 2-3 minutes.
Once sauce has thickened up and about done, add in remaining lentils and let cooked uncovered for another 2-3 minutes.
Mix in dried parsley and serve!
Plant Based Jane https://plantbasedjane.com/
Thank you so much Jar Goods for sponsoring this post. I only work with brands I resonate with and Jar Goods is one of them.