Jump to recipe
Happy Friday & Final day of tofu week! Let's end the week strong with this delicious bruschetta pasta with balsamic tofu.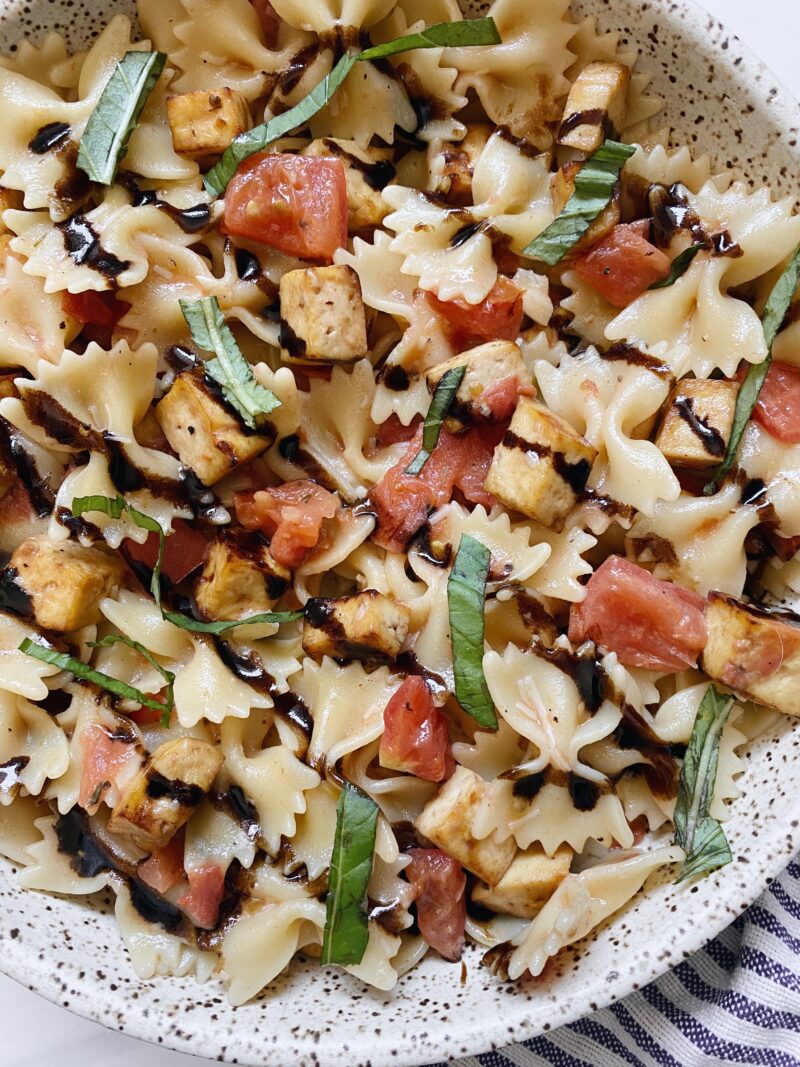 I can't believe it's the last day of tofu week! I am so sad. I had so much fun creating these delicious but simple recipes featuring tofu.
Today I wanted to finish off with a really special recipe. This bruschetta pasta is seriously so delicious and packed with so much flavor.
I was inspired to create this recipe due to my current obsession with balsamic glaze. I have been putting it on EVERYTHING! It's so delicious and works so well in this recipe.
The tofu is also baked in balsamic vinegar along with some olive oil and Italian seasoning. It's really easy and you can even air fry it!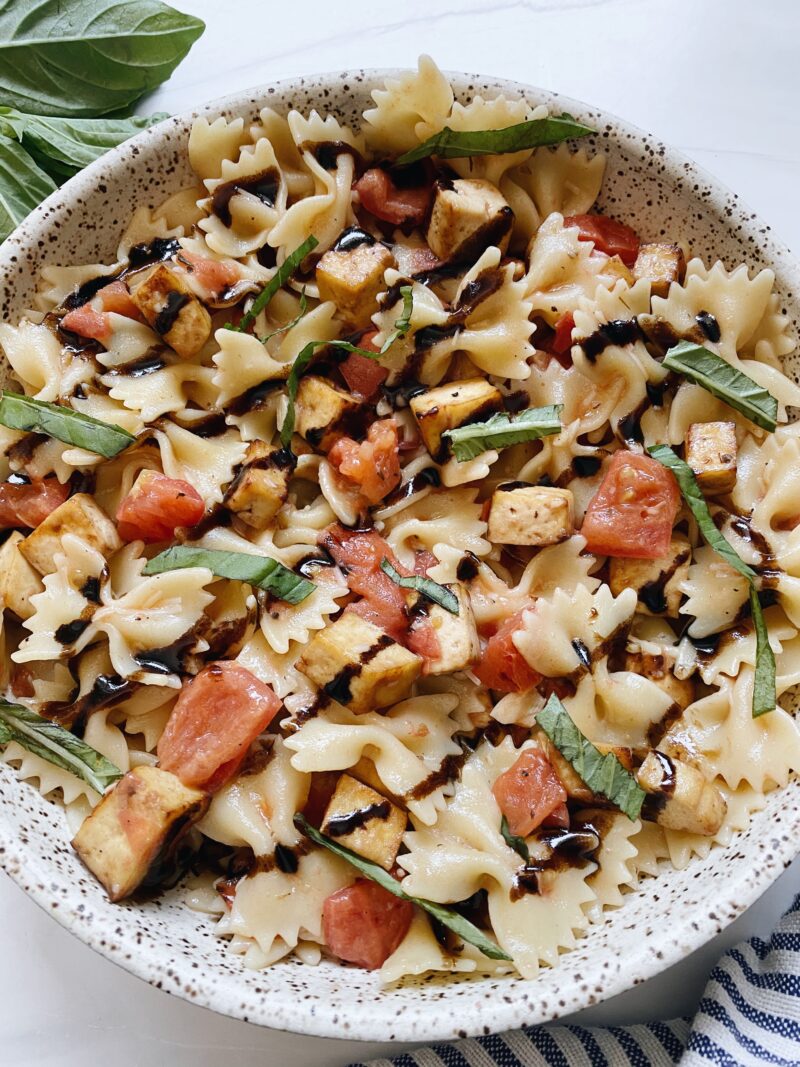 I hope that you enjoy this recipe! If you make any of my recipes, don't forget to tag me in your stories/posts on Instagram @plantbasedjane
Bruschetta Pasta

Ingredients
For the tofu

8 oz tofu
2 tablespoons balsamic vinegar
1 tablespoon olive oil
1/2 tsp garlic powder
1/2 tsp Italian seasoning
1/4 tsp salt
1/4 tsp pepper
8oz pasta shape of choice
5 cloves of garlic, minced
6 roma tomatoes, chopped
1 tablespoon balsamic vinegar
1/4 cup dry white wine (can sub for vegetable broth)
2 tablespoons nutritional yeast
Salt & pepper to taste
Balsamic glaze to top
Instructions
Pre-heat oven to 400 degrees Fahrenheit
Drain and press your tofu. Cut tofu into small cubes and toss in the marinade ingredients. Let sit for 10 minutes. After 10 min line a baking sheet with parchment paper. Bake tofu for 15 minutes. Flip, then cook for another 10 minutes. Set aside.
Meanwhile, chop up your tomatoes and mince your garlic.
Bring a large pot of salted water to a boil. Cook and drain pasta. Set aside.
In a larger sauté pan on medium heat, add some olive oil. Add your mince garlic and let cook for 30 seconds. Add in your tomatoes, balsamic vinegar and wine. Let wine reduce by half. Add in cooked pasta and nutritional yeast. Season to taste with salt and pepper.
Serve by adding a generous drizzle of balsamic glaze on top and chopped basil. Enjoy!