Jump to recipe
Try out this delicious and hearty arugula salad with sweet potatoes, quinoa , vegan feta & pumpkin seeds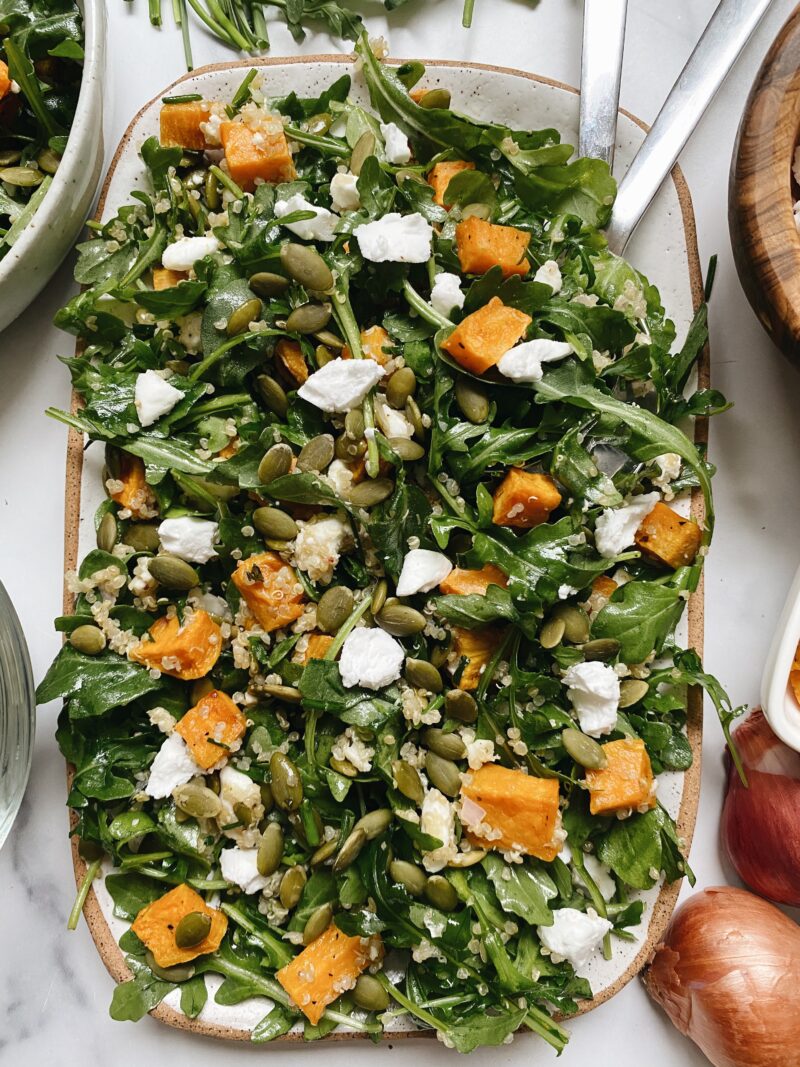 While it doesn't show on my Instagram, I really do love to eat salads. It is one of my go to lunches.
I wanted to create a salad I have been eating for years. My cousin first made it for my family years ago on Thanksgiving, and since going Vegan I veganized it and have been enjoying it ever since. I never thought to share it on my blog, but lately I have been wanting to expand the type of recipes I do and knew this had to be added to the roster.
I like sweet potatoes, but I don't love them. However, I do really enjoy roasted sweet potatoes. I especially enjoy them in salads because they bring a sweet component. I love mixing salty and sweet, and the mix of the sweet potato with the salty "feta" really is a delicious combination.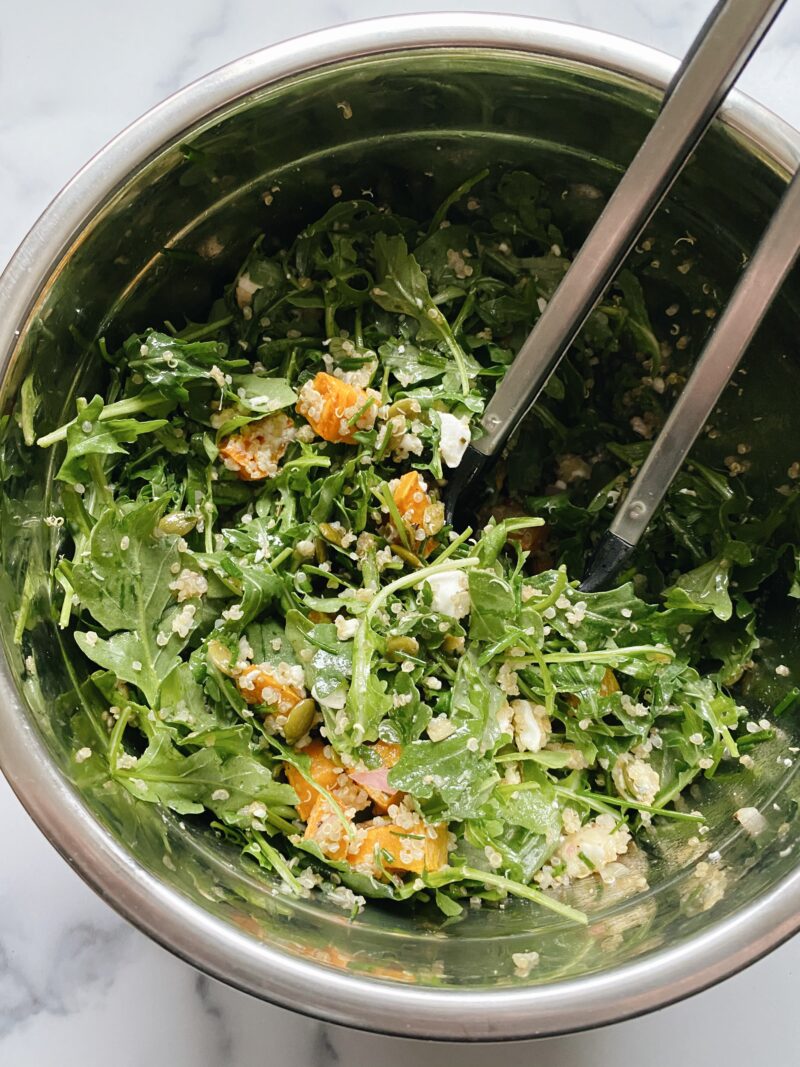 This salad is really great for meal prepping! Just store the dressing separately and when you're ready to enjoy it combine the two!
You can also add some tofu or tempeh to this to add more protein!
What do you need for this recipe?
Sweet potato
Rosemary
Arugula
Vegan feta- I like violife
Quinoa
Pumpkin Seeds
That's just for the salad base. To create the dressing you need:
Olive oil
Shallot – small shallot finely diced
Dijon Mustard
Apple Cider Vinegar
Maple Syrup
Lemon
Salt & Pepper
This salad dressing is also great on so many salads. I like to make it and keep it in a jar and have it throughout the week on a ton of different salads!
If you make this recipe, don't forget to tag me on IG in stories and posts @plantbasedjane.
Roasted Sweet Potato & Quinoa Arugula Salad

Ingredients
For the roasted sweet potato

1 smaller-medium sweet potato
1 tablespoon olive oil
1 tablespoon chopped fresh rosemary
1/4 tsp salt
1/4 tsp pepper

For the salad

3 larger handfuls of arugula (I ended up using around 3.5 ounces)
1 cup quinoa
1/3 cup vegan feta
1/4 cup pumpkin seeds

For the dressing

1/4 cup olive oil
1 tablespoon dijon mustard
Juice of 1/2 a lemon
1 tsp apple cider vinegar
1 tsp maple syrup
1/2 tsp salt
1/2 tsp pepper
Instructions
Begin by making the sweet potato and quinoa. peel and cube up the sweet potato and toss in olive oil, rosemary, salt and pepper. Bake at 400 for 20 minutes flipping halfway. Cook quinoa according to package instructions. Let sweet potato and quinoa cool.
In a large bowl add in three handfuls of arugula, a cup of the sweet potato, quinoa, pumpkin seeds and vegan feta. Mix to combine.
In a jar or container combine the dressing ingredients. Close the container and shake vigorously to combine. Top over the salad and mix well to combine.
Serve