Jump to recipe
Try this delicious and easy creamy rice noodles with tofu and veggies using Maya Kaimal simmer sauces.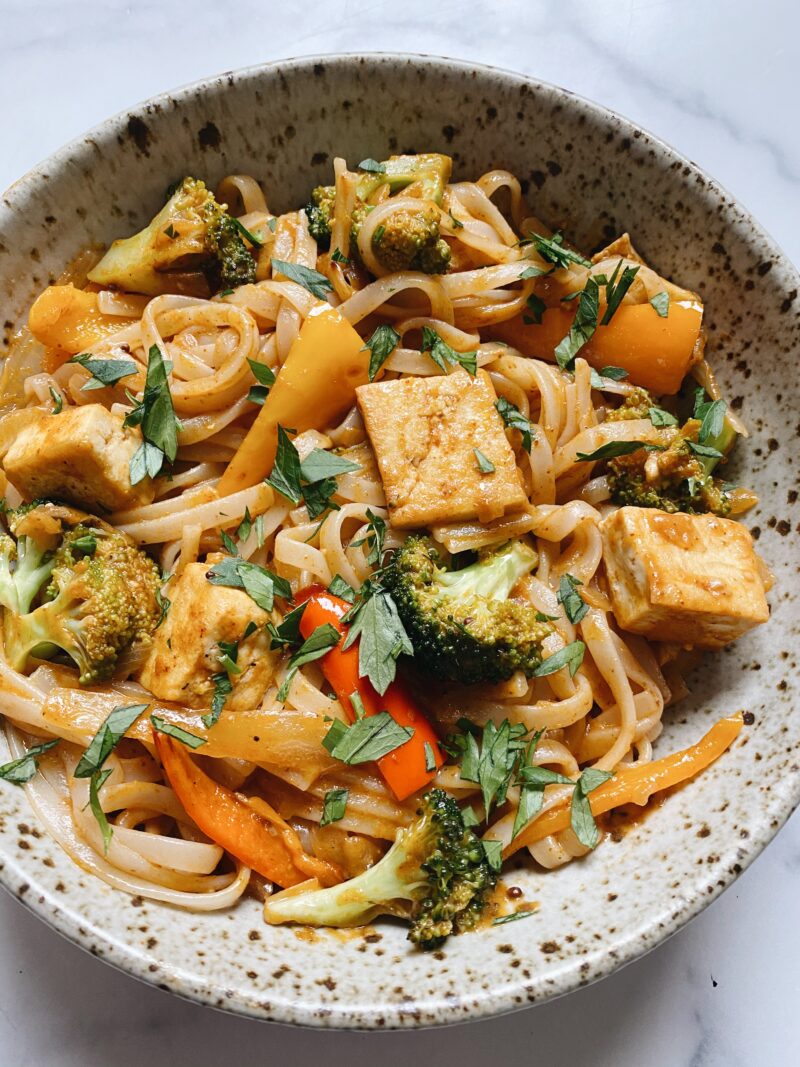 Most weeknights I am too tired to make a full meal. As a food blogger, I spend a lot of my time in the kitchen cooking. So when it actually comes time to cook myself dinner, I'm exhausted. That is when I head into my pantry and grab a bottle of Maya Kaimal's Indian Simmer Sauces.
I have been using Maya Kaimal's products for years! I love their simmer sauces, everyday chana & dal, rice, etc. I love everything about their products. It's so nice to have shelf stable items that you can whip up quickly. In minutes you can have a meal that tastes like it took hours to create.
This recipe is actually so delicious. I used the Goan Coconut Indian Simmer Sauce to make this creamy and flavorful rice noodle dish. It has a good level or heat without being overpowering.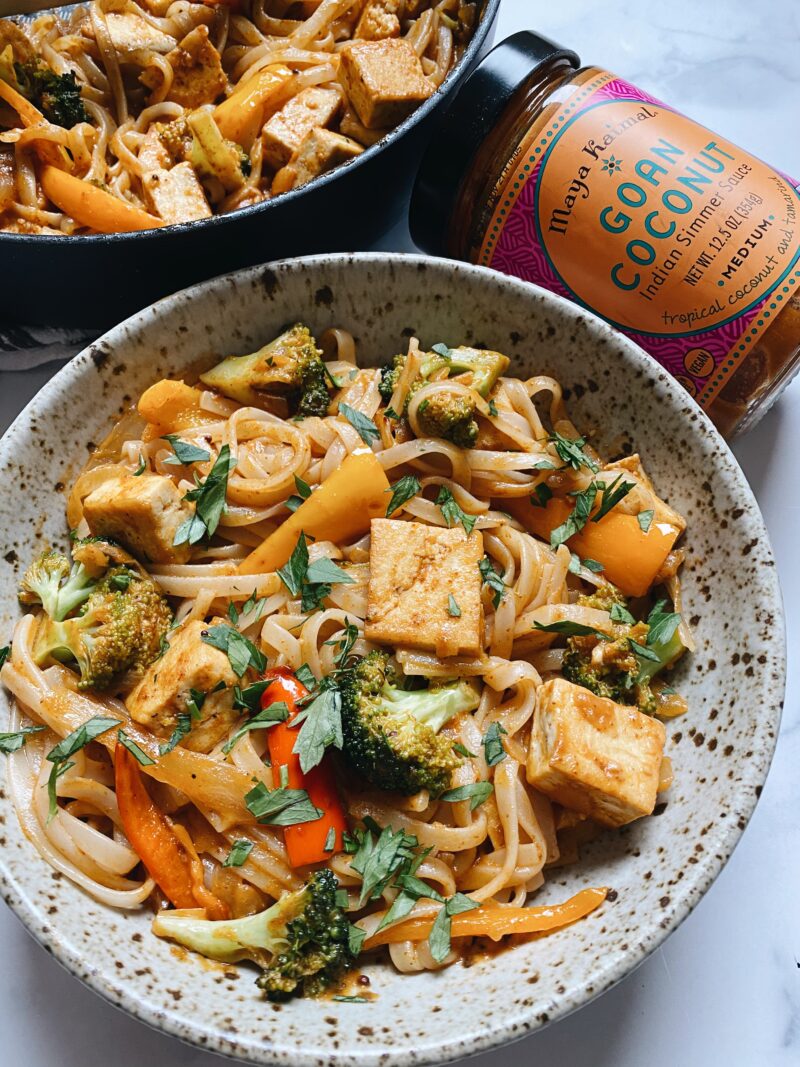 You can use any of your favorite vegetables for this dish. I stuck to peppers, onions & broccoli. Zucchini or even mushrooms would also work really well in this recipe!
I use Maya Kaimal's simmer sauces in many different meals. I love it on some tofu over rice, chickpeas, and even added into some mac n cheese! The sauces are versatile so they work with so many meals.
What do you need for this recipe?
Rice noodles
Vegetables of choice
Tofu
Garlic
That is it! The Goan Coconut Indian Simmer Sauce helps bring down the ingredient list to items you likely already have on hand! That is why I love Maya Kaimal so much.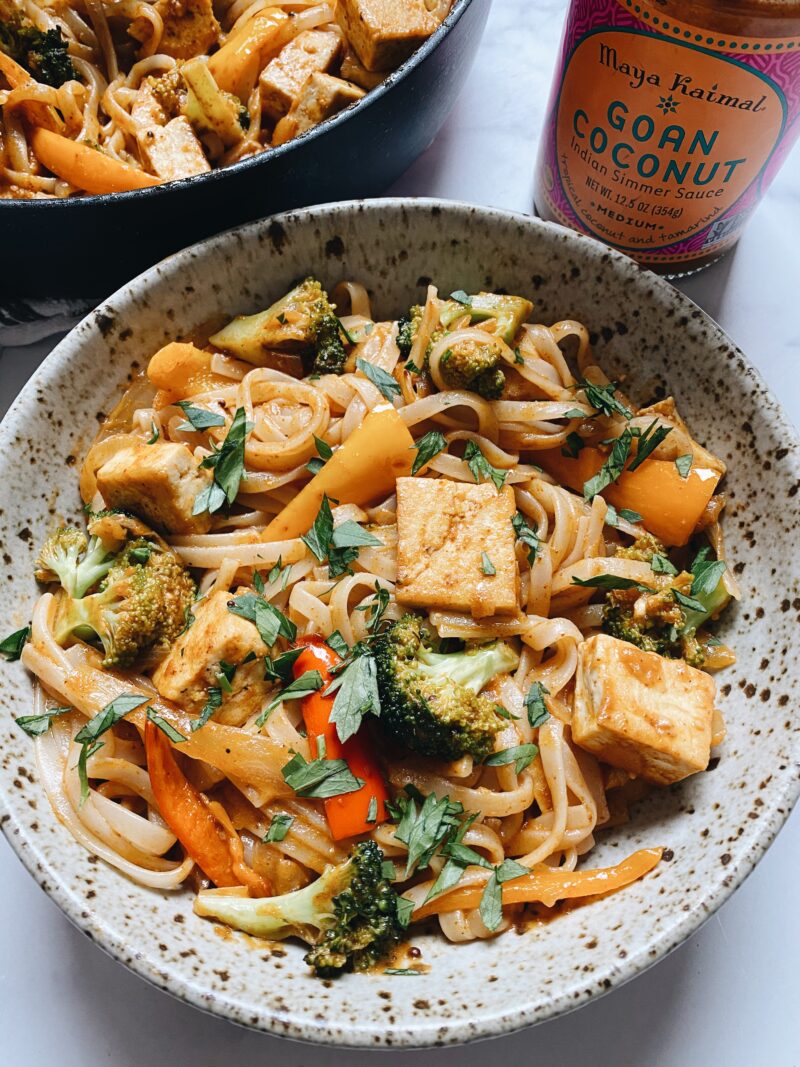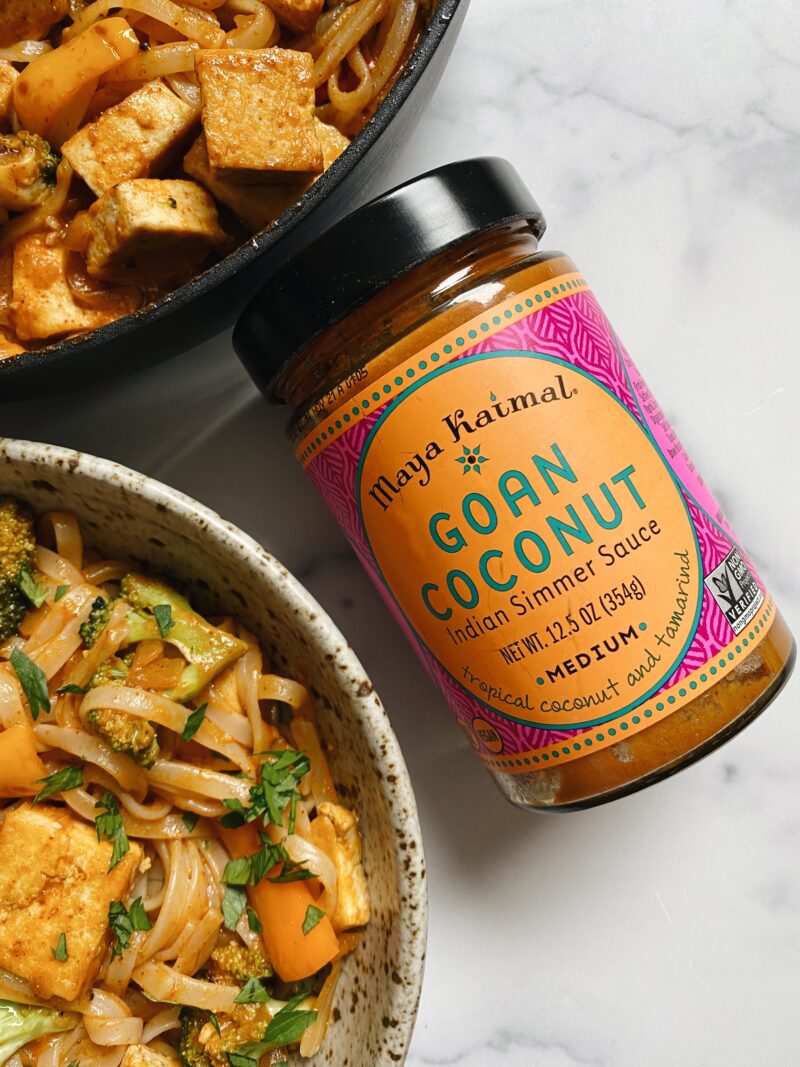 I hope that you enjoy this recipe! If you make any of my recipes, don't forget to tag me on IG @plantbasedjane in your stories and posts!
To find Maya Kaimal products near you click here.
To shop Maya Kaimal products online click here.
Creamy Goan Coconut Noodles With Tofu & Veggies

Ingredients
1 cup Maya Kaimal Goan Coconut Indian Simmer Sauce
8oz rice noodles
1 tablespoon olive oil
1/2 block extra firm tofu
2 1/2 cups mixed vegetables of choice
2 gloves garlic, minced
Instructions
Bring a large pot of water to a boil and cook rice noodles according to package instructions. Drain, rinse and set aside.
Drain and press tofu to release excess water. Cut into cubes.
In a large sauté pan on medium-high heat, add your oil. Add tofu with a little salt and pepper and cook on all sides until the tofu is browned. Set aside. Add a little more oil and add your vegetables with a little more salt and pepper. Cook for 4-5 minutes. Add in your garlic and cook for another 30 seconds. Add your tofu back into the pan with your noodles. Pour over sauce and carefully toss your noodles, veggies & tofu in the sauce.
Serve with fresh parsley or cilantro on top.
Thank you to Maya Kaimal for sponsoring this blog post. It means a lot to me to work with brands I love and support Plant Based Jane.