Jump to recipe
Enjoy this delicious vegan Mac n cheese with the addition of roasted garlic!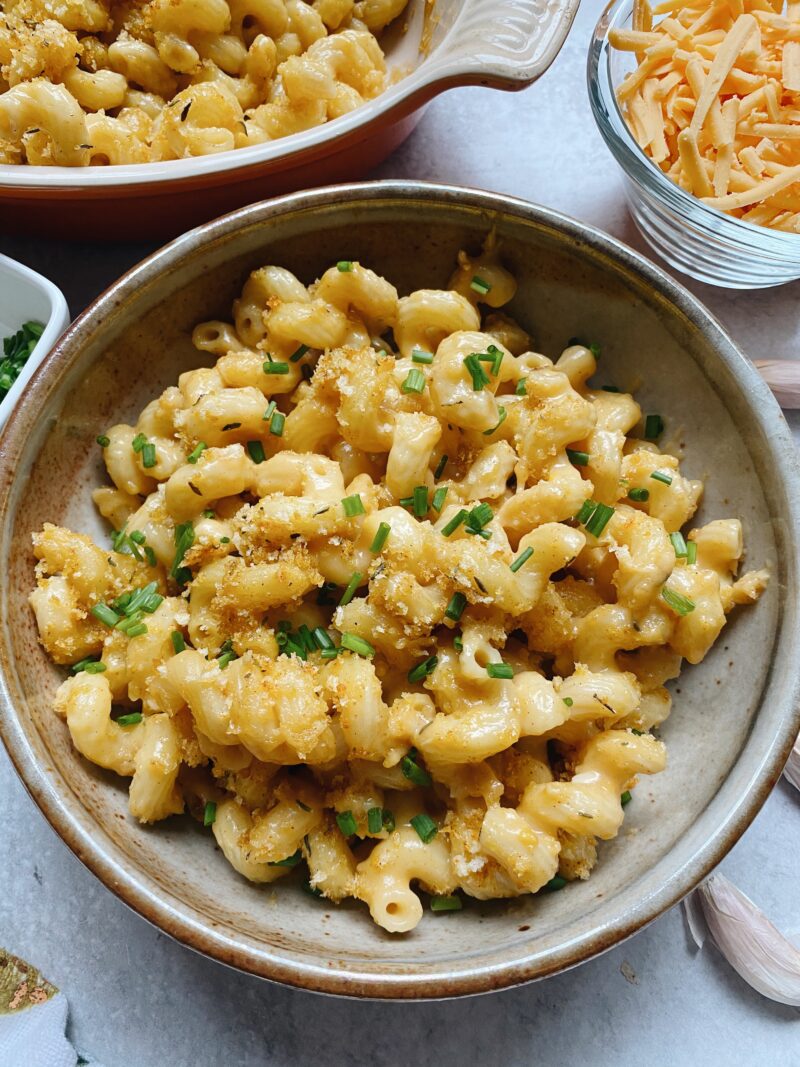 With the holidays around the corner, I wanted to create a new mac n cheese recipe for you to try!
My traditional recipe for mac n cheese is a popular recipe on my blog, so I knew I wanted to recreate something similar with a twist.
This is mac n cheese with roasted garlic! I absolutely love roasted garlic. I could just eat it on it's own. The flavor is immaculate and it just elevates this mac n cheese recipe.
I also know that we are currently in a pandemic (if you're reading this in late 2020) so I wanted to be mindful and cut the recipe down to a smaller size. It is exactly half of my traditional mac n cheese recipe.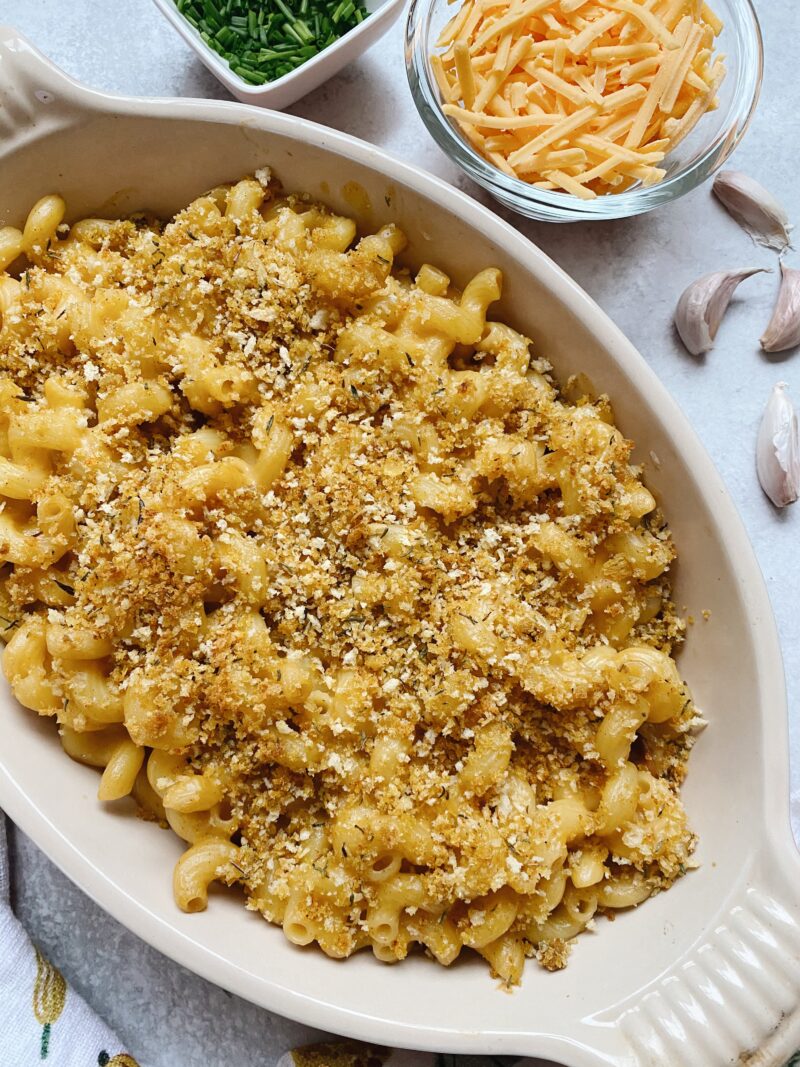 What do you need for this recipe?
8oz pasta – shape of choice
smallish-medium size head of garlic
butter
flour – the butter and flour create the roux
unsweetened plant milk
paprika
dijon mustard
vegan Worcestershire sauce – I highly recommend adding this to your cheeze sauce. It really elevates it.
vegan cheddar shreds
Panko breadcrumbs
nutritional yeast
white salt & pepper
These are ingredients you likely already have on hand.
I hope that you enjoy this recipe! If you make any of my recipes, don't forget to tag me on IG in stories/posts @plantbasedjane
Roasted Garlic Mac n Cheese

Ingredients
8oz pasta shape of choice

For the roasted garlic

1 smallish-medium head of garlic
1 tablespoon of olive oil
1/4 tsp salt

Cheese sauce

3 tablespoons butter
3 tablespoons all purpose flour
1 3/4 cup unsweetened plant milk
1 1/2 cup vegan cheddar shreds
1 tsp paprika
1 tsp dijon mustard
1 tsp vegan Worcestershire sauce (I like Annie's)
1/4 tsp white pepper
1/4 tsp salt

Panko breadcrumb topping

1/4 cup panko breadcrumbs
1 tablespoon olive oil
1 tablespoon nutritional yeast
1/4 tsp salt
1/4 tsp dried thyme
Instructions
Begin by pre-heating your oven to 400 degrees. cut the top off of your head of garlic revealing the top of your garlic cloves. Smother in olive oil and salt. Cover in tin foil and cook for 30-40 minutes, or until the garlic has become tender. Carefully remove the cloves and add to a bowl. Smash with a back of a spoon to create a paste.
Bring a large pot of salted water to a boil. Cook pasta according to pasta instructions. Drain in colander and let it sit while you make the sauce.
In the same pot, melt your vegan butter on medium heat. Add in your flour and cook for 1-2 minutes so the flour can cook off and it forms into a paste. Add in your plant milk and whisk for 3-4 minutes. By then your sauce should thicken up and coat the back of a spoon. Add in your cheese, roasted garlic paste, paprika, dijon, Worcestershire, pepper and salt. Mix and season more to taste.
Carefully stir in your pasta. Add your Mac n cheese to a greased baking dish. In a small bowl, combine your panko breadcrumb topping. Evenly coat the top of the mac n cheese with it. Place your baking dish into the oven on broil for 3-4 minutes, or until the breadcrumbs have toasted. Serve!