Jump to recipe
Try this delicious Vegan take on your traditional candied sweet potatoes with marshmallows.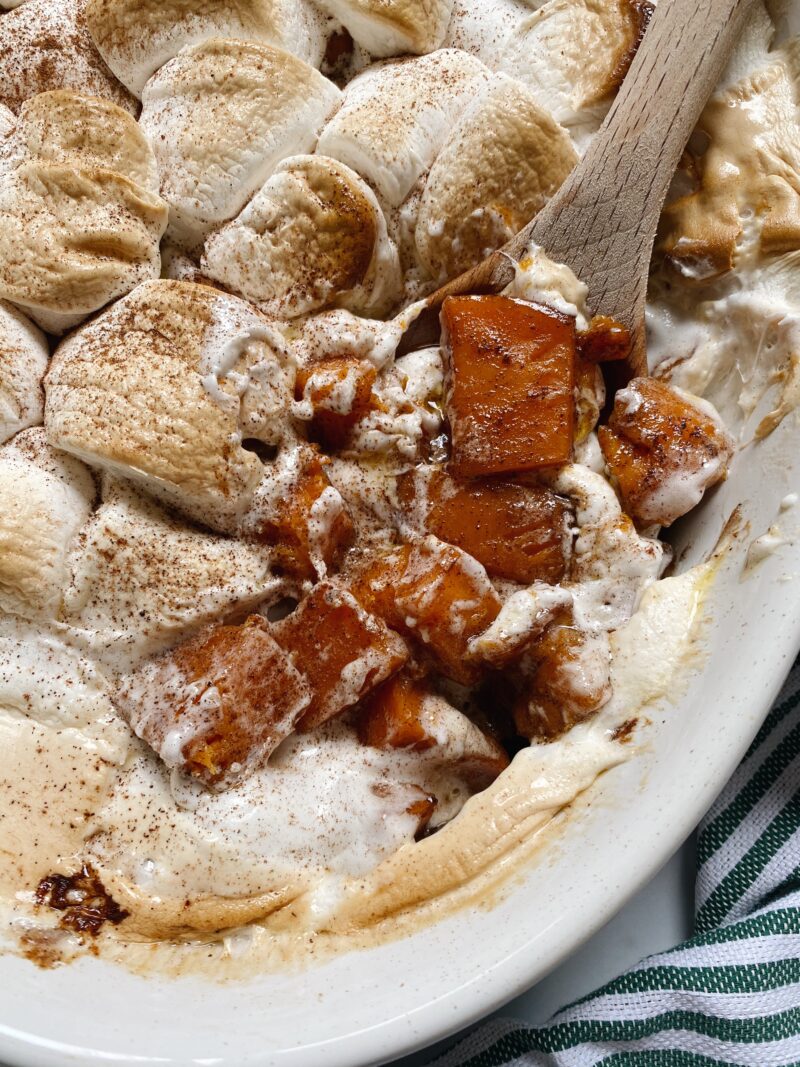 Thanksgiving was never a major holiday in my household. Growing up the entire family would meet at my aunt's house. I have very fond memories from those times. After awhile we would just go to my grandmas house and celebrate there. My grandmother (I call her Babi) is a holocaust survivor from Europe so our Thanksgiving's were not your traditional celebration. We would have Turkey (this is before I went vegan), but there would also Eastern European dishes.
Fun fact: I went Vegan the day after Thanksgiving in 2015.
It wasn't until I was in high school and started going over to my friends house for Christmas Eve that I experienced candied sweet potatoes with marshmallows. It was such a foreign concept for me but it was very delicious.
I've had a lot of fun veganizing these traditional Thanksgiving/holiday meals because they weren't something I grew up eating during the holidays. I don't think I ever had stuffing until I was in my early 20s. So I've been having a fun creating my own spin on these dishes.
Traditional marshmallows aren't vegan, or even vegetarian, because they have gelatin in them. Gelatin comes from ligaments, tendons, etc. of pig and cows.
I used Dandies vegan Marshmallows and they identical from what I remember regular marshmallows tasting like. Trader Joe's also makes vegan marshmallows around the holidays.
What do you need for this recipe?
Sweet potatoes
Vegan butter
Brown sugar
Salt
Cinnamon
Nutmeg
Vegan marshmallows.
You don't need many ingredients to create this delicious side dish!
If you make this recipe, don't forget to tag me on IG in stories & posts @plantbasedjane
Candied Sweet Potatoes with Marshmallows

Ingredients
2 large cubed sweet potatoes
1/4 vegan butter
1/4 brown sugar
1 tsp salt
1/2 tsp cinnamon
1/4 tsp nutmeg
2 cups vegan marshmallows (around 1 1/2 bags of Dandies)
Instructions
Pre-heat your oven to 375 degrees Fahrenheit
Cube sweet potatoes and add them to a bowl. Melt vegan butter and combine with the brown sugar, salt, cinnamon and nutmeg. Add to the potatoes and mix well to combine.
Add to a baking sheet and cover. Cook for 30 minutes. After 30 minutes, take potatoes out and stir. Cook uncovered for 15 minutes or until the potatoes are tender.
Add your marshmallows to the top and place back In the oven on broil until the marshmallows have browned. Watch carefully as they can burn quickly. Mine took 3-4 minutes.