Jump to recipe
Try this super delicious udon noodle stir fry!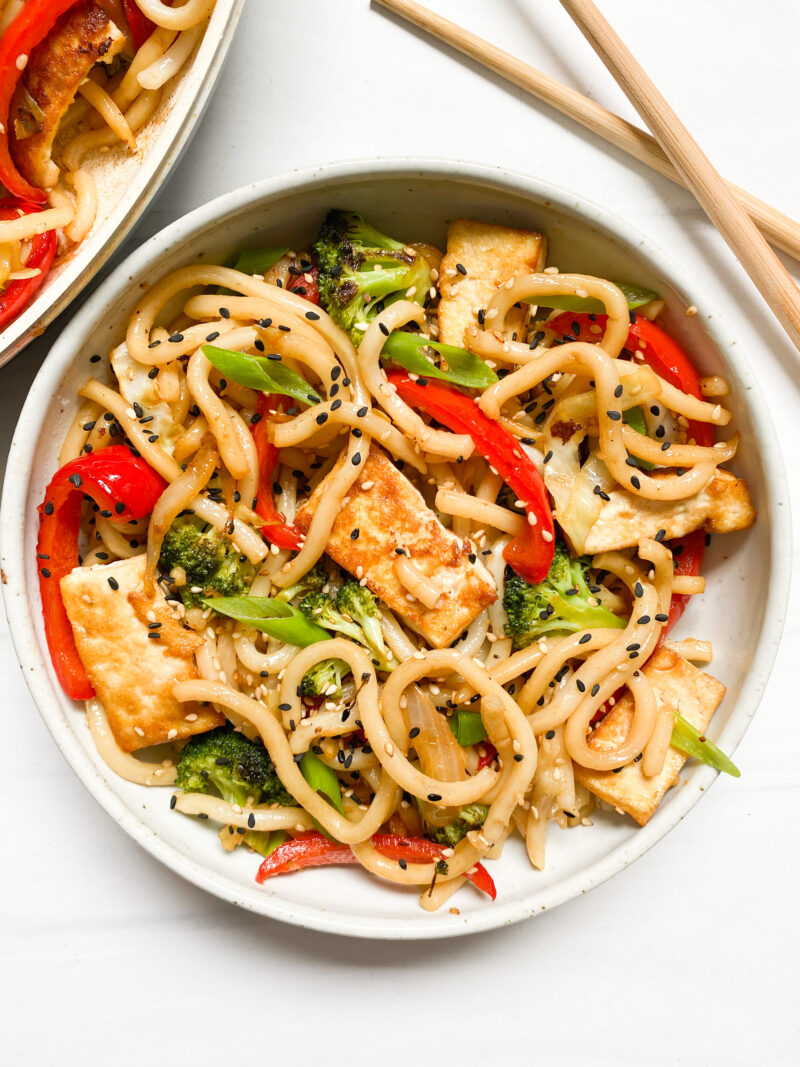 I really don't understand how it's already June (if you're reading this around the time this recipe went live). It seems like March was just ripped away from us due to this awful pandemic we've endured over the past few months. I cannot wait until life returns to somewhat normal. Well, depending where you live, your state could have "reopened." Living in Hoboken, NJ, across the river from NYC, we are technically in the epicenter. So I know I have to be patient over here but it is worth it if we can save more lives.
Now let's talk udon noodles. They're chewy, thick and just have the most amazing texture. I find, by me at least, udon noodles are a bit harder to find in stores. I buy mine on Amazon! They come in a pack of six and they last! Click here to check them out.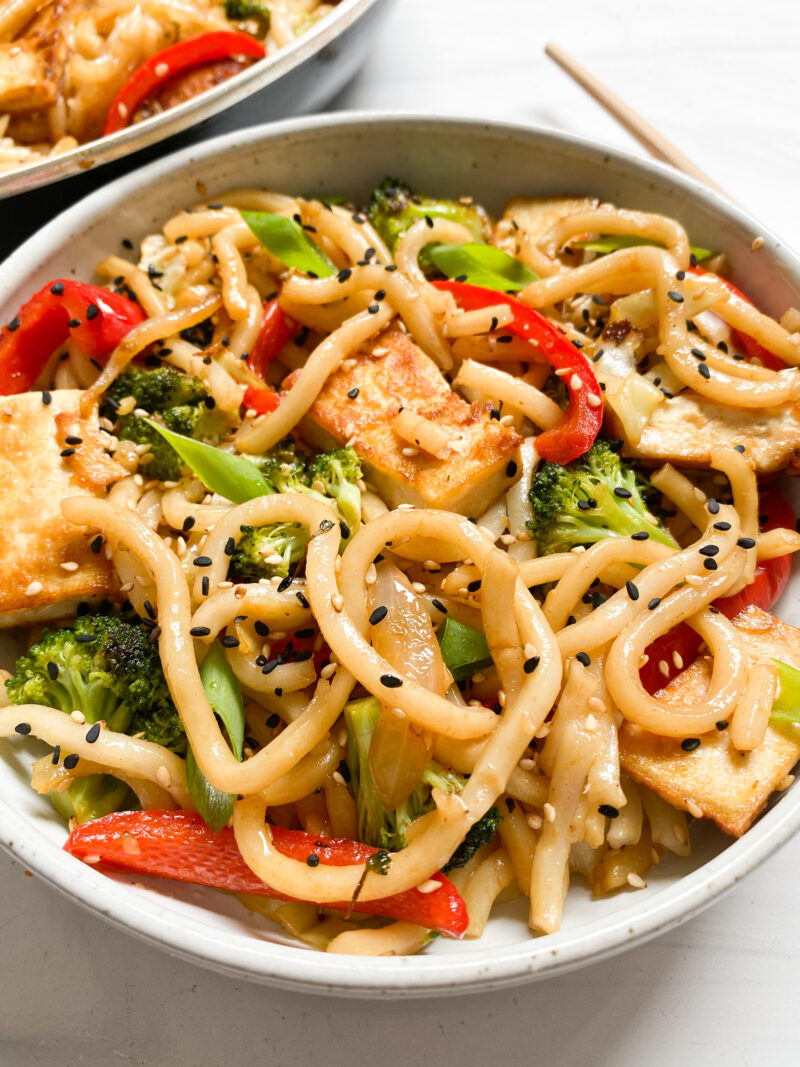 If you don't have access to udon noodles, you can sub with whatever noodle you like! Spaghetti, ramen, rice, etc.
I have added tofu and vegetables to this stir fry. It is completely up to you on what vegetables you'd like to use. I went with cabbage, broccoli, bell pepper & onion.
What do you need for this recipe?
Udon noodles
Mixed vegetables
Tofu
Soy Sauce
Maple Syrup
Rice Vinegar
Sesame Oil
Spices
These are all ingredients you likely already have on hand.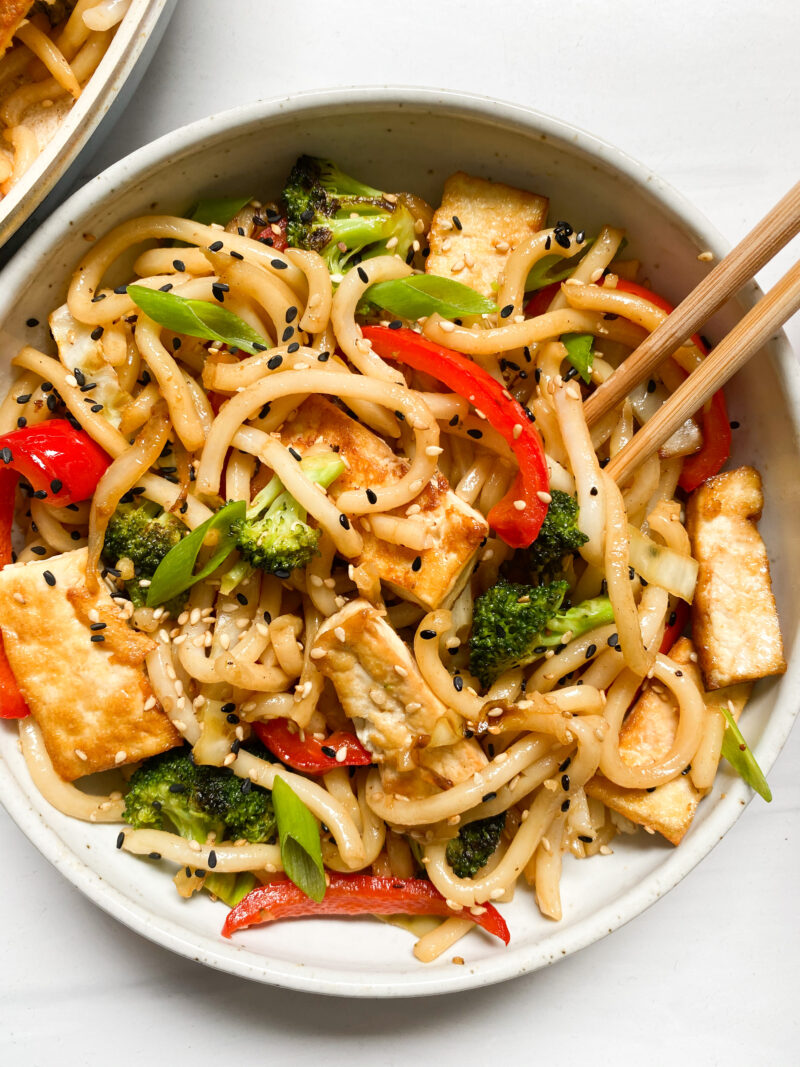 I hope that you enjoy this recipe! If you make any of my recipes, don't forget to tag me on IG @plantbasedjane
Udon Noodle Stir Fry

Ingredients
2 7.1 oz packages of udon noodles
2 1/2 cups mixed vegetables
1 cup extra firm tofu

Sauce

3 tablespoons soy sauce
1 tablespoon maple syrup
1 tablespoon rice vinegar
1 tablespoon sesame oil
1 teaspoon sriracha
1/4 tsp garlic powder
1/4 tsp ground ginger
Instructions
Begin by cooking your tofu. In a pan on medium heat with a little oil, fry your tofu on both sides until it's brown and crispy. Remove from pan and sprinkle them with a little salt.
In the same pan, add a little more oil and your mixed vegetables. Cook until your veggies are tender.
Meanwhile, add all your sauce ingredients into a bowl.
Once your vegetables are done cooking, add your tofu back in and udon noodles. Top everything with the sauce and carefully mix everything to combine.
Top with sliced green onion and sesame seeds!