Jump to recipe
This delicious Summer inspired pasta dish is perfect to serve at BBQs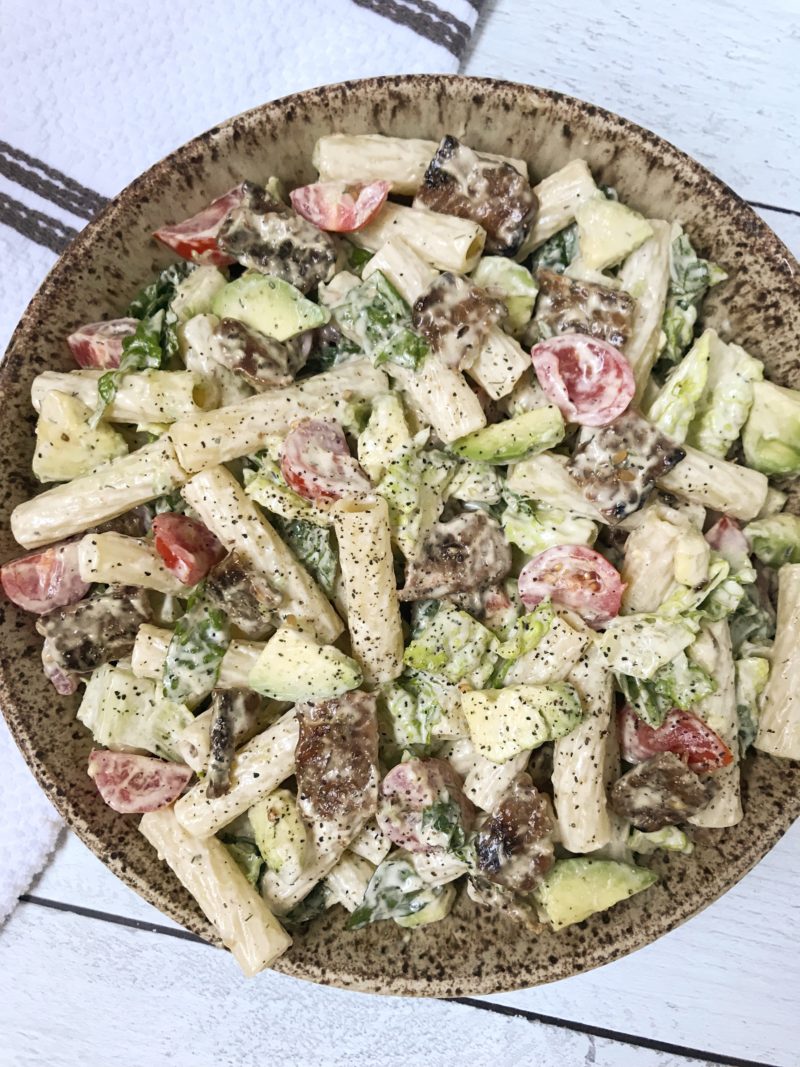 Summer is in full force over in Hoboken, NJ! As I type this blog post and look at my weather app, its 88 degrees out.
So when it is scorching outside, I like making refreshing dishes. If I'm serving a group of people, I like to go all out.
That is when this BLT pasta salad popped into my head! It is so delicious and perfect for the summer!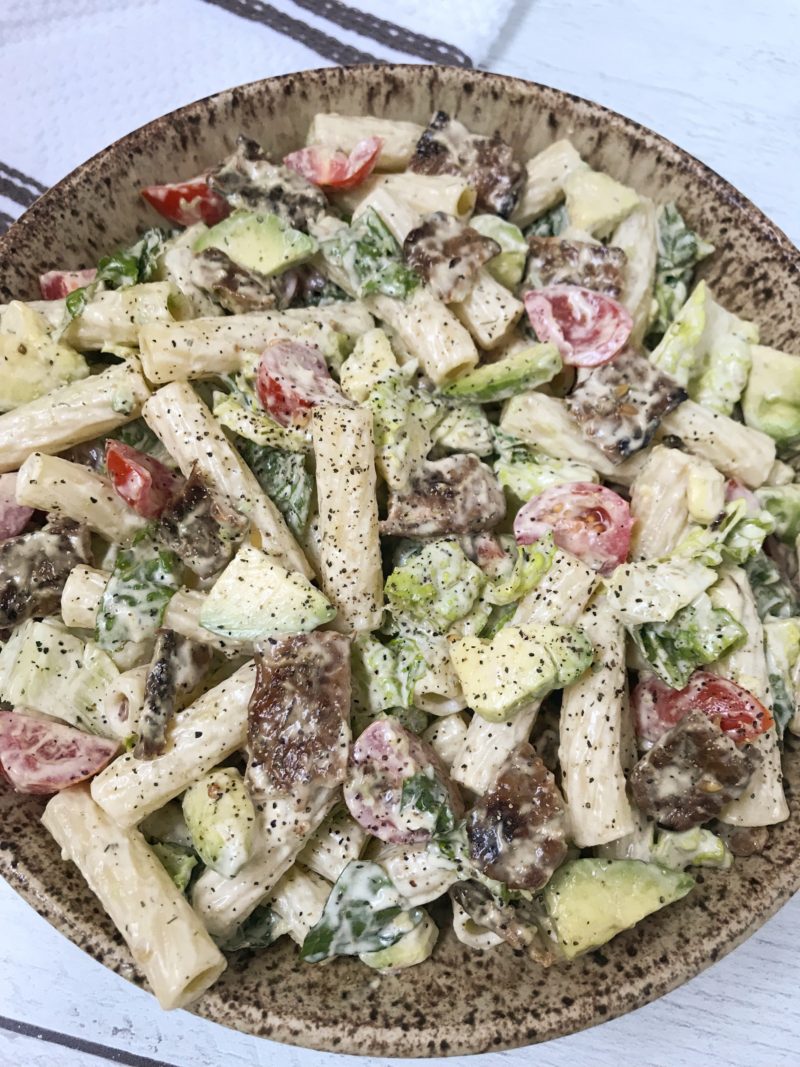 For the "Bacon" part of this recipe I used the Lightlife Tempeh Bacon. Tofurky also makes a really great tempeh bacon but this was the one my store had and I love it! It's incredibly easy to make as it's pre-seasoned and cut into bacon strips. There are also tons of Vegan tempeh bacon options on the internet (Pinterest) that you could use if you can't find it in stores.
Since tomatoes are in season now, it is SO nice to be able to walk to my farmers market and buy the best tomatoes on earth. New Jersey is famous for their tomatoes and I am so glad to enjoy them in abundance this Summer. I love buying local produce and the Summer has some of the best fruits and vegetables in season!
I wanted to upgrade this BLT pasta salad and add avocado. The creaminess of the avocado pairs perfect for this dish and makes it much more refreshing.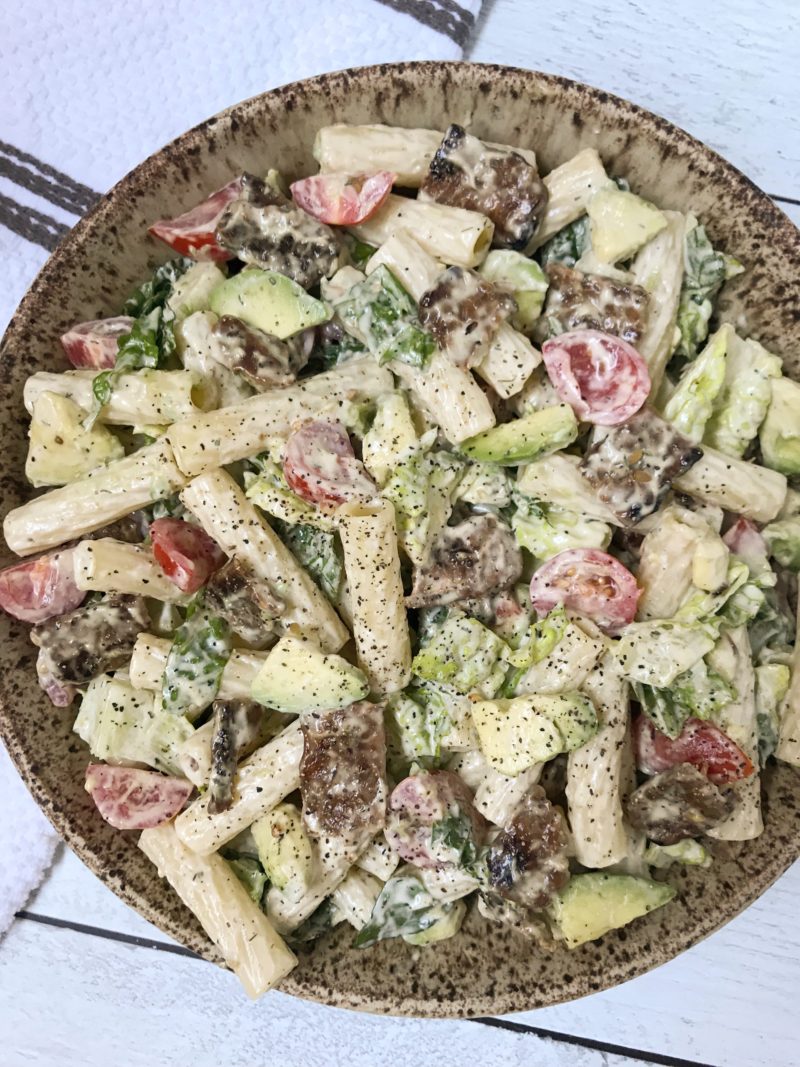 I hope that you enjoy this recipe! If you make any of my recipes, don't forget to tag me in the photo on Instagram @plantbasedjane.
BLT Pasta Salad With Avocado

Ingredients
2 1/2 cups uncooked rigatoni
1 package tempeh bacon
10-12 romaine leaves
10-12 cherry tomatoes
1 avocado

For the sauce

1/2 cup vegan mayo
1 tablespoon unsweetened plant milk
1 tsp dried dill
1/2 tsp garlic powder
1/2 tsp onion powder
1/2 tsp pepper
1/4 tsp salt
Instructions
Cook pasta according to package instructions. Once cooked, drain and set aside.
Cook your tempeh bacon according to package instructions. Let cool and cut into small bite sized pieces.
Chop up your romaine lettuce and quarter your cherry tomatoes. Chop up avocado into bite sized pieces.
In a large bowl, combine your cooled pasta and lettuce, tomatoes, tempeh bacon & avocado.
In a smaller bowl, combine your sauce. Pour over pasta and toss carefully to combine. Serve!