Jump to recipe
Enjoy this take on a traditional tuna melt but veganized with chickpeas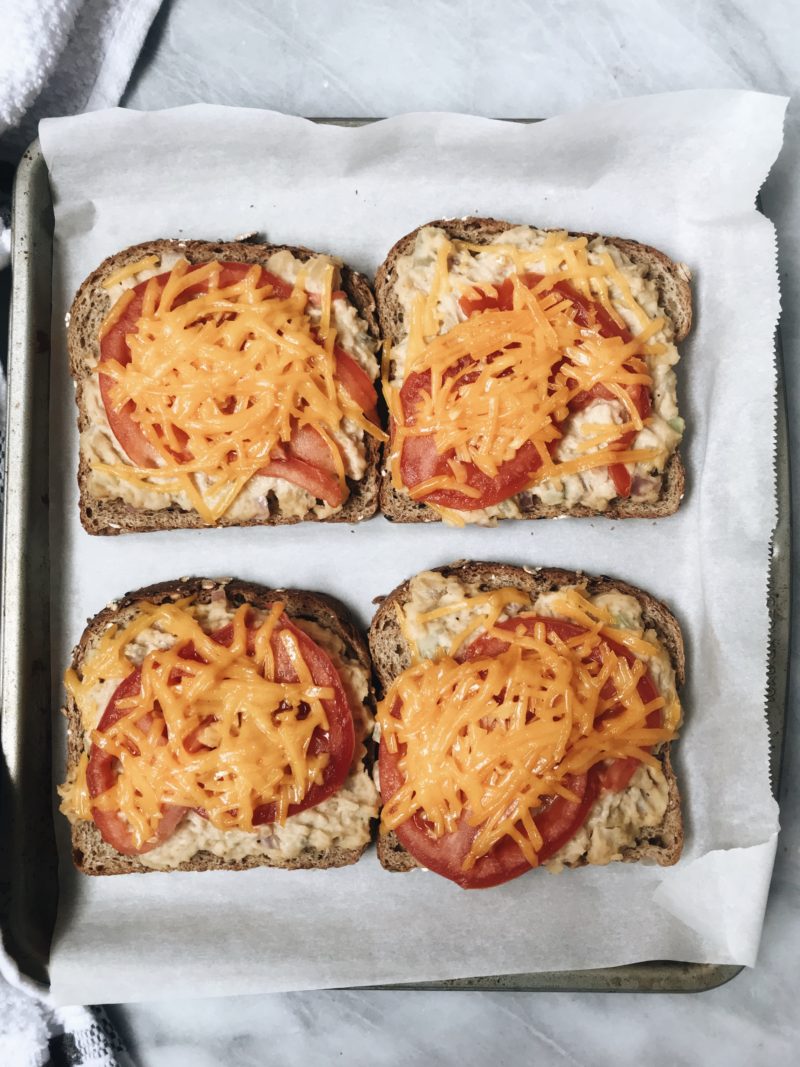 So here's the thing: I've never actually had tuna salad. Before going Vegan, I was an extremely picky eater. I never liked fish so it was just something that I never ate.
However, once going vegan I heard about the "chickpea tuna" craze. Being a major fan of chickpeas, I decided to try it out. I am obsessed! I have a few other chickpea "tuna" recipes, including no "tuna" chickpea casserole and vegan "tuna" pasta salad .
This time I wanted to do a more traditional recipe, which is why I created these melts.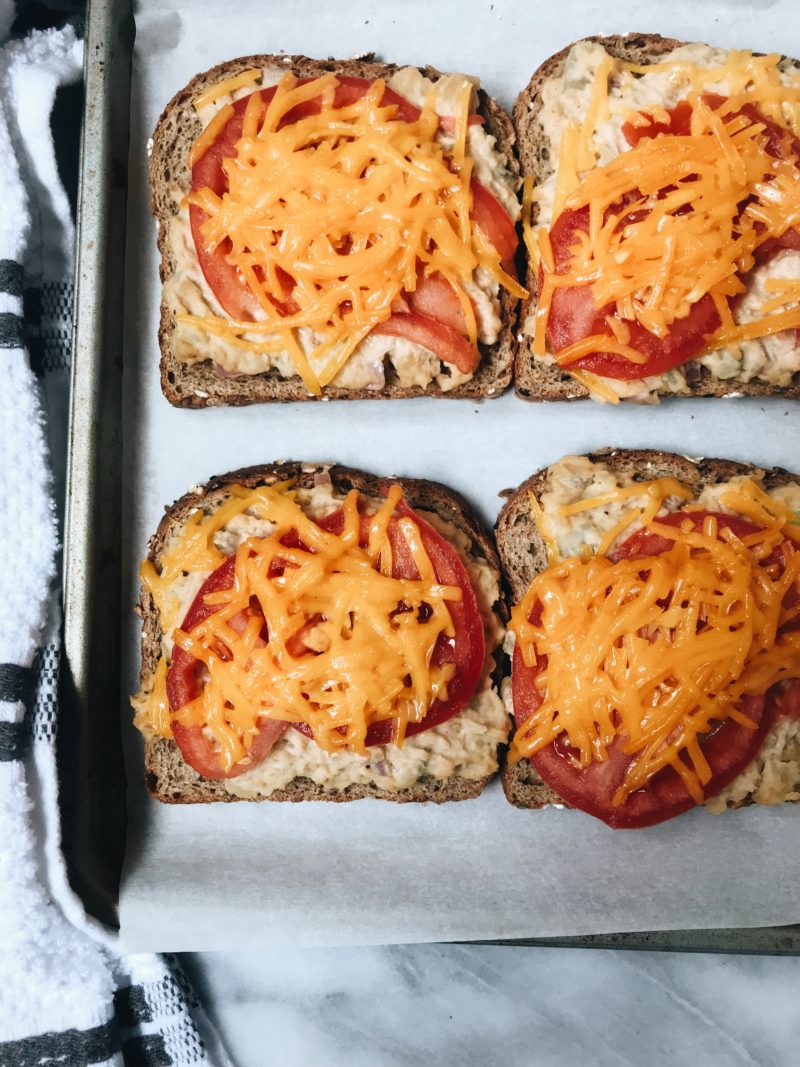 These are actually incredibly easy to make but are so delicious!
I think it's pretty obvious how much I love chickpeas. I post so many chickpea based recipes because I know not everyone is a fan of other vegan proteins like tofu or tempeh. They're also cheap and packed with plant based protein. It's also really easy to sub this recipe. Don't like red onions? leave them out! You can also add other veggies like carrots or whatever other items you like to add to your chickpea tuna recipe.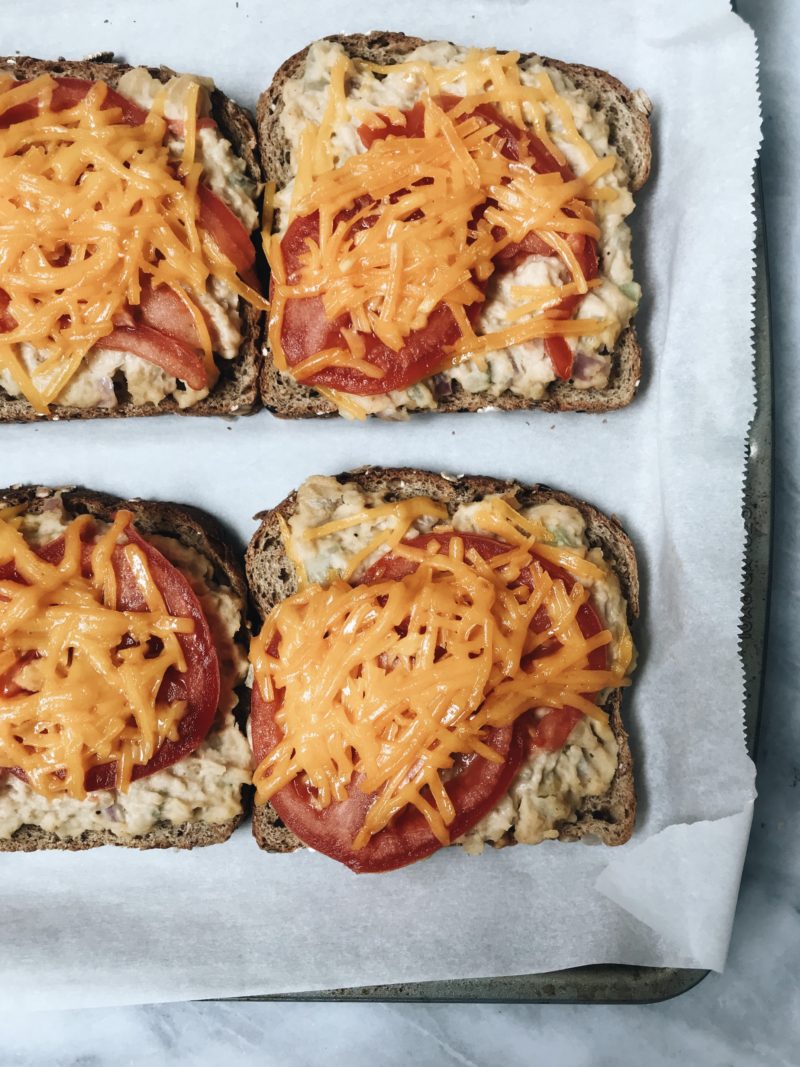 I hope that you enjoy this recipe! If you make any of my recipes, don't forget to tag me in the pictures @plantbasedjane
Chickpea "Tuna" Melts

Ingredients
1 can chickpeas
2 tablespoons red onion, diced finely
2 tablespoons celery, diced finely
1/4 cup dill pickle, diced finely
1/4 cup vegan mayo
1/2 tablespoon dijon mustard
1 tablespoon lemon juice
1 tsp juice from jarred pickles
1/2 tsp old bay seasoning
1/2 tsp paprika
1/4 tsp salt
1/4 tsp pepper
1 large tomato
1 cup vegan cheddar shreds
6 slices bread of choice
Instructions
Wash and drain your chickpeas. Add to a bowl and mash with fork or potato masher until all chickpeas are mashed with a few left in whole pieces.
Add in your celery, onion and dill pickle. Mix to combine.
Add in your vegan mayo, dijon, lemon juice & pickle juice. Mix to combine. Add in your seasonings and mix until everything is well incorporated. Taste and adjust seasonings to your liking.
Slice tomato and lay out your slices of bread.
Evenly distribute your chickpea 'tuna" and top with 1-2 slices of tomato. Season the tomatoes with a little salt & pepper. Add your cheese on top.
Place in oven on broil and cook until your vegan cheese has melted.
Serve immediately.