Jump to recipe
Whether you're interested in meal prepping or serving a group of people, this recipe is perfect to fit your needs. It's easy to make, delicious and healthy.
I am all for simple and easy recipes, which is why I am so excited to share this one with you.
One pan = easier clean up and even cooking. I have become obsessed with roasted carrots over the past week (I know, it's only been a week…there is clearly something wrong with me) so I knew that I wanted to add them to a recipe. I have zero recipes that involve green beans and I thought they would be better than adding broccoli (which I add to everything) so I thought that this would be a nice mix.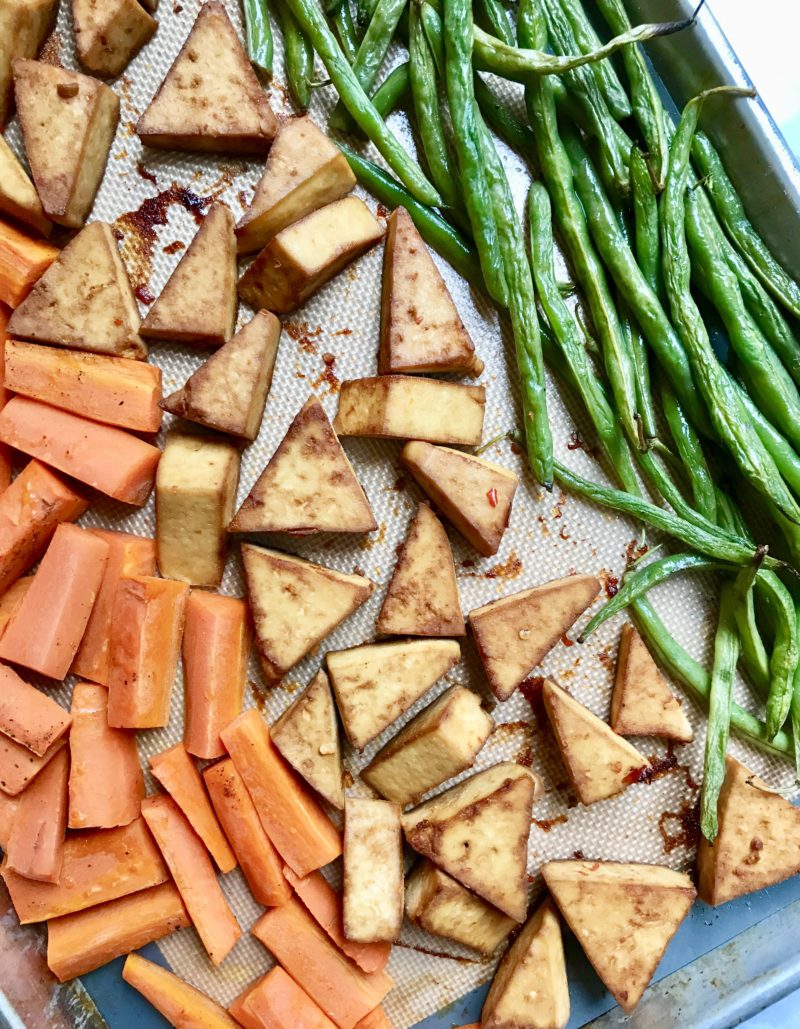 As for the tofu, I made a delicious spicy chili sauce which pairs really nice with the vegetables. I haven't used sweet chili sauce in many recipes so I decided to whip it out for this one. Let me tell you, I now don't know a world without baking my tofu with some sweet chili sauce in it. It is absolutely delicious!
I have many purposes for my blog, but one in particular is to create simple recipes. Simple recipes that do not sacrifice good flavor. As a Vegan blogger, I understand the need for simple vegan recipes. Sometimes when you go Vegan deciding what meals to make can seem complicated. Well, it doesn't need to be that way. My goal is to show the world how easy Veganism can be. I think that this recipe is a good representation of that.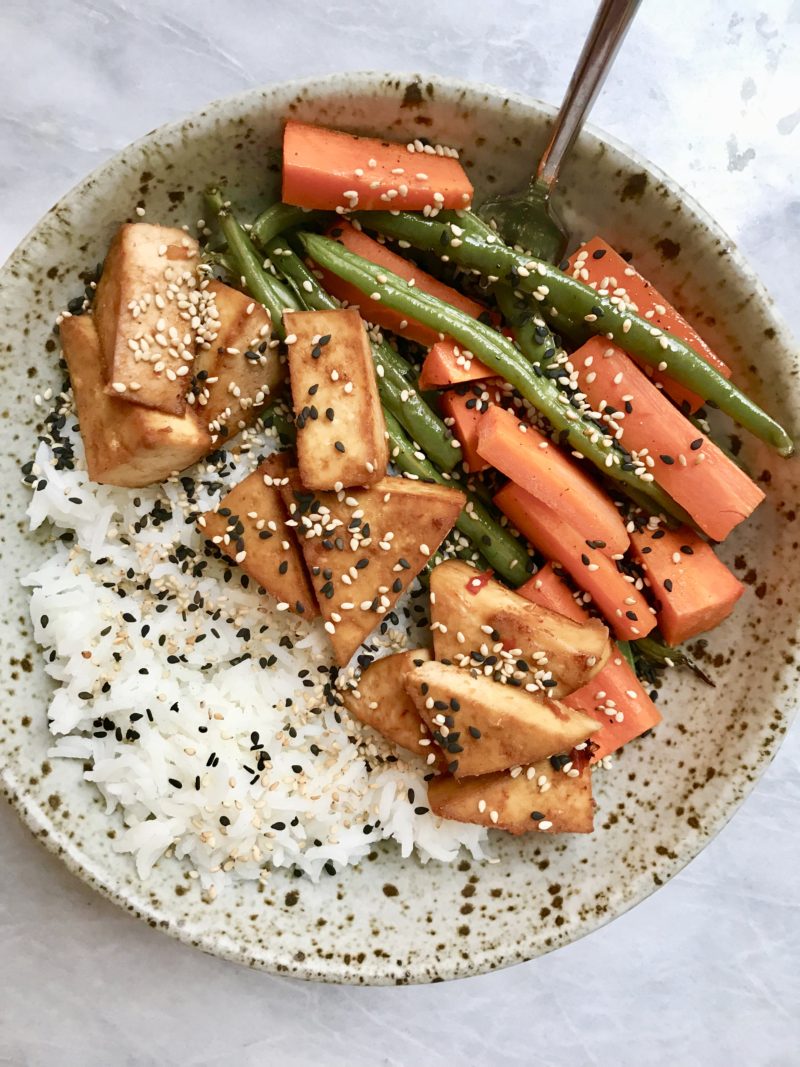 Serve this up with any grain you want, or eat the veggies and tofu on their own. I think jasmine rice is the perfect pair for this recipe.
I hope you enjoy this recipe!
If you make any of my recipes, don't forget to tag me on Instagram @plantbasedjane
One Pan Tofu & Veggies

Ingredients
1 16oz package of tofu
3 cups green beans
2 cups carrots, cut into small slices.

Tofu marinade sauce

3 tablespoons soy sauce
1 1/2 tablespoon sweet chili sauce
1 tablespoon sriracha
1/2 tablespoon maple syrup
1 tsp sesame oil
1/2 tsp ground ginger
1/4 tsp garlic powder
Instructions
Pre-heat your oven to 450 degrees. Line a large baking tray with parchment paper (or a slip mat like I have)
Cut your tofu and press it to drain all the water out. Cut into triangles (or any shape you want)
In a bowl, combine your marinade sauce. Add your tofu and coat to combine. Let sit for 10-15 minutes.
Wash your green beans and carrots. Cut your carrots into 2 inch pieces.
Add your carrots and green beans to the outer sides of the baking tray. Coat with some oil and salt and pepper. Add your tofu in the middle. Save your leftover marinade.
Cook for 30 minutes flipping the tofu and mixing the veggies halfway. When there is 5 minutes left, take the pan out of the oven. Spoon 1-2 tablespoons of leftover marinade on the veggies and place back in the oven and cook until the five minutes is up.
Serve!