Not a fan of tofu? Not a problem. This Maple Sriracha Chickpea recipe is super easy to make but is still packed with protein and flavor.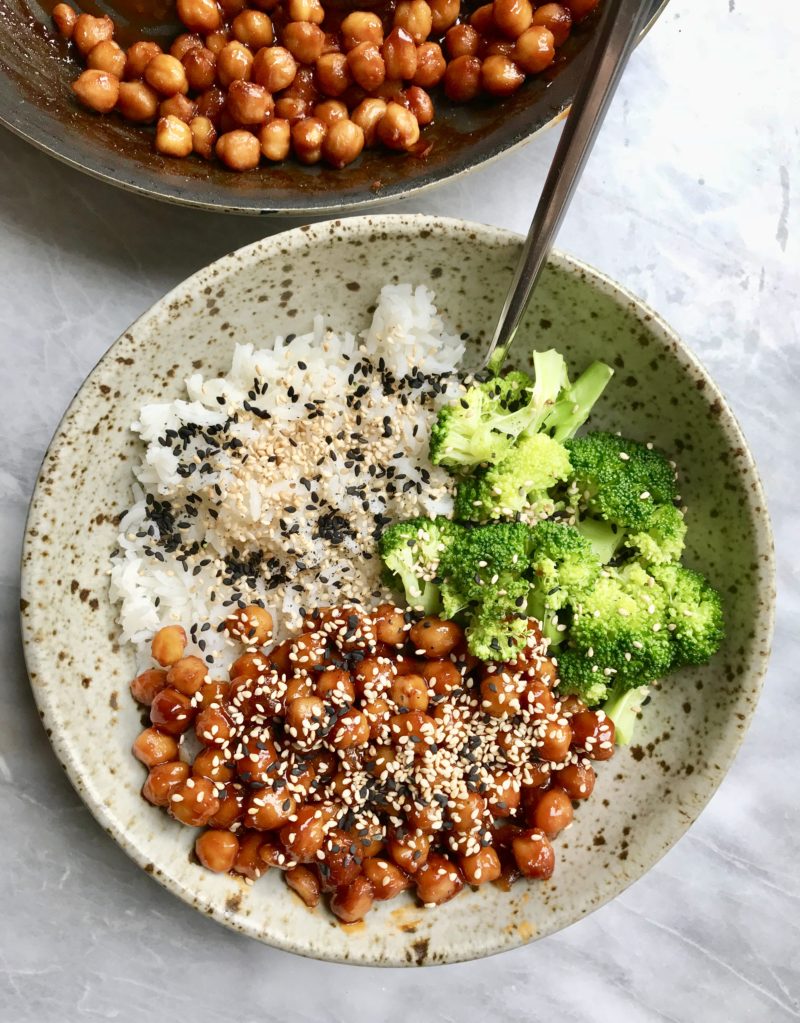 I know that not everyone loves tofu, which is why I am trying my best to convert a lot of my tofu recipes into chickpea recipes. This recipe is inspired by my Maple Sriracha Tofu recipe.
I wanted to transform my tofu recipes into something other people could enjoy while still having it protein packed. If you haven't checked my other tofu-turned-chickpea recipes, make sure to look at my sesame chickpeas and orange chickpeas.
This recipe packs a spicy punch but is calmed down by a mild sweetness from the maple syrup.
To be clear, this recipe isn't completely soy free as there is soy sauce in it. If needed, substitute with coconut aminos. Be mindful that you may want to adjust the maple syrup as coconut aminos does have a sweeter taste to begin with.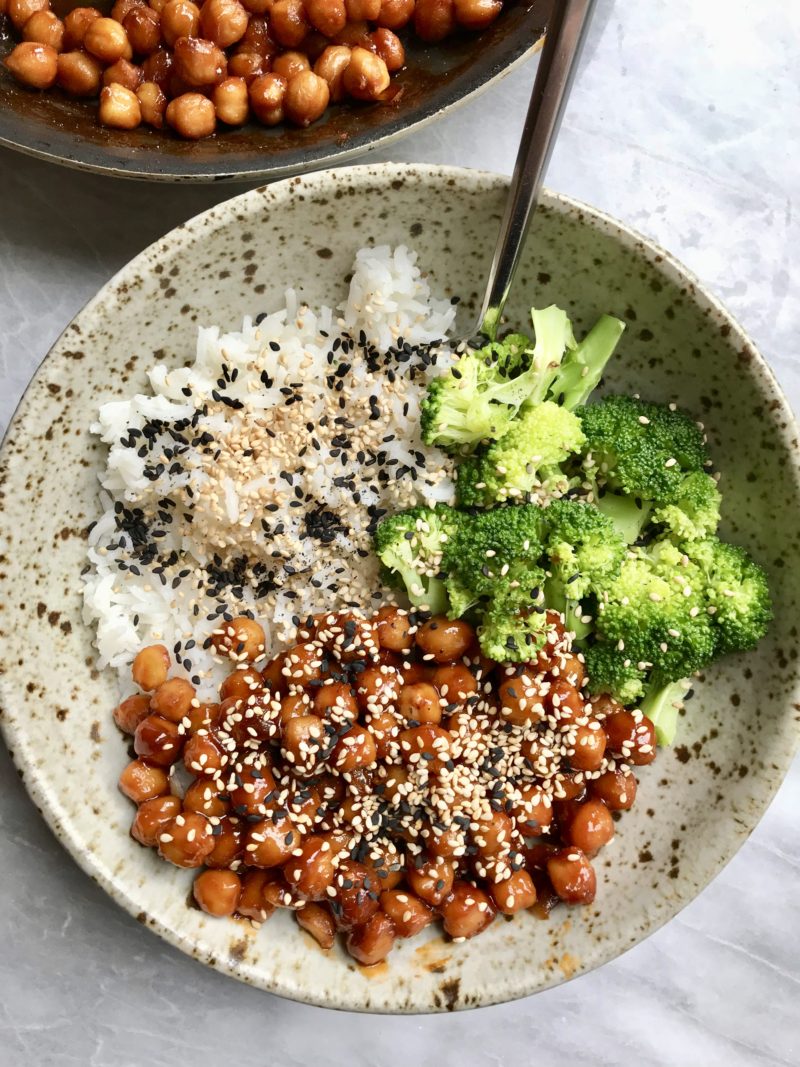 This recipe is great for recipe testing or for serving 2-3 people. I love this recipe with jasmine rice and broccoli but of course you can serve it without you want. I just love the simplicity of this combo.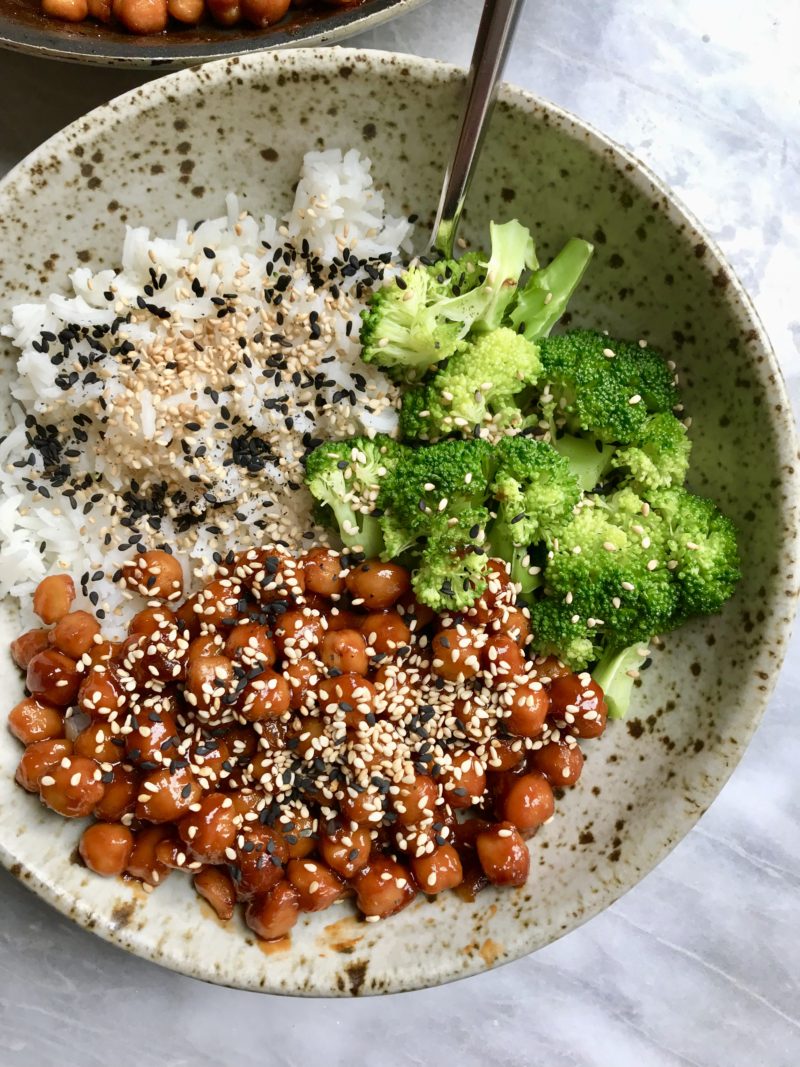 I hope that you enjoy this recipe!
If you make any of my recipes, don't forget to tag me on Instagram @plantbasedjane
Maple Sriracha Chickpeas

Ingredients
1 15oz can of chickpeas
3 tablespoons soy sauce
1-2 tablespoons of sriracha (2 makes it super spicy!)
1 tablespoon maple syrup
1 tsp rice vinegar
1 tsp sesame oil
1/4 tsp garlic powder
1 tsp corn starch
Instructions
Begin by washing and draining your chickpeas. Heat up a medium pan on medium-high heat and spray with some non stick spray.
As your pan is heating up, make your sauce. Combine all of your other ingredients into a bowl (including the corn starch) and mix well to combine.
When your pan is heated up, add your chickpeas and cook for 1-2 minutes. This just allows to heat the chickpeas up and soften them a little.
Add in your sauce and let cook for an additional 5 minutes, stirring frequently. When all of the sauce is thickened, take of the heat. Serve.