I am obsessed with the creativity and flavor packed ingredients in this meal. It is super easy to make and screams "Spring." Made in partnership with Sunbasket.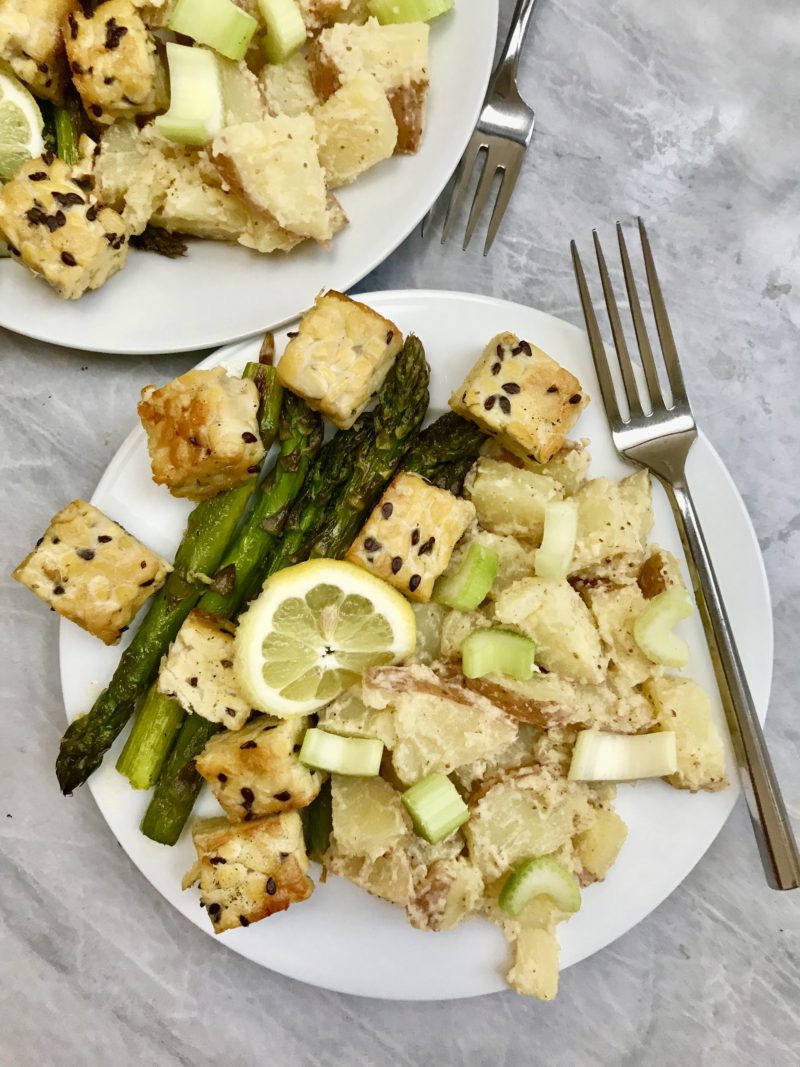 Yesterday was the first actual day that felt like Spring was here. It was warm, sunny, and that feeling of something new was in the air.
I got my Sunbasket in the mail as well which made me so excited as I was going away the next day (aka today) and really wanted to make something easy that was also nutritious. I feel like on days where I feel fatigued or unmotivated after a long day, I tend to eat more unhealthy. Mainly for the fact that making pasta which takes roughly 10-20 minutes is much faster that cutting up veggies, pressing tofu, etc. can take up to 1 hour to make. This mean took me 30 minutes and has protein, veggies and carbs. The perfect well rounded meal which I knew was healthy because Sunbasket's recipes were developed by nutritionists.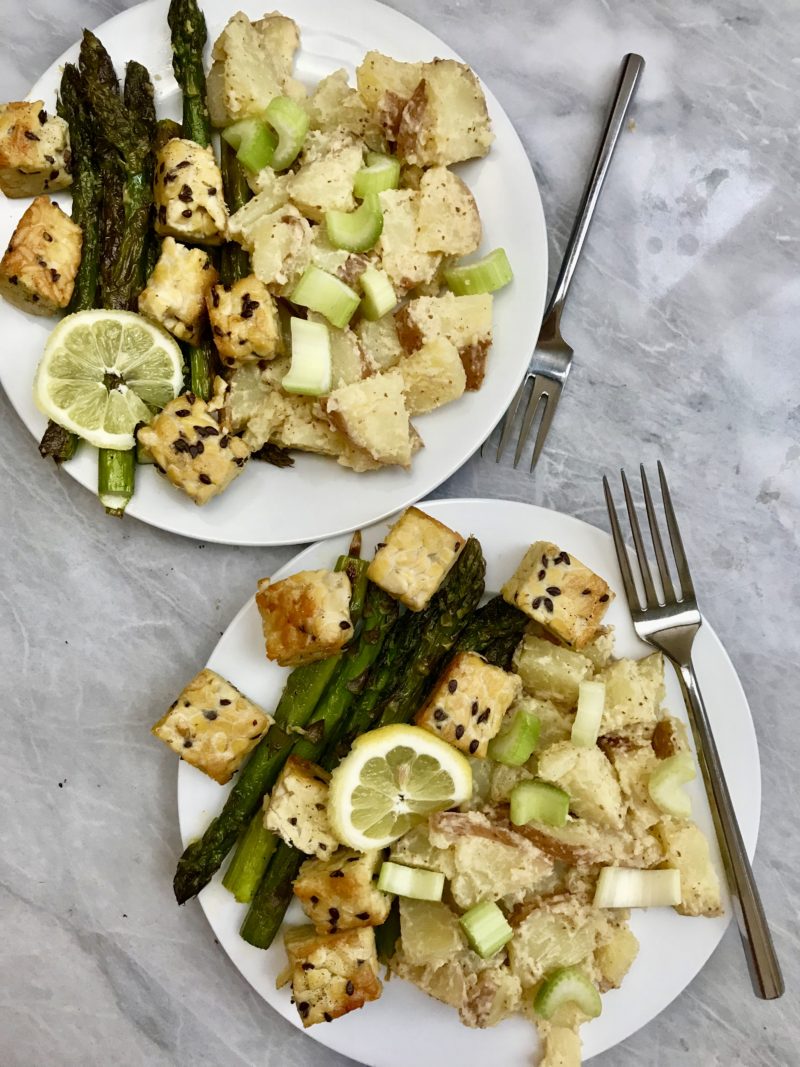 If you aren't familiar with Sunbasket, let me fill you in! Sunbasket is a weekly meal delivery service that offers all organic produce. You get 3 meals a week (big enough for 2 or 4 people). This year they recently added a Vegan menu meaning that you can get all Vegan recipes that are created by nutritionists that do not lack on the creativity for these meals.
In this weeks box (besides the meal I am sharing today) I received:
Vegan Chickpea "Tuna" With Spinach Strawberry Salad
Lemongrass Tofu With Shiitake Mushrooms and Coconut Black Rice
As well as being an all organic meal delivery service, all of their packaging is sustainable and recyclable.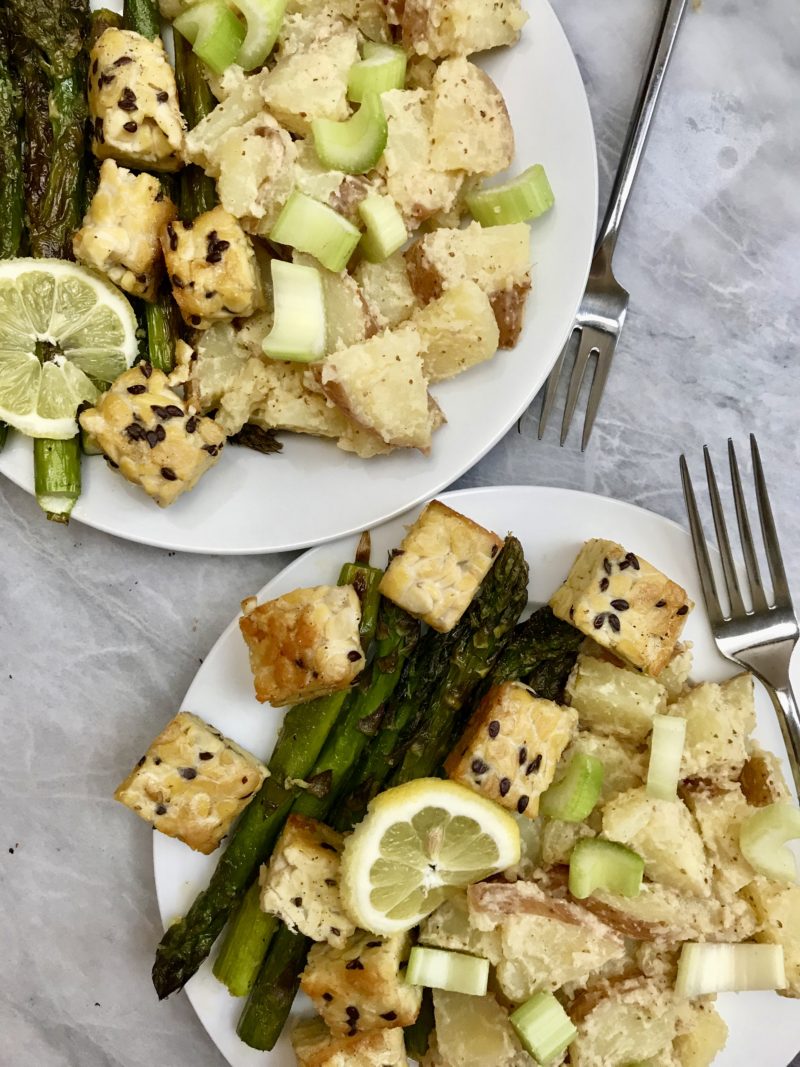 All these meals are delivered straight to your door ready for you to whip up and enjoy.
If you make any of my recipes, don't forget to tag me on Instagram @plantbasedjane.
To get $35 off of your first Sunbasket box, use this link: http://bit.ly/sunbasket-plantbasedjane
Warm Potato Salad With Roasted Asparagus, Mustard Vinaigrette & Tempeh Croutons
Ingredients
3 red potatoes
mustard vinaigrette (1 Tablespoon Whole Grain Mustard, 1 Tsp Shallots, 1 Tsp EVOO, 1 Tsp Dijon Mustard, 1 Tsp Apple Cider Vinegar, 1/4 Tsp Kosher Salt)
1 bunch asparagus
1 lemon
1 package tempeh (my box came with flax tempeh but whatever works!)
4 celery stalks
Instructions
Pre-heat your oven to 425 degrees
Scrub or peel your potatoes. I recommend keeping the skin on as it holds many of the nutrients. Cut your potatoes lengthwise and then into 1/2 inch thick slices.
In a large sauce pot, add your potatoes and enough lightly salted water to cover the potatoes by 1 inch. Bring to a boil and reduce to a vigorous simmer. Let cook until tender (around 8-10 minutes). Use a slotted spoon to transfer your cooked potatoes into a medium sized bowl and add your mustard vinaigrette. Toss to combine and cover to keep warm. Set aside the pot of water for the tempeh.
Prep and cook your asparagus. Snap the woody ends off the asparagus and add to a sheet pan with 1 tsp oil and some salt & pepper. Spread in an even layer and bake for 10-12 minutes. Meanwhile, zest and juice your lemon. When the asparagus is done cooking season with 1 tablespoon of lemon juice and zest. Toss to combine.
Cut your tempeh into 1/2 cubes. Add the tempeh back to the pot of water you used to cook your potatoes. Bring to a boil and cook for 6 minutes. Drain the tempeh and transfer to a plate. Pat dry with a paper towel and season with salt and pepper.
Finish off your potato salad by slicing your celery into lengthwise thin slices and adding it to the potatoes. Mix to combine.
Lastly, crisp your tempeh croutons. In a large frying over medium-high heat, warm 1-2 tablespoons of oil until hot but not smoking. Add the tempeh and cook, stirring occasionally, until golden brown and crispy. This takes 3-5 minutes. Transfer to a paper towel lined plate.
Serve! Transfer the potato salad and asparagus to individual plates. Top the asparagus with the tempeh cartons and serve.
Thank you to Sunbasket for sponsoring this post. It means a lot to me to work with brands I love and support my blog.