Being a delicious and fun take on breakfast, these loaded breakfast kale puffs will for sure be a winner. Made in partnership with Dr. Praeger's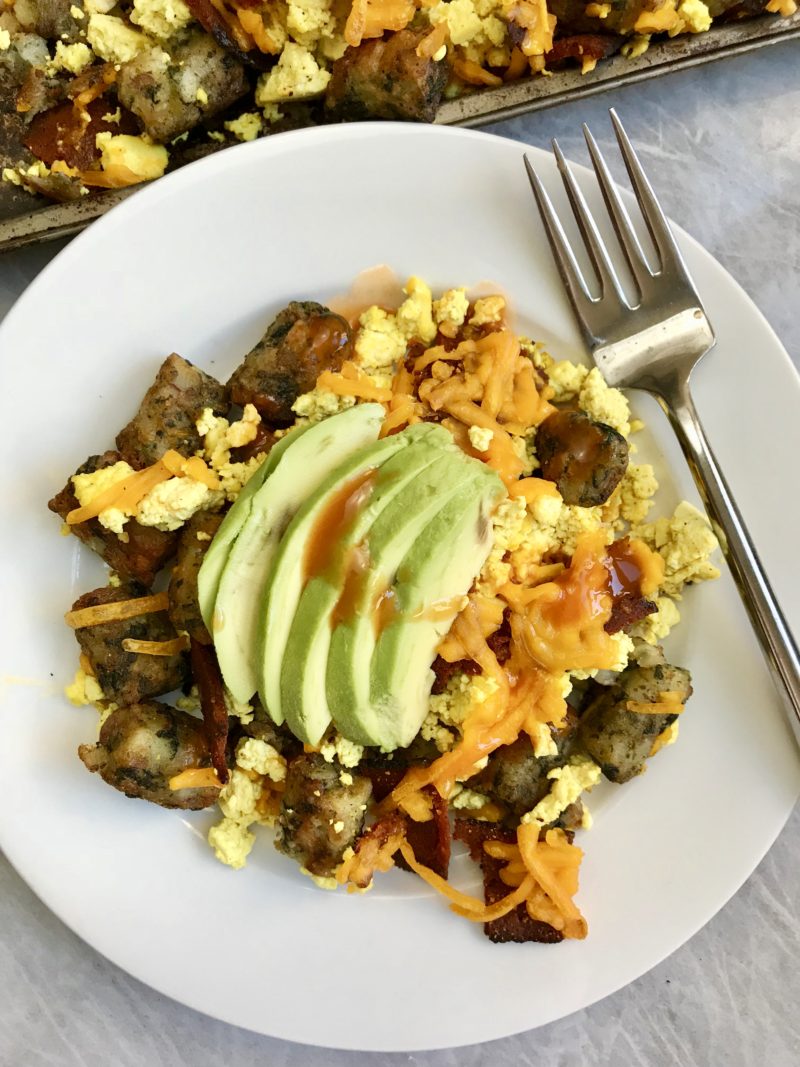 With breakfast being my favorite meal of the day, I wanted to create a fun and delicious recipe that is super easy to make and is extremely satisfying.
I love potatoes, I love tofu scramble…so I decided to combine the two with a few extra fixings to deliver this a meal that will be for sure to please.
I didn't use any old potato though, I went for one of my favorite products: These Kale Puffs by Dr Praeger's are such a fun take on your average "tater tot." Not only are they much more nutritious, but there are wholesome and real ingredients in them. With skin on red bliss potatoes and kale, these puffs are super flavorful and packed with those hidden veggies.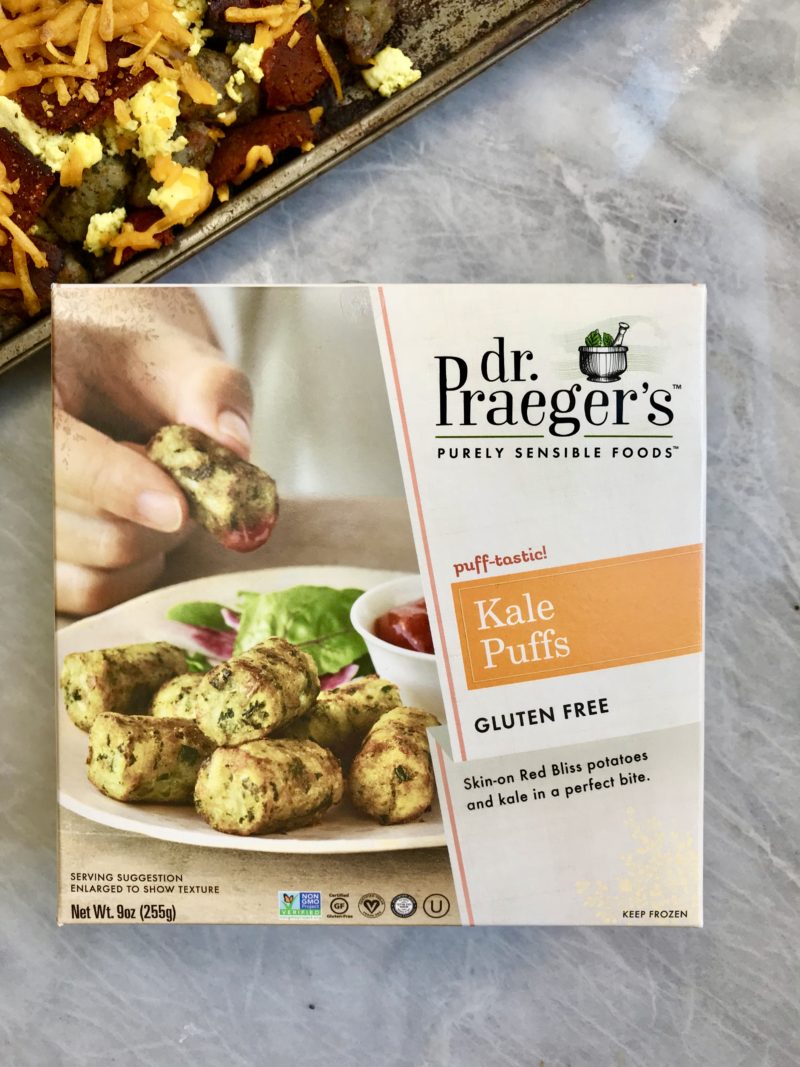 If you know me, you know that my obsession with Dr. Praeger's runs deep. You can often see me on IG downing their sweet potato hash browns, or chomping one of of their MANY vegan veggie burgers. Dr. Praeger's has a large vegan selection ranging from their veggie burgers, puffs, hash browns & brussels sprouts cakes. They make it really fun to eat your veggies with their creative products.
I also love tofu scramble. They are the perfect replacement for eggs on a plant based diet as they are high in protein and have zero cholesterol. If you are allergic to soy, you can sub with a chickpea scramble.
This recipe is also gluten free (depending on the Vegan bacon you decide to go for), as the puffs are free from gluten.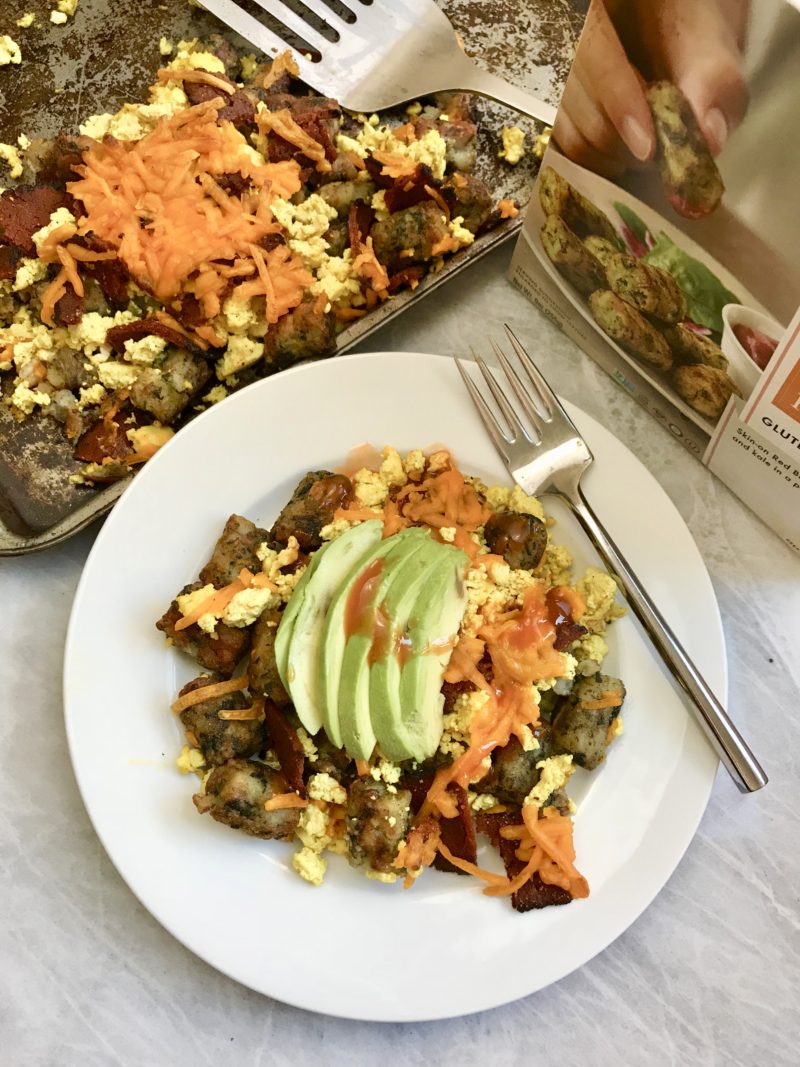 I like to finish mine off with some avocado and hot sauce. It brings a level of freshness to the meal but doesn't sacrifice the savory goodness.
I hope that you enjoy this recipe! If you make any of my recipes, don't forget to tag me on Instagram @plantbasedjane.
Don't forget to check out Dr. Praeger's.
Loaded Breakfast Kale Puffs
Ingredients
1 box Dr. Praeger's Kale Puffs
1/2 container firm tofu
1/4 tsp salt
1/4 tsp pepper
1/4 tsp chili powder
1/4 tsp onion powder
1/4 tsp turmeric
3-4 slices vegan bacon
1/2 cup vegan cheese
optional toppings: avocado, hot sauce.
Instructions
Pre-heat your oven to 450 degrees Fahrenheit. Place your kale puffs on an baking sheet (do not grease it) and bake for 6 minutes. After six minutes, flip your puffs. Cook for an additional 5 minutes and flip. Allow to cook for another 5 minutes.
While your puffs are cooking, make your tofu scramble. crumble your tofu directly into a large greased pan (do not press your tofu, trust me). Cook for 1-2 minutes and add all your spices. Cook for another additional minute and move your tofu to the side of the pan. Add your vegan bacon and cook according to package instructions. Remove both from pan and cut your vegan bacon into bite sized pieces. Set aside until the kale puffs are done.
Once your kale puffs are done cooking, take out of oven. With a spatula, push all your kale puffs together so they're all touching. Add your tofu scramble, vegan bacon and then your vegan cheese on top. Place back in the oven for 3-4 minutes or until your vegan cheese has melted. Serve!
Thank you to Dr. Praeger's for sponsoring this post. It means a lot to me to work with brands I love and support my blog.