Jump to recipe
This easy & delicious Seitan recipe is super easy to make! I also show you my favorite way to use it.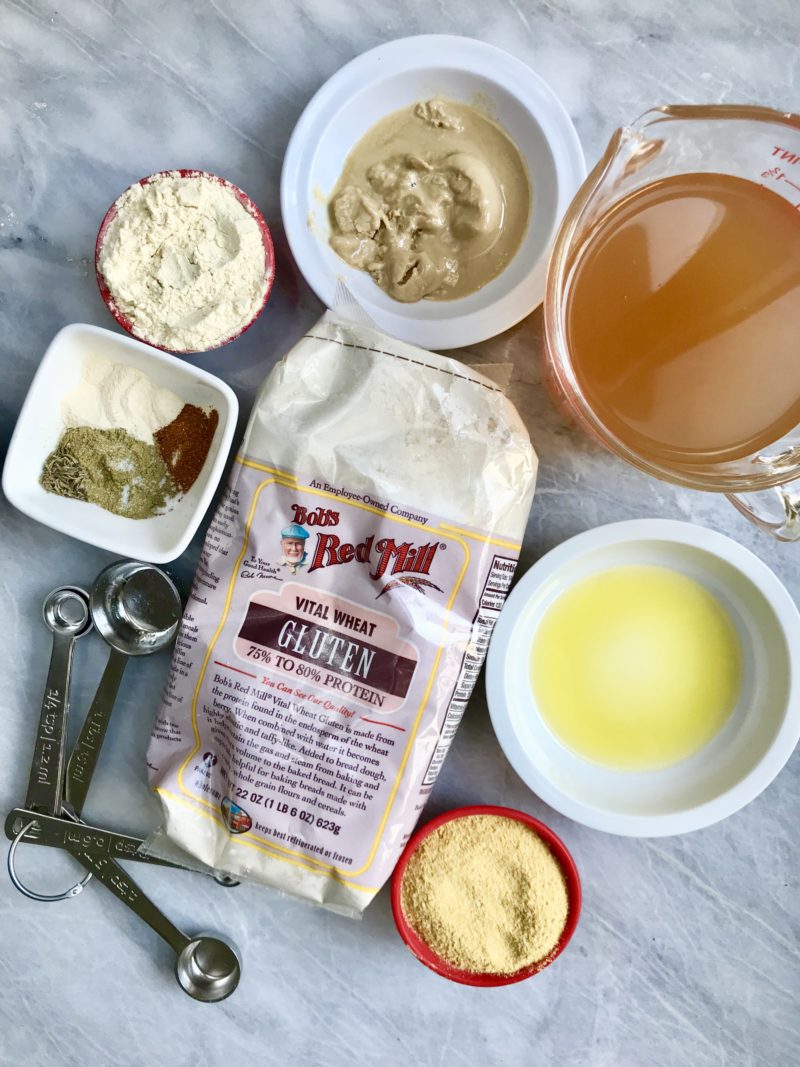 This recipe has been SO highly requested and I wanted to make sure that it was absolutely perfect before coming out with it. Seitan is really simple to make but with the amount of cooking methods I've tried I wanted to choose the one that was SUPER simple but provided great texture and taste.
To make the base of this Seitan, I use the Bob's Red Mill Vital Wheat Gluten. If you've never heard of Vital Wheat Gluten, then let me tell you about it! Vital Wheat Gluten is the main protein of wheat. It is the base to your seitan recipe and the texture and elasticity to is what makes a great soy free "meat" option.
Vital wheat gluten allows you to make many different meaty options, but this is more of a "chicken" base. This dough allows you to create SO many different dishes with one I will be showing you today.
What I love about Bob's Red Mill products are that they are so easily accessible. Their products range from all different flours as well as grains, oats & protein powders. Their Vital Wheat Gluten as been my go to since I've started making my own Seitan.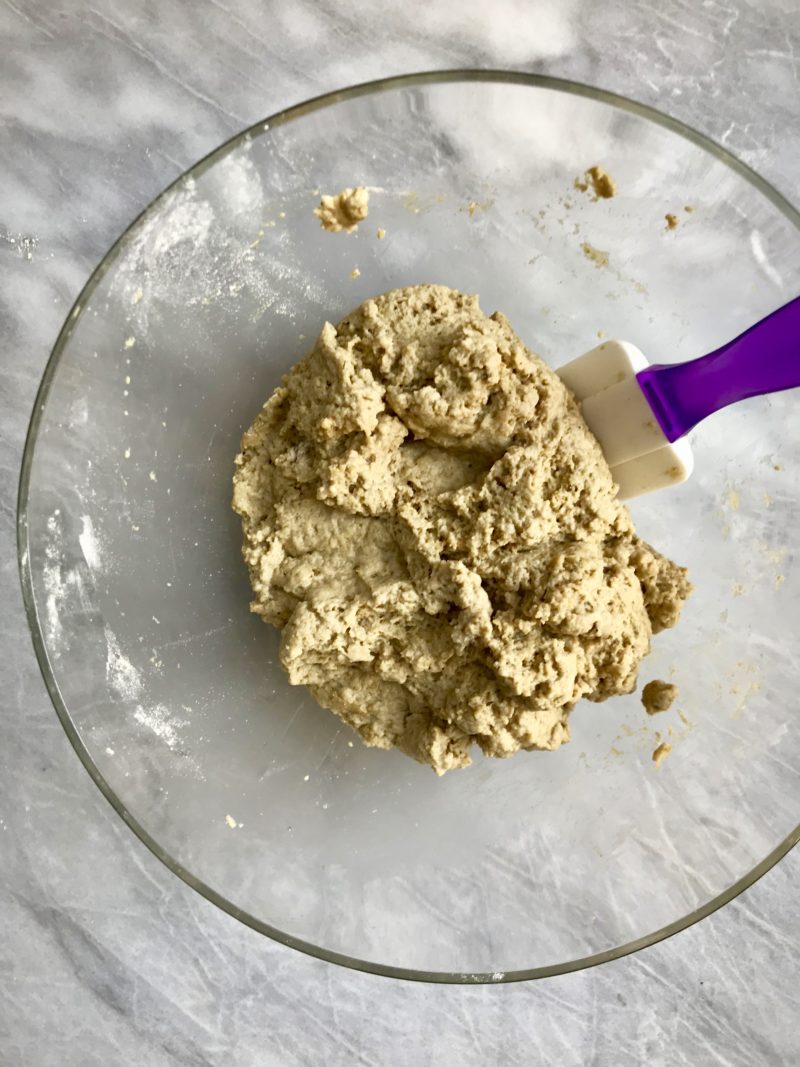 When you make your seitan you are going to get a dough like consistency. It is super important to knead the dough for 2-3 minutes to active the wheat gluten. You'll know when it's activated when the dough has a change in consistency. That's when it's important to rest your dough so it has time activate further.
I find that steaming is a great way to make your seitan because it firms up while also not drying out. I just fill a large pot with water (only around 1 inch of water). I let it come to a boil, pop my seitan loaves into a steamer and put the water to a simmer. I cook mine in batches of 2 (this recipe makes 4 little loaves) so it takes only around an hour to cook. If you have a larger steamer and can fit all your loaves it, it should only take around 30-35 minutes.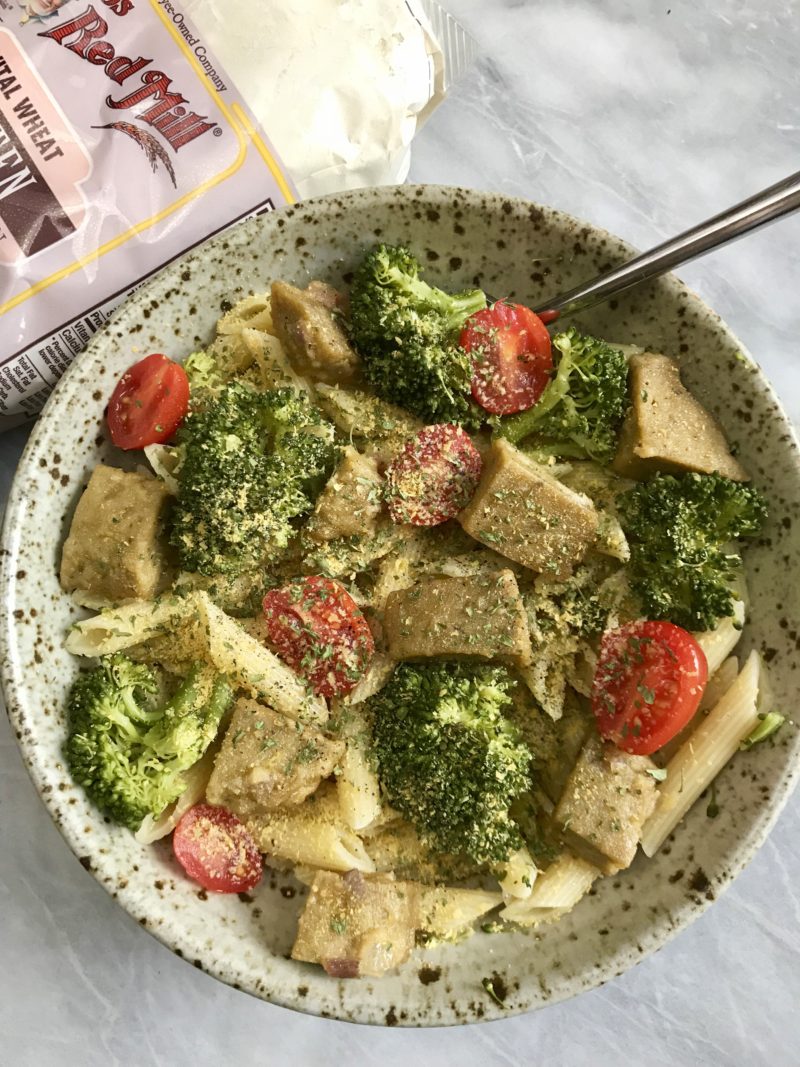 As said previously, you can use seitan for some many different things! However, I am going to discuss how I make mine in a lemon shallot sauce. I then use this for pastas, to eat with a big bowl of veggies or on top of salad!
If you try any of my recipes, don't forget to tag me on Instagram @plantbasedjane so I can see!
Homemade Seitan & My Favorite Way To Use It.

Ingredients
For basic seitan recipe:

1.5 cups Bob's Red Mill Vital Wheat Gluten
1/4 cups garbanzo bean flour (I also use Bob's Red Mill for this!)
1/3 cup nutritional yeast
1 tablespoon poultry seasoning
1 tsp salt
1/2 tsp paprika
1/2 tsp onion powder
1/2 tsp garlic powder
1/4 tsp dried thyme
1.5 cups vegetable broth
2 tablespoons tahini
1 tablespoon olive oil

My favorite way to use my seitan:

1 loaf of your cooked seitan (sliced thinly)
3/4 cup flour
1 tablespoon finely chopped shallot
1/2 cup vegetable stock
Juice from 1/2 a lemon
Olive oil for cooking
Instructions
For the seitan recipe:

Combine all of your dry ingredients into a bowl. Mix until well combined.
Add in all your wet ingredients (including tahini & olive oil) and mix with a rubber spatula until the dough starts to pull away from the sides of the bowl.
Now it's time to knead your dough! You can do this in the bowl or on a clean flat surface. Knead your dough for 2-3 minutes. Let your dough rest for 10 minutes then knead again for 30 seconds.
Place your dough on a cutting board and form into a rectangular shape. Divide your dough into four different loaves.
Take aluminum foil and cover eat dough of seitan by folding in the longer edges, then the short. You don't want to wrap them too tight as the dough will expand when it cooks, but also tight enough that no water can get it while steaming.
Steam your seitan for 35 minutes, making sure that no water can reach the actual loaves. However, watch your water and if it is evaporating, add a little more. This will prevent your pan from becoming burnt. I have a smaller steamer so I cooked my loaves in batches of two. If you have a large steamer then cook them all at the same time.
After 30 minutes, remove from steamer and let cool completely & then add to your fridge.

My favorite way to use seitan:

Take your flour and add it to a bowl. Add in your seitan and coat all sides evenly in flour.
In a pan add in your olive oil and cook your seitan. Cook on both sides or until all the flour is cooked through on the slices. Remove your seitan from a pan and add a little more olive oil.
Add in your shallots and cook for 1 minute. Add your seitan back into the pan and add the vegetable stock. Cook until the vegetable stock has thickened up. Add your lemon juice and cook for another 30 seconds. Serve! This is great to add with roasted veggies, on a salad or to throw into some pasta for extra protein!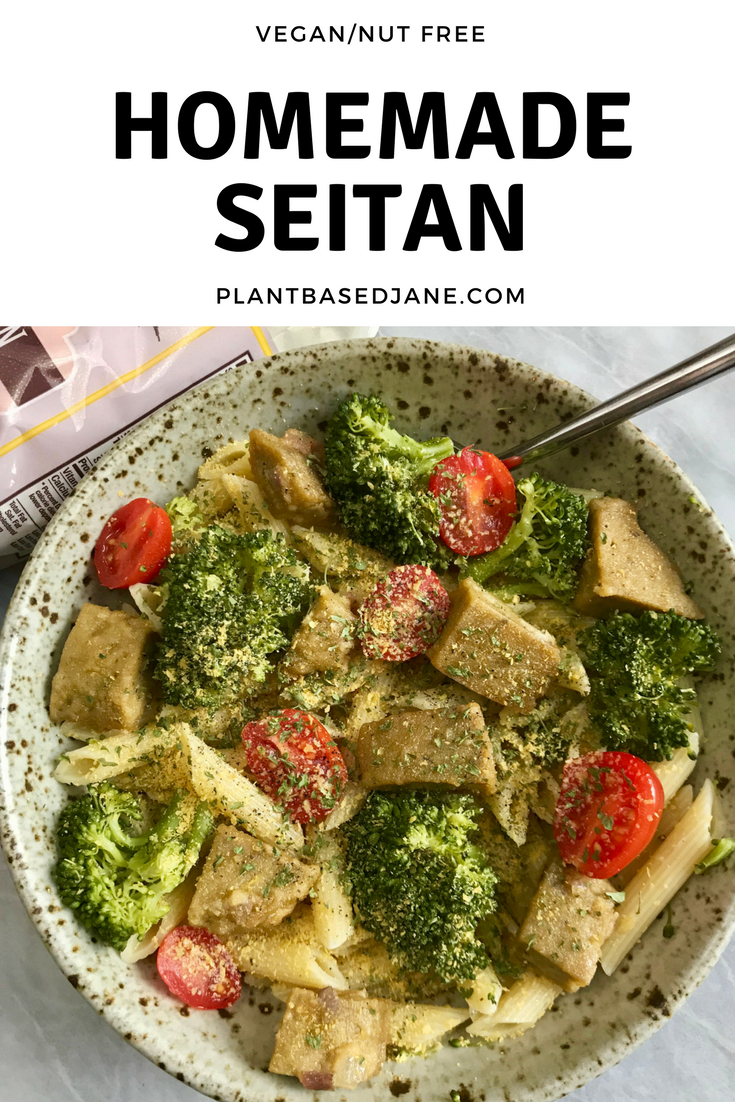 Thank you to Bob's Red Mill for sponsoring this post. It means a lot to me to work with brands I love who support my blog!