Jump to recipe
A delicious and easy recipe using herbed tofu inspired by Italian flavors with a lemon orzo and roasted broccoli.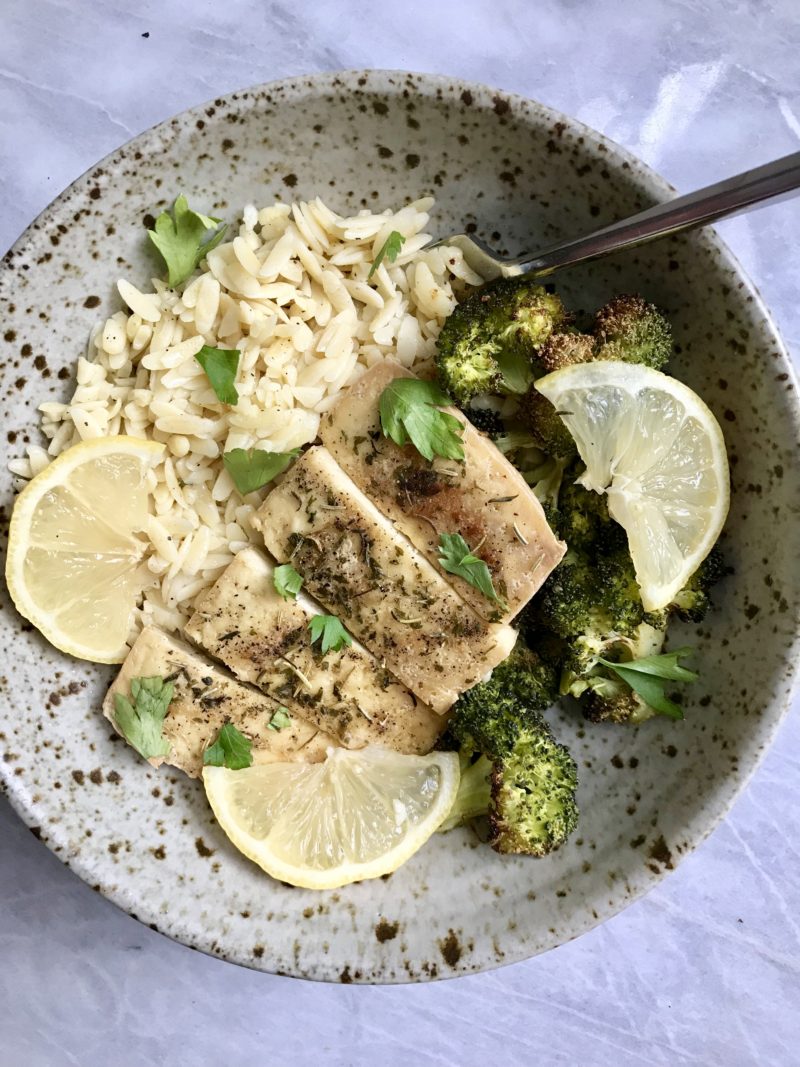 I love tofu so much! It is so easy to flavor with whatever you wants as it totally sucks up the flavor you add to it. I really wanted to share one of my favorite ways to make tofu that is full of italian flavors as well as other delicious herbs!
I also have a deep obsession with orzo and wanted a way to incorporate it into a recipe. I love the flavors of adding lemon juice, olive oil & nutritional yeast to it. It becomes super creamy and compliments the tofu & roasted broccoli so well!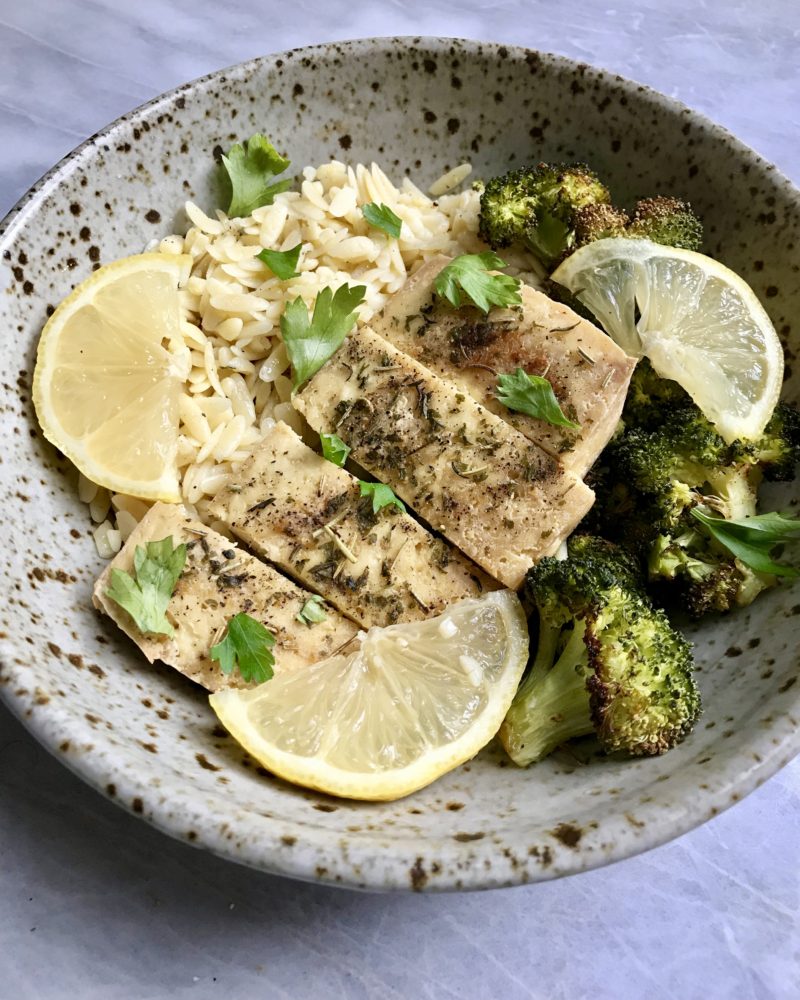 This winter I have been obsessed with roasting vegetables, specifically broccoli. I only use to ever steam it and now all I do is roast it! It tastes so much better and seasoning it ahead of roasting it is so much better than the taste of steaming it! Since the tofu is also baked it takes around the same time to cook saving so much time and utensils in the kitchen!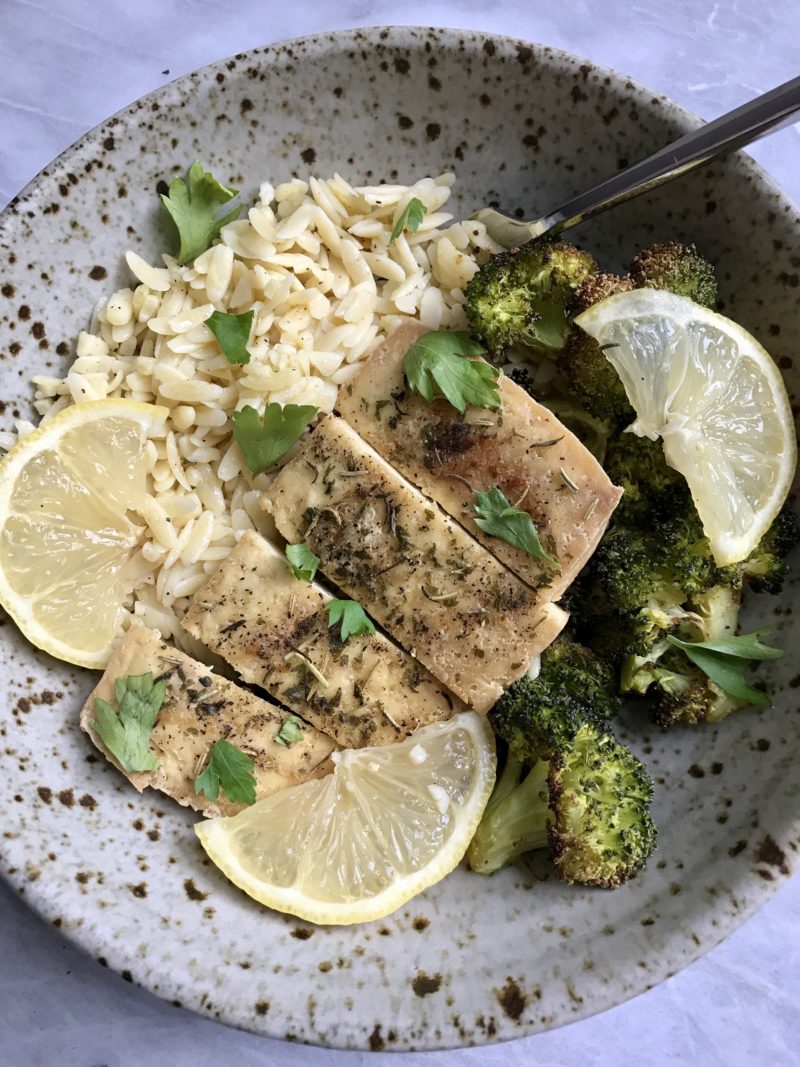 I hope that you enjoy this recipe! If you make any of my recipes, tag me on Instagram @Plantbasedjane so I can see!
Herbed Tofu Bowls

Ingredients
1 block super firm tofu
1 cup dried orzo pasta
2 cups broccoli
1 lemon
1 tsp dried basil
1 tsp dried oregano
1/2 tsp dried rosemary
1/4 tsp garlic powder
1/2 tsp onion powder divided
1/2 tsp salt divided
1/2 tsp pepper divided
1-2 tablespoons olive oil divided
2 tablespoons nutritional yeast
Instructions
Begin by pressing your tofu. Remove tofu from packaging and place between paper towels. Place a few heavy objects on top and let sit for 20 minutes.
In the meantime, pre-heat your oven to 375 degrees Fahrenheit and wash & cut your broccoli. At this time you can also cook your orzo.
Cut up your tofu into "steak" like pieces. Rub a tablespoon of oil on it and add to a bowl with your spices. When tofu is evenly coated with your spices, take a large baking sheet lined with parchment paper and place your tofu on it. Season your broccoli with the rest of the onion powder, salt & pepper & some oil. Roast for 30 minutes on the same sheet flipping both tofu & broccoli halfway.
When your orzo is done cooking, add around a tablespoon of olive oil to it along with nutritional yeast, salt, pepper & half of your lemon, juiced.
When your tofu and broccoli is done cooking, add the remaining lemon juice and plate!