Jump to recipe
A delicious take on a sushi bowl, this bowl contains quinoa which is a delicious alternative but higher in protein.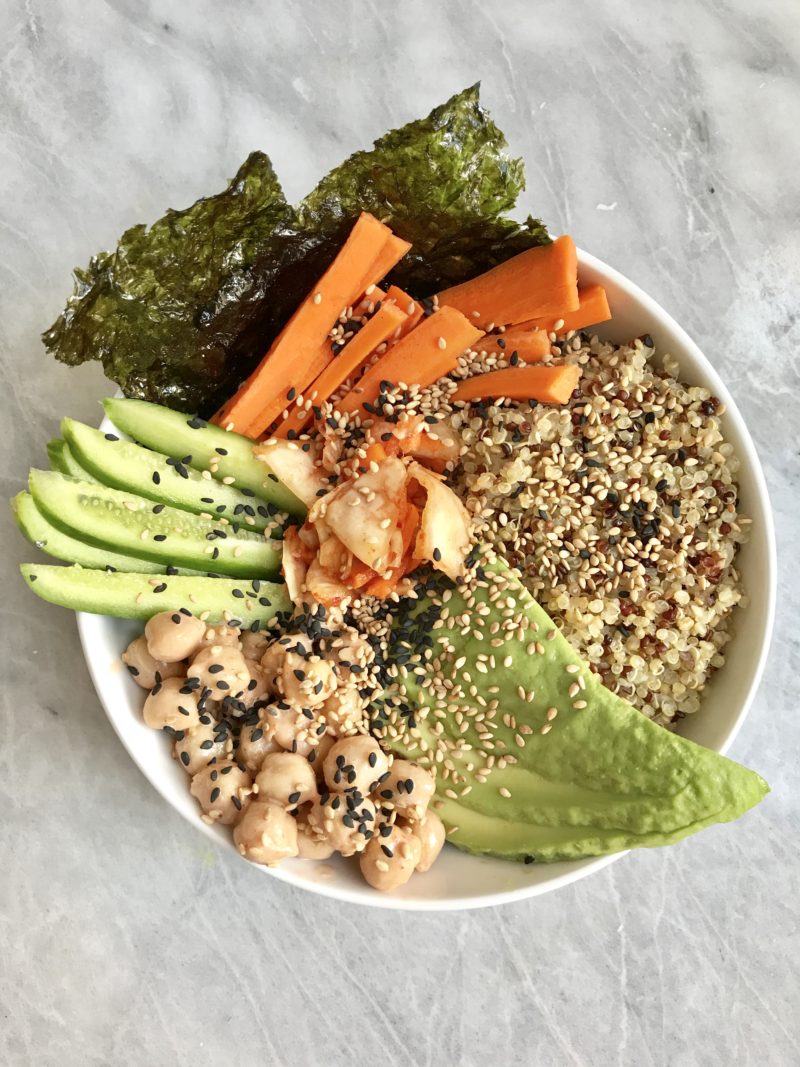 My obsession with quinoa continues with this new recipe of a sushi bowl. It is super easy to throw together and takes around 20 minutes. Plus, it's packed with protein and veggies!
I always find that when I'm in a pinch, or lost on ideas of what meals to bring to work, sushi bowls are always a go to. There really isn't a set definition of what consists in a sushi bowl, it's really up to your preference!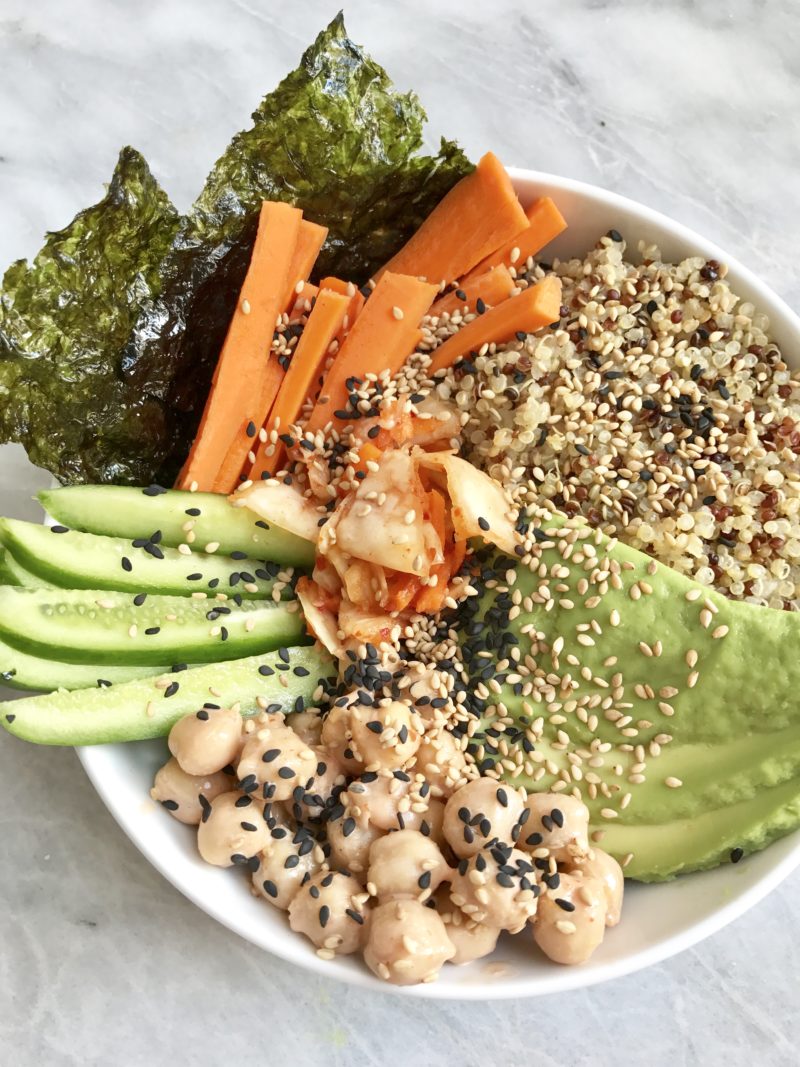 For me, I need some avocado and cucumber. I mean, that is my favorite sushi roll combo! I also like to add thinly sliced carrots, sea snax & a little kimchi for added spice. *note that not all Kimichi is Vegan, so always double check that it's labeled vegan*
I decided to make this bowl a bit more creative, and add some chickpeas to it! These chickpeas are coated in some amazing Vegan mayo (I like Sir Kensington's) and sriracha. It adds some spice and creaminess to the bowl.
As for quinoa, I Heart Keenwah is always a winner for me. I highly recommend checking them out.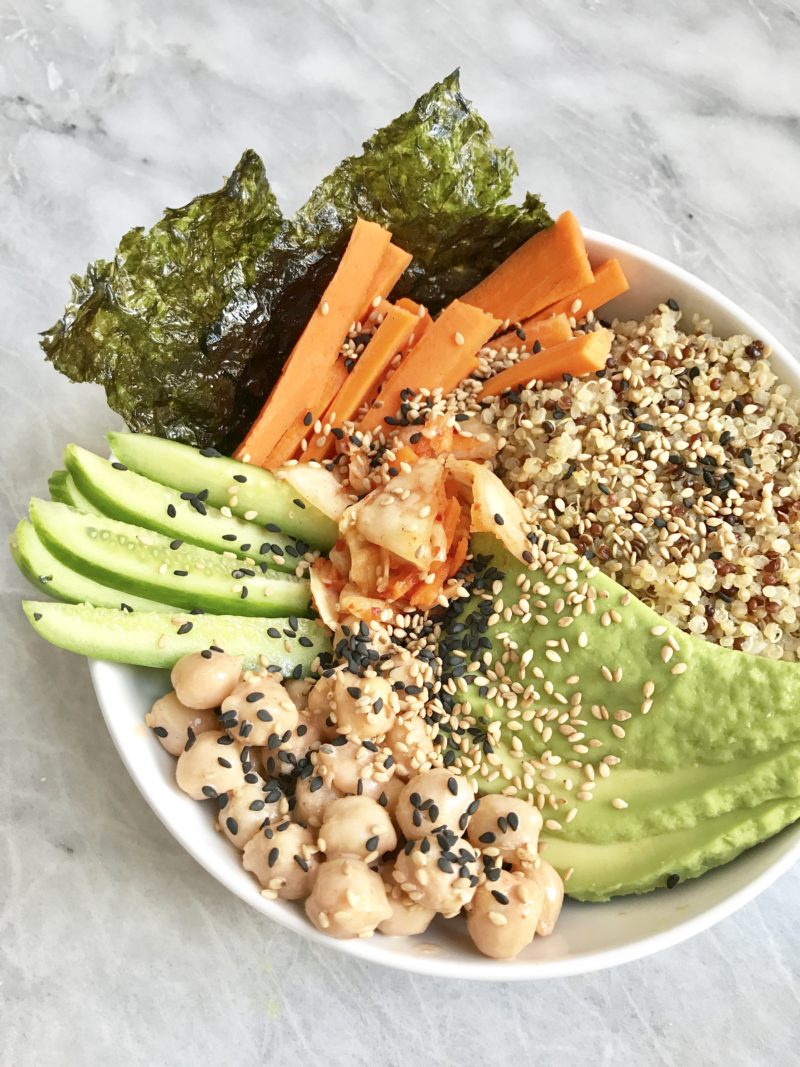 I hope that you enjoy this recipe!
If you ever make any of my recipes, don't forget to tag me on Instagram @plantbasedjane so I can see!
Quinoa Sushi Bowls

Ingredients
1 Cup Uncooked Quinoa
2 Cups Water
1 Avocado
2 Medium Carrots
1 Large Cucumber or 2 Kirby's (I love Kirby's)
1 15oz Can Chickpeas
1 Package Sea Snax
4 Tablespoons Kimchi
3 Tablespoons Vegan Mayo
1-2 Tablespoons Sriracha
Instructions
Bring your quinoa and water up to a boil and then let simmer for 15-20 minutes, or until fully cooked.
Thinly slice your carrots and cucumbers and set aside.
Wash and drain your can of chickpeas. In a bowl combine your chickpeas, vegan mayo & sriracha. Mix until all the chickpeas are coated.
When your quinoa is done cooking assemble your bowls. Evenly distribute all your ingredients throughout each bowl. At this time I open and thinly slice the avocado so it doesn't brown. Add it to your bowls.
Garnish with some sesame seeds and serve!