Jump to recipe
Tofu….Scary or delicious? Well, I used to be terrified of Tofu. I didn't understand this bizarre obsession and stayed away from it like it was the plague for years. When I went Vegan, I knew that Tofu was a great source of protein/nutrients to add to my diet. I would incorporate it into my beloved Tofu scrambles, and would order it at restaurants because of fear of not cooking it correctly at home.
Well, I finally decided to face that fear and come up with an Asian inspired way of cooking it. Tofu sucks up an array of flavors very well which makes it super delicious. It's always the best bet to make your food at home because you're able to control exactly what ingredients go into your dish. I wanted to try baking it as supposed to sautéing/frying for something different and healthier. I wanted this dish to also be super approachable by using ingredients mostly likely stored in everyones home. If they're ingredients you may not own, they are definitely ones you purchase because they are great for a number of dishes.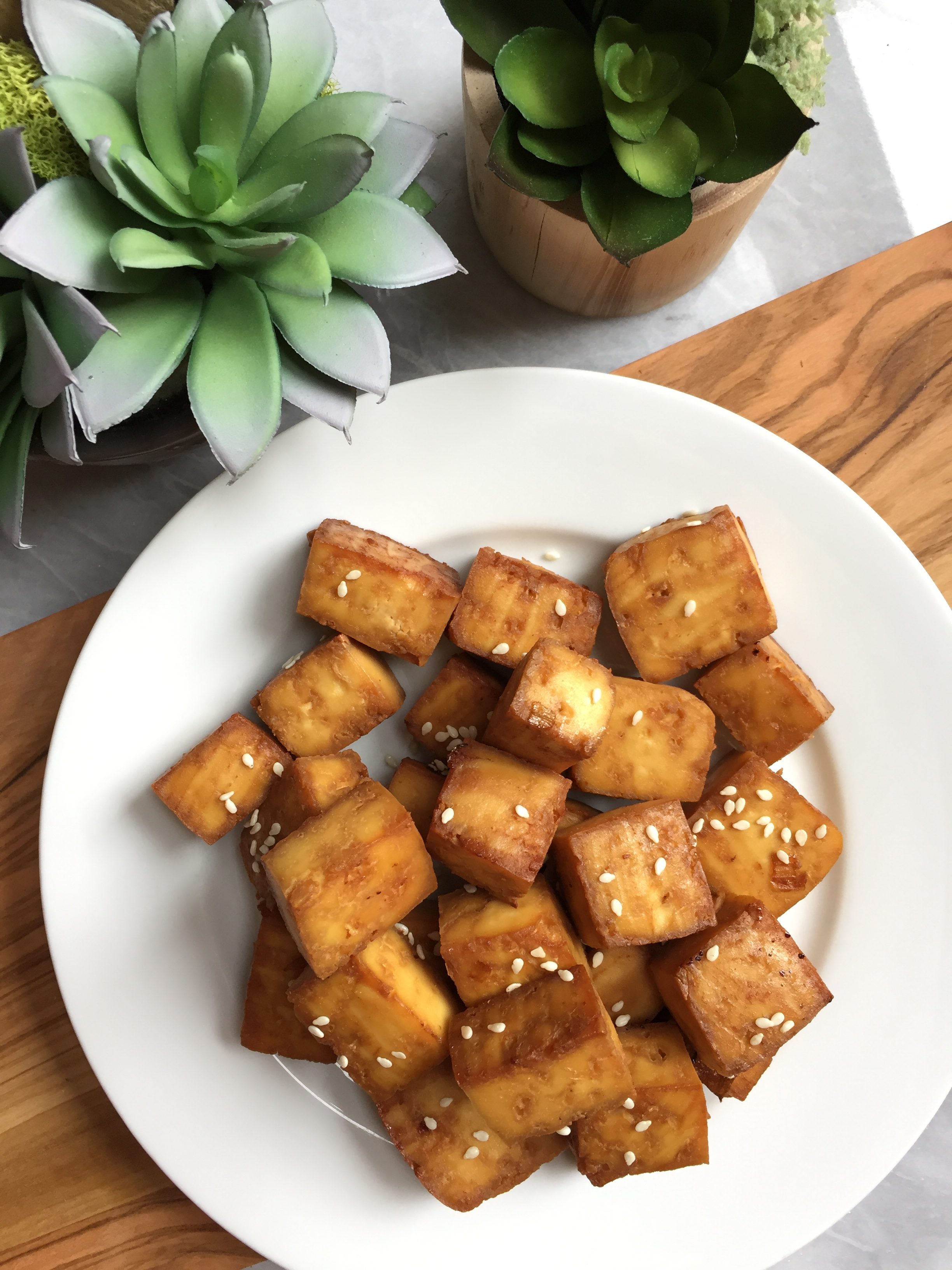 This baked tofu is salty, sweet, with a hint of spice. I personally like my Tofu really well done and this recipe is perfect for those who enjoy that too. If you don't, still make this recipe but just reduce cooking time! It's that easy.
This is perfect to add to rice, sandwiches, salads, or just to eat on it's own. After I made this I was straight up eating this with my hands like they were little nuggets and ugh it was heaven. These really are super delicious.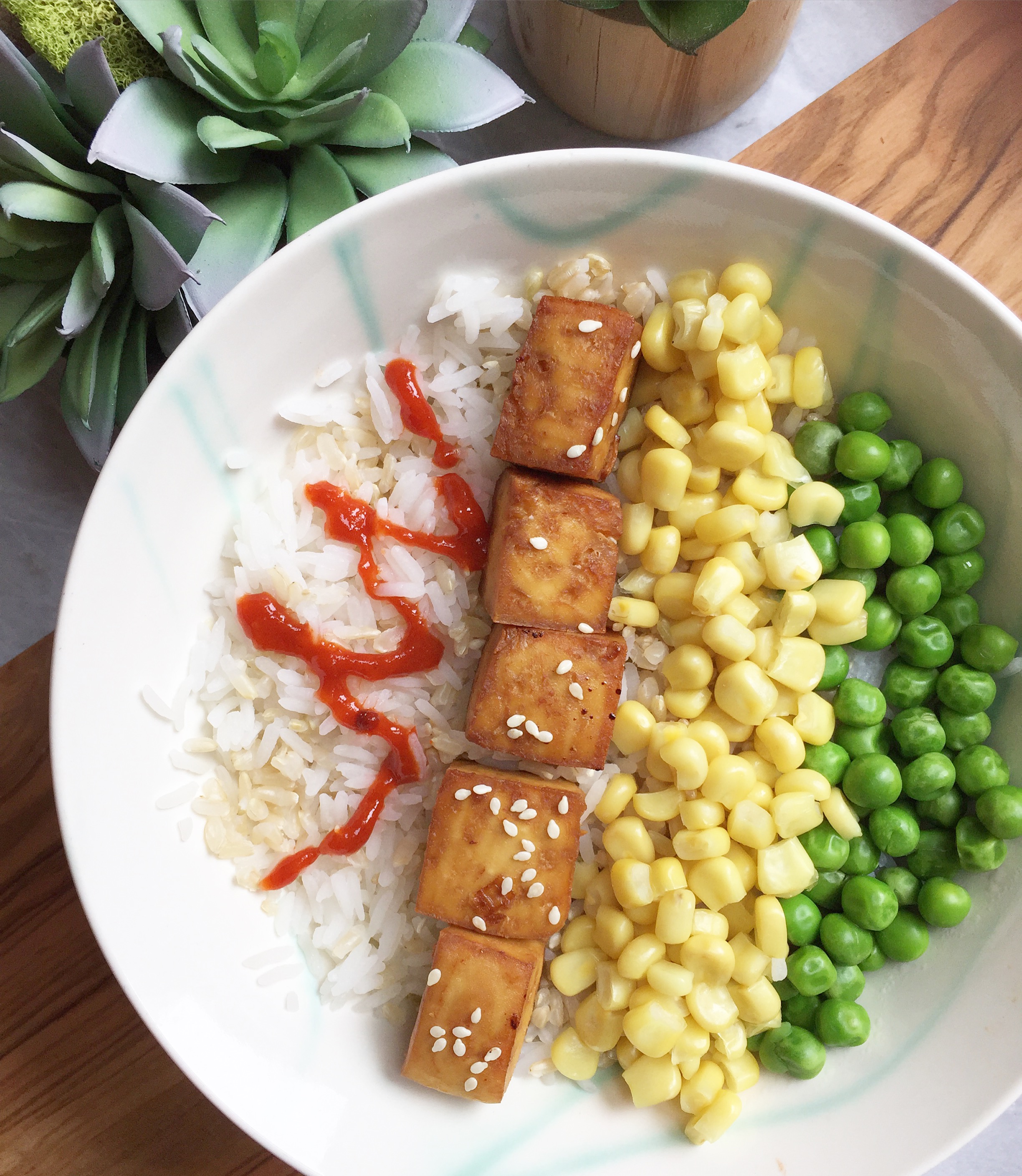 I like to add mine to some rice with veggies & Sriracha. I then add additional soy sauce and it is just so delicious, nutritious, and filling.
Easy Sesame Soy Baked Tofu

Ingredients
14 Ounces Extra Firm Tofu
2 Tablespoons Maple Syrup
3 Tablespoons Low Sodium Tamari (Gluten Free Soy Sauce)
1/4-1/2 Teaspoon Sesame Oil
1 Tablespoon Rice Vinegar
1 Tsp Crushed Garlic or Shallot
1 Tsp Crushed Ginger
1/4 Teaspoon Garlic Powder
1/2-1 Teaspoon Sriracha
Instructions
Set your oven to 400 Degrees Fahrenheit
Cut your Tofu into 1/2 cubes and rest them between a layer of paper towels in order to release them of any excess water. I sometimes put a cooking pan or two on top so that the water releases in a more timely manner.
Put all your other ingredients in a bowl and mix with a whisk until combined.
Add Tofu to marinade and mix it around until all the cubes have been coated. Let sit for 5-10 minutes.
While your tofu is sucking up all those amazing flavors, get out a cooking sheet and line with parchment paper. I love parchment paper because you don't need to add any excess oil/avoid sticking.
Once you're ready to add your Tofu to the cooking sheet, I like to one more time mix the tofu in the marinade and coat each piece evenly as I transfer it to the sheet.
Put your Tofu in the oven for 30 minutes flipping the tofu over halfway (Remember, if you don't like your Tofu super well done, you can reduce to the cooking time to your needs).
Take out and resist not eating the whole thing in one sitting!