Yes, you read that title correctly. Before going vegan, I would always order Spinach Artichoke dip at California Pizza Kitchen. It was my salvage as a little kid and after going vegan I wanted to "veganize" it but put a spin on it. We all love Mac N Cheese so why not combine the two? Brilliant, am I right? This is using Daiya cheese but of course if Daiya isn't in your area, then just replace it with whatever vegan cheese you favorite the most.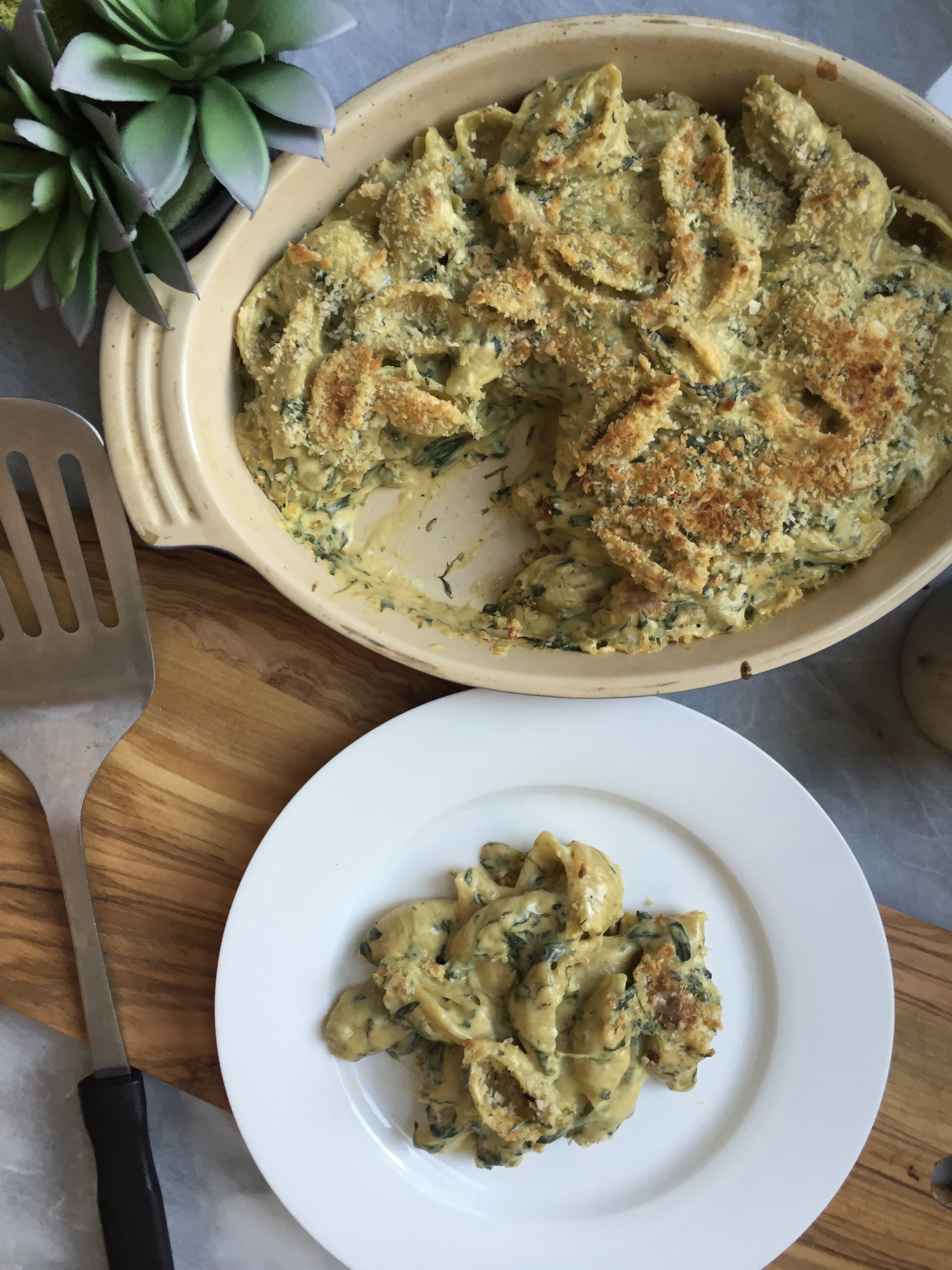 This mac n cheese is so creamy, delectable and luxurious. Your house will smell like heaven and your taste buds will be so pleased.
Homemade mac n cheese can be super intimidating, but the great thing about this is that it's technically "one pan." You could make this in a cast iron skillet to put in the oven, but I don't own one. I made the entire dish in one pan but then transferred it into an oven safe dish.
Ingredients:
2 tbsp vegan butter (Earth Balance )
2 chopped garlic cloves
5oz Spinach (You can usually find 5oz spinach bags sold in grocery stores)
1 cup artichoke hearts (I like to buy them canned in water)
3 cups unsweetened plant based milk
2 cups pasta shells
3/4 Vegan Cheddar (I used Daiya)
2 cups Vegan Mozzarella (Daiya too)
1/4 Vegan parm to top (optional)
1/4 Panko bread crumbs (optional)
Directions:
Add your 2 tablespoons butter to a deep saucepan and let melt completely
Add garlic cloves and mix until lightly browned
Add your spinach and stir until wilted, then add artichoke hearts. Stir for 2-3 minutes
Gradually add in your milk and mix while incorporating
Stir non dairy milk constantly until boiled (3-4 minutes)
Add pasta and cook until the pasta has a glaze over it from the milk
Add in your cheese and mix until melted
If using cast iron skillet, add vegan parm & bread crumbs and put straight in the oven, if you don't have a cast iron skillet (like me) transfer to oven safe dish..
Put in the oven on high broil until the bread crumbs become a beautifully brown crisp color.
I hope you enjoy this amazing dish. It is certainly not high carb low fat, but it is super amazing for one of those days you want to indulge or please non vegan friends!
Remember if you make this, tag me on instagram at @plantbasedjane so I can see!
Jane