This delicious take on cauliflower is easy to make with ingredients you likely already have on hand!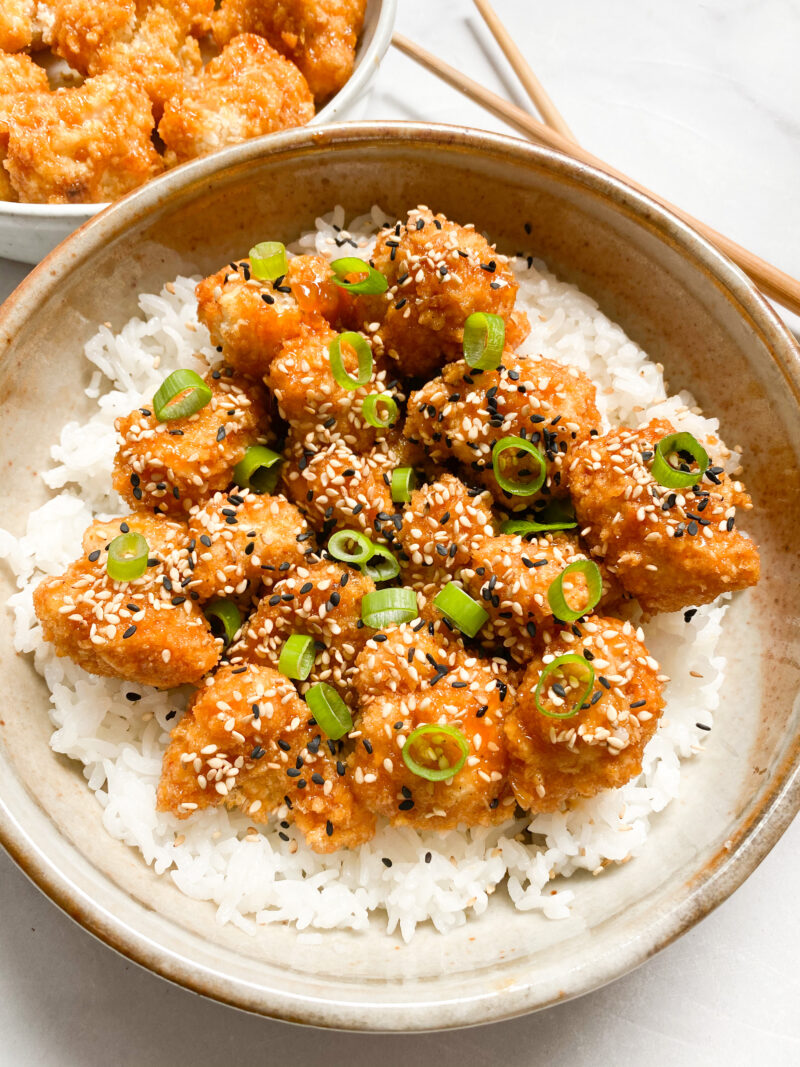 I've had this head of cauliflower in the fridge for over a week and I needed to do something with it. I really haven't done many cauliflower recipes for the blog so I decided it would be the perfect opportunity to use it.
On an IG poll a few days ago I asked would you rather see a sesame cauliflower recipe or orange flavored. While it was almost dead even, sesame prevailed.
Besides the actual cauliflower, the ingredients to create the sauce are ones that you most likely have on hand.
I really like this with some rice but of course you can cook it with your favorite grain or some salad!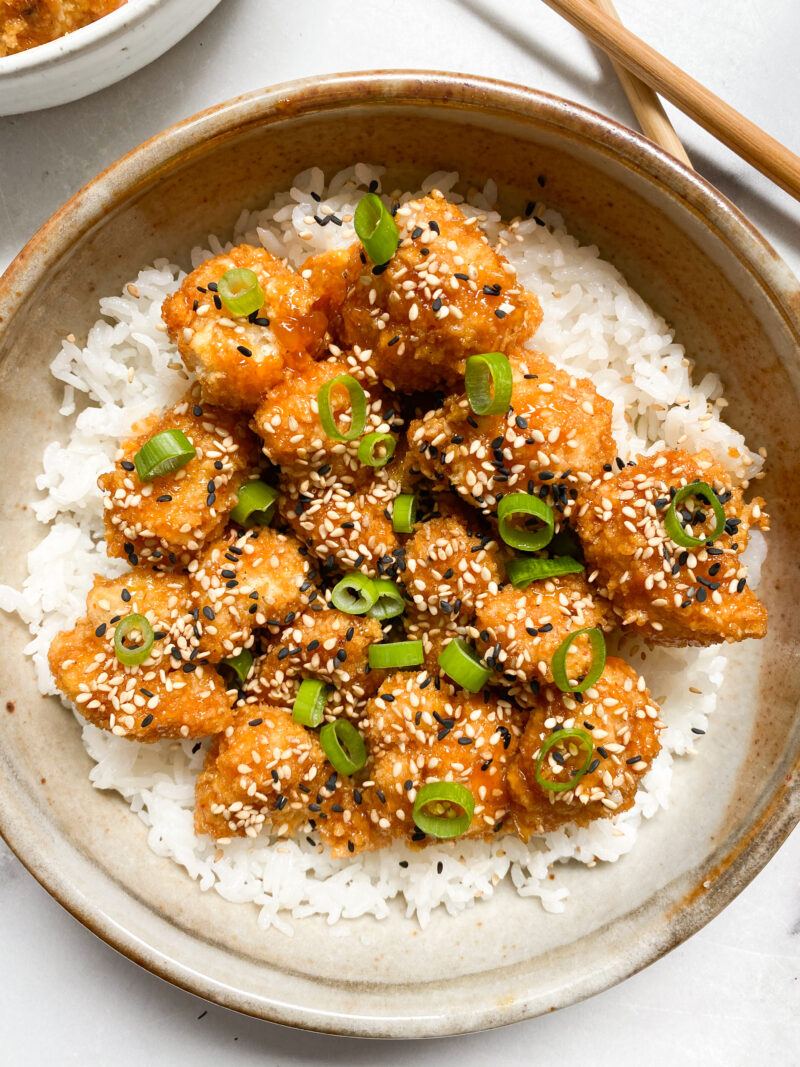 So what are the ingredients in this sauce?
Maple syrup
Soy sauce
Sesame oil
Sriracha
Rice Vinegar
Ground ginger
Garlic Powder
You will also need the ingredients to help make the cauliflower crispy in the oven. For that all you need is flour, panko breadcrumbs, salt & pepper.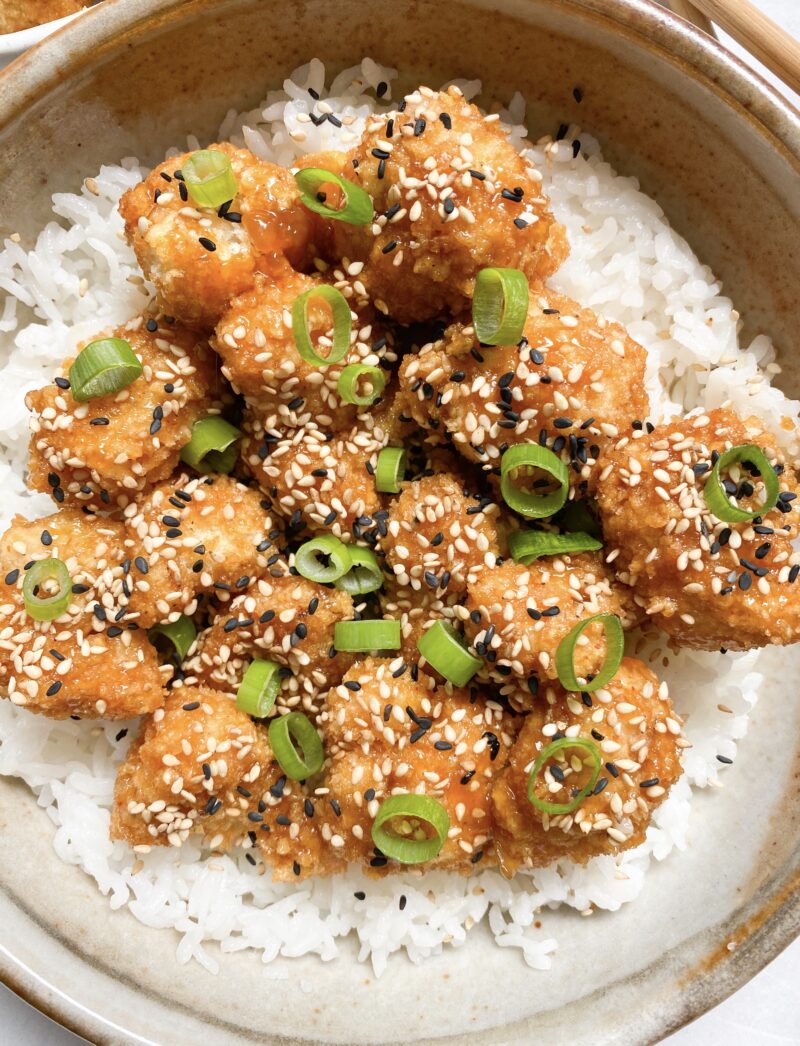 I hope that you enjoy this recipe! If you make any of my recipes, don't forget to tag me in the photo or in your stories on IG!
Crispy Sesame Cauliflower
Ingredients
For breading

1/2 cup flour
3/4 cup water
1 1/2 cups panko bread crumbs
1/4 tsp salt
1/4 tsp pepper
3 cups cauliflower florets

For the sauce

1/4 cup maple syrup
3 tablespoons soy sauce
1 tablespoon sesame oil
1 tablespoon rice wine vinegar
1 tablespoon sriracha
1/2 tsp ground ginger
1/2 tsp garlic powder
1/4 cup water
cornstarch slurry: 2 1/2 tsp corn starch 2 1/2 tsp water
Instructions
Pre-heat your oven to 400 degrees Fahrenheit.
Cut florets into bite sized pieces all around the same size. In one bowl combine your flour and water and in the other combine your panko, salt & pepper.
One by one dip your florets into your flour/water mixture, panko breadcrumbs and then onto a baking sheet lined with parchment paper. Bake in oven for 40 minutes flipping halfway.
After 40 minutes remove your cauliflower from the oven and let sit for 10 minutes.
As your cauliflower sits, create your sauce. Add everything to a sauce pan, except for your cornstarch slurry, and let come to a low boil. Add in your cornstarch slurry and mix constantly in the sauce pan so it doesn't burn. Once it thickens up remove the sauce from the heat. Add your florets to a bowl and add your sauce over the florets. Using a spoon coat the cauliflower in the sauce so everything is easily distributed.
Serve immediately.