Try out this delicious creamy pasta dish with sun dried tomatoes topped with herbed tempeh.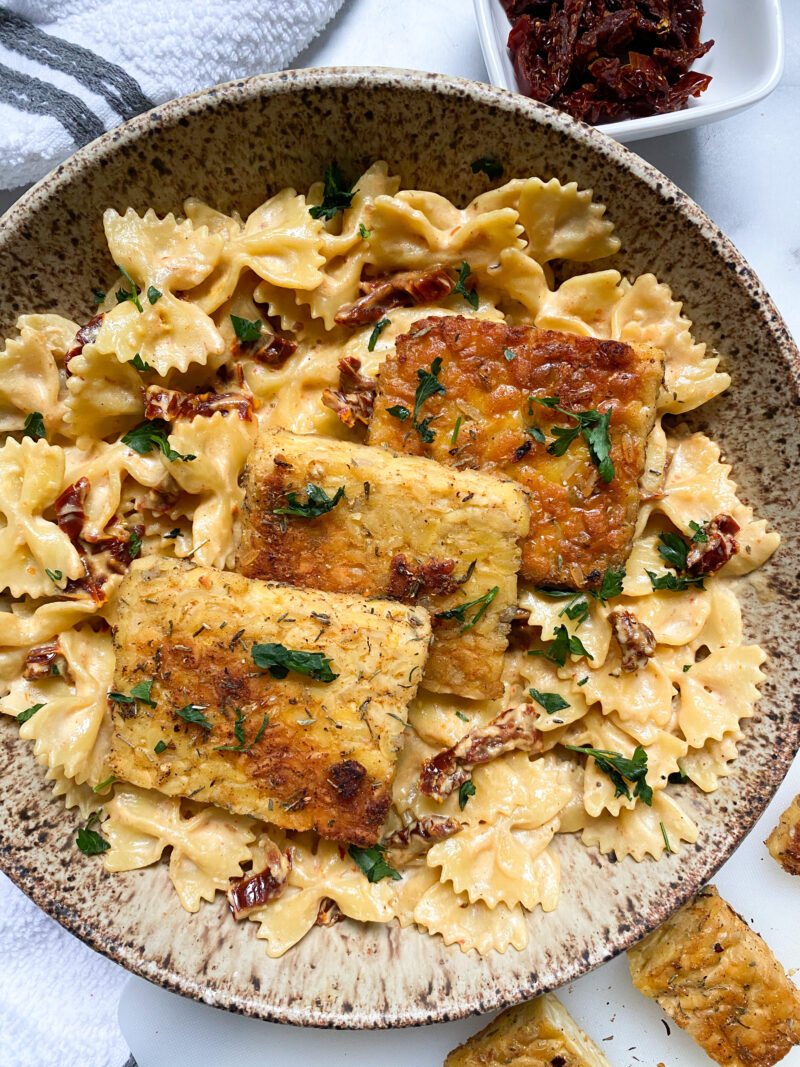 I am VERY excited about this recipe. I've combined a lot of my favorite food items to create this delicious dish.
I was sitting on the couch last week trying to think of a recipe to create. It was getting a little later in the day so I knew if I wanted to shoot something it would have to be soon. I remembered I had a lot of sun dried tomatoes in my pantry and knew that would work perfectly with pasta. So I just went into the kitchen and created this recipe. It is delicious, easy and works great as leftovers.
I topped it with this herbed tempeh which is absolutely delicious. I've been cooking my tempeh this way for a few weeks so I knew I wanted to incorporate it somehow on the blog. It is modified slightly to make it more accessible in terms of spices, but it's still perfect.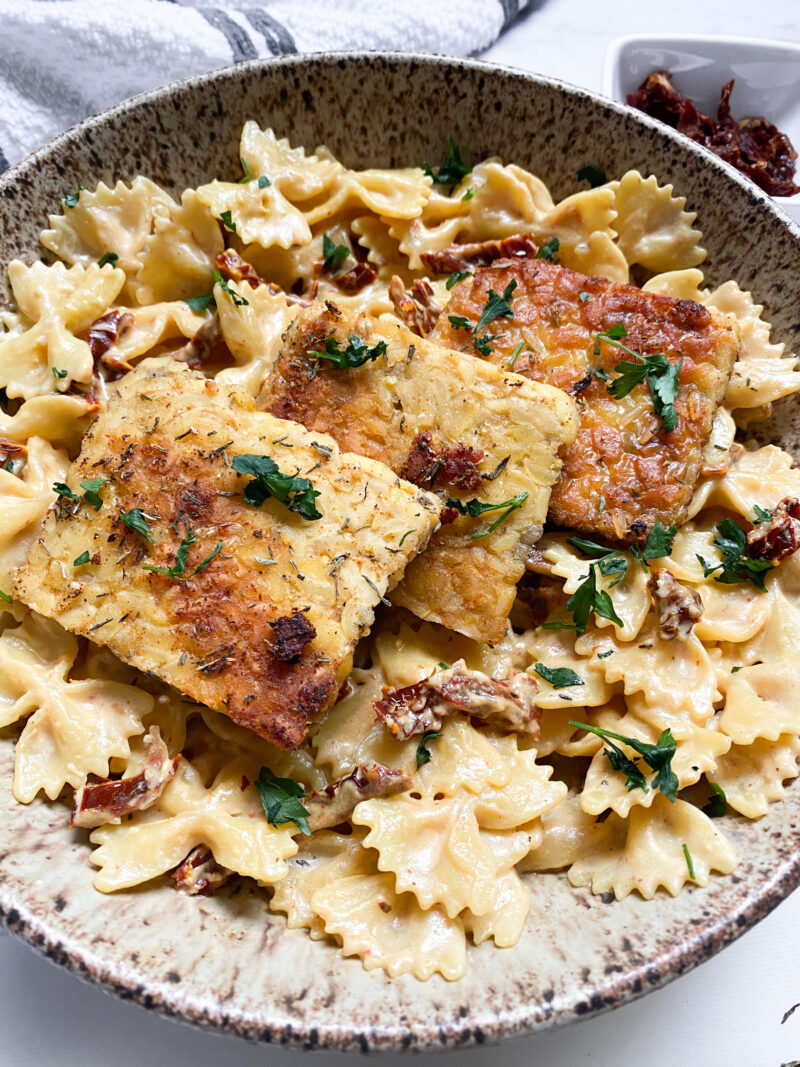 I hope everyone is doing well during this pandemic. We have entered May which means we're almost two months into "quarantine," (depending where you live) and I honestly feel like time has flown by. I consider myself to be a bit more introverted so I've been okay staying inside. However, I am starting to get a bit stir crazy. I am very good at distracting myself during the day. I am cleaning, cooking, writing up blog posts…however when it gets to be the afternoon I become a little nuts.
Binging tv shows are fun but it's becoming repetitive. I just want to leave the house and go to a store. I want to be able to see my family. So I find going on walks with my dog around 5pm have been helping. However I have a new afternoon task for the next few days: go through my clothes. That should help the stir crazy.
When I really can't take it I've been watching a movies I've never seen before. That way I am forced to pay attention which helps the time go by. I find that I can easily distract myself while watching a t.v show but with a movie I tend to pay a bit more attention. My favorite so far? Call Me By Your Name. 10/10 recommend for a beautifully heartbreaking movie. I've never loved getting my heart broken so much.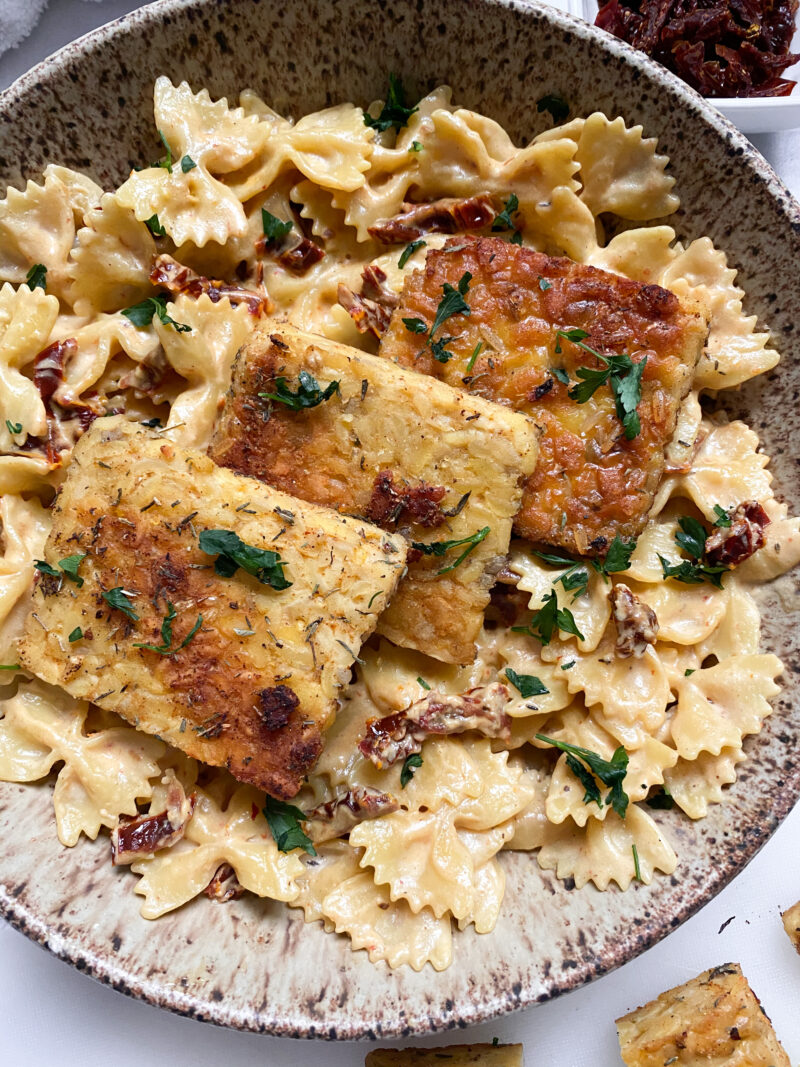 I hope that you enjoy this recipe! If you make any of my recipes, don't forget to tag me on IG (& IG stories) @plantbasedjane
Creamy Sun Dried Tomato Pasta W/ Tempeh

Notes
*Sub vegetable broth for white white if needed, however the wine really elevates the flavor in this dish. 
Ingredients
2 cup pasta, uncooked

For Tempeh

1/2 block tempeh
2 tablespoons olive oil
1 tsp dried thyme
1/2 tsp garlic powder
1/2 tsp onion powder
1/4 tsp salt
1/4 tsp pepper

For pasta sauce

2 tablespoons vegan butter
2 cloves minced garlic
1/4 cup dry white wine*
1/2 cup cream cheese
1 cup sun dried tomatoes
2 tablespoons nutritional yeast
Reserved pasta water
Salt and pepper to taste
Instructions
Bring a large pot of salted water to a boil and add in your pasta. Cook according to package instructions. Reserve around 1 cup of pasta water. Drain and set aside.
Take your half block of tempeh and cut it into thirds and slice each third down the middle. This should give you six thin slices of tempeh. In a bowl combine your marinade ingredients for the tempeh and coat your tempeh in the marinade.
in a saute pan lined with a little olive oil, add in your tempeh. Cook on 2-3 minutes on both sides or until the tempeh is brown and crispy. Remove from pan and let rest.
In the same pan melt your vegan butter on medium heat. Allow for the butter to melt and add in your garlic. Cook for 30 seconds and add in your wine. Allow wine to reduce before adding in your cream cheese and and sun dried tomatoes. Allow for the cream cheese to melt down and mix with the sun dried tomatoes. Note: It is normal for the cream cheese and sun dried tomatoes to melt together and look clumpy. That is normal.
Add in your pasta and mix everything together. The cream cheese will breakdown easily and coat the pasta evenly. Add in your nutritional yeast and mix around.
Add in your pasta water gradually until you get your desired sauce consistently. Season to taste with salt and pepper.
Add pasta to serving dish topped with the tempeh.
Enjoy!