Need a fast pasta dish that is delicious? This simple lentil bolognese will do the trick.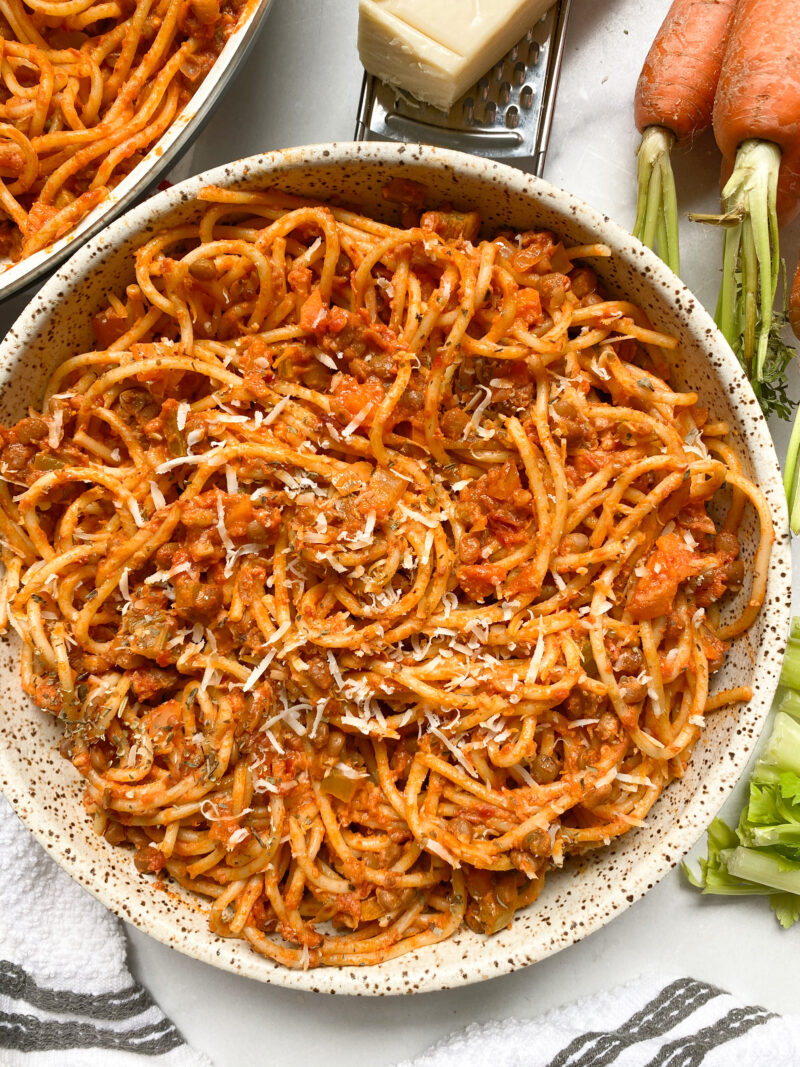 With everything going on in the world, we're not all running out of our houses whenever we want and heading to the grocery store.
When I asked on my stories what you have in your pantry, a few people replied by saying "canned lentils." I also have canned lentils in my pantry, so I thought this would be the perfect recipe to make.
I also feel like I've been stocking my fridge with carrots, onions and celery. I've been finding myself making a lot more chickpea "tuna" and soups, which require those ingredients. Carrots and celery are also just great veggies for snacking.
These three ingredients create a mirepoix. A mirepoix is a blend of aromatics (onions, celery, carrots) that are used as a base to help flavor sauces, stews, soups, etc. A mirepoix is in traditional bolognese sauces which is why I used them in this recipe. They can really help elevate a dish and bring a lot of flavor to it.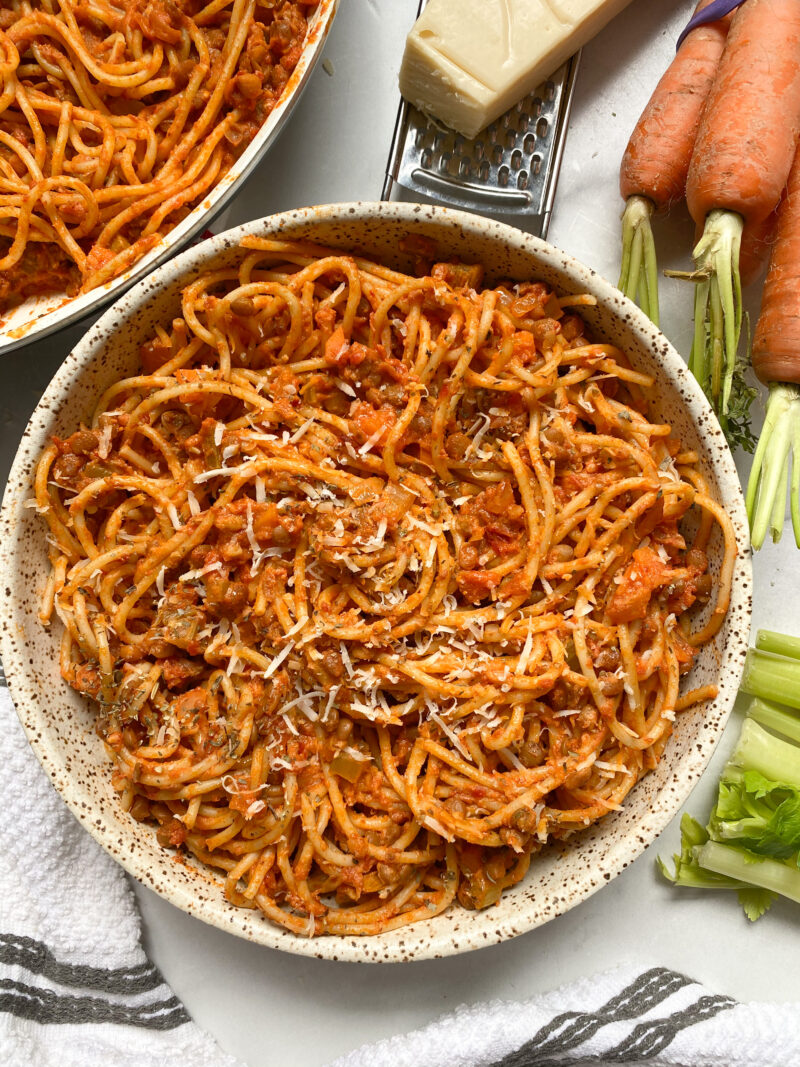 This dish is incredibly comforting and packed full of flavor. For the tomato sauce, I used my favorite brand (Jar Goods). You can use whatever pasta sauce you'd like in this recipe.
If you're not using canned lentils in this recipe, then 1 1/2 cups cooked brown lentils will be fine for this recipe.
I've also purchased and used a frozen mirepoix blend in soups successfully so I believe that could also work in this recipe.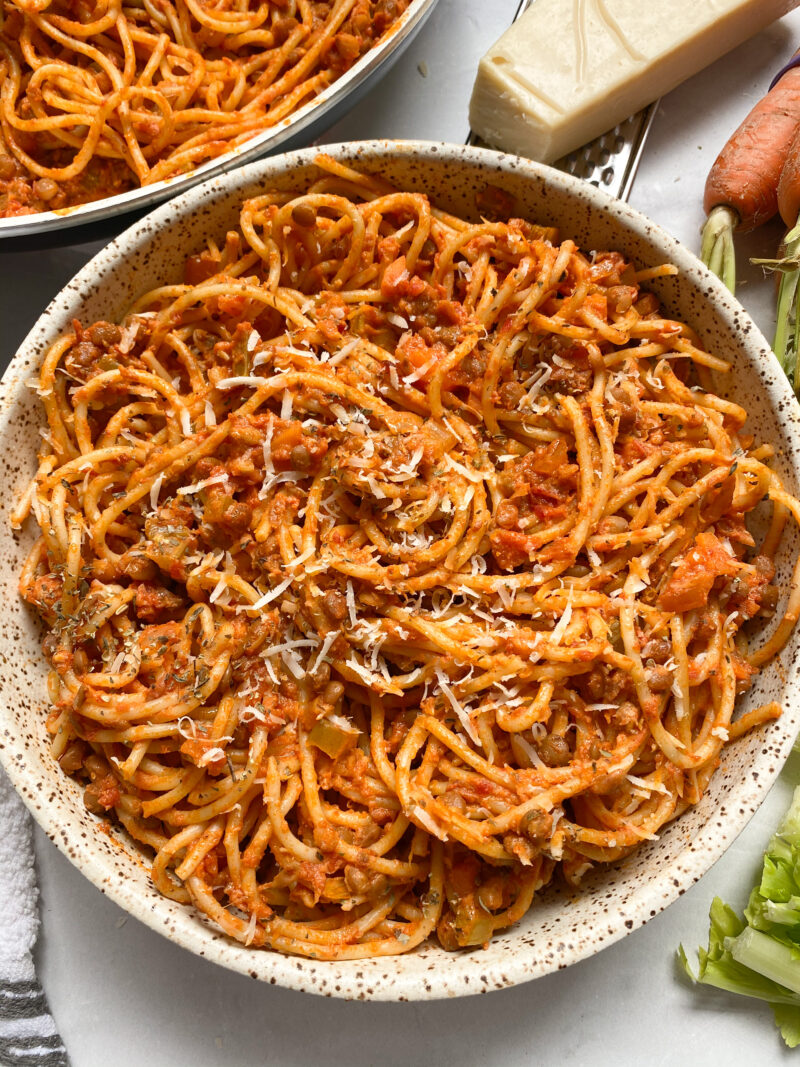 I hope that you enjoy this recipe! If you make any of my recipes don't forget to tag me on IG or in stories @plantbasedjane
Simple Lentil Bolognese
Ingredients
8oz spaghetti
2 tablespoons olive oil
½ cup onions, diced
1/2 cup carrots, diced
1/2 cup celery, diced
2 cloves garlic, minced
15oz canned lentils (1 ½ cups cooked lentils)
16oz pasta sauce of choice
1 tsp vegan worcestershire sauce (optional)
¼ cup nutritional yeast
¼ cup vegan cream cheese
Salt & pepper to taste
Instructions
Bring a large pot of salted water to a boil and cook spaghetti according to package instructions. Drain and set aside.
Add your olive oil to a large saute pan on medium heat. Once the oil is shimmering, add in your carrots, onions and celery and some salt & pepper. Cook for 4-5 minutes. Add in your garlic and cook for 30 seconds.
After 30 seconds, add in your lentils, pasta sauce and worcestershire. Lower the heat to a simmer and let everything cook for 20 minutes. Stir frequently.
After 20 minutes, add in your nutritional yeast and cream cheese. Mix everything together. Salt and pepper sauce to taste.
Add in your cooked noodles and stir everything to combine.
Serve!