Who says being Vegan is boring? Check out these delicious meatballs made entirely from plants.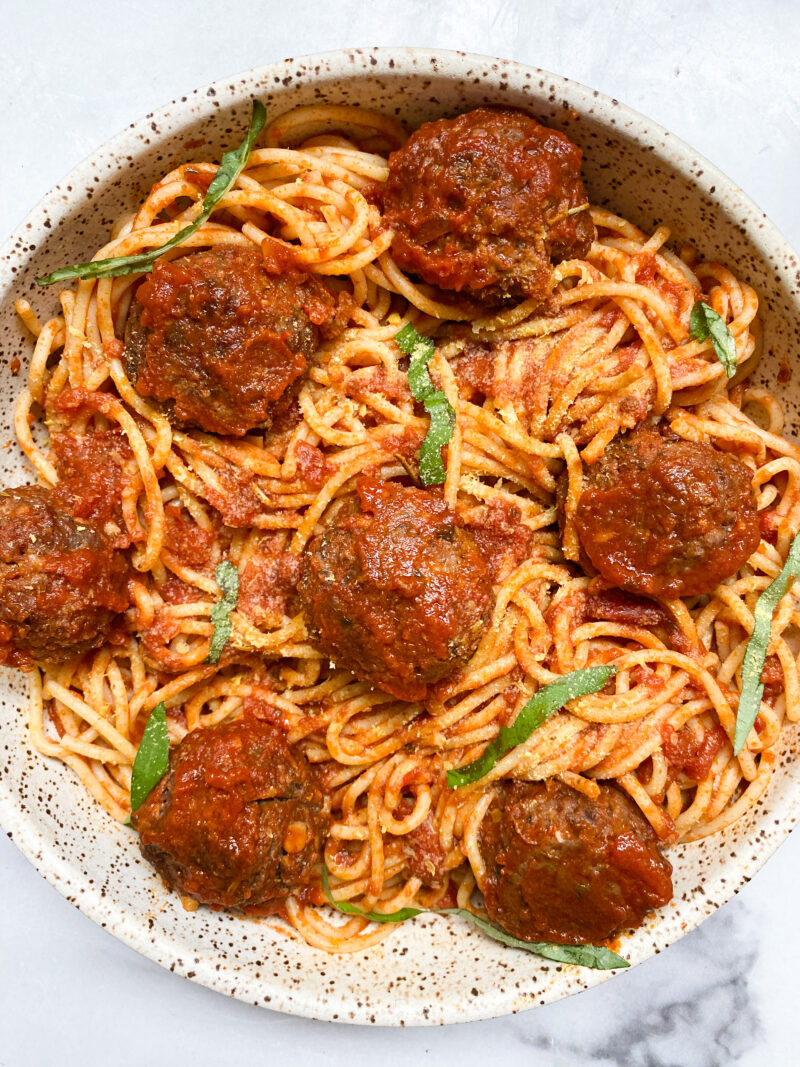 Who doesn't love spaghetti and meatballs? It's such a classic dish that everyone enjoys.
In recent years, the vegan meat options have skyrocketed. We have an insane amount of ground "beef" options that are easily available. I've tried the Beyond Meat, Light Life & Impossible Foods options and they're all delicious.
For this recipe I decided to use Impossible Foods. While purchasing packaged Impossible Meat is limited to only a few stores (select Fairway locations in NYC, certain Wegmans on the east coast and Gelson's Market in Southern California), you can still find many other options at your local grocery stores.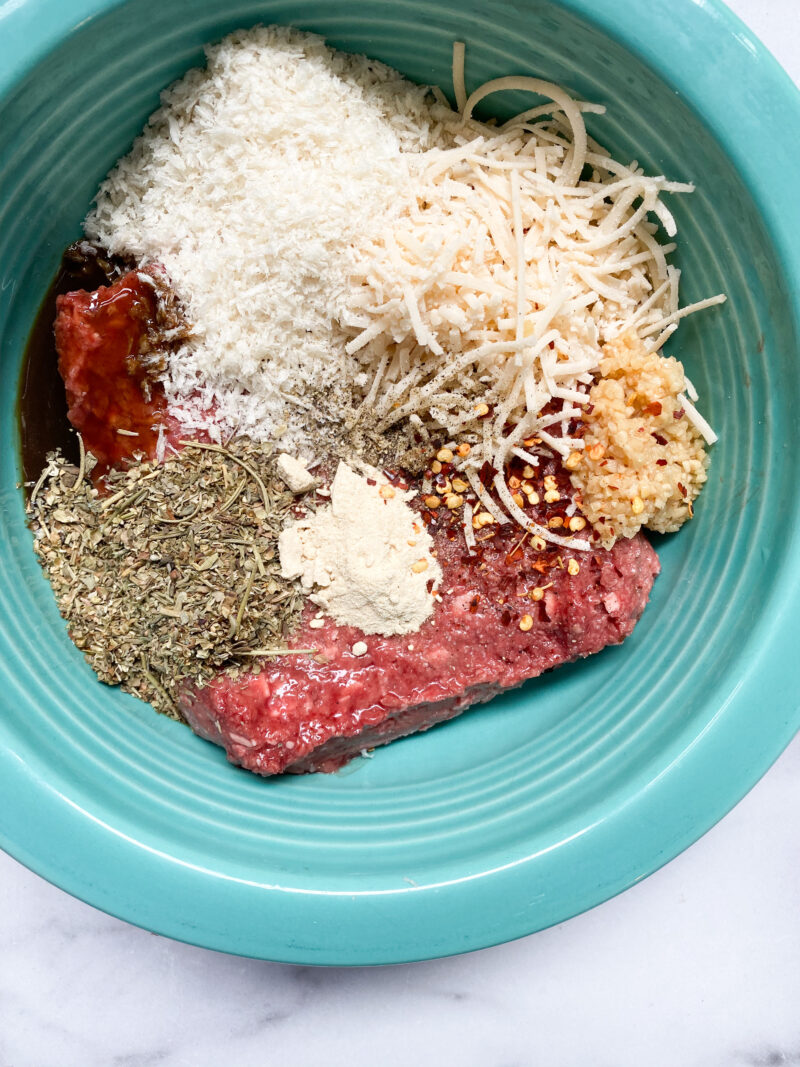 I know traditional spaghetti and meatballs usually have a homemade sauce but I decided to skip that. I used a jarred sauce and it is just as delicious. This recipe is just for the meatballs.
What are in these meatballs?
Vegan ground beef
Panko bread crumbs
Vegan parmesan
Garlic
Vegan Worcestershire sauce
Spices
If you don't have vegan parmesan, nutritional yeast will work fine as a replacement.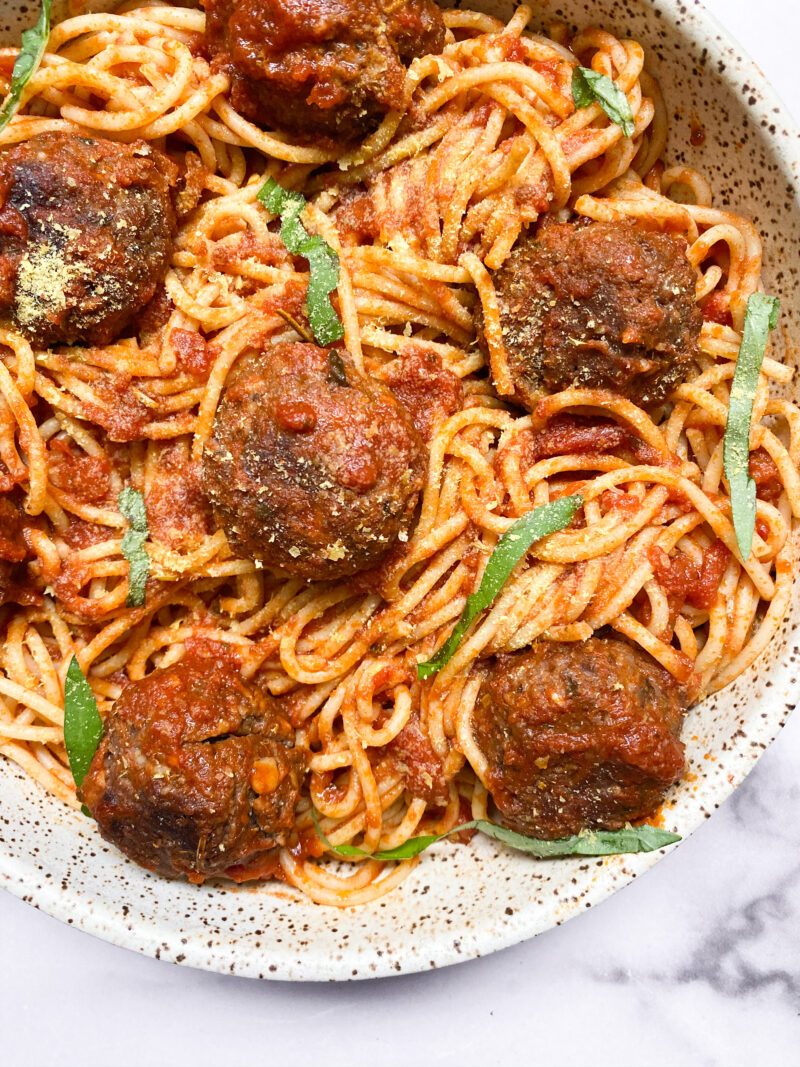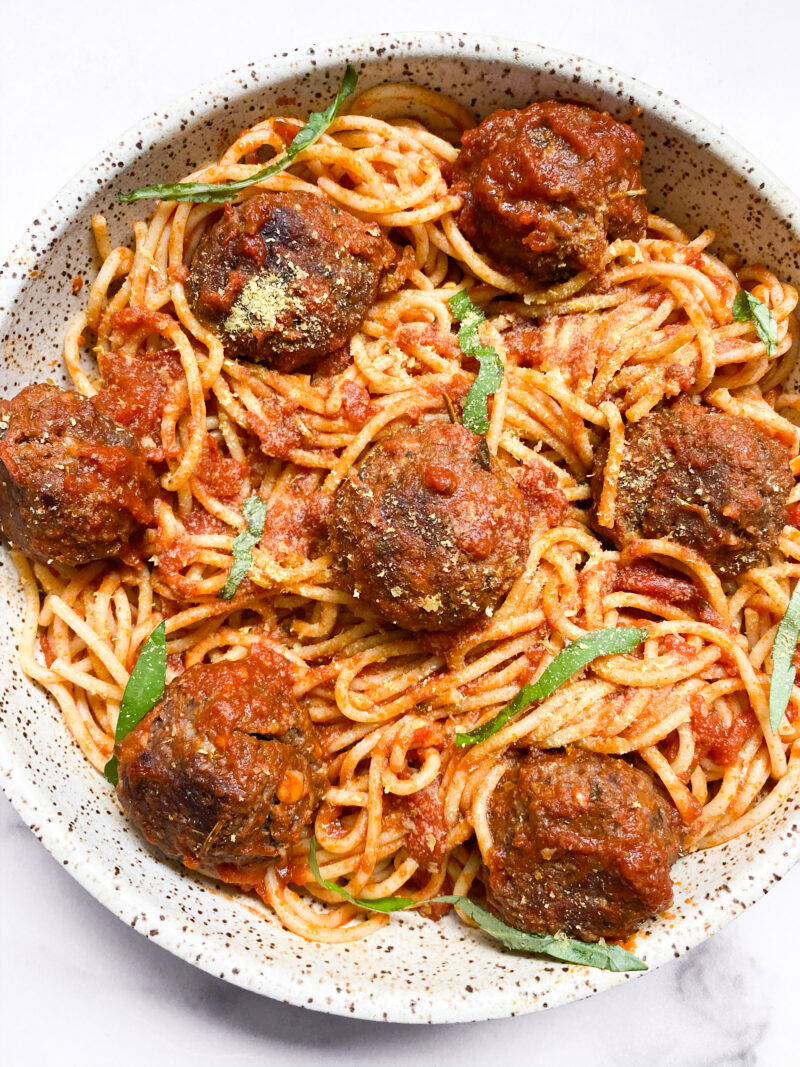 I hope that you enjoy this recipe! If you make any of my recipes, don't forget to tag me in the photo on Instagram or in stories @plantbasedjane
Spaghetti & Meatballs

Notes
*Depending on what brand you buy, they may be weighed differently. Either measure 14oz correctly, or if using 16oz adjust seasoning slightly. **If you do not have vegan parmesan, nutritional yeast works fine. I have tested both.

Ingredients
1 package vegan ground beef of choice (I used Impossible Foods which is 14oz)*
1/4 cup panko bread crumbs
1/4 cup vegan parmesan**
1 tablespoon vegan Worcestershire sauce (I use Annie's brand)
2 cloves garlic, minced
1 tablespoon Italian seasoning
1 teaspoon onion powder
1/4 tsp red pepper flakes
1/4 tsp salt
1/4 tsp pepper
Instructions
Pre-heat your oven to 425 degrees Fahrenheit
Add all ingredients into a bowl and mix well (I recommend using your hands) to combine everything together.
Roll into 12-13 balls and line them on a baking sheet lined with parchment paper. Cook for 12 minutes, flipping halfway.
Heat up your favorite sauce on a sauté pan and once cooked add meatballs to sauce. Coat the meatballs with the sauce.
Serve with some pasta, meatballs subs, etc.