Want to try a new tofu recipe? You must give this Kung Pao Tofu a try!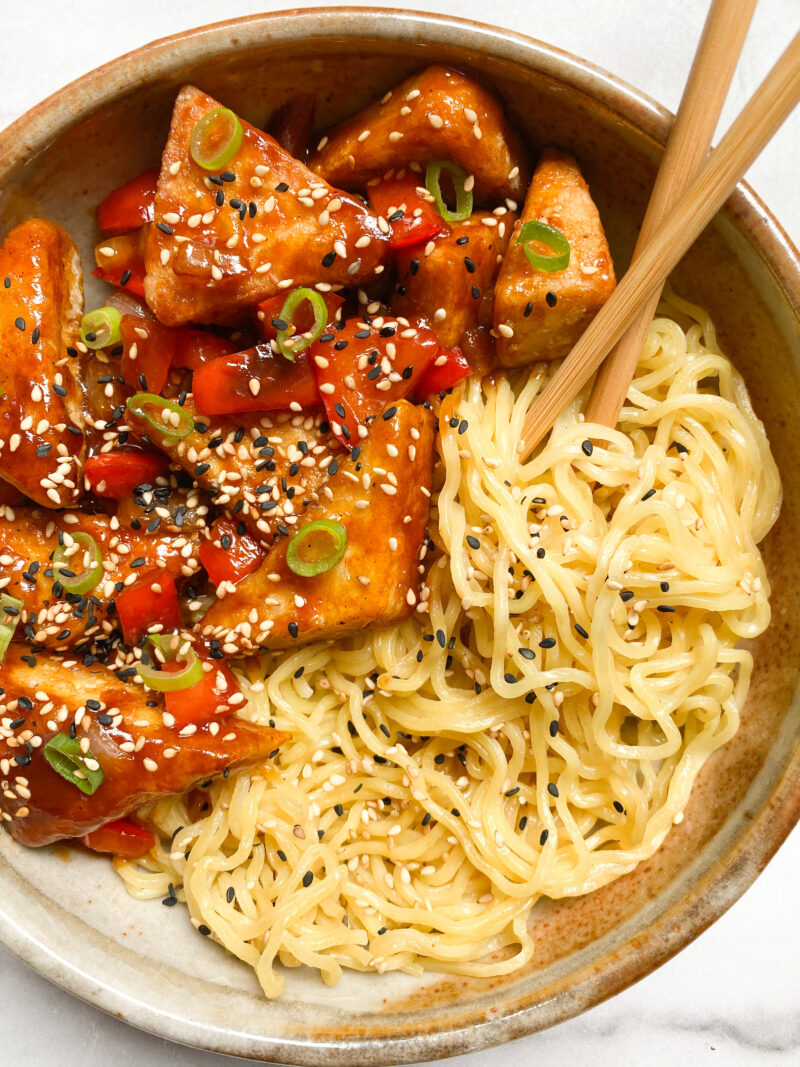 After making my Kung Lao chickpea recipe , I knew I wanted to also make a tofu version of it. I love tofu so much and I think everything came together really well for this recipe!
I have taken a week or so off from creating recipes for a number of reasons. Mainly because I have been super sick and exhausted. I was close to not recipe testing at all this week but I pulled myself together and created this delicious tofu dish! As I write this up I am trying not to fall asleep but I am hoping tomorrow I am back to my normal self!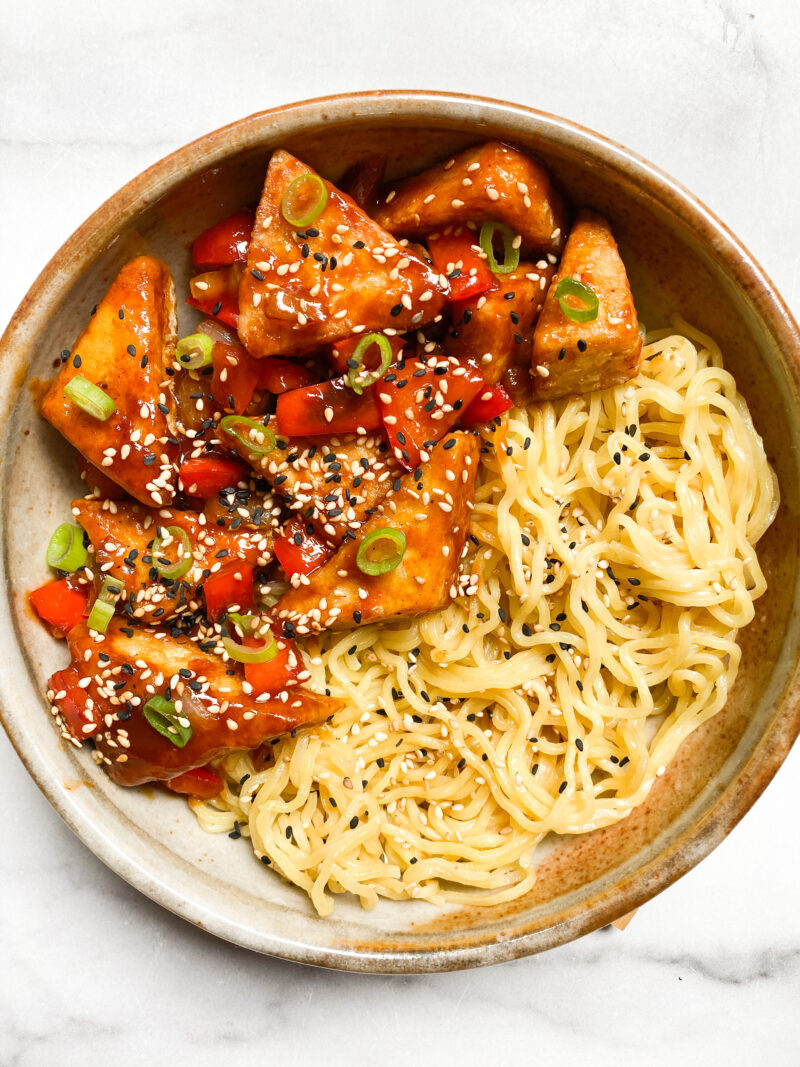 What is in this Kung Pao Tofu?
The sauce is pretty simple and has ingredients you likely already have on hand!
Soy sauce
Sriracha
Hoisin Sauce
Maple Syrup
Sesame Oil
Corn Starch
I also added vegetables like red bell pepper and onion to give the dish more flavor!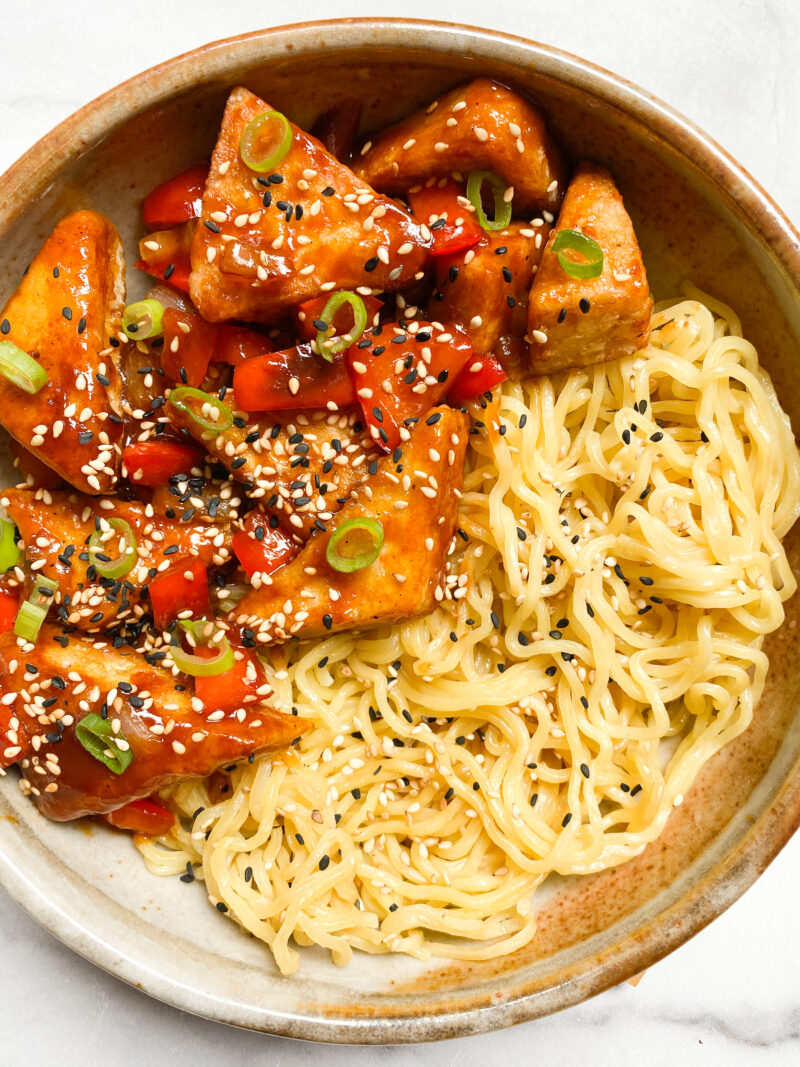 I hope that you enjoy this recipe! If you make any of my recipes, don't forget to tag me in the photo, or in your story, on Instagram @plantbasedjane
Ingredients
1 block extra firm tofu
3 tablespoons corn starch
1 teaspoon salt
1/4 cup neutral oil (vegetable, avocado, etc.)
1 red bell pepper, chopped
1/2 yellow onion, chopped
2 garlic cloves, minced

For the sauce

3 tablespoons soy sauce
1 1/2 tablespoon sriracha
1 tablespoon maple syrup
1 tablespoon hoisin sauce
1/2 tablespoon sesame oil
2 tablespoons water
1 1/2 teaspoon corn starch
Instructions
Drain and press your tofu for 20 minutes. Cut into cubes, or triangle pieces.
Using a large ziploc bag, add in your corn starch and salt. Add in your tofu pieces and toss the bag around using your hands to coat the tofu in the corn starch.
Add your oil to a pan on medium heat and add your tofu (work in batches if you need to so the tofu doesn't stick to each other) Cook on all sides until the tofu is golden brown and add to a plate lined with a paper towel.
Add a little more oil to your pan and add in your bell pepper and onion. Cook for 5-6 minutes or until the onions are translucent and the bell pepper has softened. Add in your garlic and cook for another 30 seconds. Meanwhile, make your sauce.
After cooking your garlic with the vegetables, add in your tofu and sauce. Coat everything evenly in the sauce and allow for it to thicken up.
Plate and serve!