Try out this delicious Eggplant Rollatini. *Recipe updated from 2017*
Who doesn't love comforting meals without all the heavily fried aspects? Those meals that fill you up so perfectly without leaving you with that groggy and "food coma" feeling. Sure, a food coma means a successful meal but it also can leave you feeling incredibly sick and unable to do anything for the remainder of the day/night.
Before going Vegan, I used to love fried eggplant. Whether it was eggplant parm, heroes or even fried eggplant rollatini…I was down. I still am down, however only if it's Vegan. Eggplant is quite a delicious vegetable and it tastes just as good roasted and I wanted to be able to showcase that in a delicious way.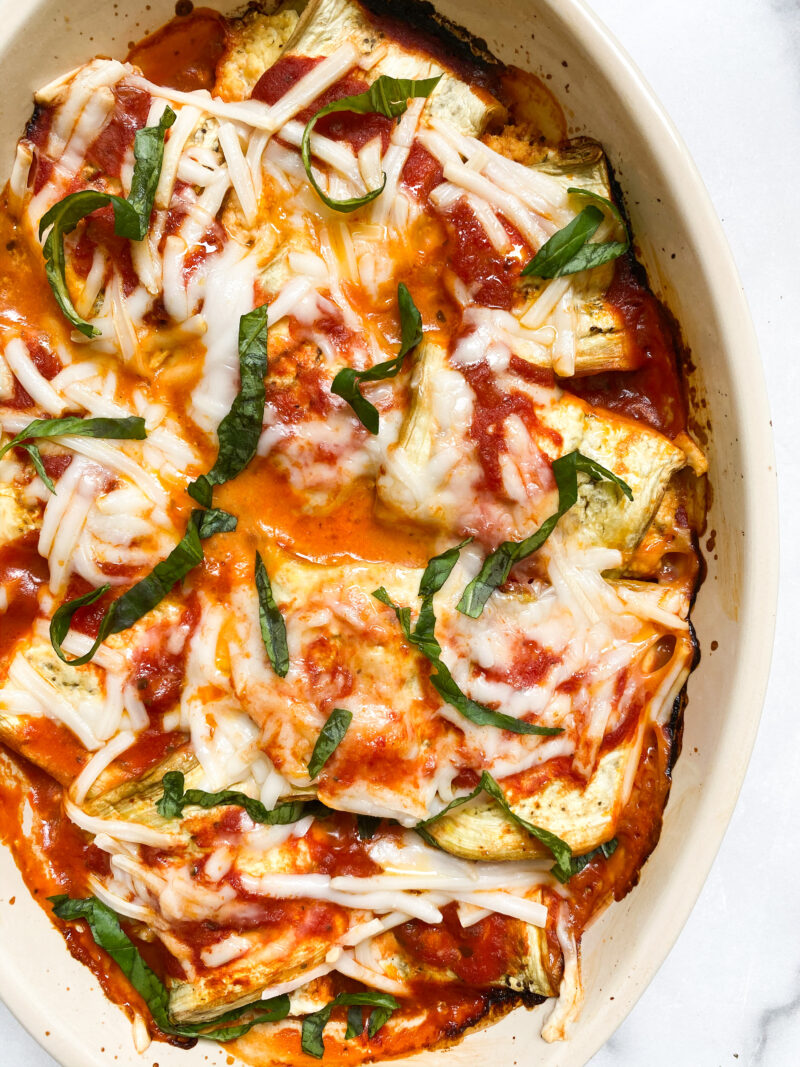 What makes this dish so much heartier and rich is that I incorporated the easiest tofu ricotta. Using only a few ingredients, it's incredibly easy to create a realistic ricotta without the animal products. I love tofu ricotta for a number of dishes but the combination of it and the tofu ricotta makes it utterly delicious.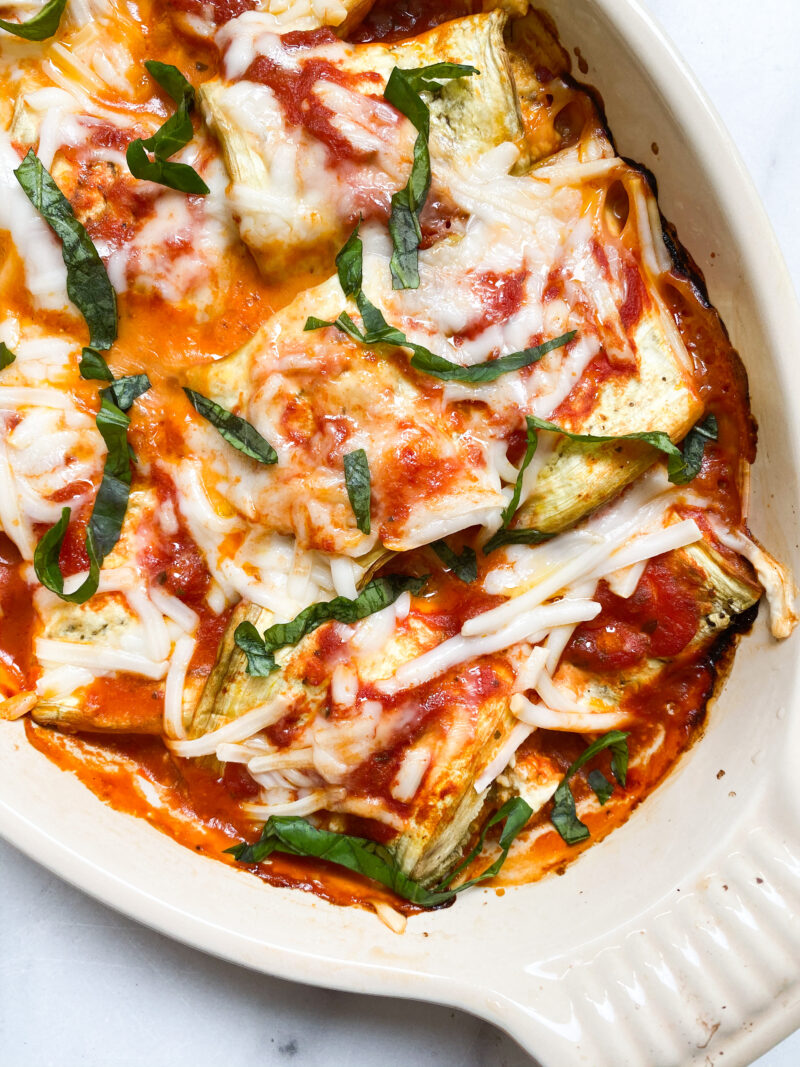 This is such a great week night meal if you want to impress your family. Serve alongside some pasta or spaghetti squash and you have a perfect and healthy dish. It takes roughly 1 hour to complete and is perfect to throw together and actually makes great leftovers (and you guys know how I feel about leftovers…).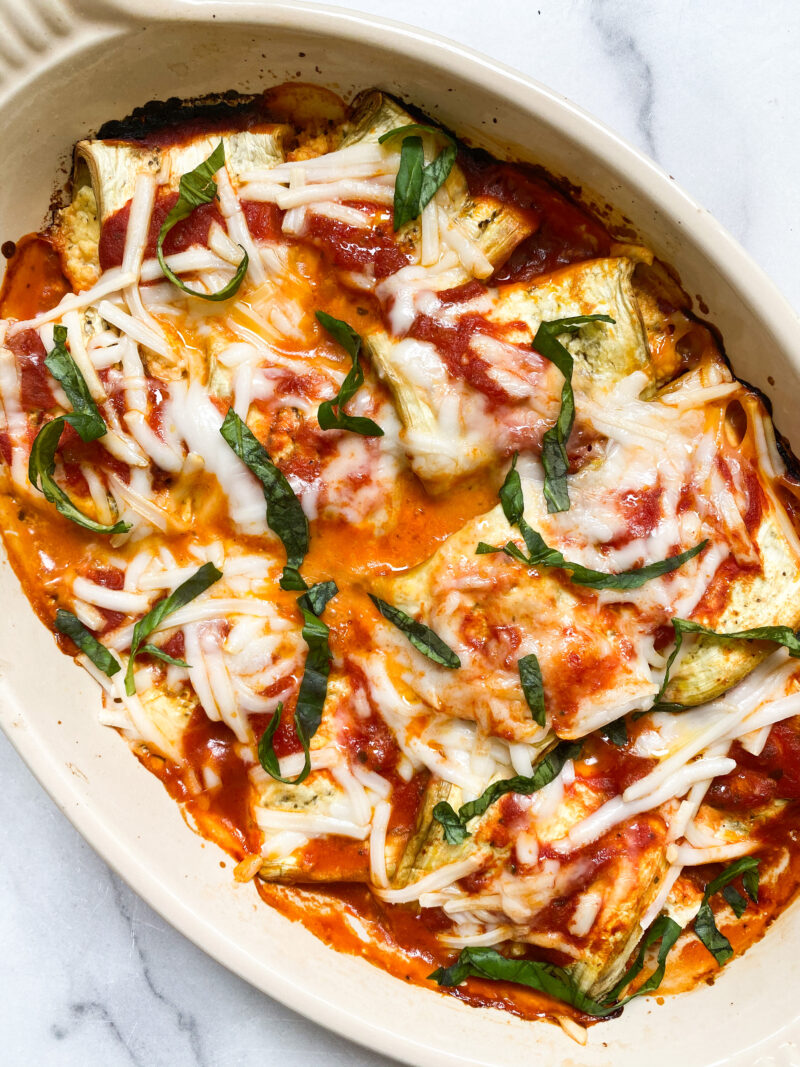 I hope you enjoy this recipe! Remember if you make it to tag me in the photo or on stories @plantbasedjane
Eggplant Rollatini

Ingredients
2 Medium Eggplants Cut 1/4 Inch Thick
For Tofu Ricotta:
Half Block Firm Tofu
4 Tablespoons Vegan Cream Cheese (I use Tofutti)
1/4 Cup Nutritional Yeast
1/4 Cup Panko Bread Crumbs
4 Basil Leaves, Chopped Finely
1 Tablespoon Dried Parsley
1/2 Tsp Garlic Powder
1/4 Tsp Onion Powder
1/4 Tsp Salt
1/4 Tsp Pepper
For Baking:
1-2 Cups Marinara Sauce
Fresh Basil (Optional)
Sprinkling of Nutritional Yeast
Vegan Mozzerella
Instructions
Slice your eggplants and place on lined paper towels. Salt both sids of the eggplants and place another paper towel on top. Let sit for 15 minutes to remove excess water.
Meanwhile, preheat your oven to 400 degrees Fahrenheit.
After 15 minutes, place your eggplant on baking sheets (I needed two) and cook for 15 minutes flipping hallway.
As the eggplant slices are cooking, make your tofu ricotta. Begin by placing your tofu in a bowl and mashing it with a fork. Gradually add in your vegan cream cheese and continue to stir. Add in remaining tofu ricotta ingredients and stir until combined.
Once is eggplant is done, take out of oven and let cool. Do not turn oven off. Flip eggplant frequently as it cools to prevent condensation and making them too moist.
Meanwhile, add around 1 cup of marinara sauce to the bottom of your baking dish.
Spoon around 2 tablespoons of tofu ricotta to the wider end of the eggplant and roll them up. Place each seam side down in the sauce.
Add remaining sauce on top of rollatini as well as vegan mozzarella and cover it with tin foil. Cook for 30 minutes. Remove tin foil and cook for another 5 minutes.
Enjoy!