Craving take out? Try this delicious and easy Vegan beef & broccoli dish.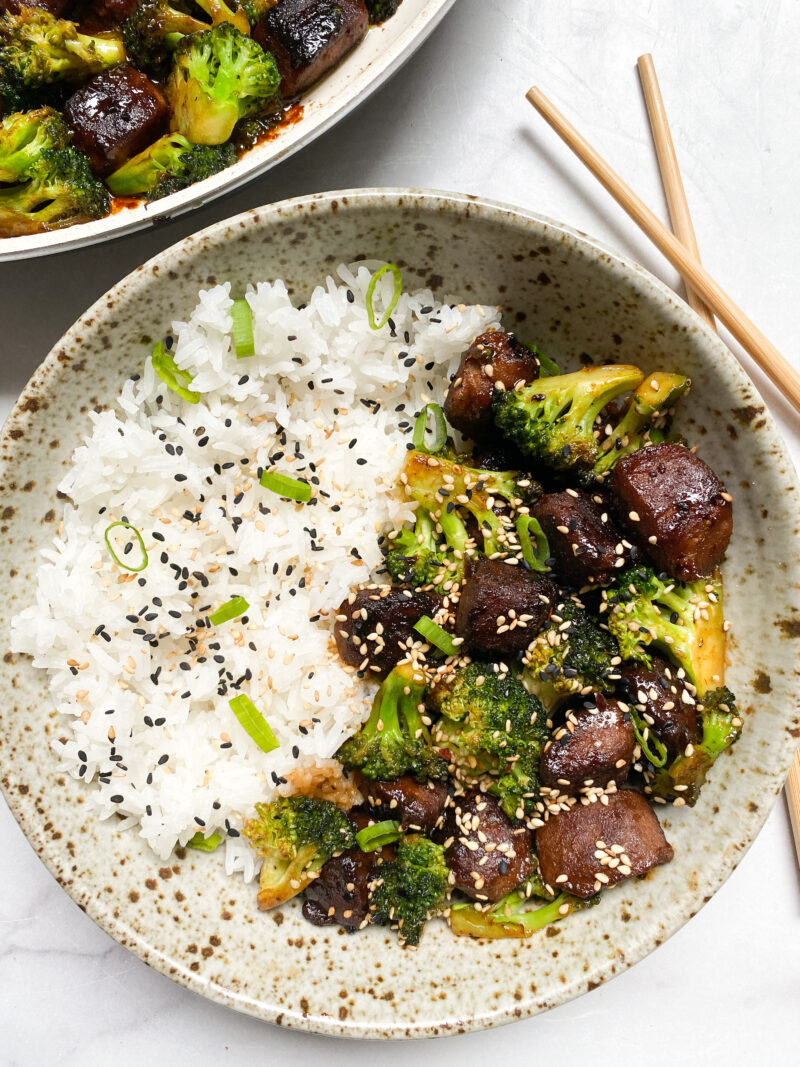 Big fan of Chinese food? Same. Amazingly, a lot of Chinese restaurants around me have meatless chicken, beef, etc. on their menu which is great. I don't normally order it but there are times when I have those cravings.
To save money, and to make it slightly healthier, I wanted to craft my own version. I know that we normally order out because we are feeling lazy, or just want to relax. However, this recipe might change your mind.
This recipe also takes less than 20 minutes to come together, so it will take less time than waiting for your food to arrive.
For the "beef" I used the Gardein Homestyle Beefless Tips. However, you can use any vegan beef alternative or even tofu. I really do recommend trying out this product though! Not sponsored, just being completely honest!
I chuckle when I create recipes like this because I rarely ate beef before going Vegan. I didn't even starting eating bacon until I was 19 (I'm 26). When I went Vegan the day after Thanksgiving in 2015, I wanted to try EVERY alternative out there. I started eating foods like Vegan beef & pork products, even though it was rare that I ate them before going Vegan. I had so much fun discovering all the cruelty free eats and have NEVER looked back!
I realize everyone is not like that. Nobody is the same. Me never having pork or rarely eating beef could come at a shock to people and I get that.
I hope this recipe helps anyone who wants an alternative to beef or just your traditional Chinese take out.
It's delicious and I know you'll love it.
The "beef" and broccoli are cooked in a delicious sauce that, with the help of corn starch, thickens up so nicely and coats everything perfectly.
So what will you need for this sauce?
Soy sauce
Hoisin sauce
Sriracha
Maple Syrup
Sesame Oil
Ground Ginger
Garlic Powder
I think this is served best with rice but noodles would be delicious too!
I've lately become obsessed with adding hoisin to my Asian inspired dishes. It has become a staple in a lot of my newer recipes and I highly recommend buying some if you haven't already! I know I am very late to the game.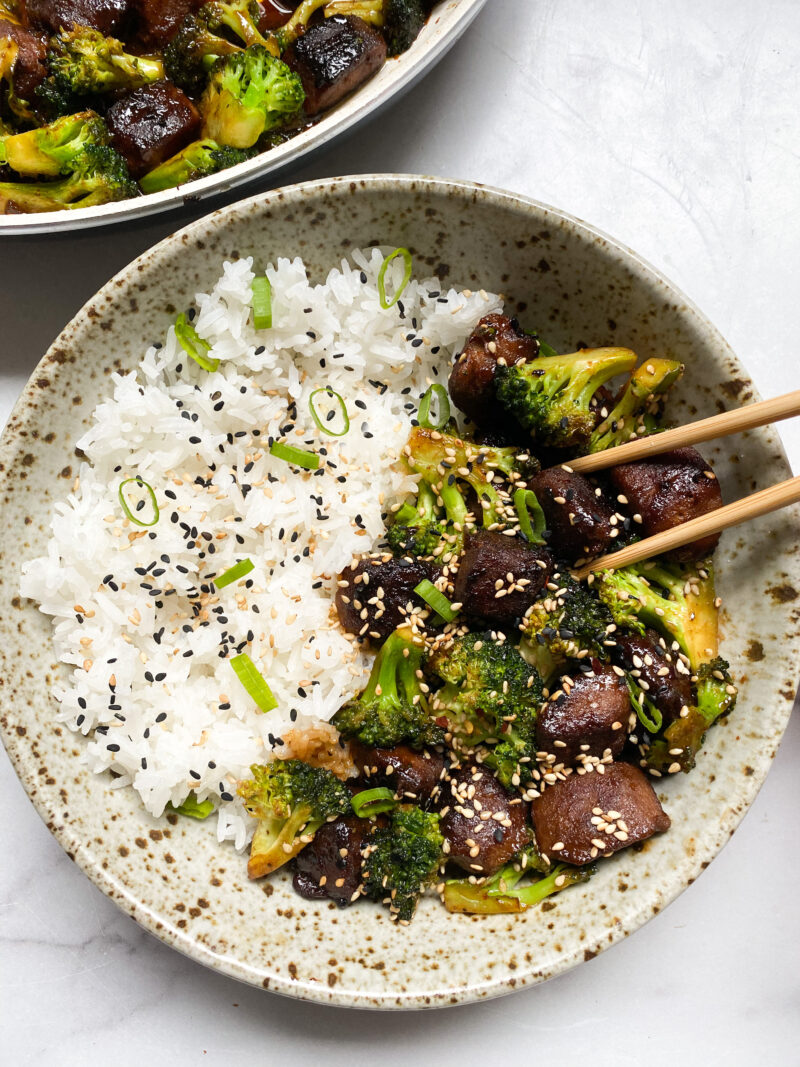 If you try this recipe, make sure to let me know! Tag me in the photo on IG or in your stories @plantbasedjane
"Beef" & Broccoli

Ingredients
9oz vegan beef of choice (I used one bag of Gardein Homestyle Beefless Tips)
2 1/2 cups broccoli florets

For Sauce

3 tablespoons soy sauce
1 tablespoon hoisin sauce
1 teaspoon sriracha
1 teaspoon maple syrup
1 teaspoon sesame oil
1/2 tsp garlic powder
1/4 tsp ginger
1 teaspoon corn starch
2 tablespoons water
Instructions
Wash and cut your broccoli florets into bite sized pieces.
Using a sauté pan on medium heat, add a little oil. Add in your broccoli and lightly salt and pepper it. Let It cook for one minute. Add 2-3 tablespoons of water and allow for the broccoli to slightly steam and become tender, around 4-5 minutes. Remove from pan.
Using the same pan, cook your vegan beef to package instructions.
Meanwhile, combine all your sauce ingredients into a small bowl and mix well to combine.
Once the "beef" is done cooking, add your broccoli back into the pan. Add in your sauce and coat everything to combine and allow for the sauce to thicken.
Serve!