Try this delicious pasta recipe with vegan chicken and peas. Its vegan and nut free.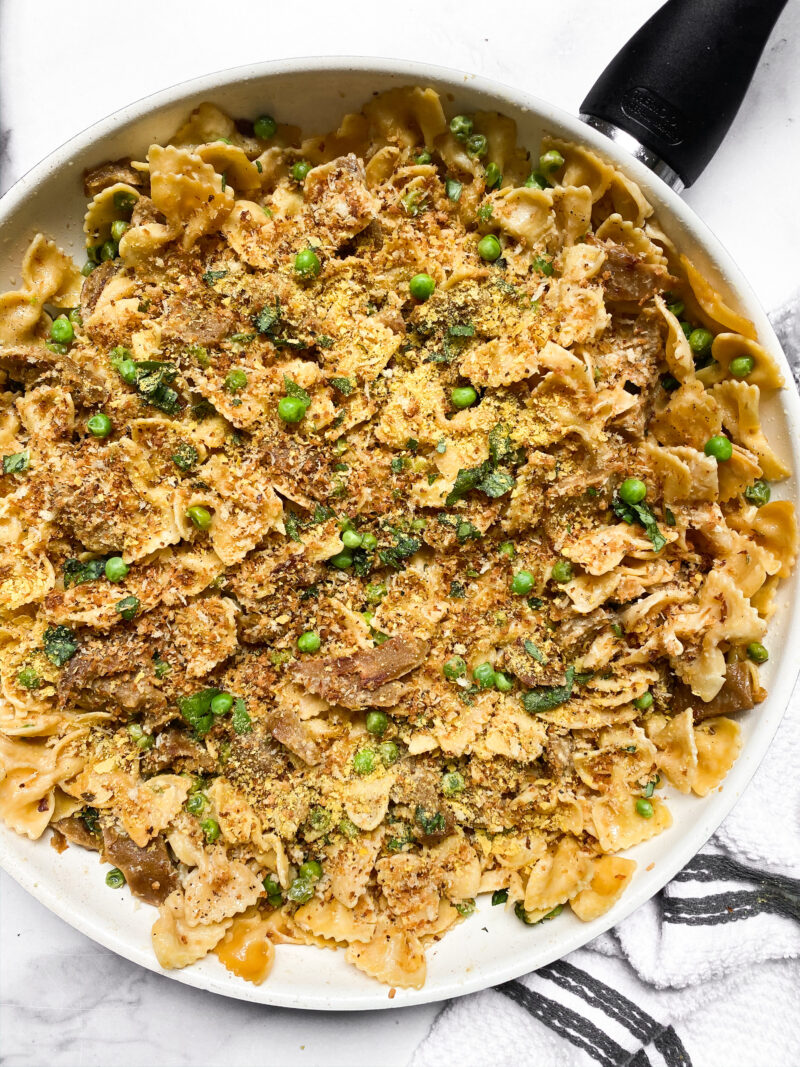 As your probably know, I love pasta recipes! They are usually always pretty simple and versatile.
I've also been on a pea kick lately. I really don't know how this randomly developed but I am loving adding peas to meals. I buy them frozen so they're so easy to defrost and just add to a number of different dishes. It's also a perfect way to get in veggies easily.
I also recently tried this new vegan chicken from the brand No Evil Foods (this post isn't sponsored by them) and I really like it! It is seitan based so if you are gluten free then I would avoid. What I really like about it is that it doesn't have a specific flavoring so it can take on whatever sauce or seasoning really well. I thought it worked great in this recipe and have used it since with asian flavoring and it was delicious. I also really like their packaging!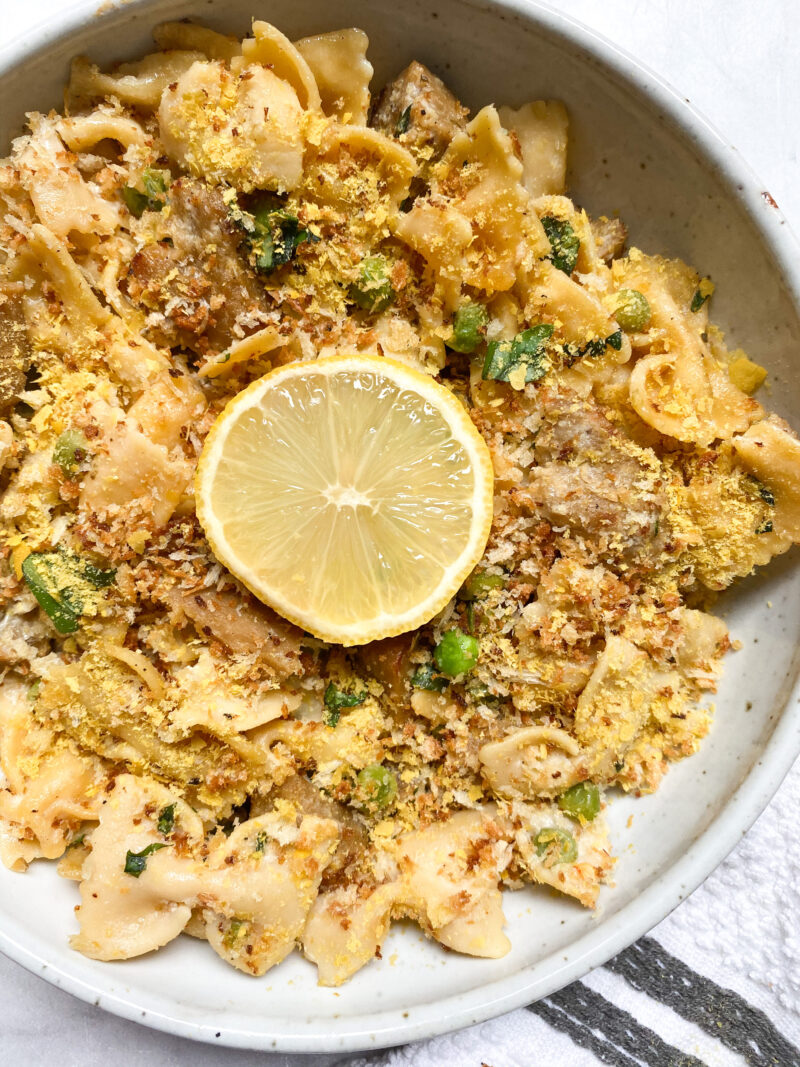 I also added this delicious panko bread topping (which you can also sub for gluten free breadcrumbs or omit all together) and It really made the texture perfect.
So what do you need for this recipe?
Pasta of choice
Vegan chicken of choice
Butter
Lemon Juice
Garlic
Cream Cheese
Nutritional Yeast
Peas
Panko Breadcrumbs
These are ingredients you're likely to already have on hand that will come together quickly.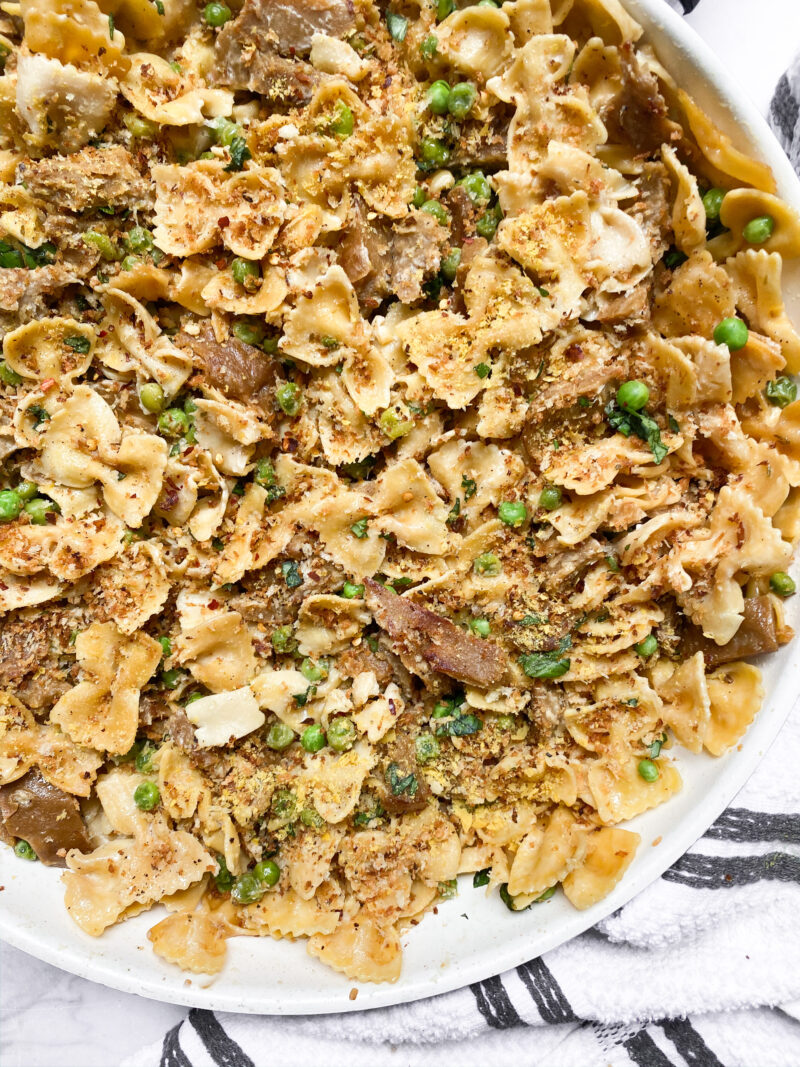 I hope that you enjoy this recipe! If you make any of my recipes, don't forget to tag me in your stories or post on Instagram @plantbasedjane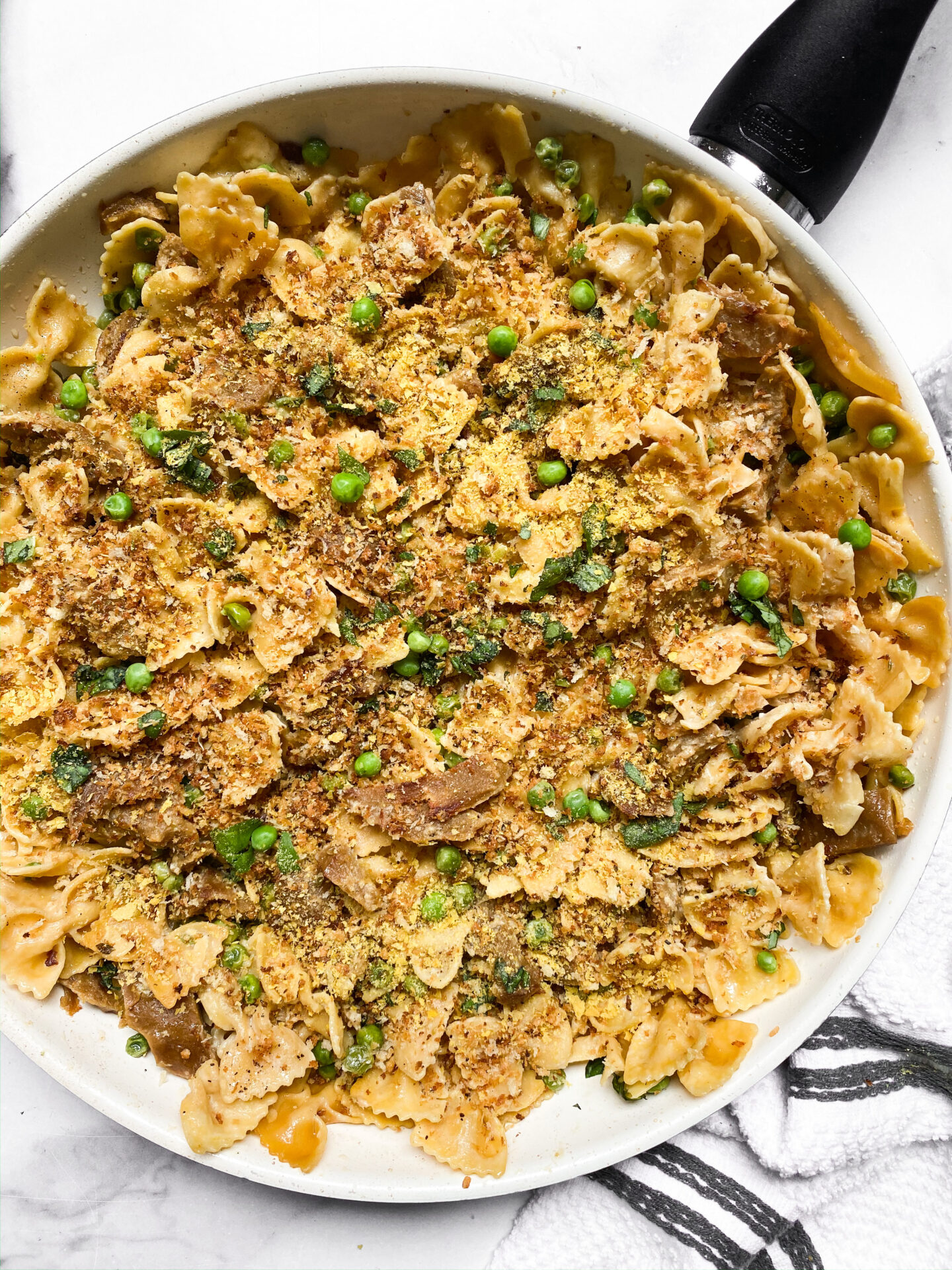 Creamy Bowties W/ Chicken & Peas
2020-03-10 07:57:04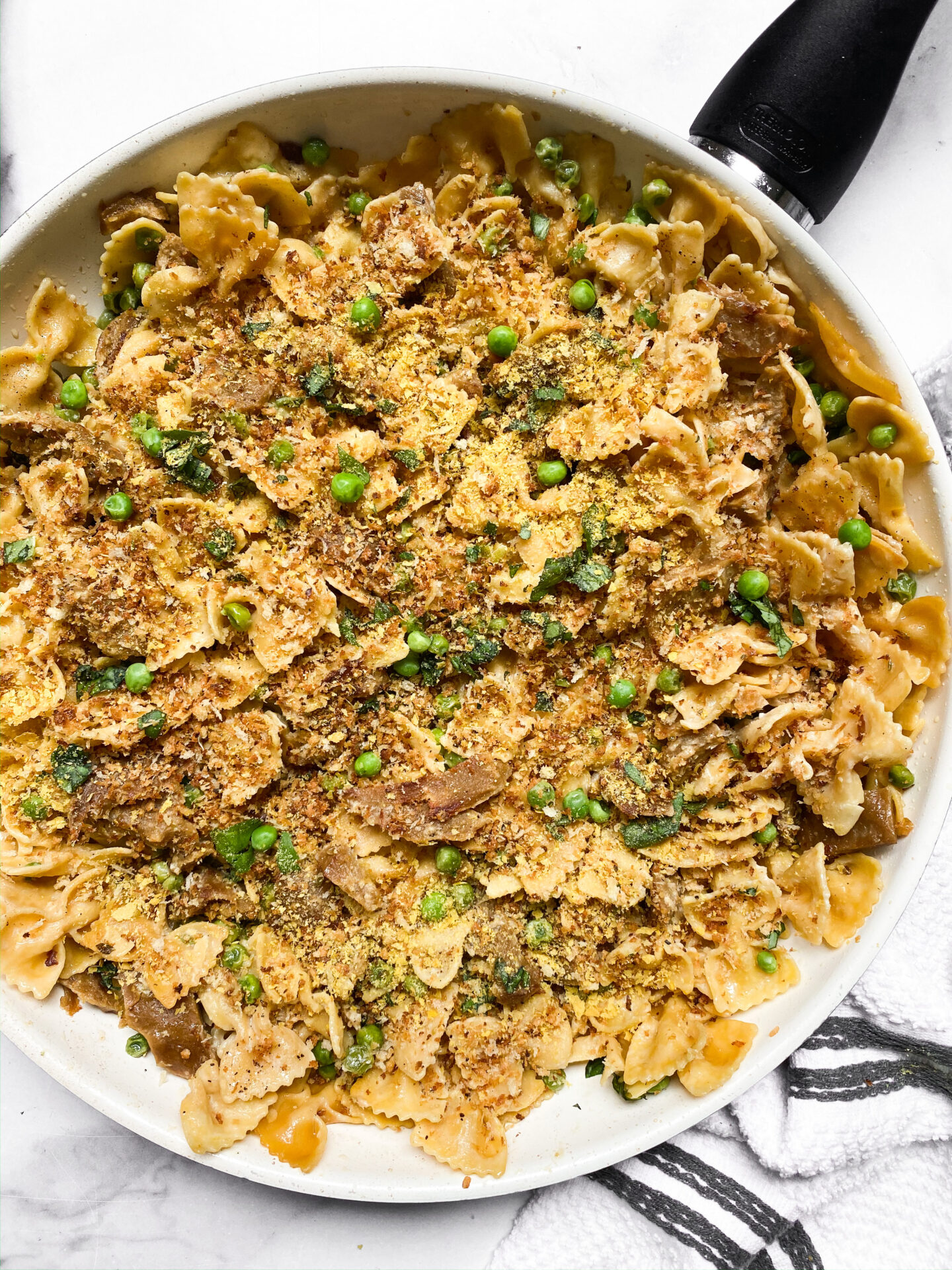 Ingredients
*For the toasted breadcrumbs*
1 teaspoon olive oil
½ cup panko bread crumbs
¼ tsp garlic powder
¼ tsp salt
¼ tsp pepper
*Everything else*
8 oz bowtie chickpea pasta
1 ½ cup vegan chicken (salt, pepper, oregano)
1 cup starchy pasta water
2 tablespoons butter
2 tablespoons of lemon juice
2 cloves of garlic, minced
3 tablespoons vegan cream cheese
¼ cup nutritional yeast
1 cup frozen peas, defrosted
Salt & pepper to taste
¼ tsp red pepper flakes
Fresh parsley/basil for topping
Instructions
Cook your pasta according to package instructions and set aside. Reserve 1 cup of the pasta water. Also, prepare vegan chicken according to the package instructions. Set aside.
Start toasting your breadcrumbs. In a sauté pan on medium heat, add in your olive oil. Once your oil is hot, add in your breadcrumbs and seasoning. Stir constantly for 2-3 minutes or until the breadcrumbs are toasted and brown. It is important to keep an eye on the breadcrumbs as they can burn easily. Transfer breadcrumbs to a bowl and wipe out your pan.
Return pan to medium heat and melt your vegan butter. Add in your lemon juice and garlic. Cook for 30 seconds. Add in your vegan cream cheese and nutritional yeast and allow for it to melt down. Add in your cooked pasta, chicken and peas and coat everything evenly in the sauce. Add your pasta water gradually to thin out the sauce to your liking. Season with salt, pepper and red pepper flakes.
Transfer to serving dish and top with breadcrumbs and parsley. Serve!
Plant Based Jane https://plantbasedjane.com/