Jump to recipe
These fresh spring rolls filled with veggies and the Dr. Praeger's Asian Veggie Burgers are super refreshing accompanied by two sauces.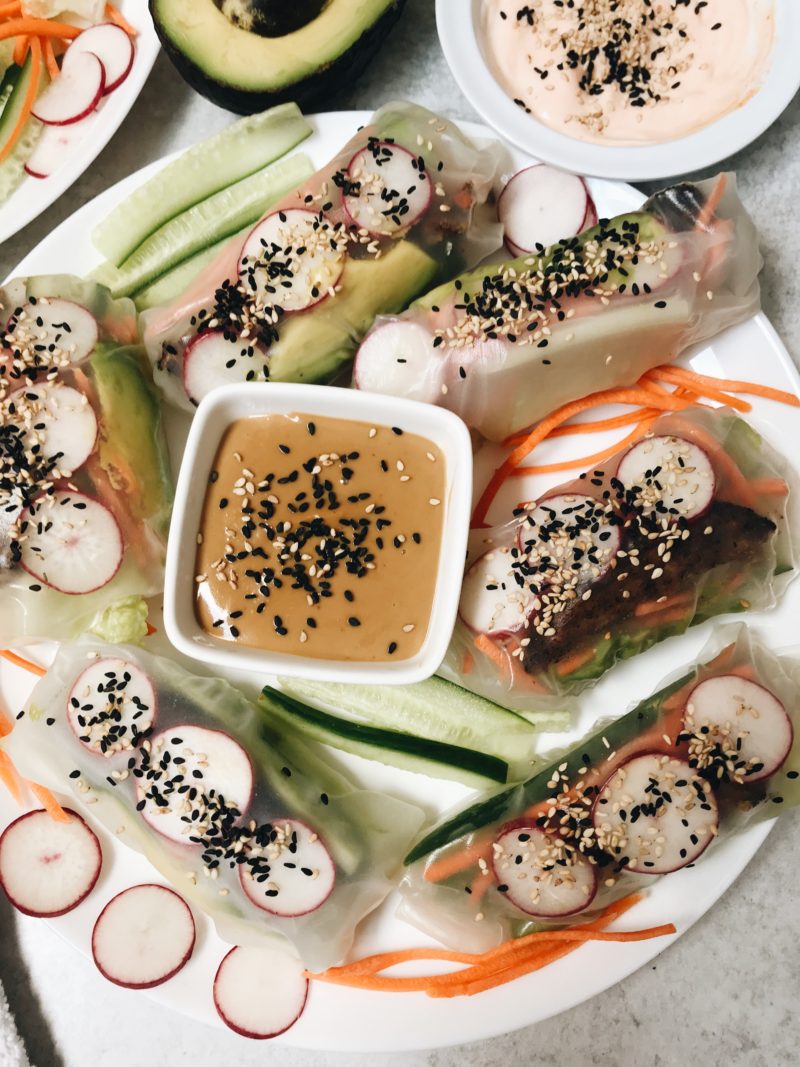 Homemade summer rolls are so delicious and easy to make during the warmer months of if you want a lighter meal. You can pack it with whatever you'd like or have in the house and they are super refreshing and delicious.
I started making summer rolls a few years ago and they're the perfect light dish. They're also great for appetizers.
These fresh spring rolls are made with lettuce, carrot, radish, cucumber and the Dr. Praeger's Asian Veggie Burgers .
These veggie burgers are packed with vegetables like carrots, peas, red pepper, scallions and more. They also have flavors like soy sauce, ginger, sesame oil and rice vinegar to give it the asian inspired flavors.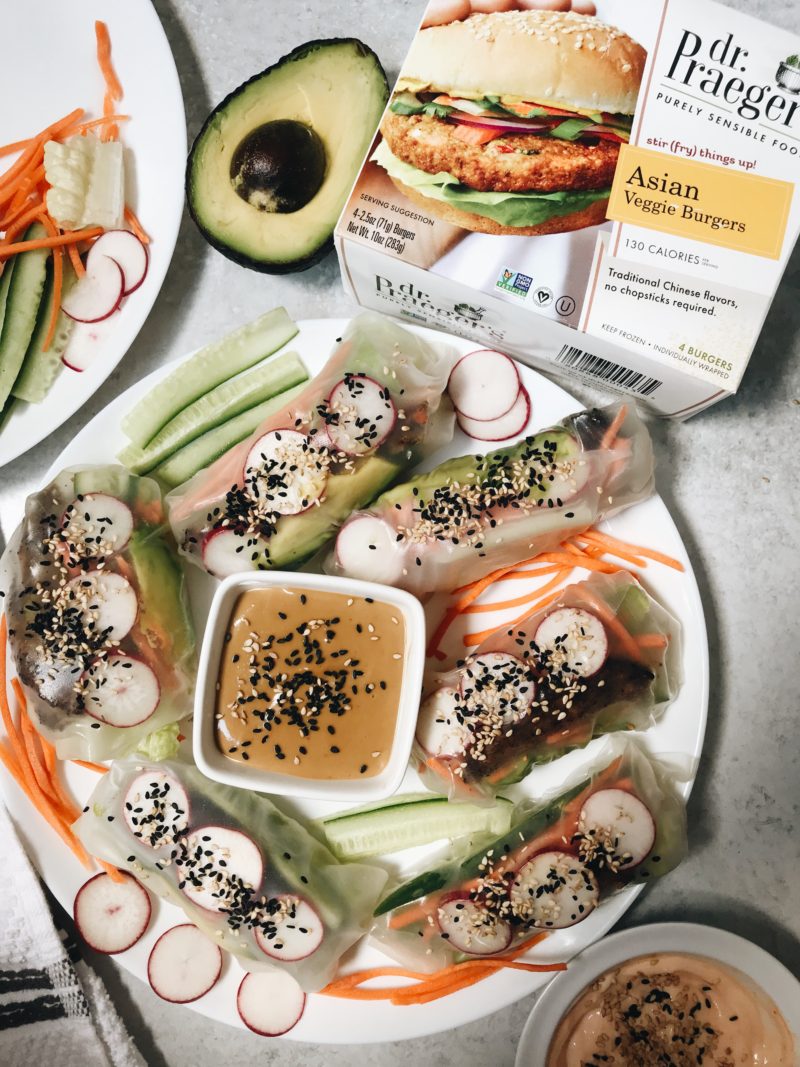 I also paired these spring rolls with two sauces. A peanut inspired sunflower butter sauce and a spicy mayo sauce. Both work so well with the rolls and adds to the flavor of the Asian Veggie Burgers.
I've been using Dr. Praeger's veggie burgers for years and even more now that I am Vegan. They have 13 different Veggie Burgers as well as hash browns, puffs, vegan meats and more. Their new Classic Chick'n Tenders would also go so well in these spring rolls.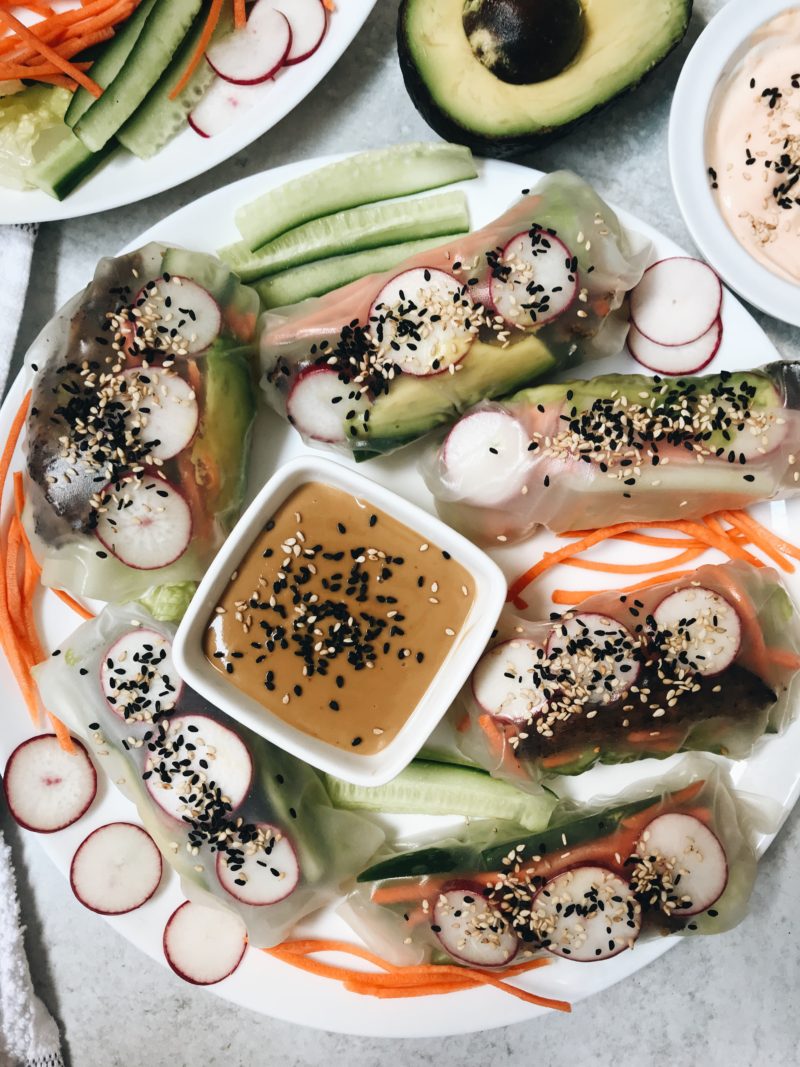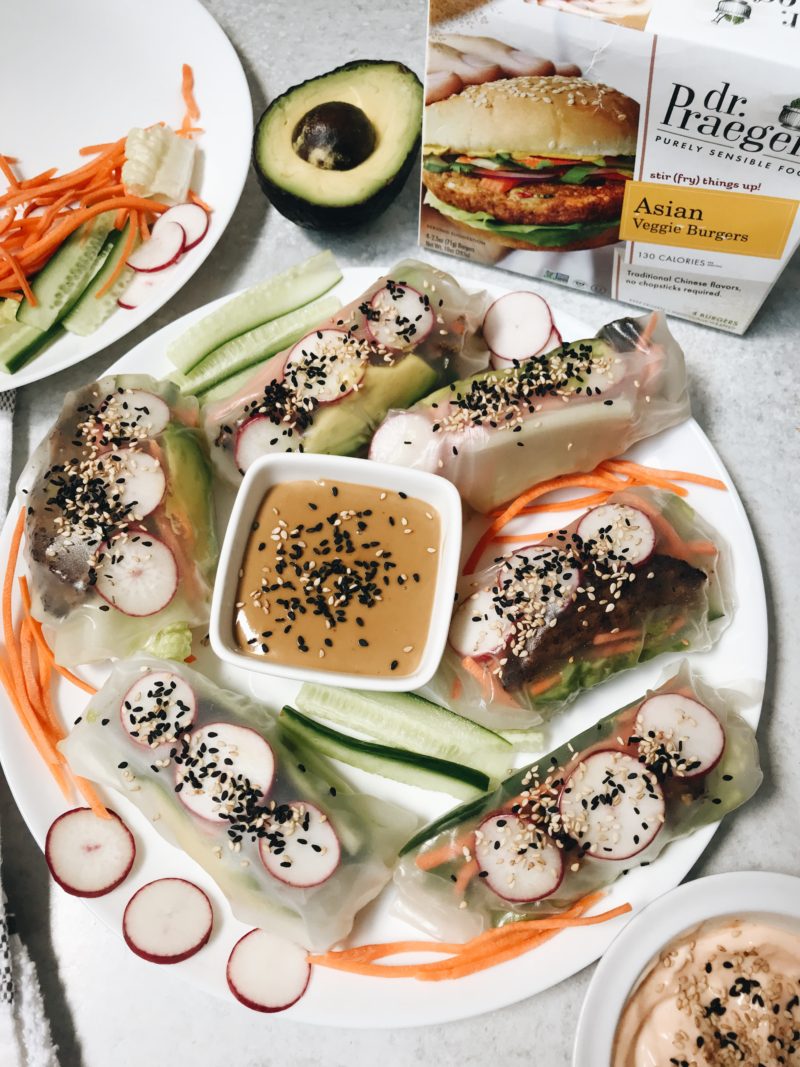 I hope that you enjoy this recipe! If you make any of my recipes, don't forget to tag me on Instagram @plantbasedjane.
To find Dr. Praeger's products near you, click here.
Fresh Spring Rolls *Two Sauces*

Ingredients
6 Sheets Rice Paper
2 Dr. Praeger's Asian Veggie Burgers
1 avocado
1 cucumber
1 cup shredded carrots
3 cups lettuce, sliced thin into strips
3 radishes, sliced thin

For Sunflower Butter Dipping Sauce

2 tablespoons unsweetened sunflower butter
2 tablespoons soy sauce
1 tablespoon sriracha
1 teaspoon sesame oil
3 tablespoons warm water
1/2 tsp maple syrup

For Spicy Mayo Sauce

3 tablespoons vegan mayo
1 1/2 tablespoon sriracha
1/2 tablespoon rice vinegar
Instructions
Pre-heat your oven to 450 degrees and cook your veggie burgers for 14 minutes flipping halfway. Set aside and let cool. Once cooled, cut into strips.
Slice the radishes, lettuce and avocado. Shred carrots (I purchased pre-shredded).
Fill a shallow bowl with warm water. Soak one of your rice paper sheets. Once it has softened place it on a clean cutting board. Fill with a slice of avocado, lettuce, carrots, radishes and your veggie burger slices in the middle of the rice paper. Wrap them up like a burrito by rolling it up and then folding in the sides. Repeat the process with the remaining rice paper sheets and fillings (optional: top with toasted sesame seeds). I add one-two slices of veggie burger to each spring roll.
To create your sunflower butter sauce, combine all ingredients except your water in a bowl. Mix to combine and add your warm water gradually to create your sauce. In a separate bowl make your spicy mayo sauce.
Serve!
Thank you to Dr. Praeger's for sponsoring this post. It means a lot to me to work with brands I love and support my blog.