Jump to recipe
Summer is here and there is not a better meal than something that includes fresh fruit and a boat load of greens, which is why I love them both combined with some jerk tempeh. Made in partnership with Sunbasket.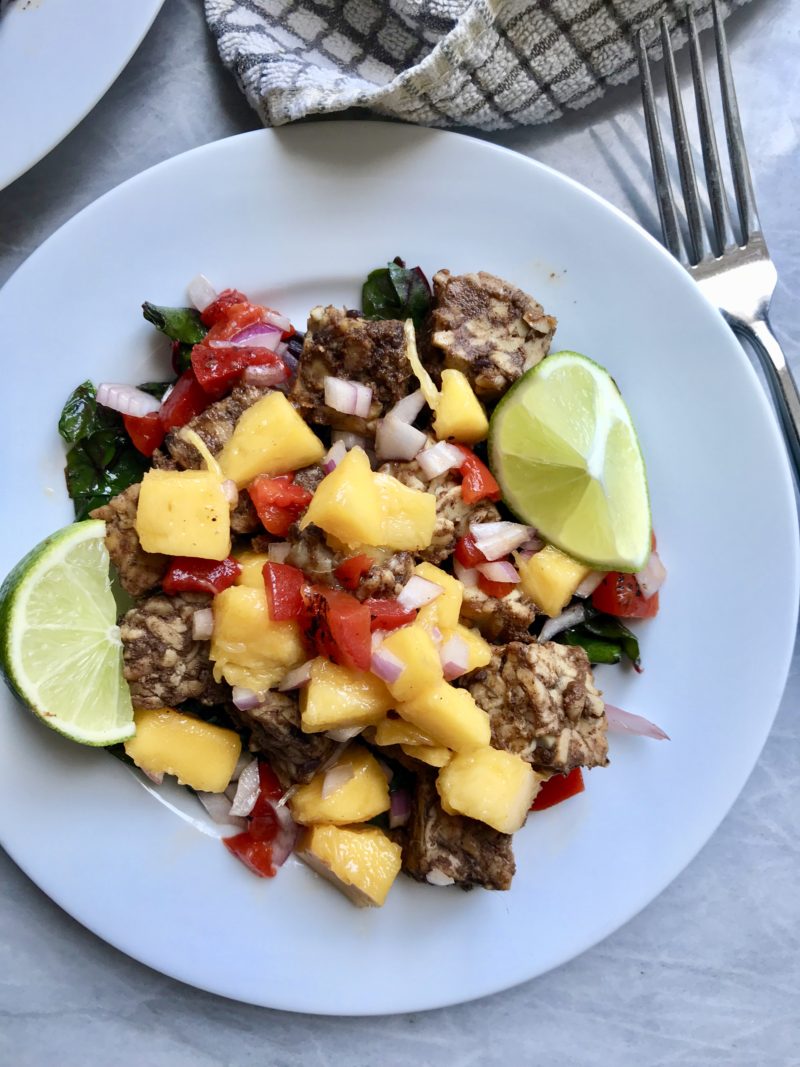 I am so excited about this recipe! It was the one out of my Sunbasket box that made me light up the most. The thing that drove me in is this amazing mango salsa. I love fresh fruit in meals this time of year as it is so refreshing and the perfect way to cool down. Paired with Jamaican jerk tempeh & greens = perfection.
That is my favorite thing about Sunbasket – the creativity of meals.
If you aren't familiar with Sunbasket, it's a weekly meal delivery service that offers are organic produce. You can choose the option of getting 3 meals a week (big enough for 2 or 4 people). In the new year they added a Vegan menu. This means you can get 3 vegan meals developed by nutritionists that are full of flavor and incredibly easy to make. With ingredients coming already prepared in biodegradable packaging, and a booklet of all the steps on the recipes, they're perfect for those with a busy work schedule or if you would like an easy creative outlet to eating Vegan.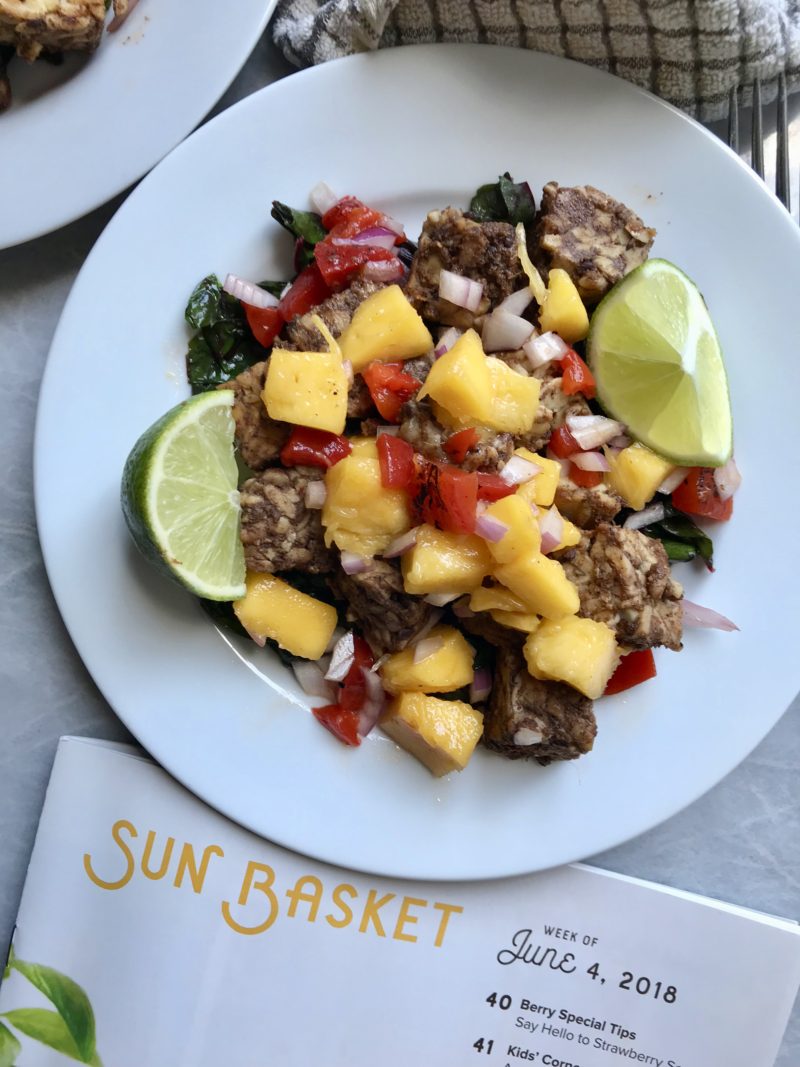 The other two recipes I got in my box that week were:
Black-eyed Pea Fritters with Cabbage-Carrot Slaw
Summer Tofu Stir-fry with Pineapple and Bell Pepper
I love how Sunbasket creates their recipes around what is in season and all produce is grown in the United States. All their Vegan meals have at the least 15g or protein and 5g of fiber per serving. Who said Vegans don't get enough protein?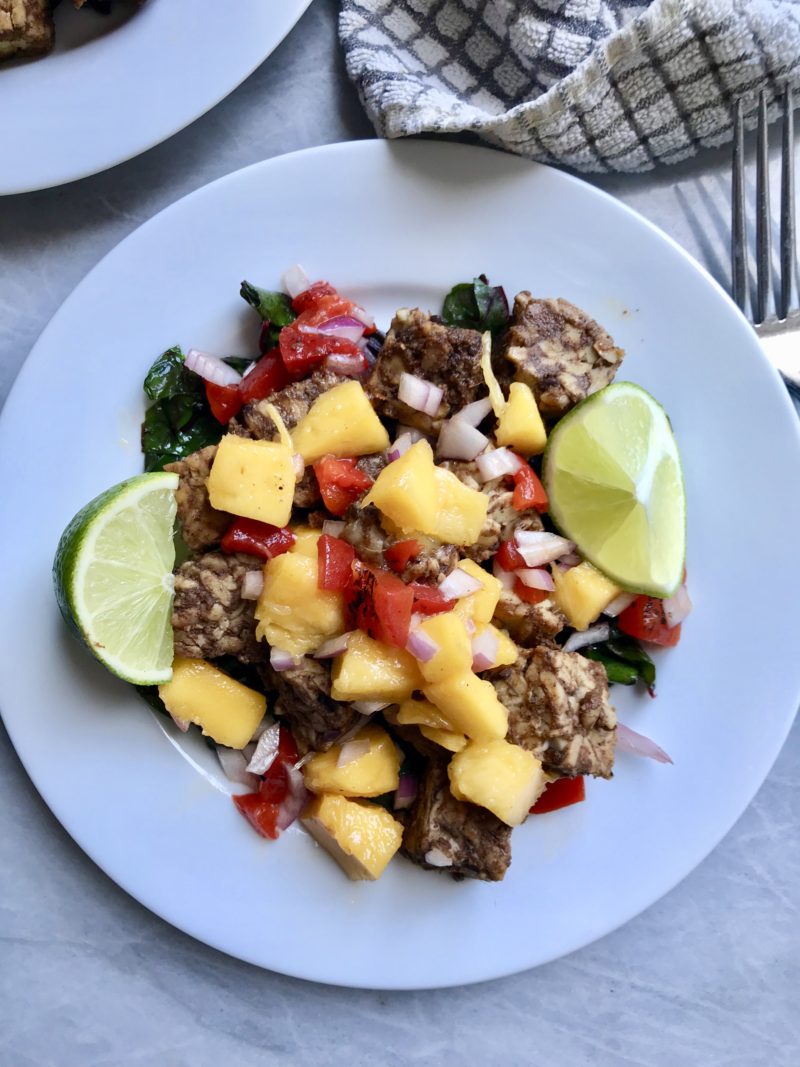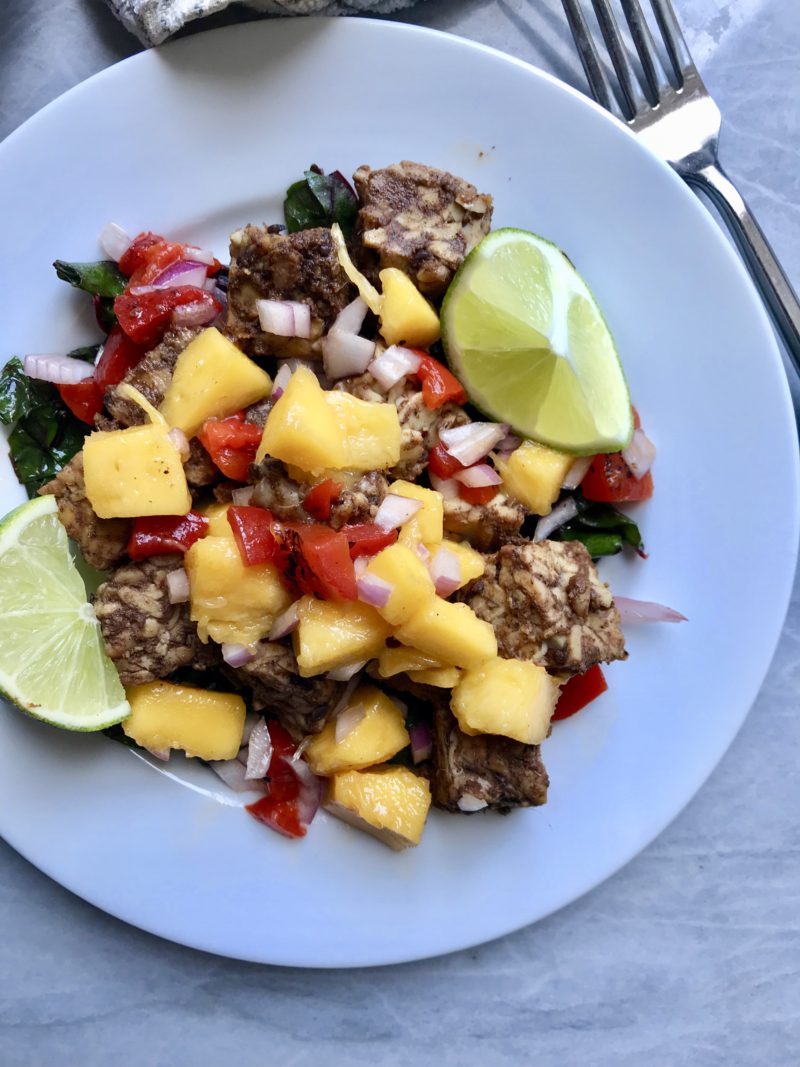 I hope that you enjoy this recipe!
If you make any of my recipes, don't forget to tag me on Instagram @plantbasedjane.
To get $35 off of your first Sunbasket box, use this link: http://bit.ly/sunbasket-plantbasedjane
Jamaican Jerk Tempeh with Sautéed Greens and Mango Salsa

Ingredients
1 package tempeh
1 onion
1/4 cup roasted red peppers
1 mango
1 lime
1 tablespoon dried dill
Jamaican Jerk Simmer Sauce ( 2 tablespoons gluten free tamari, 1 tsp oil, 1 clove crushed garlic, 1/2 tsp fresh ginger, 1 tsp coconut sugar, 1/4 tsp allspice, 1/4 tsp onion powder, 1/4 tsp chili powder, 1/8 tsp cayenne, 1/8 tsp nutmeg, 1/8 tsp cinnamon)
3 cups organic chard or other leafy greens
Instructions
Begin by making your tempeh. Crumble or cut your tempeh into 1/2 inch pieces. In a large frying pan, combine the tempeh and 1 cup cold water and bring to a boil. Cook over high heat, stirring occasionally, until softened. This should take around 6-8 minutes. Transfer to a plate once done and season with salt and pepper. Wipe out pan.
Now, make your mango salsa. Peel and thinly slice enough onion to make 3/4 cup for your chard. Finely chop enough of remaining onion to measure 1/4 cup for your salsa.
Scrape off any seeds from your red peppers and chop them finely. Cut up your mango. Zest lime and juice half of it. Leave the other half for garnish.
In a medium bowl, combine your 1/4 cup onion, red peppers, mango, dill, lime zest & 1 tablespoon lime juice. Stir and let stand.
In the same pan used to soften the tempeh, warm 1 tablespoon of oil over medium high heat. Add your tempeh and cook, stirring occasionally, until golden brown and crisp (3-5 minutes). Stir in your sauce as well as 2 tsp additional oil and season with salt and pepper. Cook for 2 minutes and transfer to a plate. Wipe out your pan.
In the same pan, heat a teaspoon of oil over medium-high heat. Add in your 3/4 cup sliced onion and let cook for 2-3 minutes. Add in your chard, as well as salt & pepper, and cook until wilted.
Serve your chard on individual plates. Top with tempeh and spoon on your mango salsa. Serve with lime wedges.
Enjoy!
Thank you to Sunbasket for sponsoring this post. It means a lot to me to work with brands I love and support my blog.