This delicious breakfast recipe is one of the many delicious meals from Chloe Coscarelli's new cookbook Chloe Flavor. Made in partnership with Nasoya.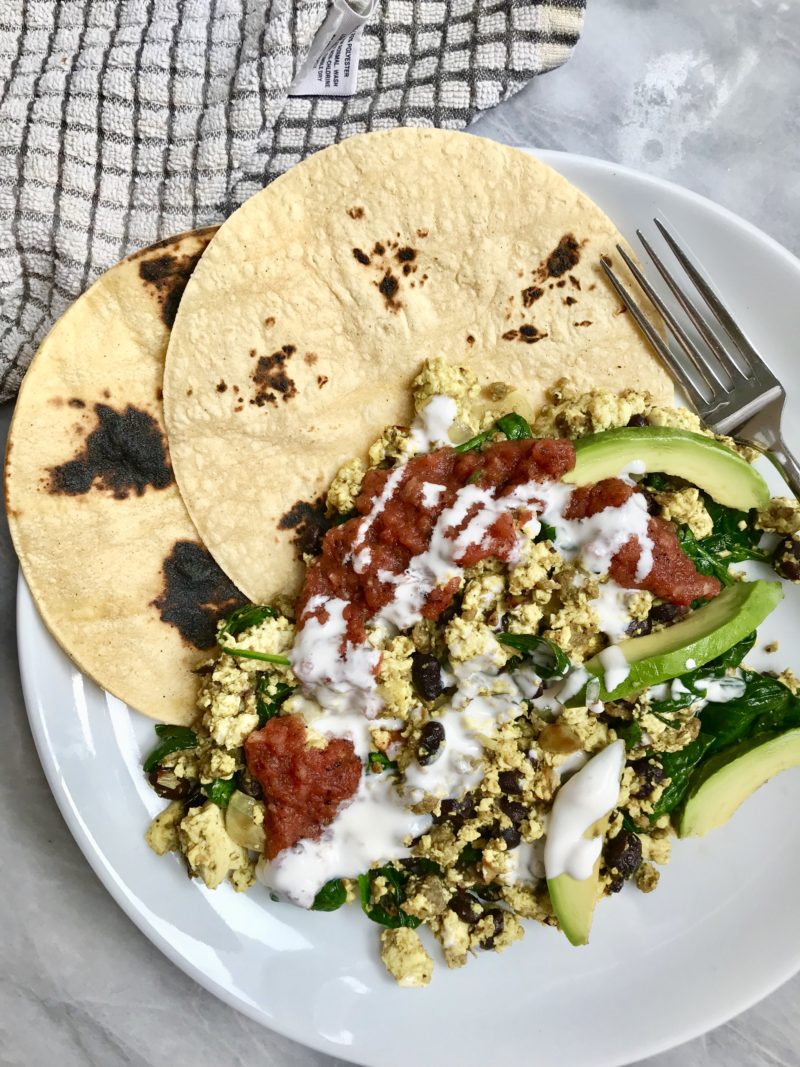 With the weekend coming up I wanted to share a recipe that would be perfect for a weekend brunch!
Chloe Coscarelli's new cookbook Chloe Flavor features many delicious recipes that are incredibly creative and packed with flavor. She also includes many recipes that include Nasoya tofu which is a perfect plant based protein.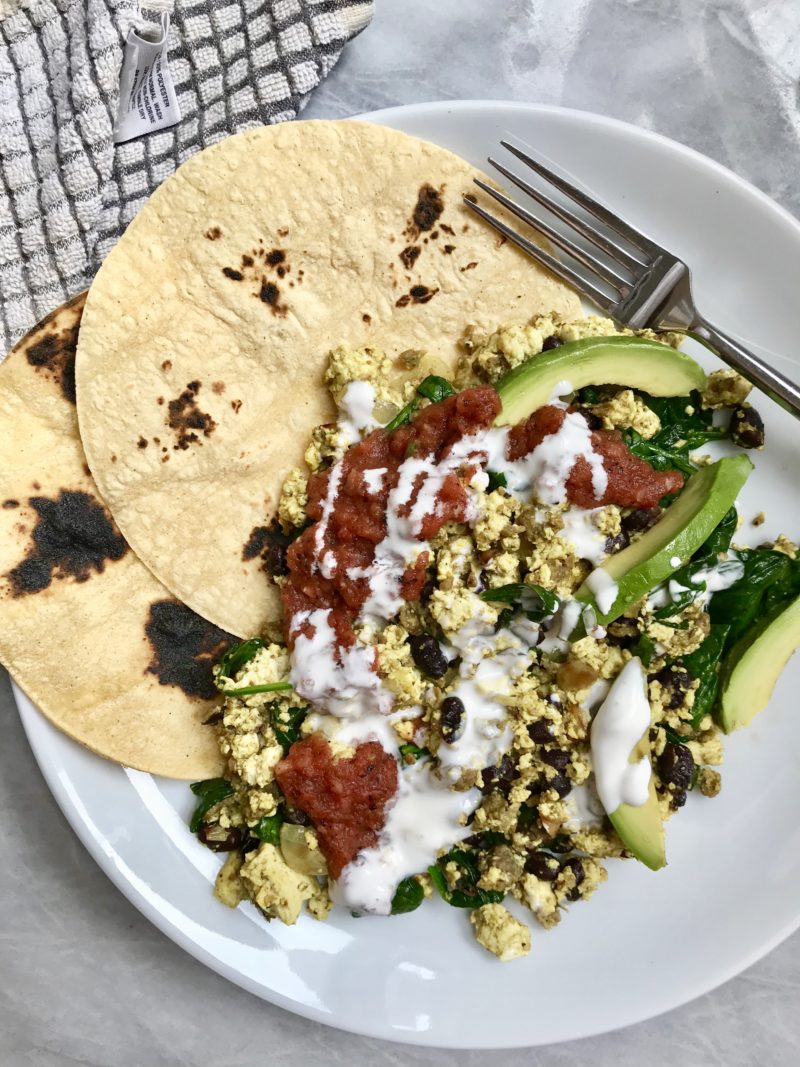 Tofu scrambles are such a staple in my Vegan diet. They are quick and simple to make but are packed with protein. I thought it would be fun to include a recipe that I make often but with so much creativity and extra flavor from the Ranchero sauce and lime sour cream.
Nasoya is a company that makes more than just tofu. They also make dumplings, noodles, wraps and pre-baked flavored tofu which is a time saver. I personally love their sprouted tofu because it comes basically vacuum sealed meaning there is much less water which helps cut the time in draining your tofu. They also have a brand new product coming out called Toss'ables which are pre-cubed flavored tofu perfect for tossing on salads and perfect for many other dishes.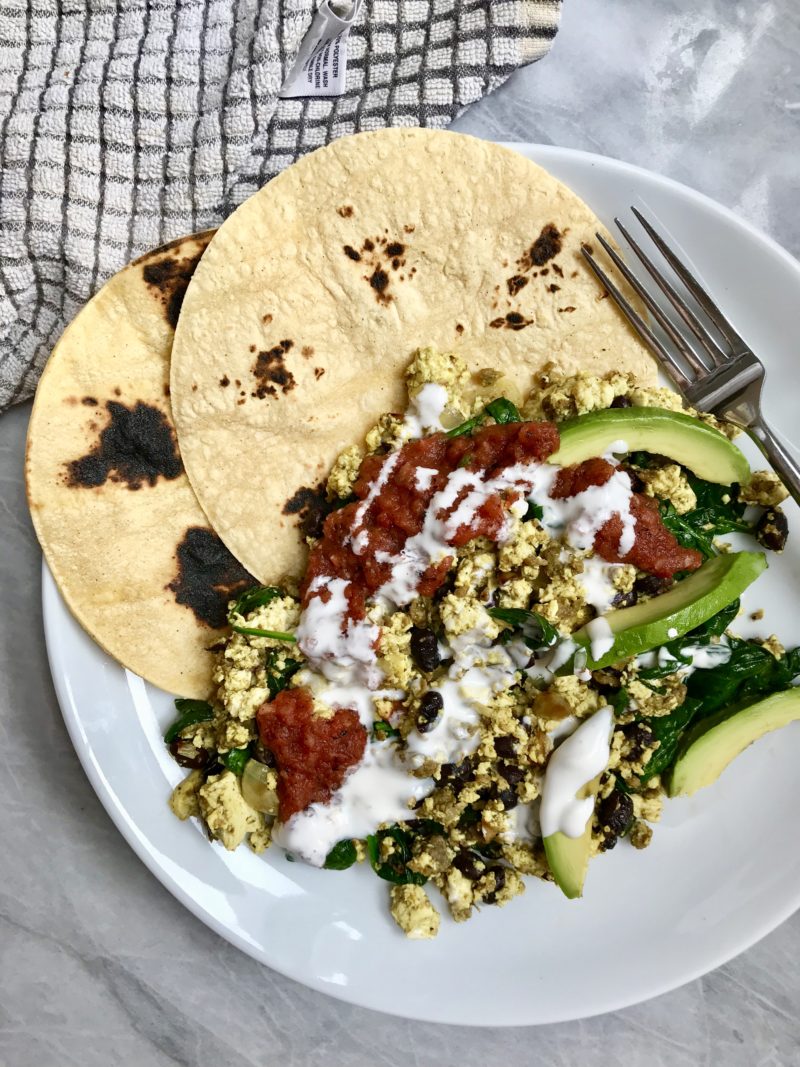 This recipe includes their extra firm tofu which is makes the texture hold up and doesn't allow the scramble to turn into mush.
I hope that you enjoy this recipe! I highly recommend checking out Chloe Coscarelli's new cookbook Chloe Flavor.
No – Huevos Rancheros

Ingredients
Ranchero Sauce

1 15oz can fire-roasted tomatoes with their juices
1/4 cup diced onion
1 garlic clove
1/4 cup coarsely chopped fresh cilantro, plus more for garnish
1 jalapeno, seeded
1 tablespoon agave
2 tablespoons lime juice
1/2 teaspoon sea salt

scramble

1 tablespoon olive oil
3/4 cup diced onion
1 15oz can black beans
1 16 lunch package Nasoya Extra-Firm tofu, drained, patted dry, and lightly crumbled.
8 oz ground seitan
1 tablespoon nutritional yeast
1 teaspoon sea salt
1/2 teaspoon onion powder
1/2 teaspoon garlic powder
1/2 teaspoon taco seasoning
1/4 teaspoon ground turmeric
3 cups baby spinach
freshly ground black pepper

Lime sour cream

1 cup Nasoya Silken tofu
1/4 cup olive oil
2 tablespoons lime juice
1/4 tsp salt

to assemble

8 small soft corn tortillas
1 avocado, sliced
Instructions
First, make your ranchero sauce. In a blender, combine all of your ranchero sauce ingredients and blend until smooth. Transfer to a small saucepan and warm over medium-low heat. Gently simmer until ready to serve.
Now, make your tofu scramble. In a large nonstick skillet, heat the olive oil over medium high heat. When it shimmers, add in your onion and cook for 5-7 minutes, until softened. Add in the beans. tofu and add more oil if the mixture sticks to the pan. Add in your nutritional yeast, salt, onion powder, garlic powder, taco seasoning and turmeric. Cook for 1 minute. Add water, 1 tablespoon at a time, if tofu becomes dry. Reduce the heat to medium low and add the spinach, stirring until just wilted. Taste and season with pepper.
For the sour cream, place ingredients in a blender of food processor and blend until smooth. Store in an airtight container in the refrigerator for up to 5 days.
To assemble, heat a tortilla in a pan over medium high heat or by placing it directly onto the burner over medium low heat for about 20-30 seconds, using tongs to flip. Layer a few large spoonfuls of scramble on top of the tortillas, then top with Ranchero sauce. Drizzle with the lime sour cream and garnish with a few avocado slices and some cilantro. Repeat with remaining tortillas.
Thank you to Nasoya for sponsoring this post.