Jump to recipe
Why should smoothie bowls only be popular in the Summer? Get cozy with this Fall inspired hydrating smoothie bowl with veggies!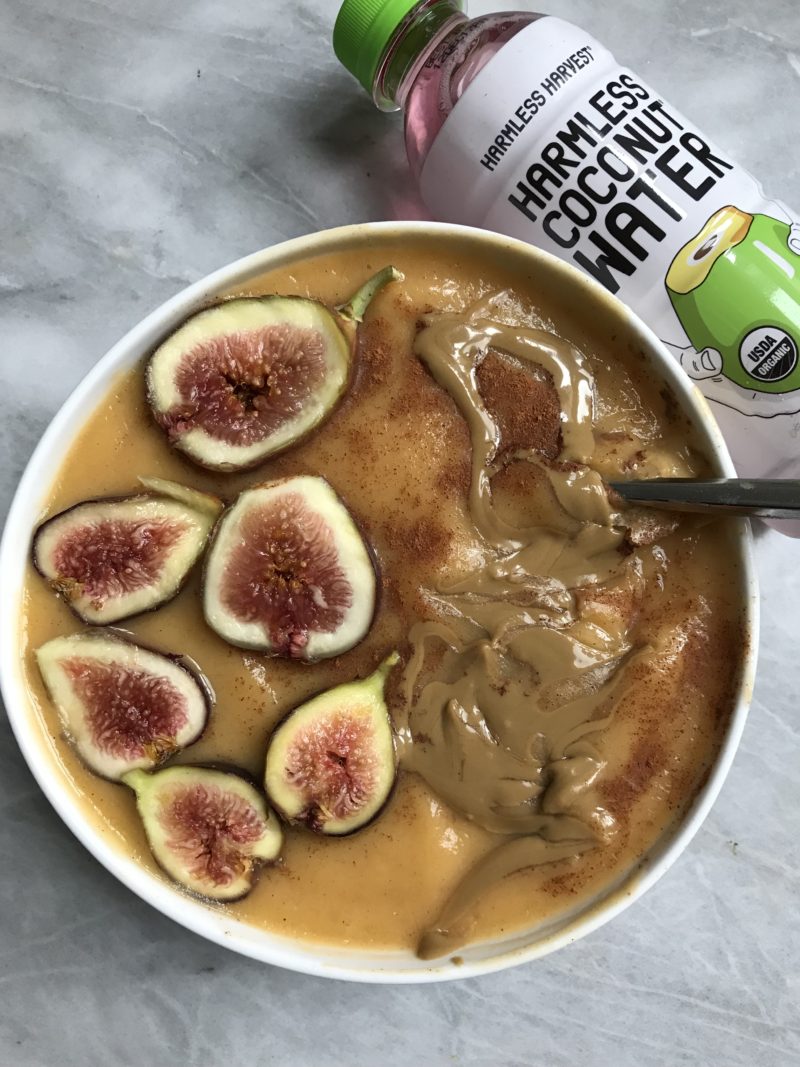 With Fall in full swing (except for those rather warm days) I wanted to create a Fall inspired smoothie bowl that was super hydrating to help combat that seasonal dry skin.
The best thing about this bowl is that it is packed with veggies! The base is cauliflower and sweet potato! Cauliflower is one of the best smoothie bowl ingredients out there. Adding it to smoothie bowls makes it SUPER creamy and doesn't give it a cauliflower taste at all. I like to compare it to spinach in smoothies. You can't taste it, but it's giving you all the nutrients. To give those Fall flavors, I decided to throw in sweet potato too. You can't go wrong with that!
However, what's giving it that extra boost of hydration? Harmless Harvest coconut water. Their coconut waters are organic and sustainably harvested. It's also pink so, super cute amirite?
One of the benefits of coconut water is how great it is for your skin. You can literally apply it to your skin, but also drink it and it will moisturize the skin from within while also eliminated large amounts of oil. With it also being high in potassium, it will give you tons of energy and help you hydrate. Hydration is key for good skin, which is why I drink Harmless Harvest often.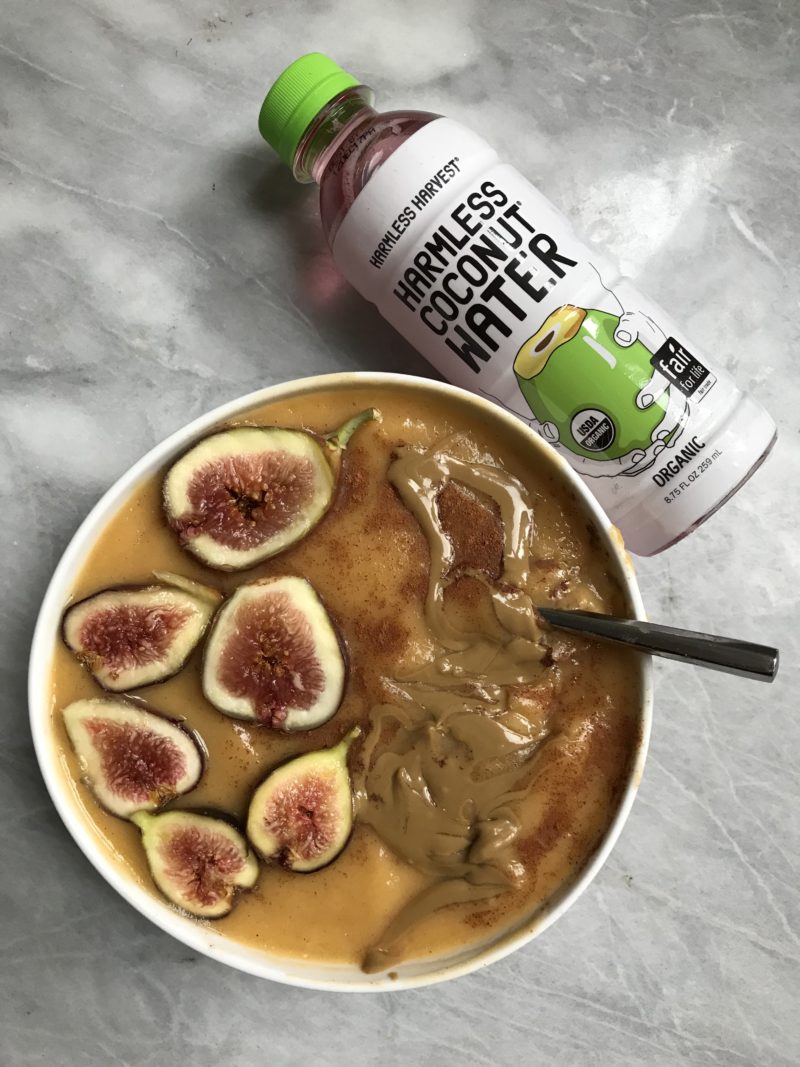 I don't know about you, but around this time of year my skin gets incredibly dry. I also get bad eczema on my fingers (why just on my fingers? I really couldn't tell you.) I find that when I stay hydrated and remind myself to drink coconut water/water, that my eczema is much more manageable.
I love to top this smoothie bowl with extra cinnamon, sunflower butter & fresh figs. It gives the smoothie bowl even more of a Fall touch.
You can find Harmless Harvest almost anywhere. I get it at my local grocery store!
I hope that you enjoy this incredibly easy recipe!
If you make this recipe, don't forget to tag me on Instagram @plantbasedjane.
Hydrating Fall Smoothie Bowl

Notes
*I buy my cauliflower already frozen. However, make sure when you buy frozen cauliflower that it is previously steamed then frozen. It is much better on your digestion. If you can't find frozen cauliflower, steam it and freeze overnight with your steamed sweet potato.

Ingredients
1 cup frozen cauliflower*
1/2 cup frozen steamed sweet potato
1/2 cup Harmless Harvest Coconut Water
1 tsp maple syrup
1/4 tsp cinnamon
Instructions
Add all your ingredients to a blender and add in coconut water gradually. Depending on your blender, you may need to add more coconut water. That means, more hydration!
Pour in a bowl and top with all your favorite toppings!
Thank you to Harmless Harvest for sponsoring this post! I love to work with brands who I love and support my blog, Plant Based Jane.