Jump to recipe
A super light and refreshing meal for summer, this arugula nut free pesto cauliflower rice bowl is delicious and easy to make.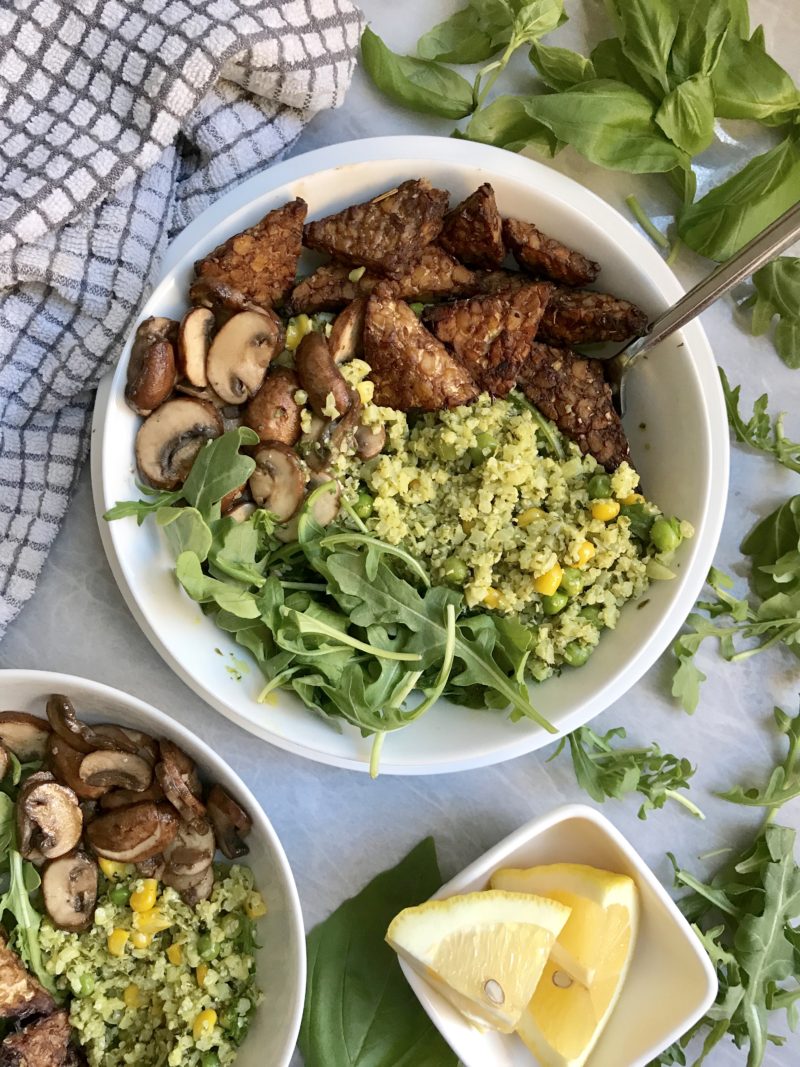 Fun fact: I used to hate cauliflower rice. Basically, cauliflower anything! Now, I love it!
What I've learned when it comes to cooking cauliflower rice is that it really needs some flavor. I recently got a few requests to do a cauliflower rice recipe, and as I was brainstorming, the word "pesto" popped into my mind.
Now if you have been following me for awhile, you probably may know I am allergic to nuts. So this pesto is not only Vegan (duh), but nut free. Even better, it's a mix of arugula and basil. Such a good combination!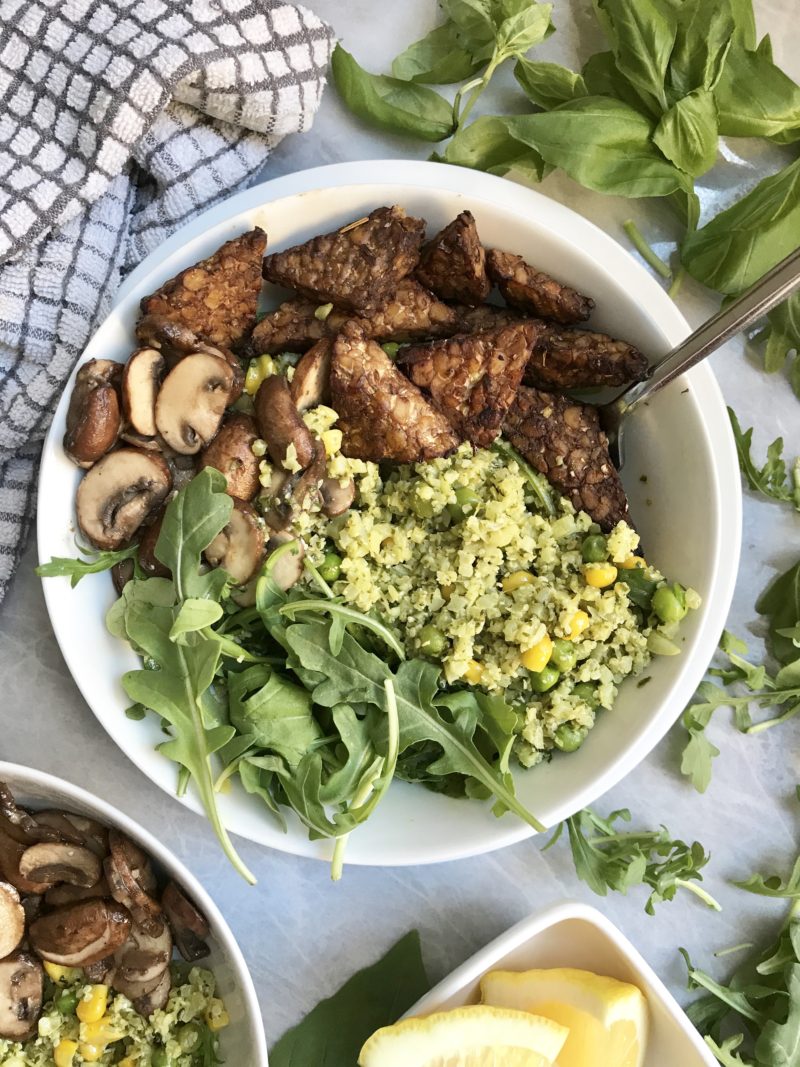 Instead of just giving you a cauliflower rice pesto recipe, I wanted to complete it and turn this into a *bowl* recipe. My lack of tempeh recipes is astounding, so I decided to creep in a little balsamic tempeh into this recipe. This added some additional italian flavors!
Also, sautéed mushrooms. Mushrooms are SO yummy! Don't like mushrooms? Sub another veggie! Totally up to you.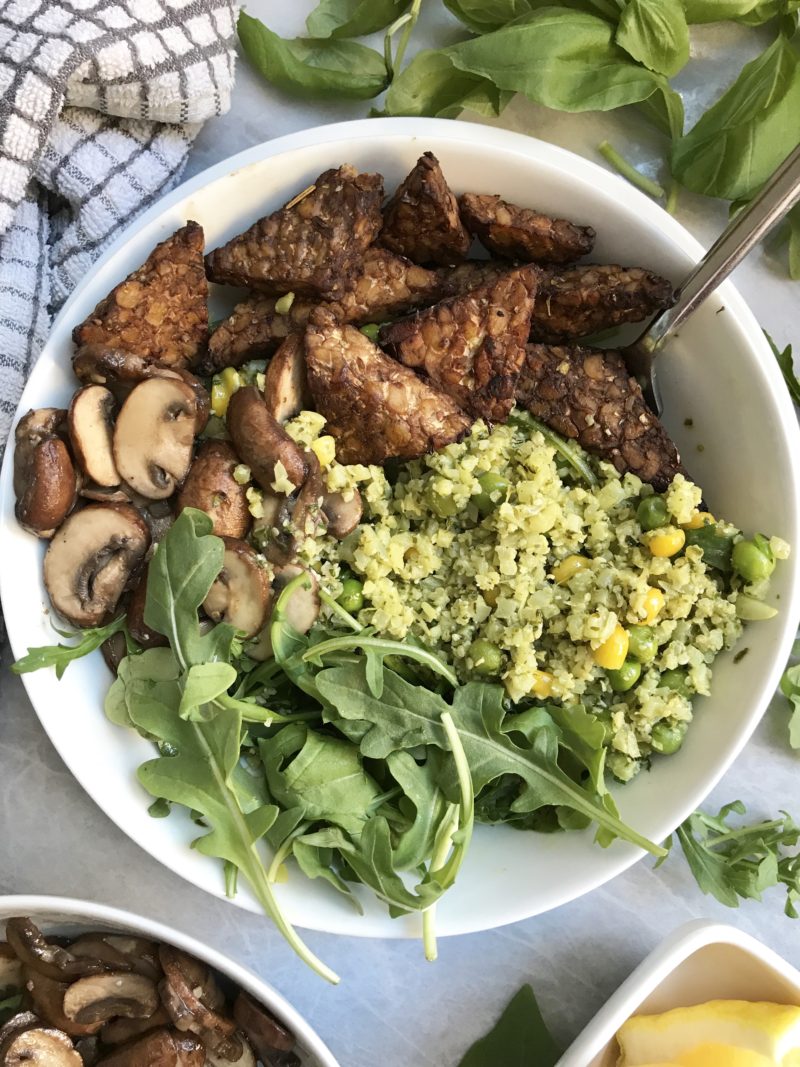 This recipe packs a lot of flavor, but also is super light! You won't be left feeling incredibly full or put in a bad "food coma" after eating this.
It's the perfect summer recipe, and I know you will love it!
I hope you enjoy this recipe! If you ever make any of my recipes, don't forget to "tag" me on Instagram so I can see!
Arugula Pesto Cauliflower Rice Bowls W/ Balsamic Tempeh & Mushrooms

Ingredients
For Pesto

1/2 Cup Arugula
1/2 Cup Basil
1/4 Cup Olive Oil
3 Tablespoons Hemp Seeds
2 Tablespoons Nutritional Yeast
1 Garlic Clove
Juice from 1/2 Lemon
1/4 Tsp Salt
1/4 Tsp Pepper

For Tempeh

4oz Tempeh (Half of a Package)
2 Tablespoons Balsamic Vinegar
1 Tablespoon Tamari (Or Soy Sauce)
1 Tsp Italian Seasoning
1/2 Tsp Pepper

For the bowl

2 Cups Cauliflower Rice
1/4 Cup Peas
1/4 Cup Corn
2 Tablespoons Vegan Parm (Optional)
2 Cups Mushrooms
1/4 Tsp Salt
1/4 Tsp Pepper
1/4 Tsp Garlic Powder
1 Cup Arugula
Instructions
Begin by cutting your tempeh into triangular pieces, and add to a bowl with all of your marinade seasonings. Let sit for 15 minutes. During this time you can also wash and slice your mushrooms.
Meanwhile, pre-heat your oven to 400 degrees Fahrenheit.
Add all your pesto ingredients to a food processor or high speed blender, and blend until smooth. Set aside.
When your oven is at 400 degrees Fahrenheit, add your tempeh to a baking sheet lined with parchment paper and bake for 20 minutes flipping halfway.
Heat up a little water in a sauté pan on medium heat and add your mushrooms, salt, pepper & garlic powder. Cook for 5-7 minutes or until soft. Transfer to plate. With the heat still on, return pan to stove top. Add a little more water and add in your cauliflower rice. Let cook for 3-4 minutes. Add in pesto, corn, peas, and optional vegan parm. Cook for 3 more minutes and season with salt if needed.
When your tempeh is done, assemble your bowls. Separate ingredients into two bowls.
Enjoy!