I have never been a fan of stuffing. I know it's crazy. Bread? Veggies? How could I say no? I think it's because I was such a picky eater for a long time. However after going Vegan, I have developed a whole new love for food and I knew that this would have to be a recipe I attempted for the holiday season.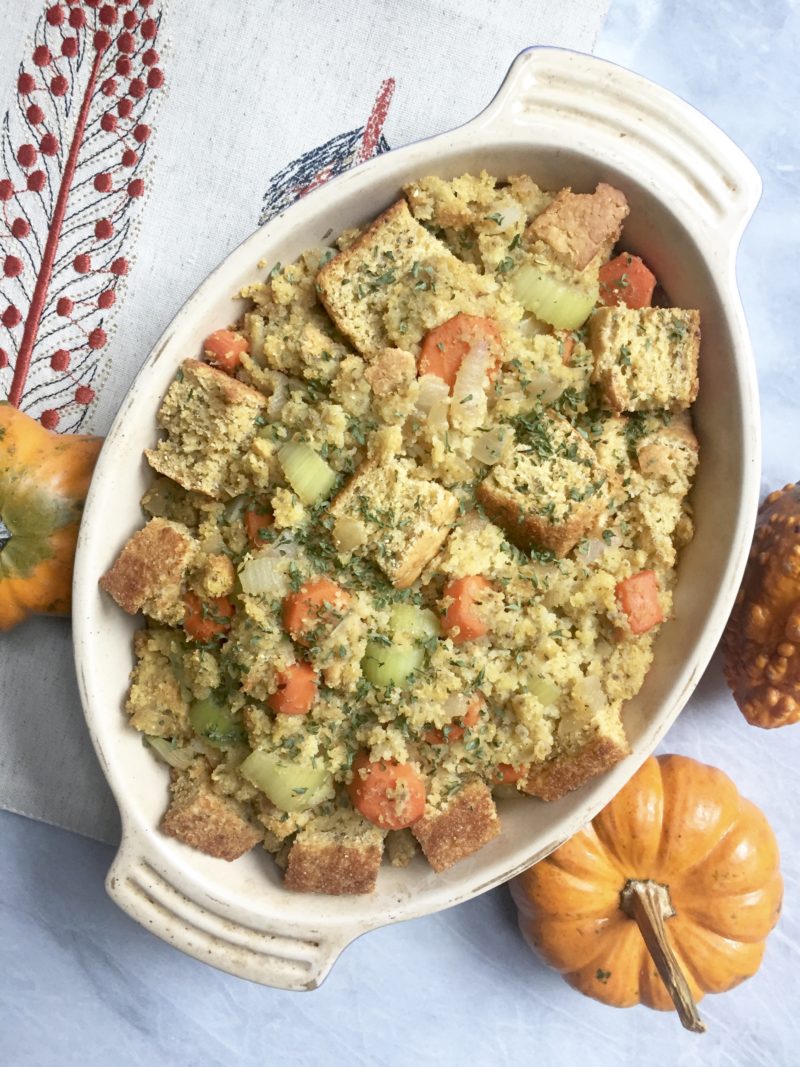 I have always loved cornbread. I grew up with my grandmother making her own and I've always cherished that family memory. My grandmother is still alive but has sadly declined in the past few years so it's been awhile since I had her cornbread, especially since going Vegan. I wanted to make this to bring back memories to my family and to make the Thanksgiving holiday that much more thoughtful.
The first thing my mother said when she tried this was "Okay so you're definitely making this for actual Thanksgiving." I was so happy! My parents aren't Vegan and it is always so satisfying to not only get your mothers approval on cooking (because mothers are the queens of cooking!) but also positive opinions of non-Vegans.
You could totally add Vegan sausage to this, but personally I just wanted something simple and not over the top. Over the top is great, sometimes, but I love to highlight the simplicity in meals and show that Veganism is in fact, not so difficult!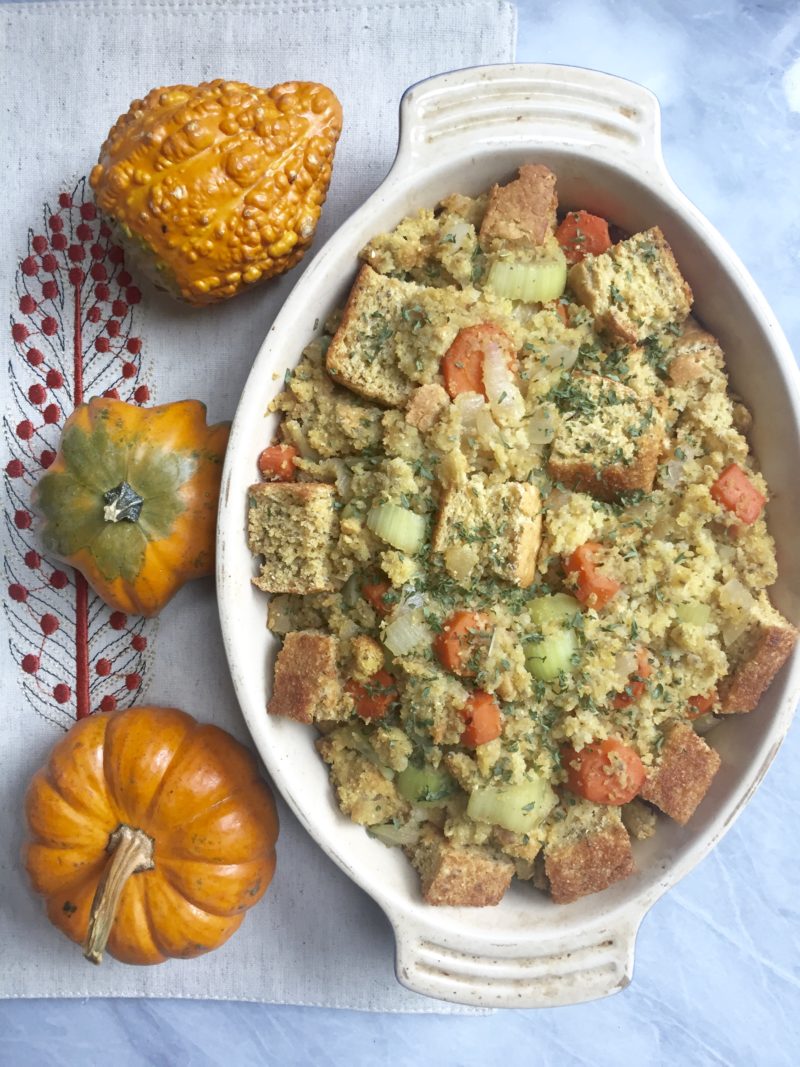 I hope that you guys enjoy this recipe. If you make this, remember to tag me on Instagram @plantbasedjane so I can see!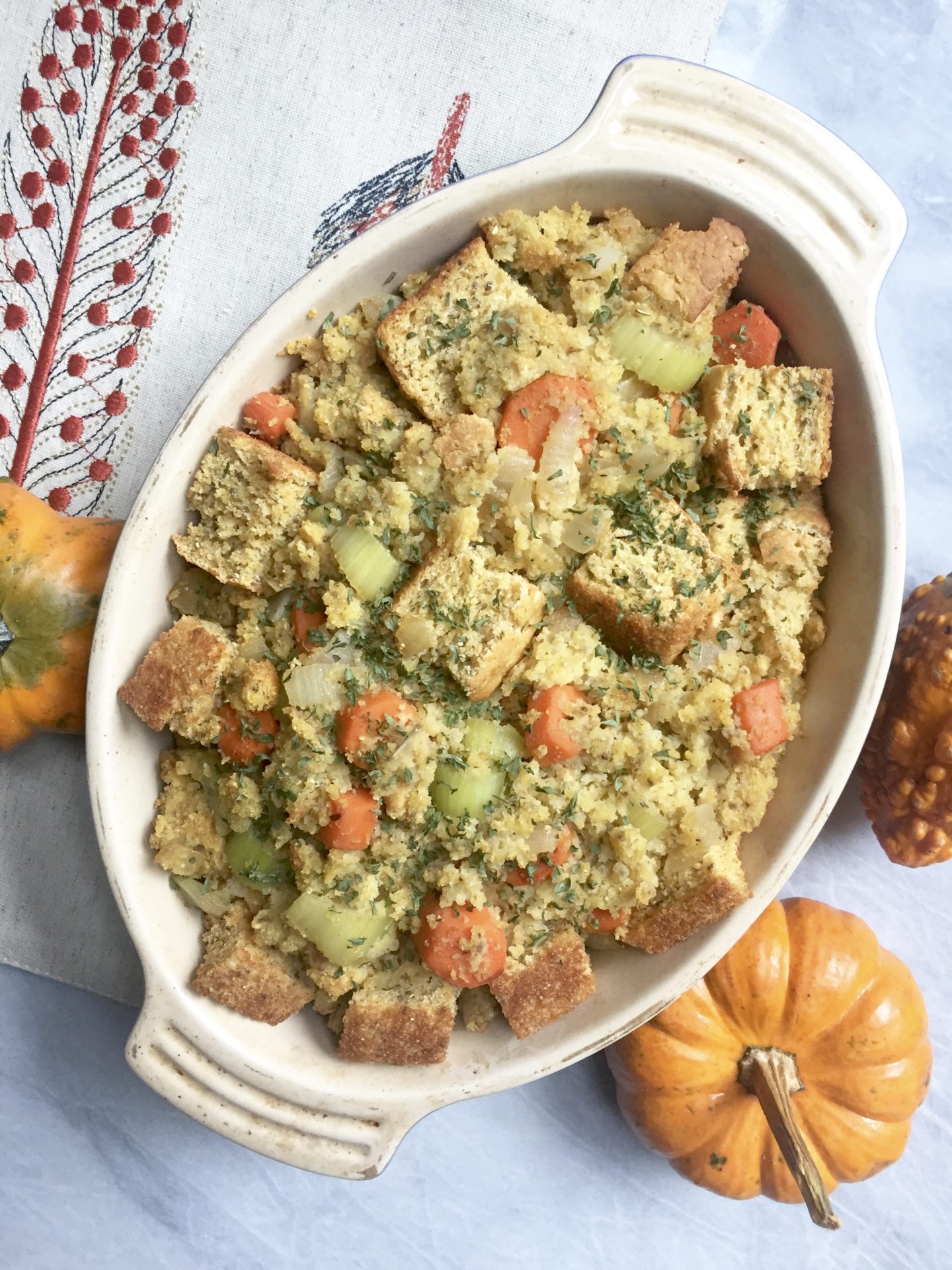 Vegan Cornbread Stuffing
2016-11-15 15:48:25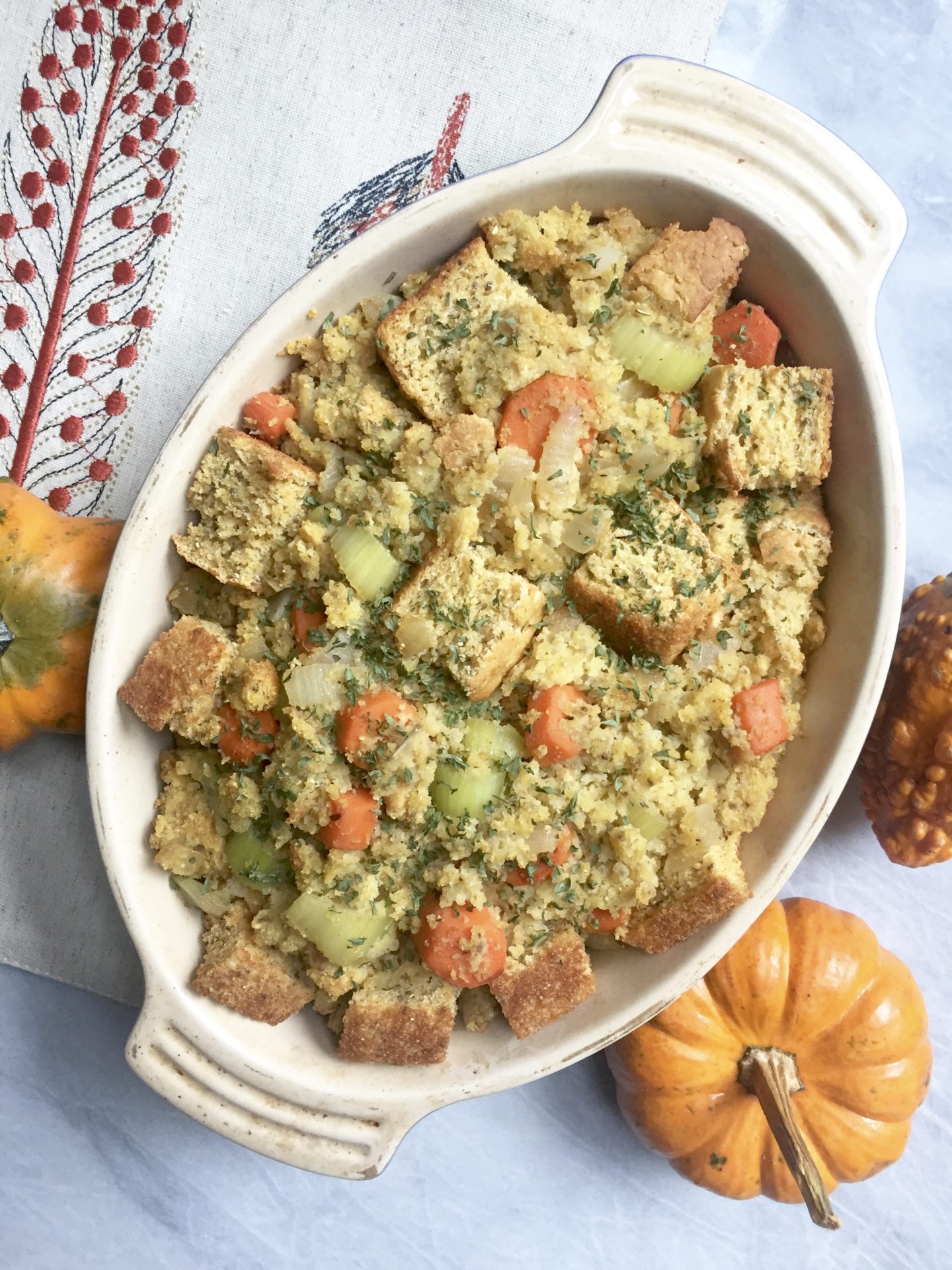 For the Cornbread
1 Cup Flour
1 Cup Cornmeal
4 Teaspoons Baking Powder
1/2 Teaspoon Salt
1/4 Cup Maple Syrup
Chia Egg (1 Tablespoon Chia Seeds 1/4 Cup Water)
1/4 Cup Apple Sauce (1/4 oil if you don't care about having the cornbread itself be oil free)
1 Cup Soy Milk
For the Stuffing
1 Medium Onion
1 Cup Carrots
4 Celery Stalks
1 Tablespoon Olive Oil
2 Teaspoon Poultry Seasoning
1 Teaspoon Onion Powder
1 Teaspoon Garlic Powder
1 Teaspoon Fresh Thyme (Dried works too)
1/2 Teaspoon Salt
1/4 Teaspoon Pepper
1 1/2 Cup Vegetable Broth
To make the cornbread
You can make this the night before. This way it has become a bit stale which helps make a successful stuffing.
Pre-heat oven to 350 degrees Fahrenheit.
In a small bowl, mix your water and chia seeds together and refrigerate while you mix your dry ingredients. The chia egg should take around 10 minutes or so to thicken.
In a bowl add your flour, cornmeal, baking powder and salt and toss to combine.
In a separate bowl add your chia egg, soy milk, maple syrup and apple sauce. Mix together and add to dry ingredients. Mix to combine.
Add your batter to a greased 8x8 pan and cook for 35-40 minutes.
For your stuffing
Heat a large pan on medium heat with olive oil and add in your carrots, onion & celery. Cook for 10 minutes.
After 10 minutes, add your poultry seasonings, onion powder, garlic powder, thyme, salt & pepper. Cook for another 2 minutes and set aside.
Cut one third of your cornbread into cubes and toast in the oven at 350 degrees Fahrenheit for 10-12 minutes.
For the other 2/3 of your cornbread, crumble by hand into a large bowl. Then add in your veggies, toasted & cubed cornbread and vegetable stock. Mix in vegetable stock gradually. You don't want your stuffing to be "watery" but instead have the bread and and vegetable absorb the stock.
Carefully mix to combine. Making sure your cornbread cubes stay in tact. Add to a non stick baking dish and cover in tinfoil. Cook at 350 degrees Fahrenheit for 45 minutes.
Plant Based Jane https://plantbasedjane.com/