This Quinoa Black Bean Tostadas are full of flavor and is the perfect recipe to celebrate Spring. Made in partnership with Sunbasket.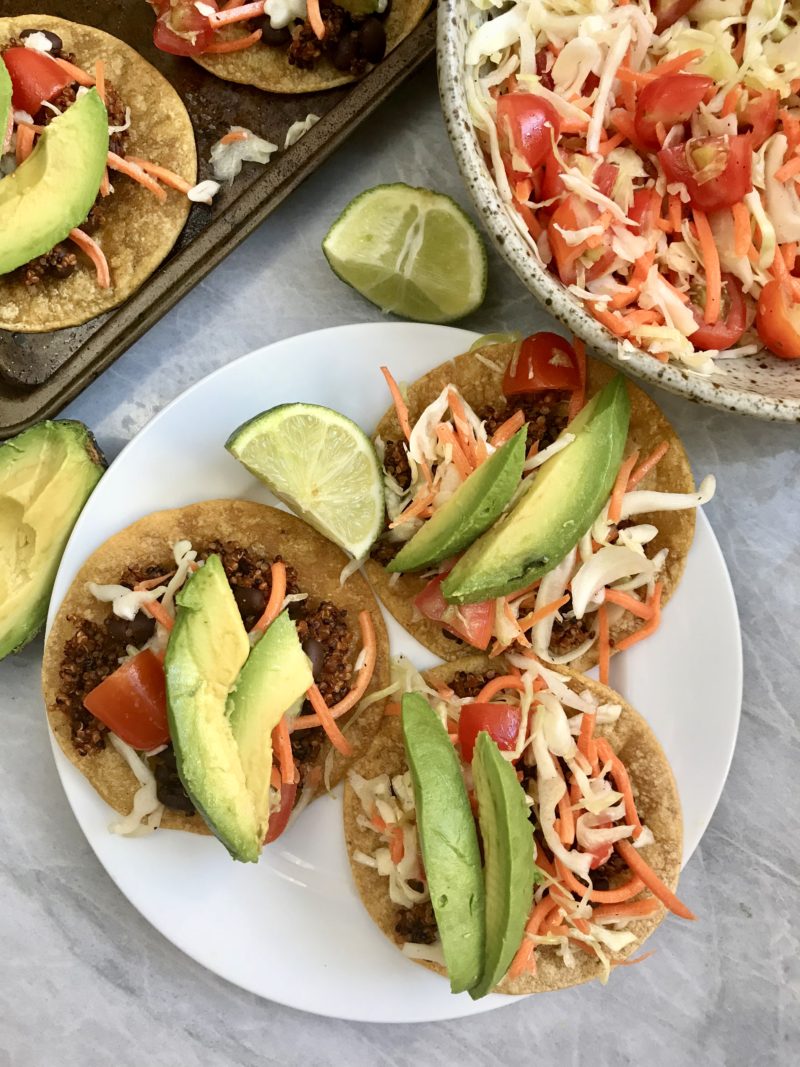 What is a better spring recipe than something super fresh but at the same time spicy, and full of the perfect crunch. These Quinoa Black Bean Tostadas are the perfect recipe for that.
I have been obsessing over Sunbasket's new Vegan meal plan. All of Sunbasket's meals are full of 100% organic and sustainably grown produce. Their packaging is also compostable.
Their recipes span from many different creative meals that are easy to make with a step by step instructions with photos. It makes it incredibly easy to whip up healthy and delicious Vegan recipes which are nutritionist approved.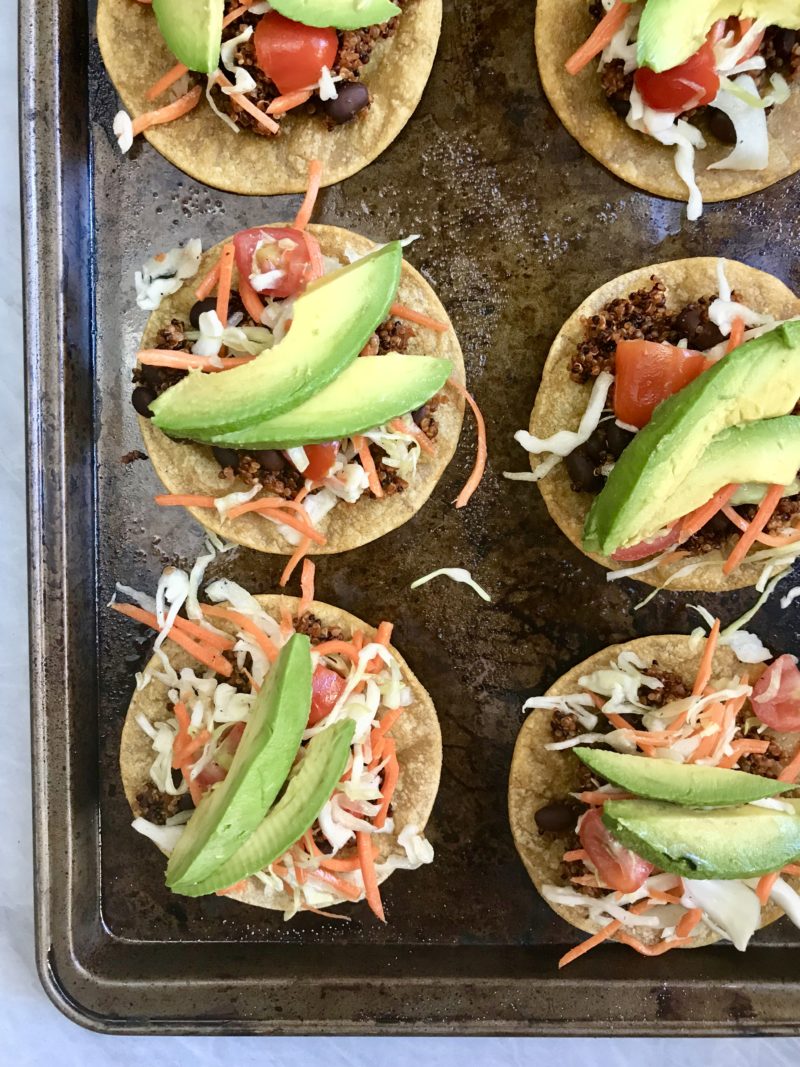 I knew that I wanted to share this tostada recipe from one of my boxes because it is something you can easily make at home that is healthy and also fresh. I absolutely love this easy slaw which is full of flavor topped with avocado. The quinoa is mixed with an easy tostada sauce and black beans, giving tons of plant based protein to this dish.
Whether you are new to Veganism, a student, or have a busy job that requires easy meals, Sunbasket is the perfect solution for you.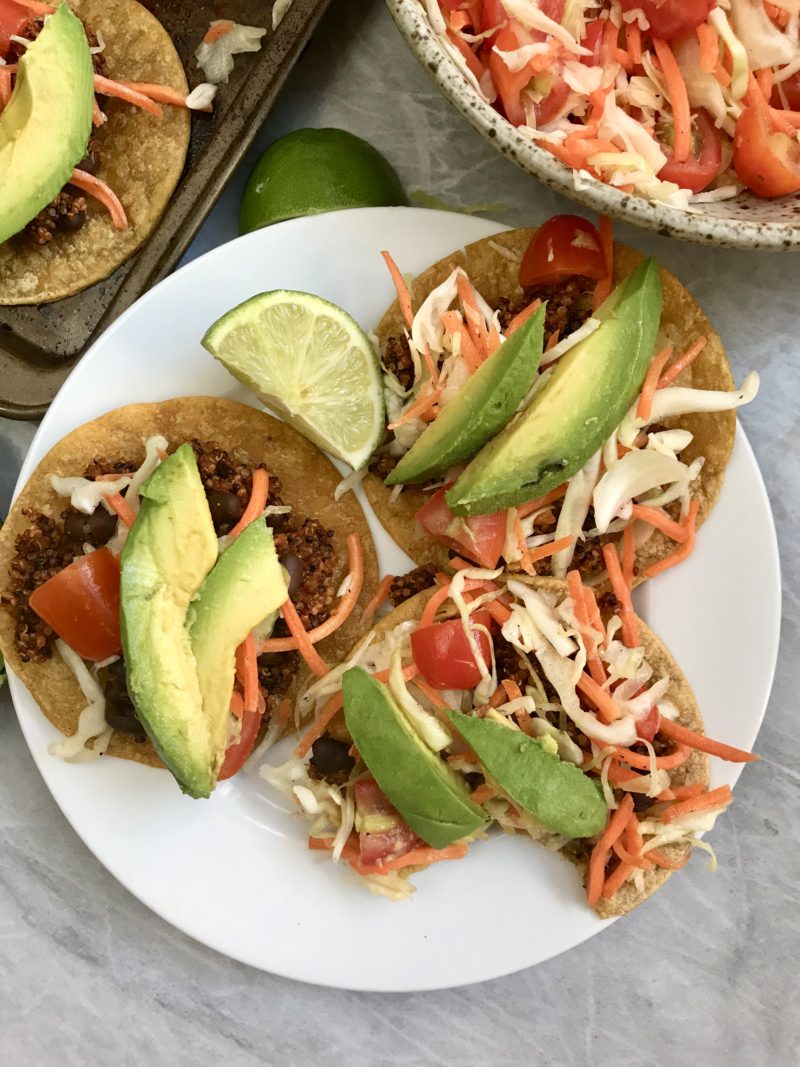 Each box is delivered straight to your door so you can easily whip up these easy and delicious Vegan meals as soon as you'd like!
I hope that you enjoy this recipe! If you make any of my recipes, don't forget to tag me on Instagram @plantbasedjane.
To get $35 off your first box of Sunbasket, click here: http://bit.ly/sunbasket-plantbasedjane
Quinoa – Black Bean Tostadas
Ingredients
Tostada Base Sauce (1 small can tomato paste, 1/4 tsp chili powder, 1/4 tsp coriander, 1/4 tsp cumin, 1/4 tsp sweet paprika, 1/4 tsp granulated garlic) - Combine all ingredients in a bowl and mix to combine.
1/2 cup dried quinoa
1 15oz can black beans
6 small corn tortillas
1 cup cherry tomatoes
1 lime
2 tablespoons cilantro
1 avocado
1 cup shredded cabbage
1/2 cup shredded carrot
Instructions
Pre-heat your oven to 400 degrees Fahrenheit.
Prepare your quinoa black bean mixture. Divide your tostada base into two equal portions. Rinse you quinoa & black beans. In a small sauce pot, stir together half the tostada sauce base and 1 cup water. Add in your quinoa and bring the mixture to a boil. Reduce to a simmer and cover. Cook until the water is absorbed and your quinoa is tender. Full with a fork and stir in the beans as well as 1/4 tsp salt. Cover to keep warm.
When your oven is pre-heated, take our a sheet pan and place the tortillas on the pan. Spray with oil or brush both sides with olive oil. Season with salt. Place in oven for 12-15 minutes, or until tortillas are crisp flipping halfway. Transfer tortillas to a plate and begin making your slaw.
Cut your tomatoes, and shred your cabbage & carrots. In a medium bowl, toss all your ingredients. Add 1 tablespoon of lime juice, and one tablespoon of oil. Season to taste with salt and pepper. Mix your slaw and set aside.
In a small sauce pan over medium heat, stir together your remaining tostada sauce base with 1/2 cup water. Stir occasionally until warmed through. This should take 3-4 minutes.
Transfer your tortillas to individual plates. Top with quinoa - black bean mixture and toasted sauce. Spoon on your slaw and garnish with sliced avocado. Serve with lime wedges.
http://plantbasedjane.com/2018/03/quinoa-black-bean-tostadas/
Thank you to Sunbasket for sponsoring this post. It means a lot to me to work with brands I love and support my blog.