Jump to recipe
Make these delicious breakfast bowls packed with chickpea scramble, sweet potato hash browns, avocado and more!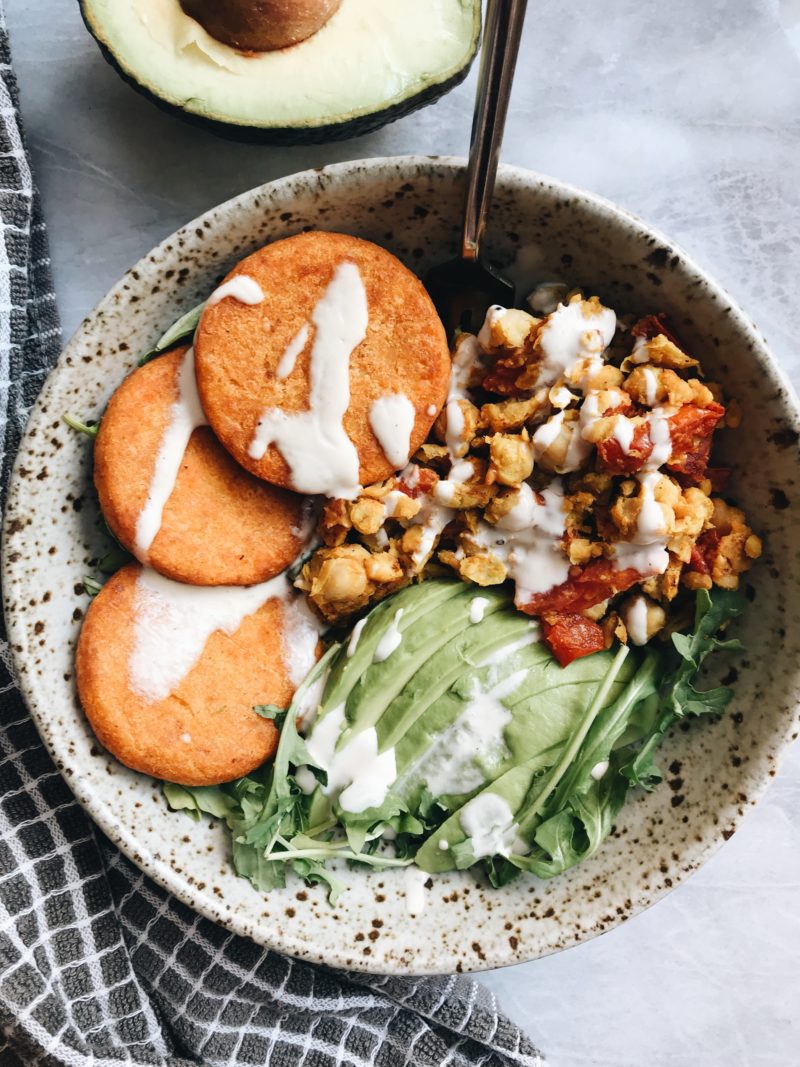 I seriously love a nice and hearty breakfast bowl with so many different flavors and textures. I realized that I didn't have a proper breakfast bowl recipe on the blog, so I knew I had to change that.
Awhile back I created a recipe for chickpea scramble that went over really well. I completely understand that people may not like tofu, and I can relate to the fact that people may be allergic to soy. As someone with a nut allergy, I recognize different types of allergies and I try my best to cater to all people with different allergies.
My favorite part about this bowl are the Dr. Praeger's Sweet Potato Hash Browns. Something that I literally ALWAYS have in my freezer. They're sweet but savory, and have a hint of brown sugar in them. I also use these for other meals besides breakfast, just because they go with so many other flavors! However, I find the combination of the sweet potato hash browns with the other savory items in this bowl go great together.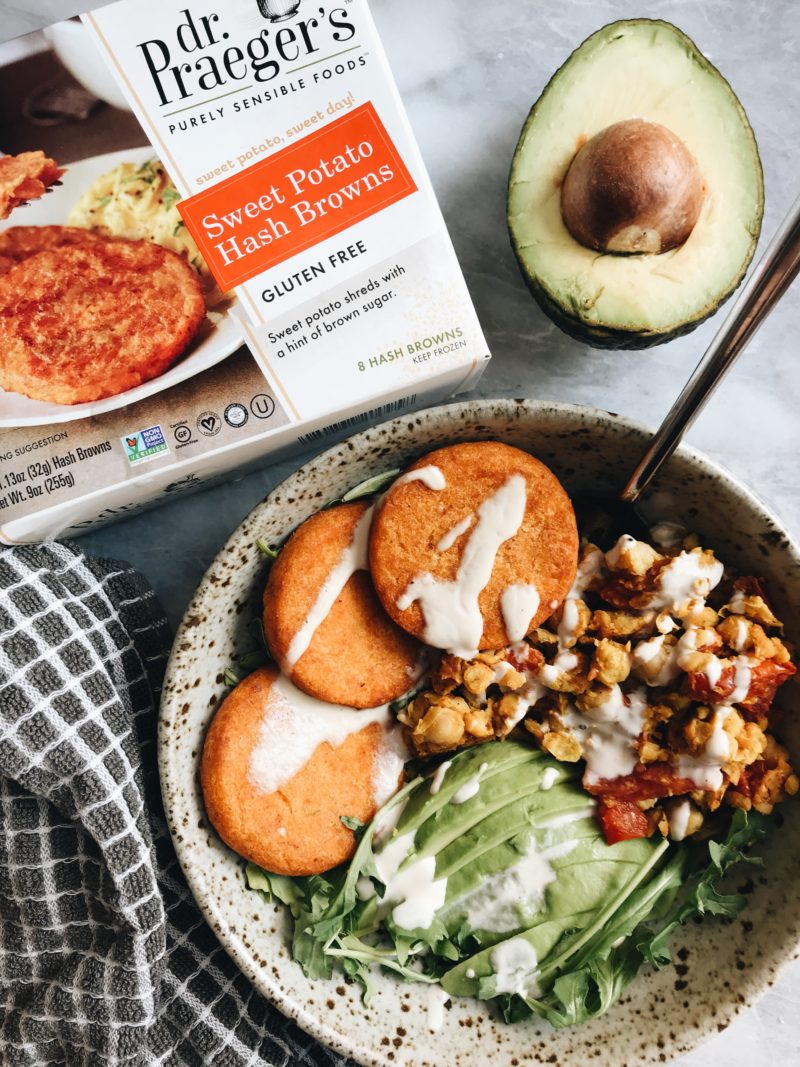 Dr. Praeger's is my go to for all my veggie burger needs. Their Vegan items include other types of hash browns besides the sweet potatoes, as well as puffs & brussels sprouts cakes.
Their products are so versatile that not only will I have them in sandwich but I'll also throw their veggie burgers in pasta, as well as tacos!
I paired everything together with this spicy tahini sauce using hot sauce. It pairs everything together so nicely and is a great contrast to the sweet potato hash browns.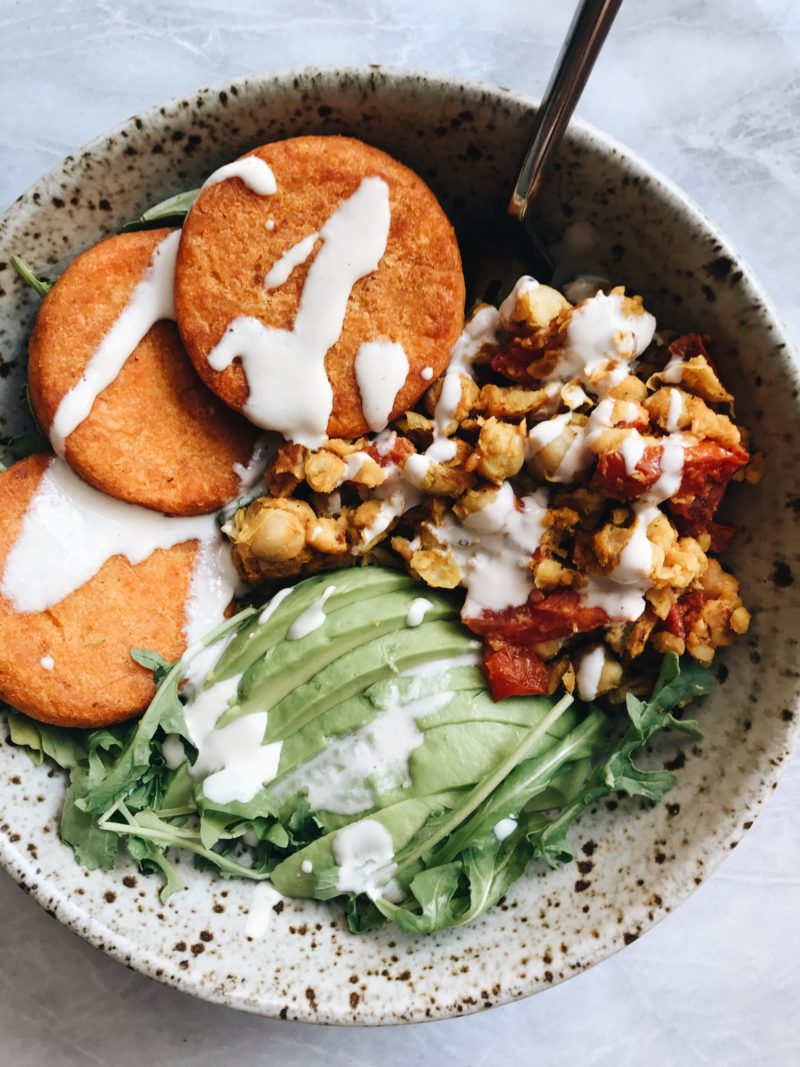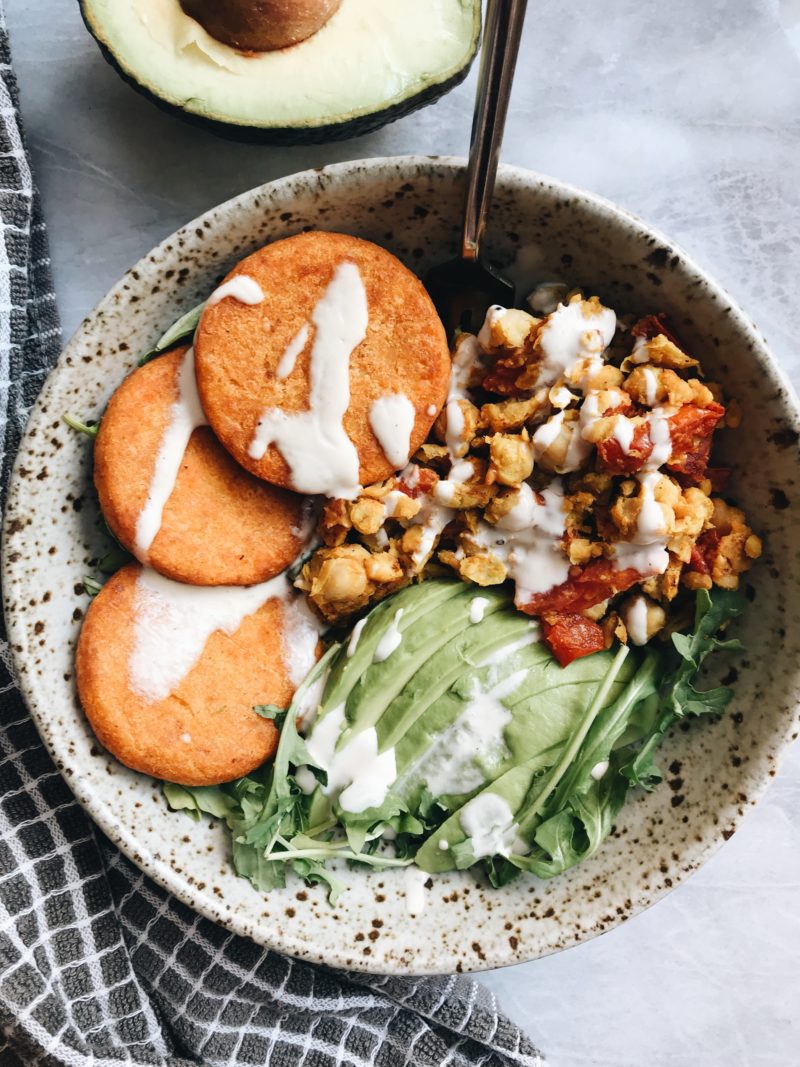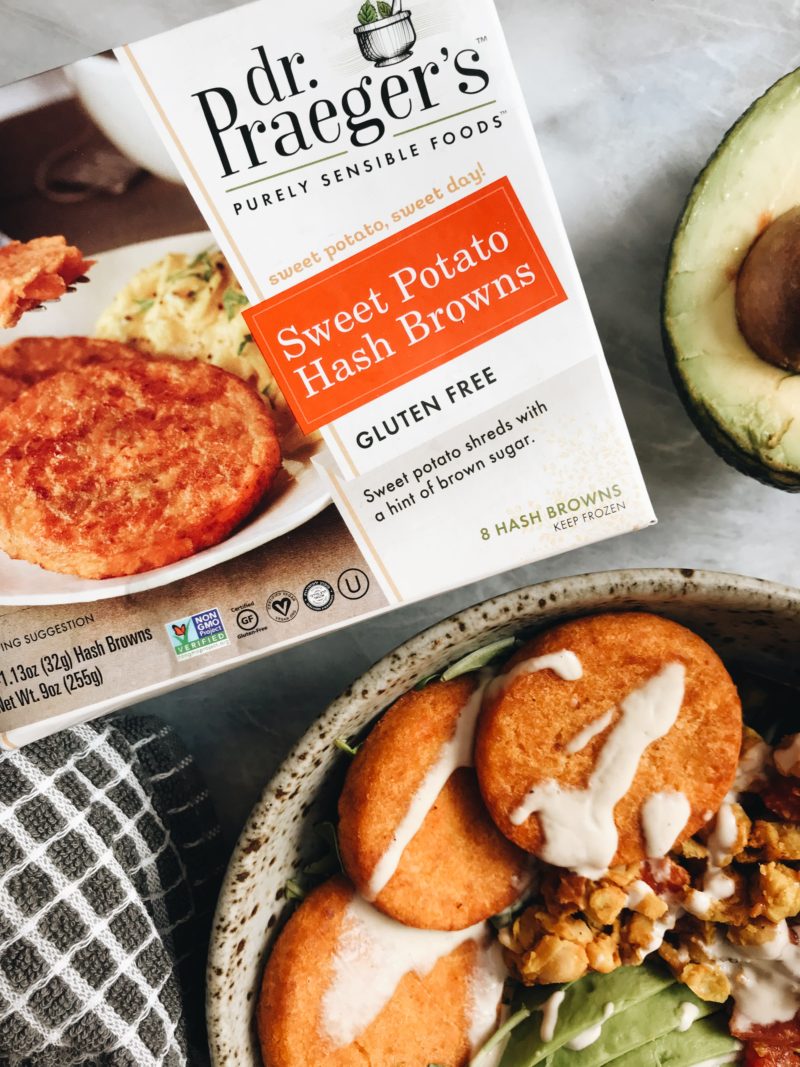 I hope that you enjoy this recipe! If you make any of my recipes, don't forget to tag me on Instagram @plantbasedjane
To find the sweet potato hash browns (or any other Dr. Praeger's products) click here.
Chickpea Scramble Breakfast Bowls

Ingredients
1 15oz can chickpeas
1/2 tsp turmeric
1/2 tsp onion powder
1/4 tsp garlic powder
1/4 tsp salt
1/4 tsp pepper
3/4 cup cherry tomatoes, halved
6 Dr. Praeger's Sweet Potato Hash Browns
1/2 avocado, sliced
1-1/2 cup greens (I like arugula)

spicy tahini sauce

2 tablespoons tahini
4-5 drops hot sauce
1/4 tsp salt
1/4 tsp pepper
hot water to thin
Instructions
Begin by pre-heating your oven to 450 degrees Fahrenheit. Place hash browns on an ungreased baking sheet. Bake for 5 minutes, flip and cook an additional 4 minutes, until heated through and browned.
As your hash browns are cooking, wash and drain your chickpeas. Add them to a bowl and mash chickpeas well.
With your pan on medium heat, add a little vegan butter When melted, add your chickpeas, turmeric, onion powder, garlic powder, salt & pepper. Cook for 5-6 minutes. After 6 minutes, add in your tomatoes and cook for another 1-2 minutes. Turn off heat.
To create your tahini sauce, combine all your ingredients except for water. Mix to combine and add hot water gradually until you receive your desired consistency.
Create your bowls! Split in two bowls your greens, avocado, chickpea scramble and hash browns. Drizzle your spicy tahini sauce on top and serve!
Thank you to Dr. Praeger's for sponsoring this post. It means a lot to me to work with brands I love and support my blog.