This cozy Vegan man n cheese will bring some amazing heat and cheeziness to your life!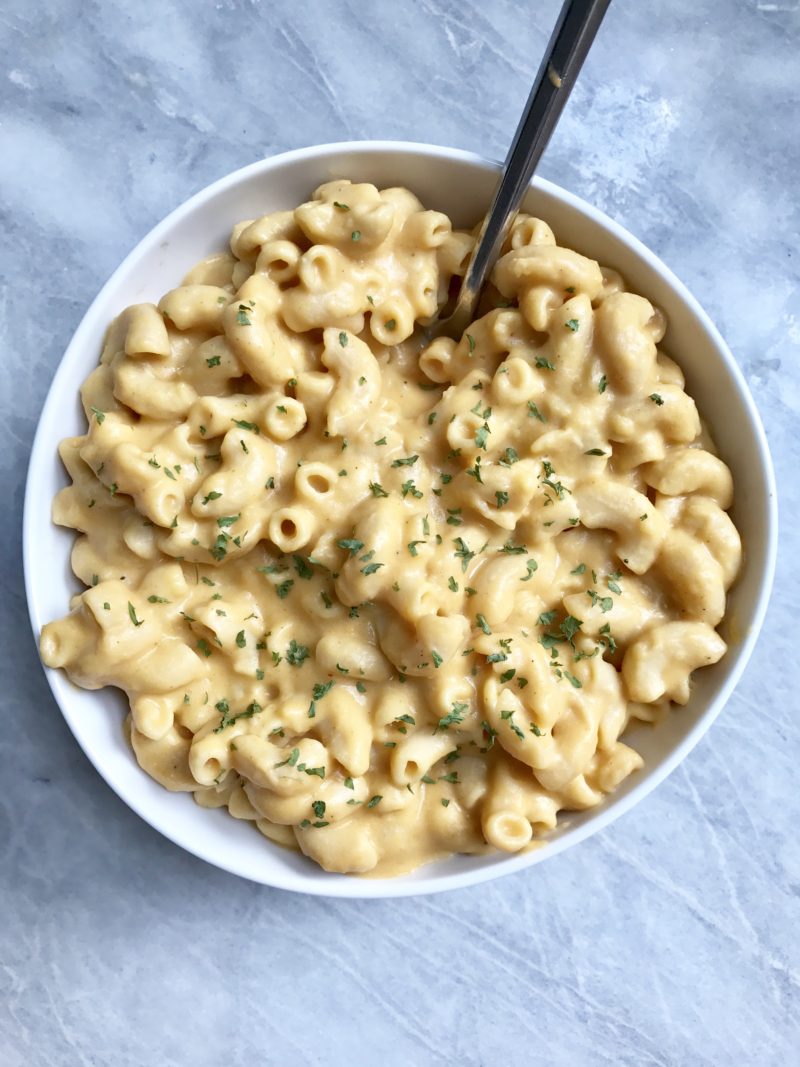 Vegan mac n cheese is my absolute guilty pleasure. It's cozy, delicious and just such a classic recipe that I love to have.
It's always fun to come up with creative and nut free mac n cheese options, so this one was especially a favorite of mine.
This summer I had the absolute honor of interning at Sir Kensington's. While I was there this Summer, I helped create plant based recipe content. This is one of the recipes that I created so I am really excited to finally share this with you – it's been a long time coming!
I learned a lot at my internship while at Sir Kensington's, and one thing I really took away from my experience is planning ahead. I pride myself on being an organized person, however I never usually planned ahead. So you could imagine how I would often get writers block creating content for the Fall when it was August and a boiling 90 degrees outside. It was a challenge but also an incredible learning experience.
If you're living under a rock and have never heard of Sir Kensington's (jk, I forgive you), Sir Kensington's is a condiment company. They're not just ANY condiment company, but a cool condiment company (ok if you know what movie I'm referencing then you are my best friend).
All of Sir Kensington's products are Vegan except for their regular mayonnaise (as well as flavored). However, Sir Kensington's has 3 different eggless mayos. Regular, Chipotle, and most recently their regular Fabanaise but made with avocado oil. It was really cool to be able to sample their avocado oil Fabanaise before it hit stores – It was also an honor to be able to create recipes using it as well. If you want to check out some of the recipes I created while at my internship, check out their medium here.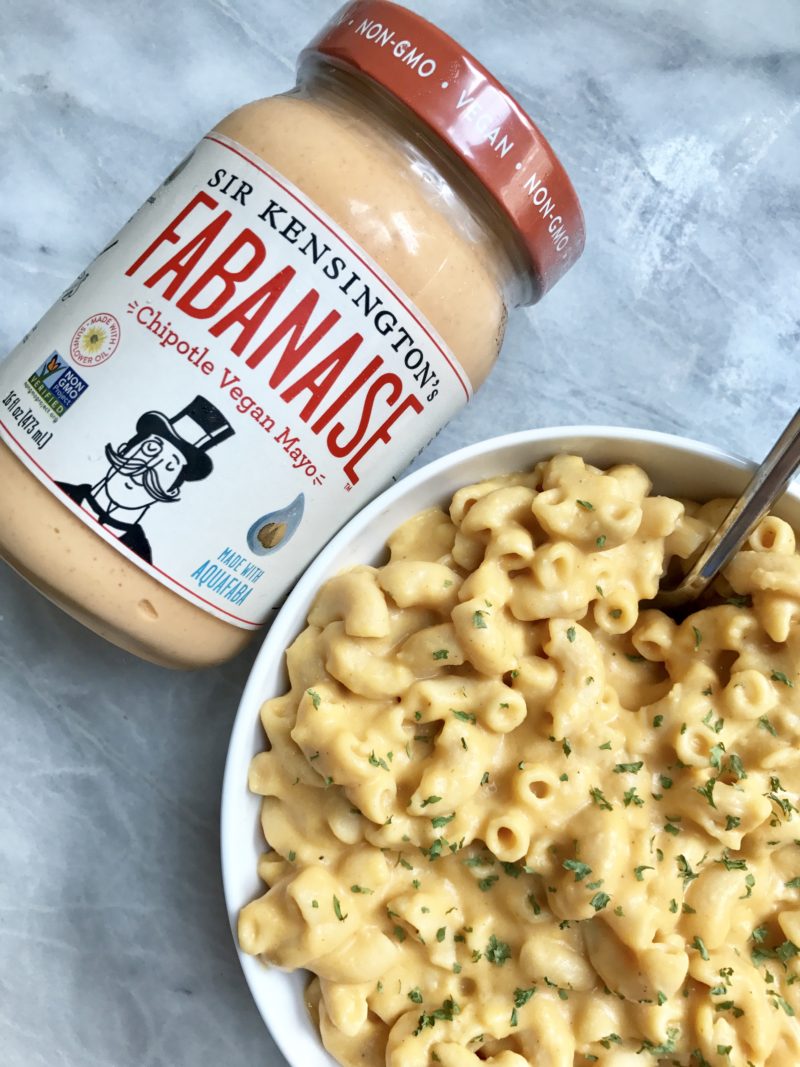 What I enjoyed most about my internship at Sir Kensington's was that I didn't feel like I was doing bitch work, but instead I was apart of the team. I have to give it to my supervisor Allison for instilling all of this trust in me with creating recipes, as well as food styling and reaching out to different influencers. It's really nice to be somewhere that you feel your work is appreciated. While even if your stay is temporary, you feel right at home. It's quite special and it made me appreciate the work I do even more as a blogger. It was also awesome to be on the opposite end and on the company's side speaking to bloggers. I felt like I learned so much information!
I really hope that you enjoy this recipe! Its absolutely delicious and incredibly easy to make.
Sweet Potato Chipotle "Mac N Cheese" – My Internship at Sir Kensington's

Ingredients
2 Cups Uncooked Elbows
1 1/2 Cups Steamed Sweet Potato
1/4 Cup Sir Kensington's Chipotle Fabanaise
1 1/4 Cup Plant Milk
1 Tsp Dijon Mustard - Also Sir Kensington's
1/3 Cup Nutritional Yeast
1/2 Medium Onion
2 Tablespoons Vegan Butter
1 Tablespoon Tamari
1/4 Tsp Pepper
1/4 Tsp Garlic Powder
Instructions
Cook your pasta according to package instructions. Drain and set aside.
Chop up your onion and sauté on low-medium heat in Vegan butter for 15 minutes. Steam your potato during this time too.
When your onions and potatoes are done cooking, add both to the blender along with your other ingredients. Blend for 2-3 minutes, adding more plant milk if needed.
Add your sauce back to your sauté pan and add your pasta. Turn on low heat and mix to combine. Serve immediately.
Thank you to Sir Kensington's for allowing me to intern with you guys this summer. It was an amazing experience and I had so much fun. Look out for more recipes coming to their medium this fall and winter time to see other recipes that I have created.