Jump to recipe
These delicious and easy vegan quesadillas include tofu scramble, Dr. Praeger's vegan sausage, spinach & cheeze. The perfect brunch meal!
Quesadillas are delicious. They're easy to make and taste great. However, why not mix it up a little and make some breakfast inspired quesadillas!
These quesadillas include tofu scramble, spinach, vegan cheese & the new Sunday Funday Veggie Sausages by Dr. Praeger's. They are apart of their new Pure Plant Protein line. One serving (two sausages) contains 18g of plant protein! For comparison, I checked out a website for a very popular pork sausage product. For one serving which is also 2 sausages comes out to 8g of protein. That means you can eat a vegan sausage that has 10g more protein. Now how about that?
Some of the ingredients in these vegan sausages include pea protein and hidden veggies like sweet potato, butternut squash & carrot. Since these sausages have pea protein, it makes them soy free (as well as gluten free). In addition, they're also made with avocado oil.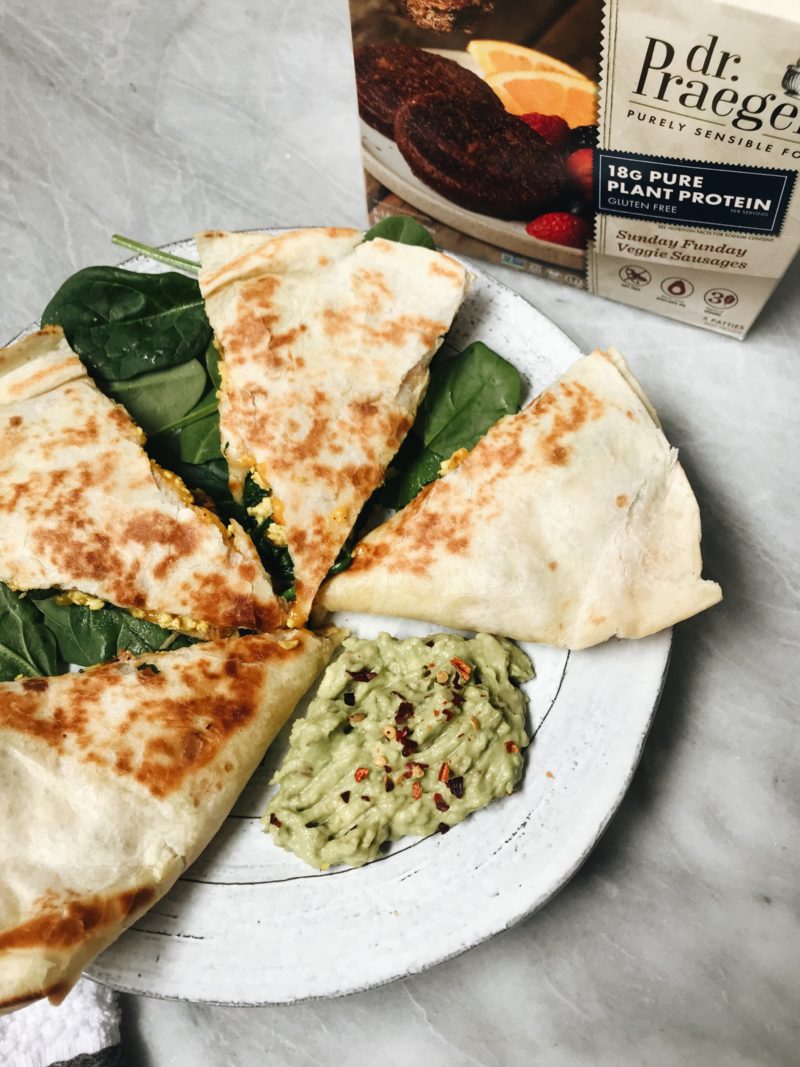 Since Dr. Praeger's sausages come in round patties, I chopped them up when they were done cooking and added them to the scramble. This just makes it easier to evenly distribute ensuring every bite has a little vegan sausage in it.
To add a little greenery, I threw in some spinach. However, you can add any veggies you want. Tomatoes would be great or even mushrooms. Or, you can even skip the veggies all together.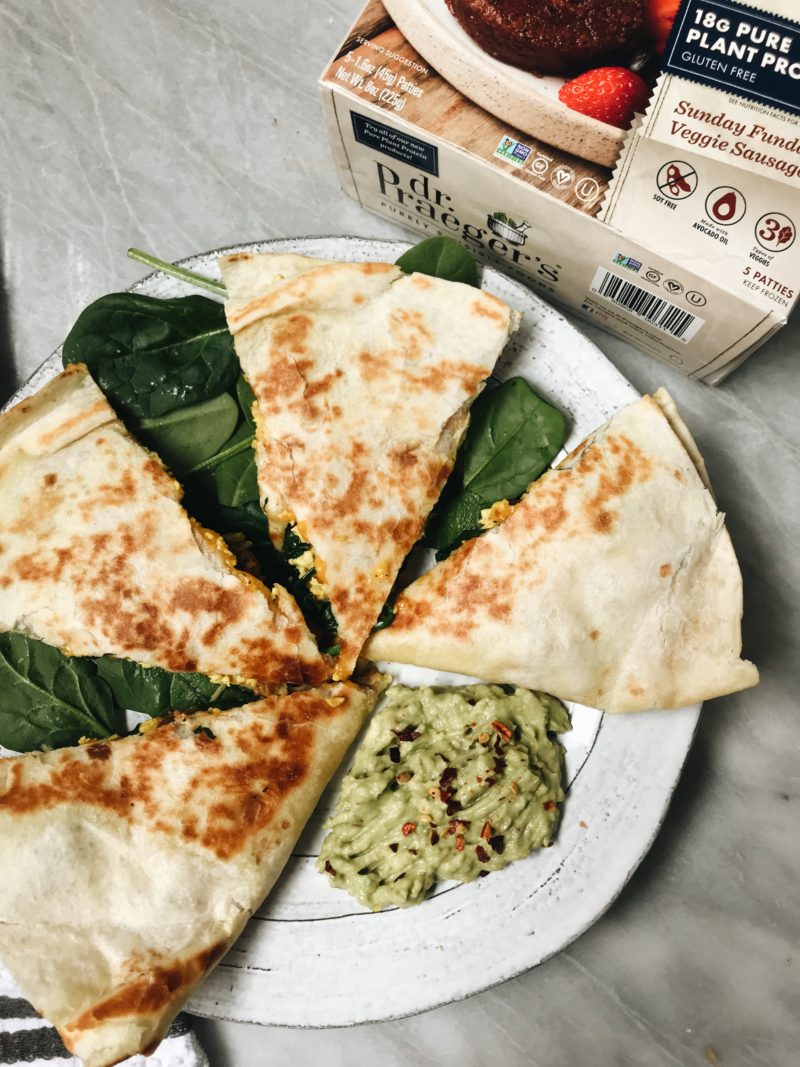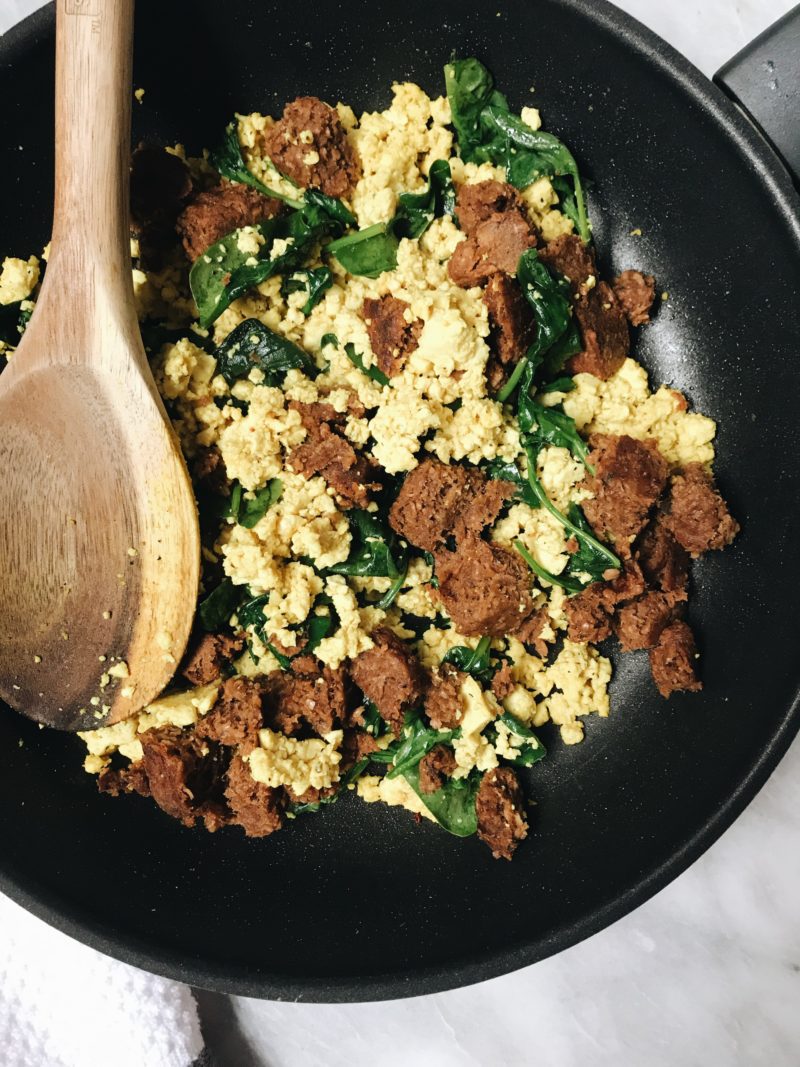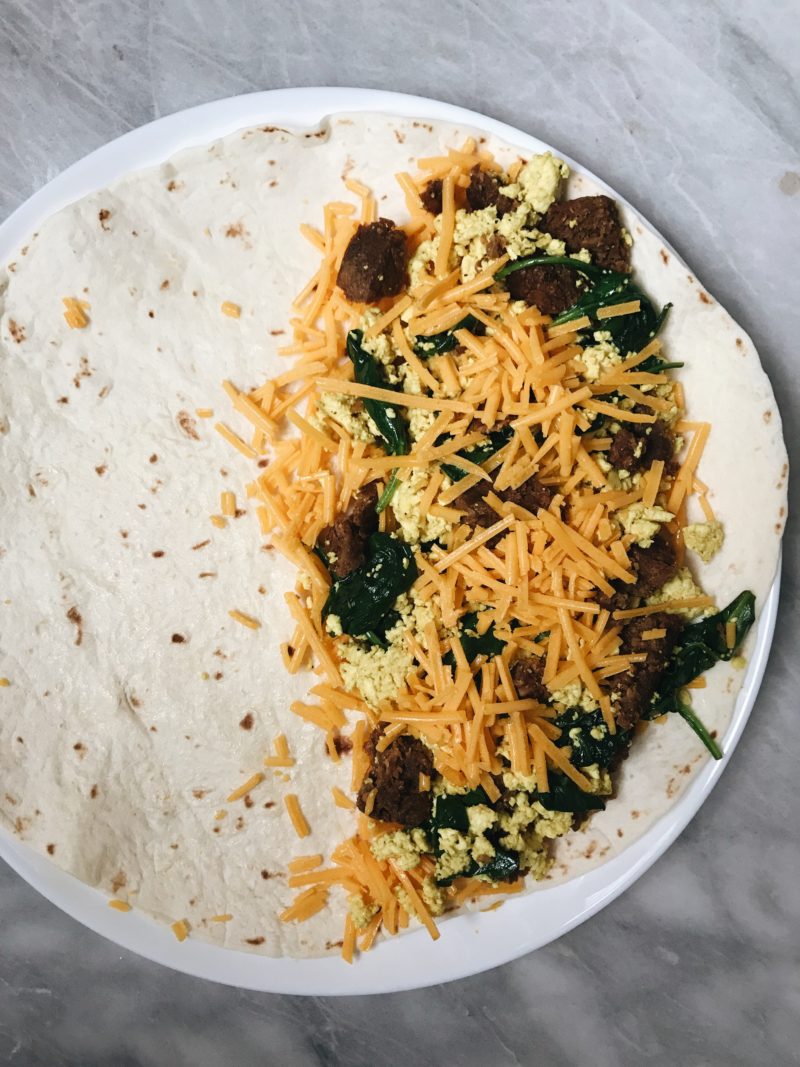 I hope that you enjoy this recipe!
If you make any of my recipes, don't forget to tag me in them on Instagram @plantbasedjane
To find Dr. Praeger's products near you, click
here.
Breakfast Quesadillas

Ingredients
2 tortilla wraps
1 box Dr. Praeger's Sunday Funday Veggie Sausages
1/2 block firm tofu
1/2 tsp salt
1/4 tsp turmeric
1/4 tsp onion powder
1/4 tsp garlic powder
1/4 tsp pepper
5oz spinach
1/2-3/4 cup vegan cheddar cheese
Instructions
Pre-heat your oven to 450 degrees and cook your veggie sausages for 14 minutes, flipping at the 7 minute mark. Set aside.
Heat up a little vegan butter in a pan on medium heat. Crumble your tofu straight from the package into your pan and start sautéing. Add all your spices and cook until the water from the tofu as evaporated, around 4-5 minutes. At the end, toss in your spinach until wilted.
Chop up your veggie sausages until they're in bite size pieces and toss into the tofu scramble. Remove tofu scramble onto a plate and wipe out your pan with a paper towel.
Assemble your quesadillas. Add a layer of cheese to one side of the tortilla and top with tofu scramble mix. Add another layer of cheese and fold tortilla (as pictured above).
Heat the same pan to medium and spray with oil. Add your tortilla to the pan and cook for 1-2 minutes on each side.
Serve immediately.
Thank you to Dr. Praeger's for sponsoring this post. It means a lot to me to work with brands I love and support my blog.