Check out this hearty and delicious pasta sauce!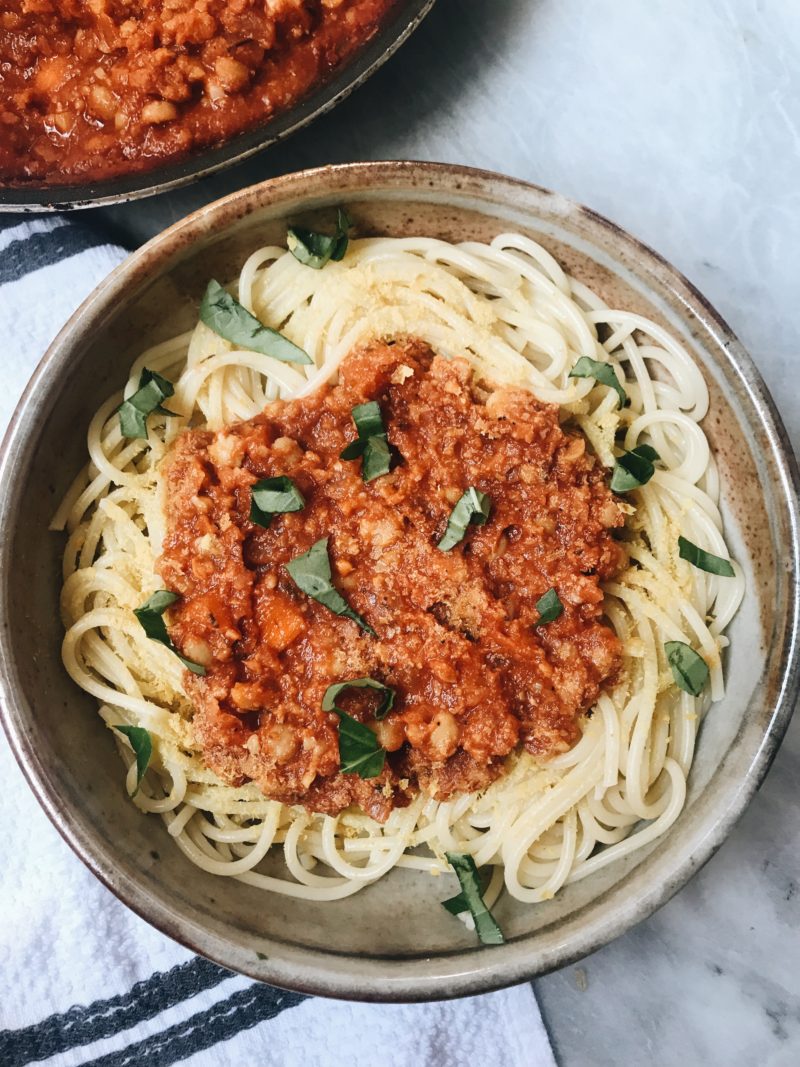 If you've seen my Instagram lately you would know I am currently on a chickpea kick. I have been craving anything that involves chickpeas. So I decided it would be fun to combine both chickpeas and my favorite carb: pasta!
This has hints of some of the other ingredients in a traditional bolognese, like carrots & onions. This is a from scratch pasta sauce but it isn't time consuming and is very easy to make.
Before I went Vegan, I was the pickiest eater (I still have my moments). I would never eat any bolognese or meat sauce. So when I went Vegan I dabbled in all the meals I wouldn't eat before, but made Vegan. The chickpeas are mainly all mashed up to give it that meaty texture.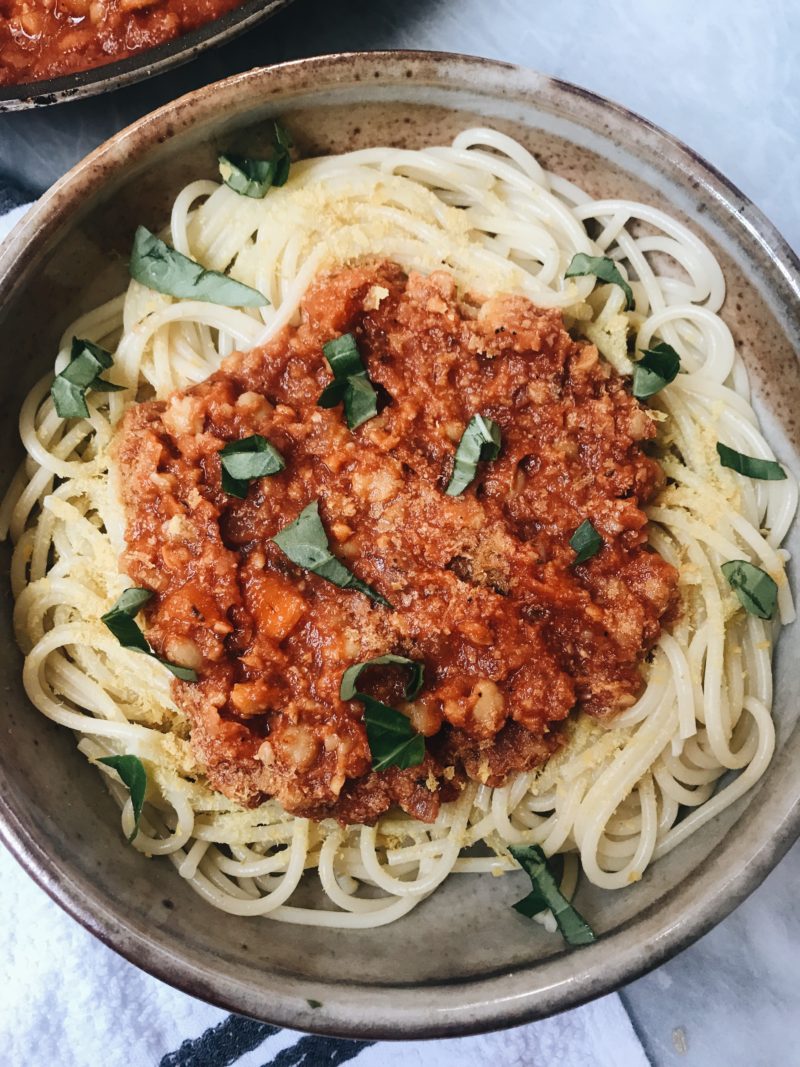 You could serve this to a crowd or you can even meal prep it! It will last around 4 days in an air tight container. You can serve this with pasta, zoodles, rice, etc. It's great to top on a lot of different sides.
As you can see in the photos, not all the chickpeas are mashed. I would say they are 95% mashed and some are whole chickpeas for texture. It also gives a really nice balanced flavor!
The past few days I have been dog sitting my best friends dog and it has been interesting! Whenever I recipe test I have Bailey intrigued but with two dogs it was insane. Luna (the dog I'm pet sitting) is only over a year so she is still in her puppy faze and is interested in anything. She'll grab tissues out of my hand, steal pens & just about anything she can find. So imagine how aggressive she was while I was cooking and photographing. However, it's been really nice. I've came to the realization that two dogs is TOO much and while Bailey tolerated Luna she didn't love her. They did play a lot but Bailey is a bit older so she's more chill while Luna is still in her extreme hyper puppy faze. She's sadly leaving us today and I'll miss her tons! Nothing like waking up in the morning to a dog sitting on your stomach wanting attention.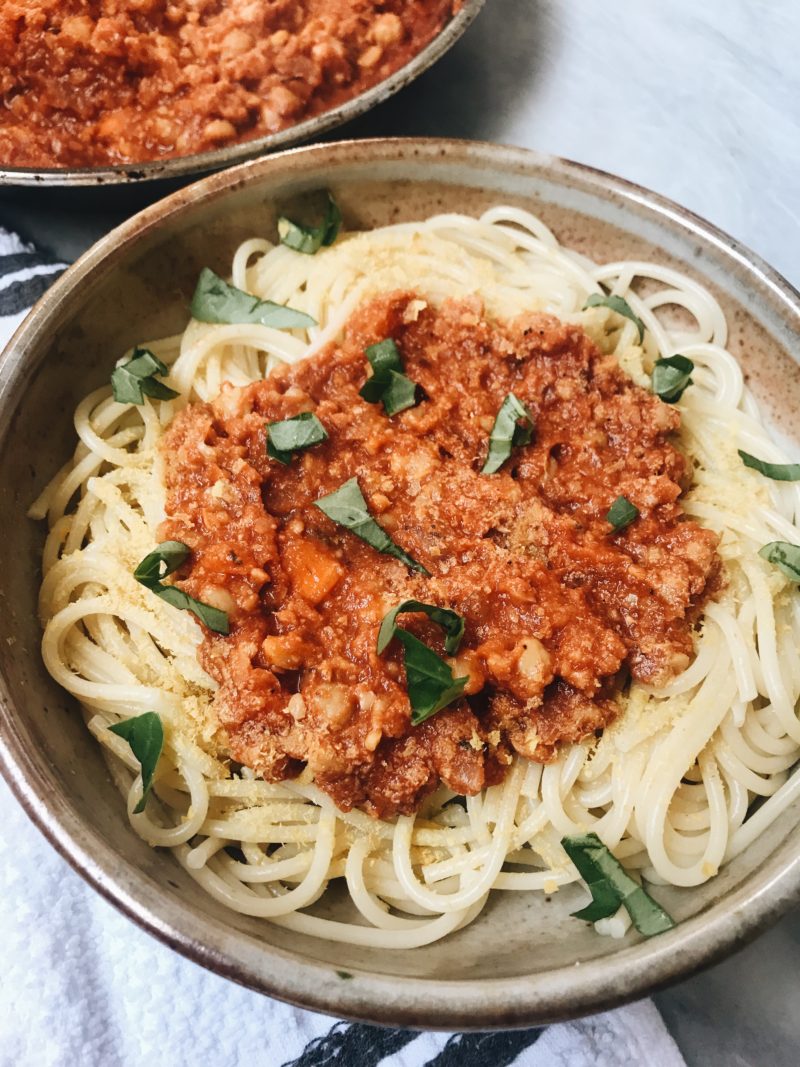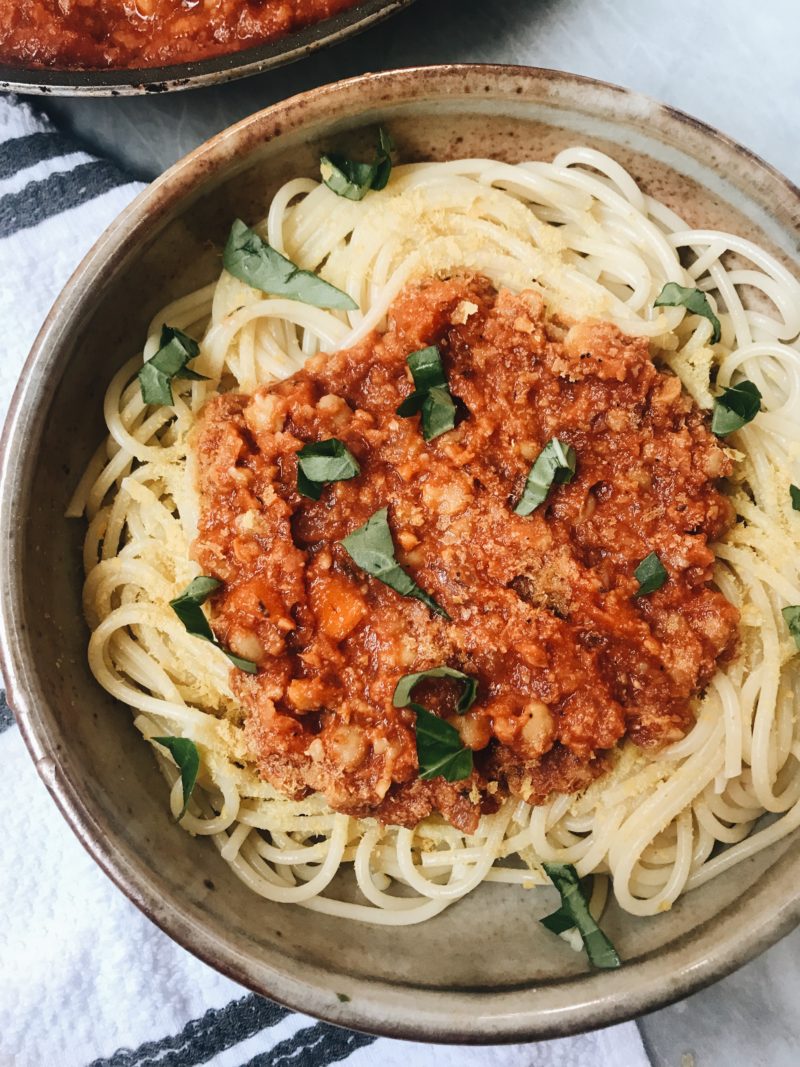 I hope that you enjoy this recipe! If you make any of my recipes, don't forget to tag me on Instagram @plantbasedjane
Chickpea Bolognese

Ingredients
1 tablespoon olive oil
2-3 garlic cloves, minced
1/2 small yellow onion, diced
1 carrot, diced
1 tsp dried thyme
1/4 tsp salt
1/4 tsp pepper
1 15oz can of chickpeas
1 15oz can of tomato sauce
2 tablespoons nutritional yeast
1 tablespoon maple syrup (or coconut sugar, vegan cane sugar)
salt & pepper to taste
Instructions
Begin by prepping your ingredients. mince your garlic, dice your onion and thinly dice your carrot. Mash chickpeas.
Heat up a skillet on medium and add your oil. When the oil is shimmering, add in your salt, pepper, thyme, carrots and onions and cook for 3-5 minutes or until your onions become translucent and fragrant.
Add in your garlic and sauté for 30 seconds. Add your chickpeas and cook for another 2-3 minutes.
Pour in your tomato sauce and reduce heat to a low setting. Mix occasionally for 15-20 minutes or until the sauce thickens up. Once thickened, add in nutritional yeast and mix. Add in your maple syrup and salt and pepper to taste.
Serve!