Want to elevate your boxed Cheezy Mac? Here is a super easy recipe that brings all the comfort and tastes amazing.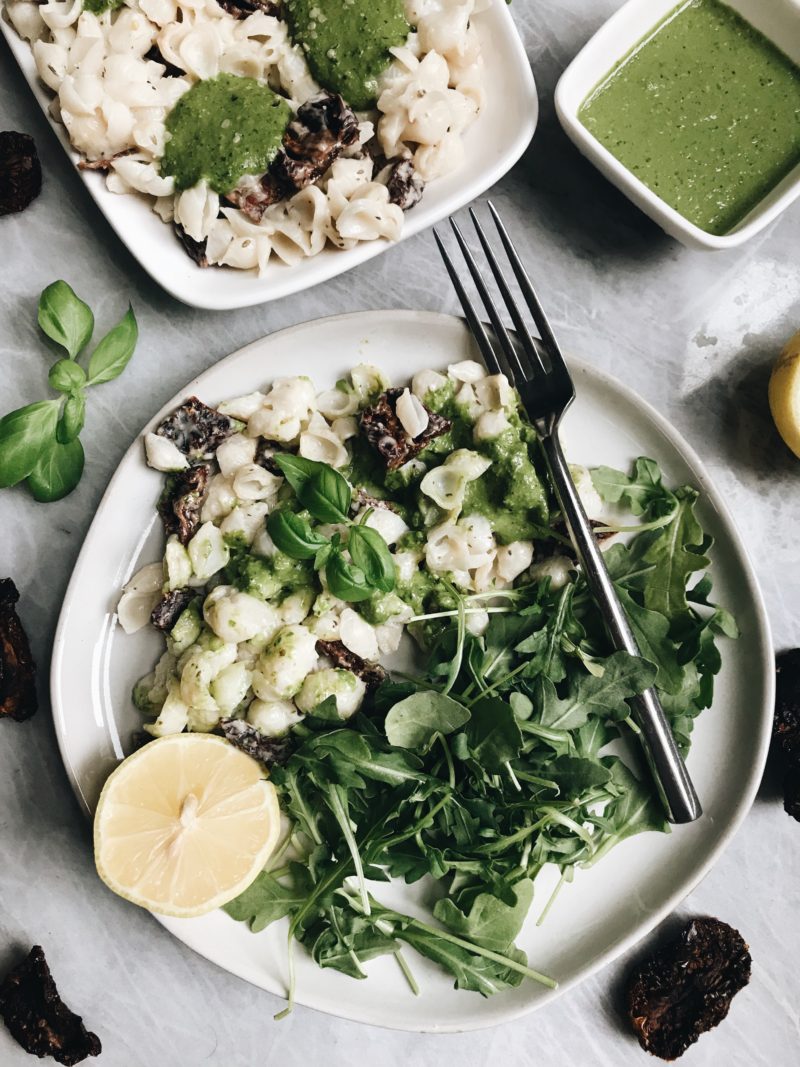 I am the biggest fan of comfort food. One of my favorite ways to enjoy comfort food is through Vegan mac n cheese.
Daiya Foods just recently came out with two new flavors of their cheezy mac: Bac'n & Cheddar Style as well as Four Cheezy Style with Herbs.
I was very intrigued with the Four Cheezy Style with Herbs and knew that I wanted to play around with what I can add to it. While peas and broccoli are great with mac – I wanted to go one step further. As you know, I love pesto! So I thought that by combining the herbs in the mac n cheese (Basil, Oregano, Thyme, etc.) with pesto would be a delicious pairing. I also wanted to add some sun-dried tomatoes for extra flavor and texture in the recipe.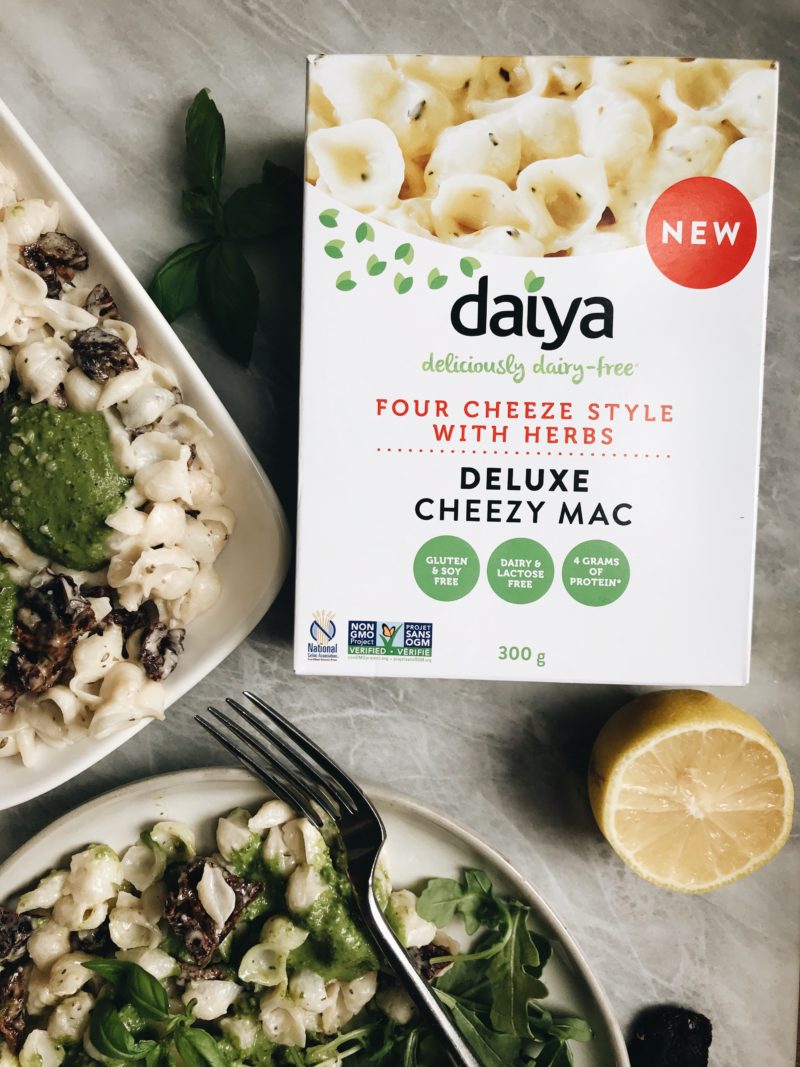 Comfort food is amazing but so is comfort food with some decadence. The pairing with the pesto, sun-dried tomatoes and cheezy mac is an unbelievable flavor.
When I first went Vegan I was very drawn to Daiya because not only are all their products vegan, but they're free of the top 8 allergens. As a Vegan who is also allergic to nuts, It's extremely important to me to find products that fit both my ethical and allergy needs.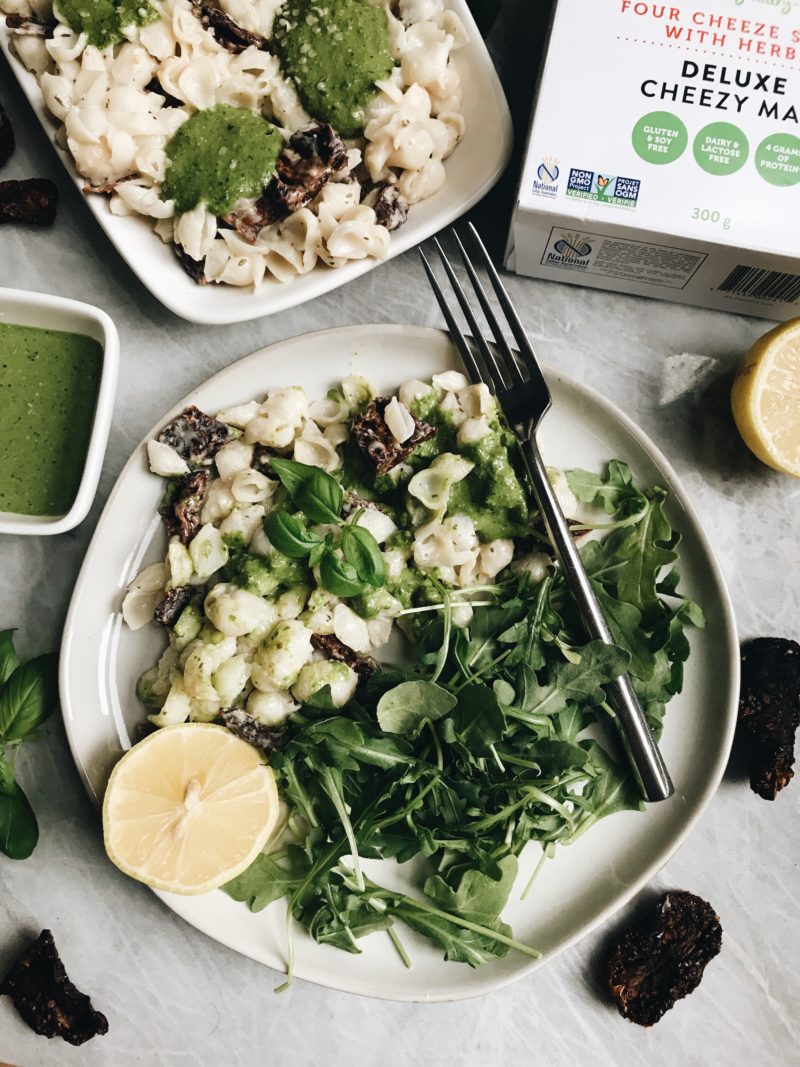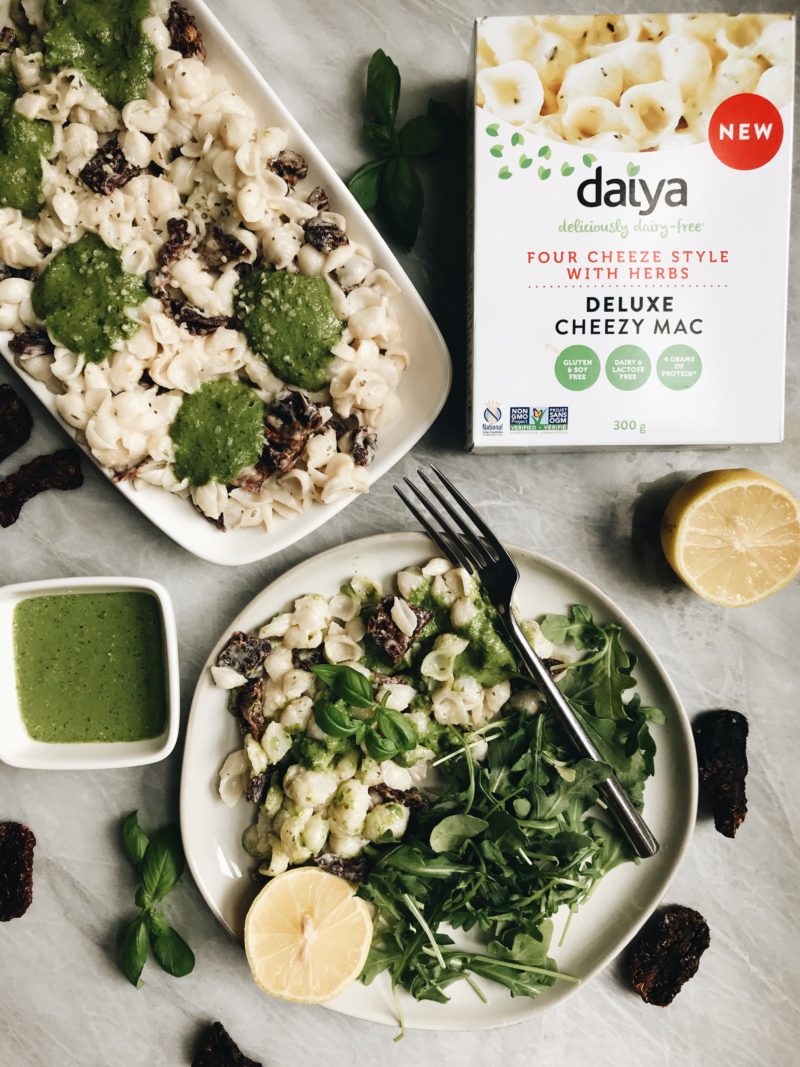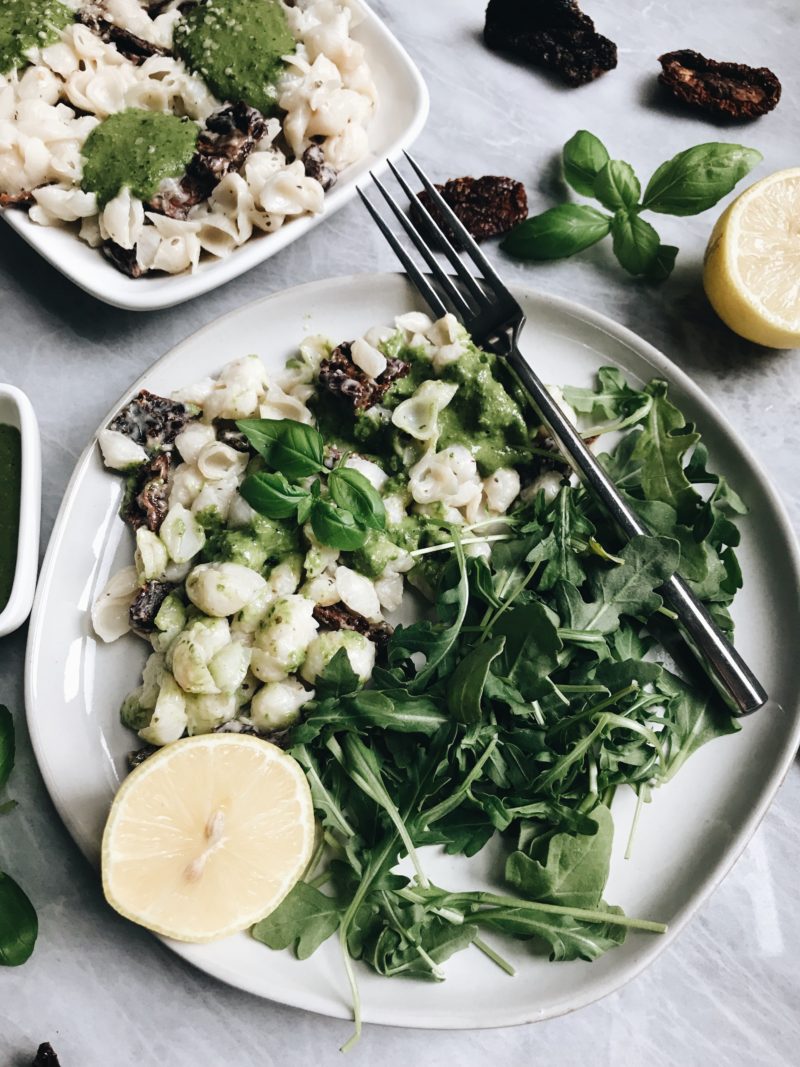 I like to add a nice side salad of some arugula with my mac, but this would also be great with some balsamic tofu and other veggies!
I hope that you enjoy this recipe.
If you make any of my recipes, don't forget to tag me on Instagram @plantbasedjane.
To find the cheezy mac or any of Daiya's other products, click here.
Pesto Cheezy Mac

Ingredients
1 box Daiya Four Cheeze Style Mac With Herbs
1/2 cup chopped sun-dried tomatoes (not packed in oil)

Pesto Recipe

1 1/2 cup basil
1/2 lemon, juiced
2 tablespoons nutritional yeast
2 tablespoons hemp seeds
1 clove of garlic
1/4 tsp salt
1/4 tsp pepper
1/4 cup olive oil
1-2 tablespoons water
Instructions
Cook your cheezy mac according to package instructions.
While your mac is cooking, make your pesto. Combine all your pesto ingredients into your food processor or high speed blender. If your pesto is too thick, gradually add a little water. Chop of your sun-dried tomatoes.
Once your mac is finished cooking, add your sun-dried tomatoes into the pot and mix well to combine.
Transfer your cheezy mac to a serving plate and add dollops of your pesto on top of the mac. Serve!
Thank you to Daiya for sponsoring this post. It means a lot to me to work with brands I love and support my blog.